I bet you are already very well familiar with the hot pornstar, Lana Rhoades. She is a porn superstar who is doing some really fantastic things in her life. Need a proof? Not only do we have here some of her finest sex movies, we also need to mention that Lana is an award winning adult actress. Lana is XBIZ's Best New Starlet and AVN's Hottest Newcomer. Also, you can find Lana featured in Penthouse, Hustler and Playboy. She has done a lot in her career and nothing seems to be stopping Rhoades from doing what she does best.
Lana grew up in Chicago, Illinois and did a lot of gymnastics and cheerleading. Lana was born on September 6, 1996. Nowadays, she likes to keep things simple, eat food, play with her dog and do the kinky stuff. Lana did her first modeling thing when she was eighteen and it all grew from there. Now, Lana Rhoades works with some of the most notable companies, like Greg Lansky's VIXEN, Evil Angel, Brazzers and Digital Sin amongst many others.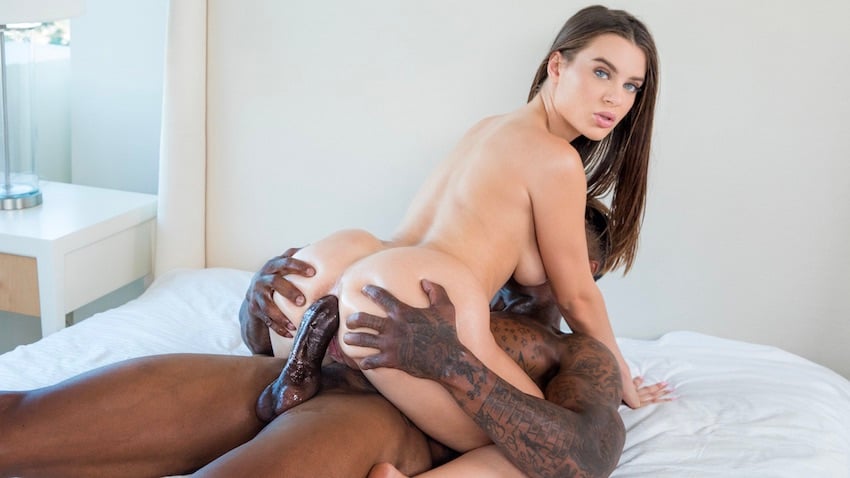 What is special about Lana is her super tight pussy. It is actually so tight it sometimes hurt her. That said, she lost her anal virginity before her vaginal. How many girls you know who skipped pussy fucking and went straight to anal? Lana is the first I know that is for sure! Lana lost her anal virginity at the age of 16 and her vaginal at the age of 17. We are dealing with a really naughty girl.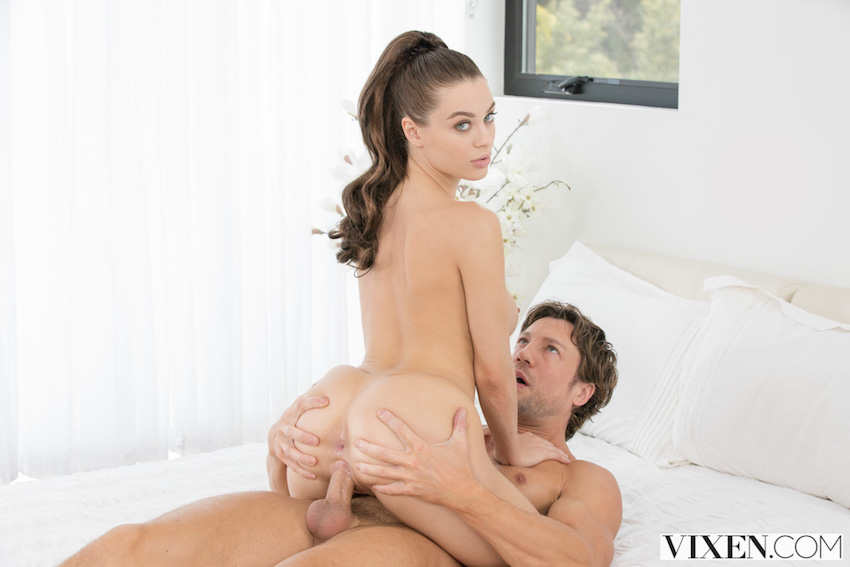 When asked where does she see herself in ten years, Lana responses, "I definitely want to be married with kids and be living the normal, boring life." But she might reconsider that up until this time. I truly cannot imagine Lana settling down with the normal life. The life she currently lives suits her just the best.
How did Lana Rhoades got into porn business?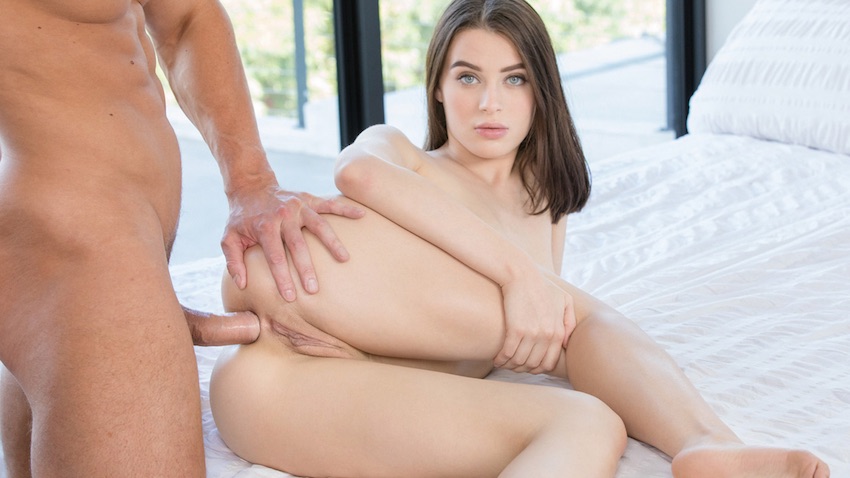 As it turns out, Lana wanted to do porn since before turning eighteen years of age. After turning 18, she sent an application but her mom later found out and did not allow her to do it. FYI, Lana's family is super religious. But nothing truly stopped Lana from joining the adult entertainment business and began working in 2016.
Now, after you know more about Lana, shall we enjoy some of her porn videos? Do I even need to ask? Well, enjoy!
Double penetration wins over everything

Now, when the school is long gone, Lana is searching for a permanent job offer. If one knows how to succeed at getting whatever she wants, it is no other than Lana herself. This succulent babe will do whatever it takes to get whatever she wants. That's how Lana rolls, and she is doing really well, no matter what she delves in. This time, she has a bigger challenge, as she needs to seduce two mature and experienced guys. However, once she hops in sexy black lingerie, no one can resist. Especially when Lana Rhoades offers both her pussy and her asshole for fucking. Yes, you are about to experience a professional double penetration that will take Lana really far in her life.
Young brunette ladies in an orgy

It is no secret that Lana is down to get a group fuck going any time. And if you bring in Adriana Chechik, Lana is ready for the action even more. Two dirty young ladies get their fuck holes destroyed and demolished by massive shafts. There is a lot of nasty stuff happening in this particular orgy fuck scene which you will enjoy through the roof. All I advise you to do is to hit the play button, sit back, relax and enjoy the sex action take place right in front of your eyes. You will not regret it, not even a second of it!
Finally, the BBC she has been craving for

Unfortunately, after Lana's hubby got a promotion, their relationship, especially sex, simply started to suck. She just did not receive as much cock as her perverted and horny mind wanted. To her luck, this one day, he hires a couple of dudes to fix some electrical issues. Lana had no idea there would be such hot and attractive black guys coming to their place. Of course, Lana Rhoades grabs the opportunity by the horns and gets the most out of this big, strong and tattooed stud. Boy oh boy is his cock enormous, way too big to get it down her throat. However, Lana's wet and juicy pussy accepts it perfectly. This BBC will fulfill her desires easily.
Photographers always get the best meat

It is no secret that, many times, a photo session ends up being way more than just a photo shooting. In fact, these photographers get to fuck all the hottest ladies on the planet. And if you need proof, here is one featuring the one and only, the glamours and scorching hot Lana Rhoades. She is actually dying for the session to end so she can finally get down on him, suck his throbbing cock with her warm mouth. Once both ready to proceed, he thrusts his machete deep into her vagina and smashes the living daylights out of Lana. A lot of POV XXX action happening in this one for your convenience.
Hard fucking for Lana after a photo shooting

You know how it goes, first, they do the photo shooting and then they do the fucking. Well, that's not something models experience on a regular, but it sure does happen. And here, we have a perfect example of how wild and wicked things get between the photographer and the model. They are both very into each other, and it does not pass much time before they start kissing. From then on, Lana goes all in, sucking his massive white cock and balls and getting the machete strong and ready for fucking. One thing is for sure, Lana Rhoades hasn't gotten her pussy banged so hard in a while, and she loves it through the roof!
Her escorting business is doing really well

After she finally gets herself out of her financial troubles, Lana feels like on top of the world. This escorting business she got herself into is bringing in a ton of money. On top of that, she is doing a lot of fucking pretty much all the time. This neck client of hers is an attractive black gentleman. Little does she know, he wants her asshole badly. However, with the romantic vibes and a ton of sensual moments, Lana is ready for the business. She blows his enormous black cock and takes it deep down her throat. He returns the favor by licking her pussy and anus and gets Lana ready for fucking. With his BBC, young gentleman stretches Lana's asshole exceptionally wide, offering her an experience of a lifetime.
Her inviting asshole is all he wants and she rewards him

No doubt, Lana Rhoades is one super luscious hot brunette lady who knows how to entice just about everyone she wants. With her hot and tempting bikini outfit, Lana does her thing, teasing by the pool before she flashes her butthole and warms herself up with a dildo. Yes, she starts to ass fuck herself what gets her super horny and ready for the dick. She goes down on him passionately and brings his stamina to the highest degree. With his cock rock hard, the stud fingers and licks both her pussy and her butthole before he eases his machete deep into her anus and rams Lana anally. Moaning and enjoying the butt play, they both experience sensations like they have not in a while.
Step sister gets a mouthful from her brother

After finding a pair of stripper heels in the bathroom, a nosy brother takes them and brings them to Lana Rhoades. He confronts her with the knowledge that she has been stripping for money and blackmails her. Unless she does something for him, he is going to tell their parents. Not having a way out of it, Lana agrees to show off her tits. Her brother happily grabs onto them like the creep that he is and forces her to give him a blowjob. The desperate girl takes his stiff cock right into her mouth and sucks the thick cum out of it.
Midwest girl takes a dip on the job

A young Midwest girl has moved to Los Angeles for a big job. She gets to be the assistant to a famous director and loves it. One day when he is not home, Lana decides to take advantage of his giant house. She slips off all her clothes and goes for a swim in his fancy pool. A few minutes later, she gets caught by him as he gets home early. Lana stands naked and apologizes, ready to be fired. He has other ideas and gets in with her. She keeps her job by giving him a piece of Lana tushy.
Two hot girls take care of stiff cock

When these two horny girls find themselves confronted by one stiff cock, they immediately know what to do. A threesome is what is the first thing the comes to their minds. They slowly undress each other and bend over to present themselves. He does what every man would do and slides his tongue deep into one's asshole, then the other. The two girls get so worked up that they just have to return the favor. The guy sits back and lets Lana Rhoades nurse his cock with her mouth while her friend helps. They both get repaid in the end with a massive facial that they both get to share with each other.
Three girls show it off and suck it up

When you get three girls together in a room you can always be sure that they will compete. These three start off by comparing their lovely bushes. With panties down, they show off what they have to offer. One girl has a big bush, one has none and Rhoades has a baby bush. With the competition out of the way, it is time for a little fun. All three take turns tasting each other's tight little assholes. By the time that they are all lubed up and ready to go, the cock is stiff. All three attack it with their mouths.
A girl does what it takes for the money

With a busy life and constant struggle to make ends meet, Lana Rhoades decides to fuck for money. She takes more than a few jobs that see her covered in cum, but her latest one is different. A wealthy man wants to give her money in exchange for a night with his wife. Although she is a virgin when it comes to lesbian sex, she agrees. She shows up in her lingerie and finds out just how good it can be. The wife focuses on her perfect asshole and uses her mouth and fingers to show her what passion is.
Two friends make money together and love it

Making money is always a challenge and Lana has decided to fuck for it. She has already met with one client, but her friend thinks a web site would help. They put it together and she is soon contacted. The man wants to have a three-way with her and her friend. They agree and meet up for a night they will never forget. He watches for a while as they attack each other's pussies. He lets them get each other close to cumming before he joins in. One of the girls takes him into her ass while the other licks his balls.
It is not cheating if it is in the butt

Even though she has the perfect life, Rhoades cannot keep her eyes from wandering. She just loves cock way too much to commit herself to one. Unfortunately for her husband, he knows a lot of celebrities who hang out with him. One day her celebrity crush is at the house and she does everything she can to not fuck him. Things never go as planned and she finds herself alone with him and his erection. No matter how hard she tries, she just cannot keep her mind off of it and decides to take it deep into her asshole.
Gambling always leads to a giant ass fucking

Her boyfriend loves to gamble and it is becoming a problem. One poorly played pool game is about to get Lana blacked for the first time. He bets his tall black friend a nice fuck session with his girlfriend if he loses. Naturally, things do not go his way and she ends up in the bedroom alone with the friend. He immediately rips her shirt open and takes over her body. His head disappears between her thighs before he lays back and has her mount up. She takes his massive black cock deep into her tight pussy before swallowing his load. Did that hurt, Lana?
A sloppy blowjob is, indeed, a good blowjob

If there is anything that Lana Rhoades knows how to do, it is to suck cock. She has a stiff one right in front of her and she is ready for action. Lana is right down onto her knees to make sure she gets the best angle. Her mouth slides right down over it and she covers it with spit. Every time that she comes up for air, she makes sure to let her saliva drool all over the head. When he is too close to cumming, he turns her over onto her back. Her pussy gets paid back with a fingering that makes it squirt.
::
You sure do not want to miss Lana and what is up to on a day to day basis. Meaning, follow her Instagram and Twitter profiles and stay up to date.