Watching porn at work is not something new for all of us. In a life where most people work in offices, we are used to having everything on our computer. From a very young age, we love downloading porn clips and browsing adult content on the internet. And this has become second nature in our teenage years. At some point, we have to find a serious desk job from 9 am to 5 pm. We get super excited, as we will be working on a computer the whole day, and the moment we finish our to-do list, we will be free to browse what we desire to see!
What we do not really think of before we have our clash with it, are the policies about personal browsing. It turns out that the rules when it comes to checking out adult content in your working place, make it not only inappropriate, but it is also illegal in many companies!
Data Time
In the UK, there were many pieces of research on this topic. All of them show something interesting that will break a taboo and your idea of office work, too!
First of all, it turned out that not only men are watching porn at work. Women watch porn, too. Twice as men do! This is a huge surprise for many people, but women still have their needs, and this should not be underestimated!
Second, there were about 25K attempts to check out porn from office computers in the last month, which is actually not a big surprise for me, but it is still a lot of people trying to masturbate at work.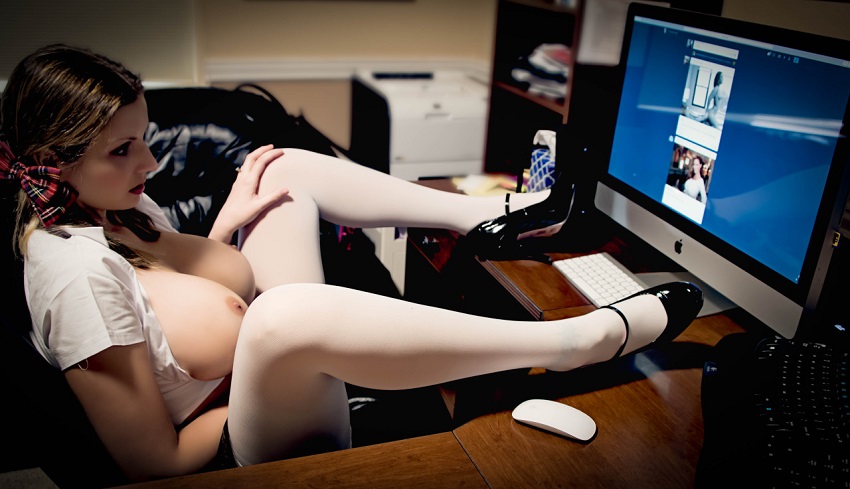 Another research referred to this one and said that those people who attempted and most probably succeeded with it, spend about one-third of the time browsing XXX-sites! I do not really mind, but OMG, this is a lot of time!
To be honest, after reading this researches, I got curious about what is next after they caught you watching porn, so I made a little "investigation" and found a couple of people who got caught. Most of the stories end up with these people getting fired, but I eventually met a couple of people who did not take the justice of the rules. They told me a spicy story about their clash with the office rules!
 Watching Porn At Work Story With John's Preferences And The Naughty Boss
John is a cool guy who I met at a sex party. At the time, he was working for a huge Czech IT company. From one word to another, I got the impression that he was a sex addict- AND HE WAS! I asked him whether watching porn in the office turns him on more than watching it home. And he started a story.
When he got the job and started browsing, he was very careful about any sign that it is forbidden as it was never mentioned in the contract. A few months passed, and John's boss was super ambitious about my career. She had him at her office twice a day, bragging about what he should do on a project, and how to do it the best possible way.
One day, they stayed up late at work, and minute by minute, hour after hour, it was already midnight. After finishing this customer's project, they thought of going for a drink, but they were way too tired. Alisha, his boss, took a bottle of wine out of the first cupboard of her desk.
John was very surprised because he always thought she is way too conservative and strict about this! When she let her hair off the band, and her wavy hair started falling all over her shoulders, John realized she was a human just like him. The young man had a completely new view of his boss, and now Alisha was more than that in his eyes. She was the sexiest woman in the whole universe-powerful but gentle!
During the night, they had a real convo, and sexual energy started building up. Things were about to explode! John was curious about one thing that he has been thinking about the whole time working for this company.
'What are the rules for watching porn here? Is it allowed, because I was browsing for a year… not to mention that I was masturbating at my desk almost every day… and nobody said a thing…I am a little confused. There is no company that would tolerate this…' He said.  Alisha laughed so hard that John felt uncomfortable. He did not know many things about his boss.
'I little known fact that I rarely share with my workers is that enjoy watching the cams. You learn a lot about people by seeing them, while they do not even suspect they are being observed. Kate loves coffee; Mike is secretly eating Snickers every day. And you, you like porn, you like sex. And I like you. You had no chance to know it, but every moment you were masturbating under your desk, I was masturbating on mine! You made me cum so many times here! I have always wanted to…"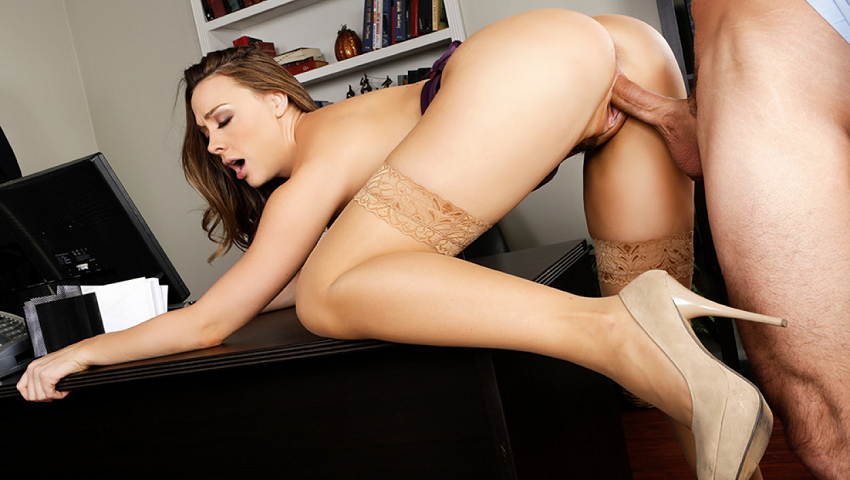 Alisha couldn't even finish her confession, and John was already kissing her passionately while scratching her back. Everything went so wildly that they do not remember anything after this moment. But cameras in Alisha's office do remember how John fucked her hard on her desk, how he pinned her to the large windows on the 30th floor and made her see stars in the early morning!
After John told me this story, my first question was, "Oh, well, are you still working there?". The young man told me that he had not been that busy ever in his life. Besides his working hour, he is not taking care of Alisha's sexual desires, and he is stim masturbating at work, making sure that she has her daily solo time! What a wonderful development of the situation, right!
Tom's Punishment Watching Porn At Work Story
Tom and I have been best friends since our teenage years. We know everything about each other, and we share good and bad in any case. One day, I received a call from him being a bit frustrated.
He has been working on a desk for a company for almost five years. He was already a master in his job, so he had a lot of time left after finishing his tasks. As every single man at that office, as they were only three of them out of 100 people, he had a supermassive libido drive. All these women were clicking around with their high heels and low neckline… "Such a pleasure to the eye, but such a tease for your dick!" as he would usually say.
The day he called me, he browsed porn for the first and the last time in this company. A couple of minutes after starting, he got caught by his boss, and the software signals to her. He got super angry. Tom did not want to lose his job, but what is left in a situation like that one?
An hour later, his boss, Climt, had a solution to the problem. Tom had to be punished for his inappropriate behavior. Tom called me to tell me what happened, and you will not believe it! On the afternoon meeting, Tom had to pronounce the name of every single porn clip that he has opened. He had to do it aloud…on a mic…proudly.
To most people, this might sound humiliating, and this is the reason why Climt chose exactly this punishment. However, he did not know that you cannot make Tom feel shame. He is just a shameless fucker, and was about to make the most of this punishment! And he stood proudly in front of the mic and started reading. He told me that all these women in the hall started feeling uncomfortable at first, but then, he saw that they were getting hotter and hotter. He could see the desire in their eyes.
Until the end of the day, it was a little weird shift at the office. But Tom said that he "never felt as confident as in that moment".  When the shift was over, and he was already home, he started receiving messages from the girls in the office. They were not even oblique but super straight-forward. They wanted a dick, and they were super open about it. It turns out that they quite liked what he wanted to see on the internet, and they were ready to give it to him whenever he wanted.
I have not asked more about this topic, but I am sure he managed to fuck all these girls in the office. I sometimes see his colleagues leaving his place while I am coming inside, so I guess he is now living every man's dream! He is fucking every single girl from this office and gets paid for this!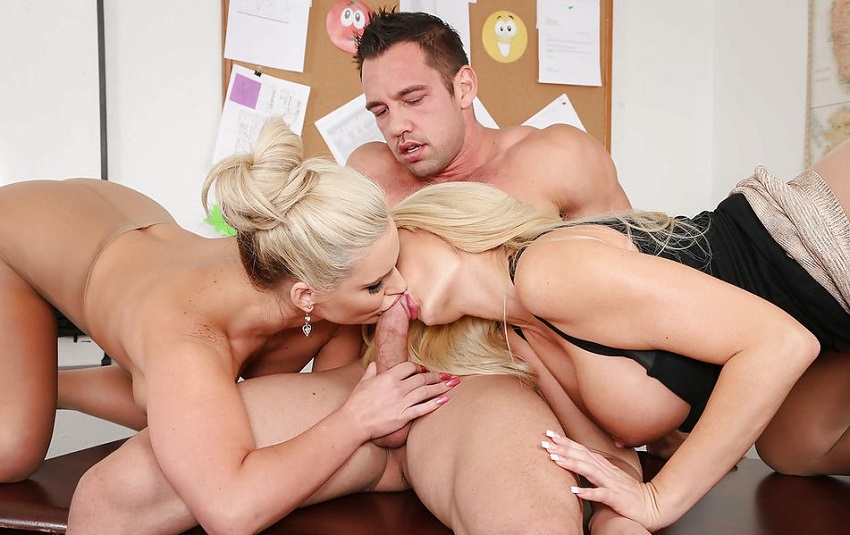 As I told you, most stories of getting caught watching porn at work finish with somebody being fired. But some of them do not! There've been made super hot experiences that worth the risk! And what will happen, you will never know if you never even try!