It gets weird and uncomfortable between random folks and pornstars watching their porn
Guy: "You're like really good at sucking dick." Paris Kennedy: "Thank you, OMG, that means a lot."
Have you ever thought about what would it be like to watch porn with an actual pornstar? I know, this kind of stuff don't really come to mind very often. Or at all.
What about in reality, have you ever watched pornography with a friend or partner? How was it like? Or you prefer watching the nasty clips on your own in peace and quiet?
To be 100% honest with you, I haven't actually watched an explicit video with anybody other than myself yet, unless it happened by accident. You know, you are flipping through the television channels and "accidentally" come across porn. You stay at it for a while, not saying a word, and then you laugh and start pressing on the remote again. You feel me?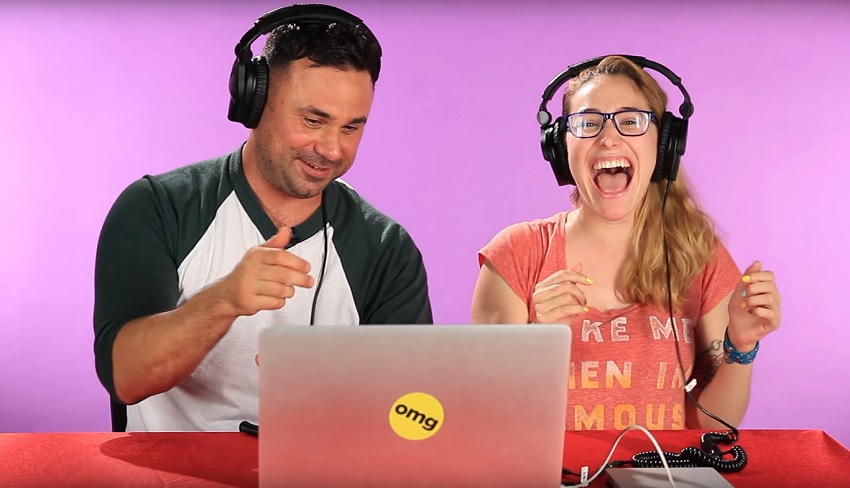 I continuously ask myself why are we so weird and don't even want to talk about pornography. Porn is all over the place and they say there's one third of the internet that's porn. You know that's huge and people all over the globe are consuming it 24/7/365.
At home we all watch it but when in public, it seems like we don't know what porn is. Is that something you spread on bread? Why are we hiding something that we enjoy in so much? It just does not make sense. If people got more open-minded about the adult entertainment, boy, the P industry would probably become one of the biggest businesses in the world. What I am scared of is that it would probably become too mainstream. But is that really a problem?
People typically want to have their porn for themselves and no one else. But if you were asked to watch an XXX video with and adult film start, would you do it? You bet I will. Let me blush and let me sweat, I don't really care, I just want to hang out with the stars.
Thanks to BuzzFeed, they hook up Paris Kennedy, Danny Wylde, Allie Haze and Conner Habib with random male and female strangers to watch their dirty flicks together. Surprisingly, both the stars and the amateurs are kind of uncomfortable watching the porn together.
Needless to say, adult film stars, in general, don't watch their own scenes. Aside from Danny (not in the industry anymore), it's their first time watching the scenes for themselves too. Kinda. No wonder why their reactions are pretty similar to the random men and women's.
I always really enjoy watching any of the videos featuring porn stars released by the mainstream news sites. Especially as huge as BuzzFeed is. It only shows the world how down to earth all the stars are and that they are no different than you and me.
People should really start to change their mindset about the adult film actors and actresses. More on this later.
Just like they say, what you see on the screen is not what they are like in real life.

Now you know about the random folks and pornstars. But what happens when couples watch porn together for the first time?