Obviously, I cannot go by such news without letting you guys and girls know about it. There is this Victorian-era old dildo that was sold for a whopping 3,200€ to a wealthy private collector from the United States. This person actually outbid a Los Angeles erotic museum. I mean, who does not want to have an old, made of ivory, female sex toy in his house, right?
This antique sex toy was put up for sale by a known Anglo-Irish family and was sold at an auction by Matthews Auctioneers. The toy was found in a drawer and put up for auction "for fun really."
According to Damien Matthews, this was one of the most interesting pieces he has ever sold at an auction. Ever in his career!
Surprisingly, a ton of bids came from sex shop owners, museums, doctors, you name it. There was even one person who traveled all the way from Chile. As Mr. Matthews says, "Just mad." Bare in mind, the auction lasted for only four minutes. Folks went crazy for the old dildo.
There was even a person coming all the way from Chile to secure the old dildo
It is very likely that the artificial phallus was carved in China back at around 1900's. But the tusk, they believe, is from 1840's.
Most certainly, it was a gift from husband to wife, you know, for those lonely nights, when the man is on an epic journey and the lady is home alone.
Let's talk more about the actual toy.
It is a lifelike looking penis carved from ivory (poor elephant). The official description writes, "Antique carved ivory ladies companion in scarlet lined leather upholstered carry box with inset beveled glass panel."
With Chinese's precise ivory carving skills, the carving done on the old dildo is of the highest quality. "The level of detail is incredible, down to the folds of the skin." At the base of the ancient sex toy, there is a heart carved, just where her finger would be. Moreover, there is even a small container where she could store a lock of his hair. Can this get any weirder?
This gentleman sure did know what his lady likes and made sure this special gift from him to her would be the best of the best.
While many may think that sex toys have been popularized in the modern age, this is another proof that people were kinky way before.
History lesson: female sex toys aka vibrators aka dildos were "invented" by Victoria doctors. They found themselves in danger of injuring their fingers from repetitive massaging stressed, irritable or premenstrual women to "hysterical paroxysm." In other words, they were fingering the ladies until they reached an orgasm. Back in Victorian times, the female sexual arousal was unthinkable. That said, the invention of the dildo was not at all seen as sexual – "no more erotic than a stethoscope."
Did you know that the oldest artificial phallus is about 28,000 years old?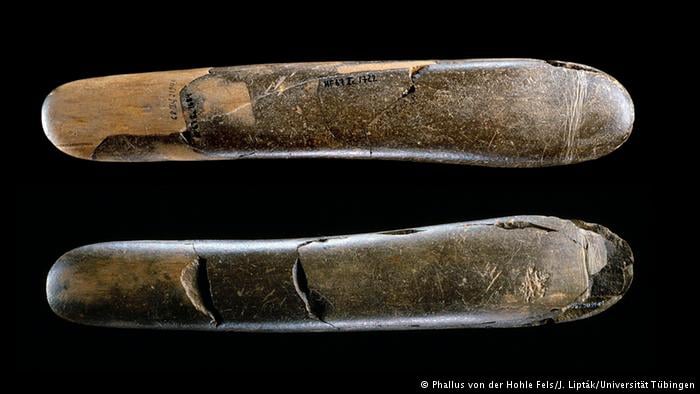 Dildos are with us forever!
For your information, in Victorian times, there were very few who could afford something as erotic and precious as this old dildo is. Not only is this a piece of erotica (definitely way different to what the doctors were using to "please" the ladies), it is also an amazing piece of art.