An emo/goth girl at heart, Lady Luna is an alternative pornstar who we got a chance to talk to and ask a bunch of questions. Whoever is new to Luna, now is your chance to get familiar with this sexy tattooed miss. Luna even lets us know which of her scenes are her favorite – which you should definitely watch if you are new.
To be frank, I get even more excited interviewing a lady with inked and pierced body since I am a big fan of such stuff, as well.
It all began at the age of 18 for Lady Luna. This was when she started doing nude modeling. Nothing truly stopped her and she kept on doing more of it once she got comfortable with herself and her sexuality.
Two years later, Luna first shot for an adult site called NookieCutter which she later shot her very first solo scene with.
In an interview, Lady mentions that she was a big fan of Burning Angel since forever. When she finally decided to jump in the adult business with both feet and shoot her first boy-girl scene, it was no other than BA who she applied for. They said yes and, "My happiness was through the roof."
Instead of me wasting your time talking about Lady, I will let her do the magic and take you on an epic journey full of moon spells, tuna fishes, cats, mermaids, pizza and porn. I dare you to stay to the very end.
1. Please introduce yourself; how old are you, what is your name, where do you come from, what were you like growing up?
Luna: Hello there! I go by Lady Luna and I just turned 24 on May 16th. I come from a small town in upstate New York called Utica.
Growing up I was always the black sheep and quite the trouble maker. Whether that'd be getting in trouble a lot in school or doing something behind my parents' backs. In other words, I was your typical rebellious teenager. I even got transferred out of my homeschool to be sent to a more alternative school for my bad behavior. I was constantly getting detention or suspended for something. As for how I presented myself, I've always been the emo/goth chick. I never was like all my cousins, still not till this day. Most of my rebellion occurred due to constant harassment and bullying I was receiving in school. I thought if I went against the rules, people would look at me differently. They did however during my senior year. But unfortunately my first three years of highschool and even throughout all of middle school I was severely bullied. There were times I would be afraid to go to school. But it has made me a stronger and more goal oriented person.
2. Why did you decide to get into porn? Do your parents know about it?
Luna: Well I started nude modeling at 18. As years went on I got more comfortable with myself, my body and my sexuality. I first started modeling for Gods Girls (I went by Renee). I shot my very first hardcore photo set with them. After shooting that set I felt so free and so invincible. At 20 years old I got offered to model for an adult site called NookieCutter. With them, I shot my first solo hardcore video at 21. Then soon after my first girl/girl video. As I continued I started to feel more and more comfortable. Then at 23, I wanted to expand my horizons (giggity) and try a boy/girl video. I've always been a fan of Burning Angel so I decided to apply. I knew that if I ever wanted to get into boy/girl shoots I wanted them to be the first company to shoot it. And low and behold that dream came true. My happiness was through the roof.
Yes, my parents do know about it. My mom is my biggest fan. She's always there to tell me how she's proud of me for doing something with my life. No, it's not what she expected but after I sat down and educated her she's all on board. She always asks when my next shoot is, how much money I've made and how my night at work was (I dance at a gentlemen's club here in Syracuse).
My father knows what I do. No, he doesn't like it but he sent me a text one day that brought me to tears and it said: "I will always love you." And that's all that matters. He just tells me to be safe and as long as I'm happy. His dreams for me were to become a successful cosmetologist. I am still licensed and I still do it on the side, but my life felt more complete being in the adult industry. We never know what the future will bring. Who knows, once I'm older I might get back into it.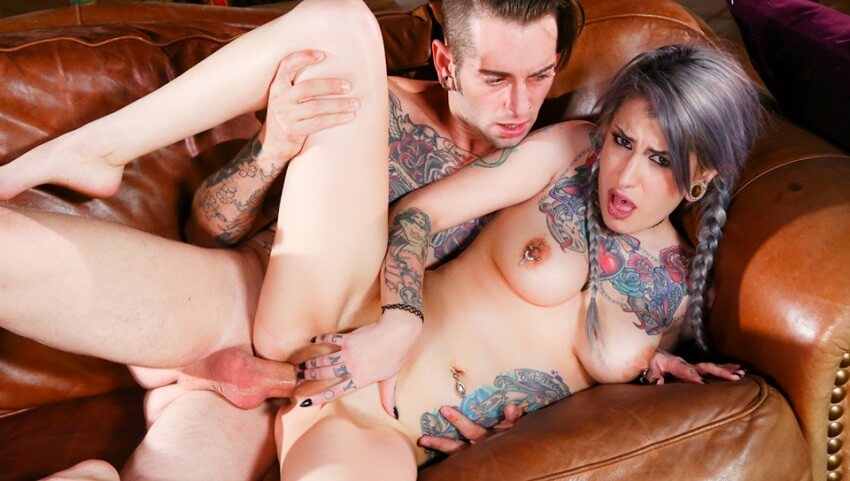 3. How has your life changed ever since joining the adult entertainment industry?
Luna: My life has changed a lot. I honestly have never felt more free and alive. My views on sex and nudity have changed, for the good of course. I no longer feel the need to hide myself. I love entertaining people. It's something I'm passionate about. Whether that'd be dancing or acting.
4. How did you come up with your stage name? By the way, Luna Tuna sounds great, too 🙂
Luna: Actually the owner and creator of NookieCutter gave me the name! I was always wearing things with moons on them. I even have my own book of moon spells as well haha. And one day he just kept tagging me in posts with #ourladyluna, so we just stuck with it! And eventually I even got the name tattooed on my knuckles, so it's stuck with me for life lol!
And oh boy don't even get me started on the Luna Tuna thing lol. I was so utterly mortified when I received that video. Charlie Classic thought it was funny too and even reposted the video himself for thousands to see. Now people come up to me asking if I'm Luna Tuna, and I just sigh and say yes. I've even had people write that name on their cars. Like, the kid couldn't have picked a better name?! Lol! But I guess to add to the question before this, this is my life now. I get weird messages and videos. But nothing was compared to the Luna Tuna video. Don't get me wrong, I laughed my ass off, but I just wish he picked a better name lol!
5. For those who are new to Lady Luna, which three scenes of yours would you suggest they should watch?
Luna: Well I absolutely loved my BA scenes, but my most recent video titled "Trifecta" has been pretty popular lately. Now I don't wanna give away too many details but there's a reason it's called Trifecta. It's got quite the surprise ending. You can find that video on NookieCutter. Along with plenty of my other photo sets and videos.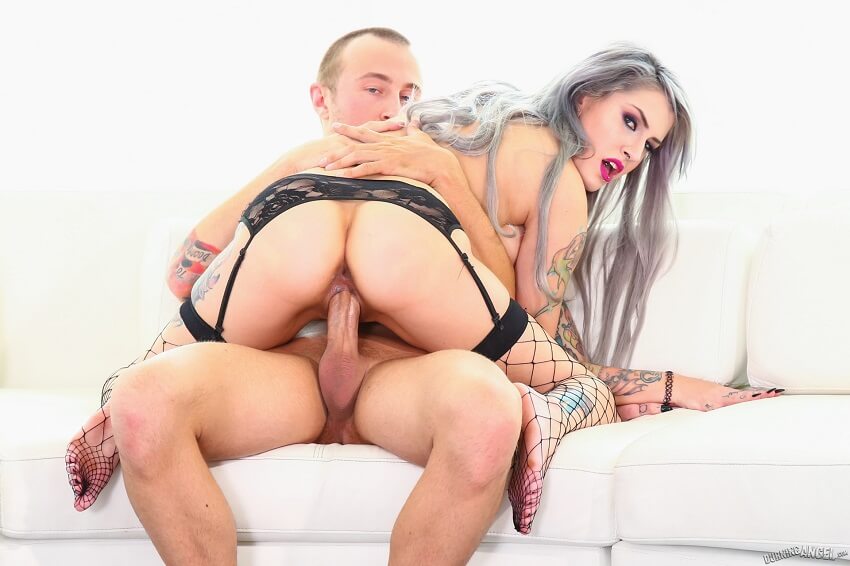 6. How often do you masturbate? Which is your favorite sex toy?
Luna: I always like to before I go to bed lol! But I really enjoy my hitatchi and my bad dragon "kelvin" toy.
7. Your sexy body is covered in tattoos. How many do you have? Which was your first and which is your favorite one and why?
Luna: I honestly lost count! And here's a funny story, my first tattoo I got covered up on season 2 of Americas Worst Tattoos on TLC. It was a very crappy diamond I got whilst I was 17. It was supposed to say beauty kills, but the guy wrote "beauty hills". It was so bad it landed me on the show when I was 20 years old. I got an awesome mermaid piece to cover it. I went by "Neyney" back then because that was my nickname growing up.
8. When did you start stretching your ears? How big are they? Will your stretch them more?
Luna: I started stretching at 17. I went up to 3/4″ then took them out for a couple years. A year ago I started to stretch them out again. I'm currently at 24mm and I'm probably gonna go up to an inch and stop there.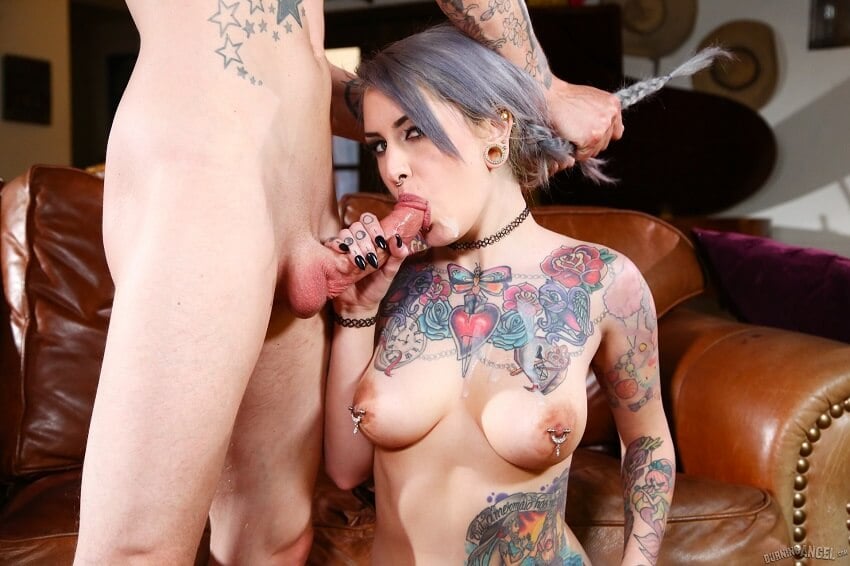 9. What kind of music and books do you like? Are there any specific songs that you are currently listening over and over again?
Luna: I like all sorts of music. My favorite group Is Die Antwoord. But my music taste ranges depending on my mood. It can go from Die Antwoord, to Depeche Mode, to Psyclon Nine, to Purity Ring, to Tears for Fears, to City and Colour, to Kerli, etc. I have a very wide variety. I'm also catching myself listening to 90s music on pandora too. The other day I was listening to New Kids On The Block over and over again haha. I was in a weird mood that day.
As for books my favorite series so far was the Wicked Lovely series. I love fantasy and erotic fiction. And books about mermaids always seem to entertain me. I have quite a mermaid obsession see as I have so many tattooed on my body.
10. What one thing would you like to change about yourself the most or improve on?
Luna: I definitely wanna overcome a lot of my anxiety. I want to expand my horizons more. Meet more people. But my weird social anxiety keeps me from doing certain things. I always strive for more and always want to be bigger and better.
11. 3 ridiculous things you would invent?
Luna: Hmmm, that's a tough question. I guess one would be a car that does all the work for me lol. Another would be some form of robotic chef to cook me whatever I want, whenever I want, however, I want. Another would be, a money copier lol!
12. May is the month of your birthday. Better late than never, happy birthday love! Tell me, which gift brought the biggest smile to your face?
Luna: Well my roommate got me a new bad dragon dildo! Super stoked about that! And of course the money given to me from my family. I mean who doesn't like that?! Lol.
13. What's your cat's name? Which other animals besides cats do you like the most?
Luna: My cat's name is Athena. She's everything to me. And I'm just a huge animal lover all together. Whenever I see an animal it always brings a huge smile to my face. My favorite animal growing up was a lion so you can see why I love cats so much haha! I can't really think of another favorite animal. I just love them all!
14. Which are your three favorite pizza places?
Luna: There's this one pizza place in my home town called Joe's Pizza. It's an upside down pizza place that's very well known in Utica. Not a lot of people know about upside down pizza because it's kinda a Utica thing. That's one thing I miss about living in Utica was the upside down pizza place. And yes it speaks for itself. Cheese on bottom, sauce on top.
And I know I'm gonna get a lot of shit for this but Pizza Hut has always been a favorite haha!
I can't really think of any other places honestly lol.
15. Where do you see yourself 20 years from now?
Luna: I'm hoping to live in a bigger city. I'm also hoping my career has gotten farther. Doing Better and bigger (giggity) things. I just hope to be more successful. That's what I always strive for :).
::
Make sure nothing goes missing and you are always up to date with Lady Luna wizardry by following her on Instagram and Twitter.