A young and adorable girl answers an ad which is searching hot ladies to participate in a photo shooting for a calendar. She is in need of extra money and, being confident about herself, she is certain she will land the gig. Good luck!
Upon her arrival, the location of the photo shooting is a bit weird looking. Far away from what the redhead expected. However, she does not really mind much. She is there to show her talent and to earn some of the green stuff. But what Rebecca does not know yet is that there will be a slightly different type of calendar shoot that she imagined.
Soon, she starts to realize that this whole casting is not really about the calendar. Still, there is shooting involved but not really for a calendar. Or at least not for such calendar that she thought in first place.
The cute and shy looking redhead lady joins two other women of which one is the "producer" and the rest is history. She is down for whatever is going to happen for as long as they will pay her the promised money. Don't we all like an open-minded young babe? Affirmative.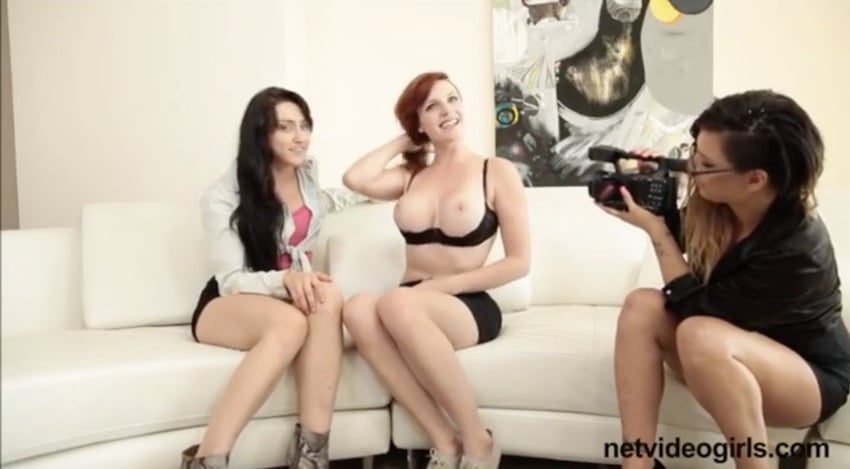 The moment of truth is revealed when they fire Rebecca up to get rid of her top. From then on, there is no stopping for the chicks. In other words, a hot fetish lesbian bang will take place right there, on that white couch and you will get to enjoy it from the very first, all the way to the very last second. By the way, doesn't Rebecca have the most perfect pair of boobs? Those are absolutely incredible.
Three tempting hotties are ready to film an epic lesbian fuck session. One behind the lens and the other two in front the lens. Not only will they touch and finger and lick each other, they will also get a chance to try out some kink action, too. Do they have any talent with shooting the girl-girl scene, too? They sure have a ton of skills when it comes to satisfying a girl. With fingers, with mouth and with a sex toy, they master it all.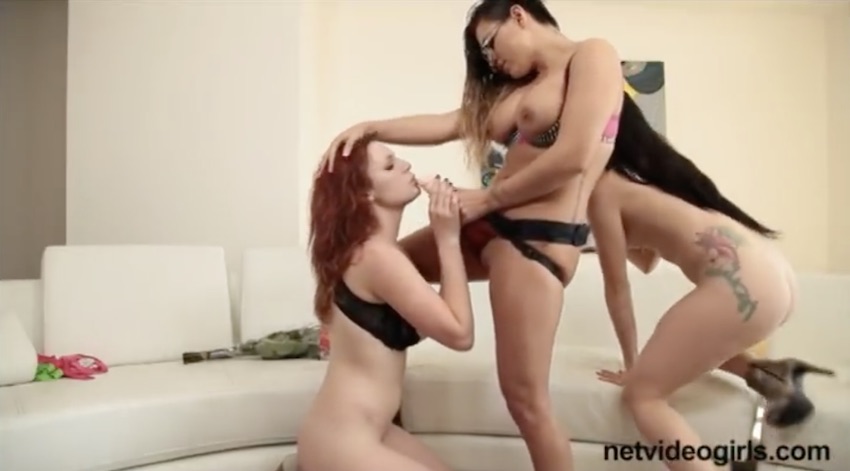 To your luck, all is documented for you. From the lesbian fuck to showing you POV action shot by the girls themselves. Multi-talented women go all in and the redhead soon forgets why exactly did she come to the casting for. It does not really matter anymore. She is enjoying herself being both on the receiving and on the giving end. To be frank, she is more or less a receiver and benefits from all the magical moves the other one practices on her.
Bear in mind, of course you will see the nubile one show her oral skills, too. In POV! But the kind of face fucking skills you will normally see in a boy-girl scene. A blowjob. But how is that even possible if this is an all-lesbian sex session? Simple, with a strap-on. Rebecca sucks that sex toy with pure passion and brings a ton of excitement to the set. They are all amazed by the fact how much is she willing to do even if shooting a GG scene was not planned in the first place.
This POV BJ just got me thinking, ain't her blue eyes really mesmerizing? There is something really special about them when she looks into the camera and her mouth is filled with dildo. I think I just fall in love.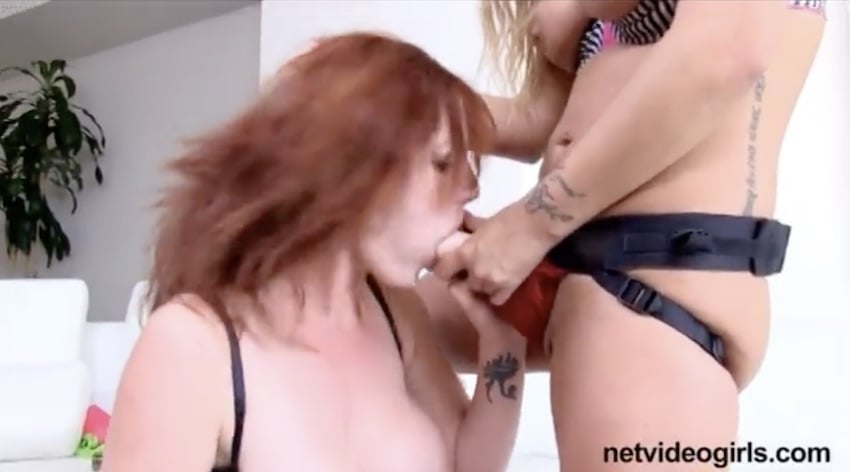 The lesbian sexual encounter is on full whack and all three make sure they help the other bring to an explosive climax and capturing it all with the camera. An experience sexy redhead will remember forever. At least she will know immediately when there will be a casting ad that will look a bit shady what it is all about. Now, when she is comfortable, maybe she will answer a ton more in the future. Not only will she earn money, she will also get a dose of banging from professionals.