When it comes to lesbian sex positions, in an open-minded society like nowadays', we no longer consider same-sex sexual interactions a taboo. It is also a well-known fact that lesbian sex is a thing very trendy, but not to forget that the concept of it is quite mistaken!
Why
   There is a growing misconception that lesbian sex is extremely easy for both partners as they both belong to the same sex. This can be true in some cases, but in the common situation, it is more a myth than a reality. Each woman has her own body and preferences. Women's physiology may be the same, but the turn-ons, the sensitivity, and the received sensations vary among women with an ocean of differentiation.
   Despite the differences, I decided to share the positions that I can always rely on if I want maximum pleasure for me and my girl!
Lesbian Sex Positions #1 – Scissors Сharp
   This is a super basic and popular lesbian sex position. This is the reason why it is often underestimated. In reality, this is one of the most comfortable positions. You and your partner press your genitals, staying in complete opposition to each other. You embrace each other's bodies with your legs and start doing back and forth movements with your hipbones. This pose is simply perfect! It offers good stimulation that both partners can control and a comfortable position in which you can relax while enjoying the climax overflowing your bodies! What is actually more to ask for?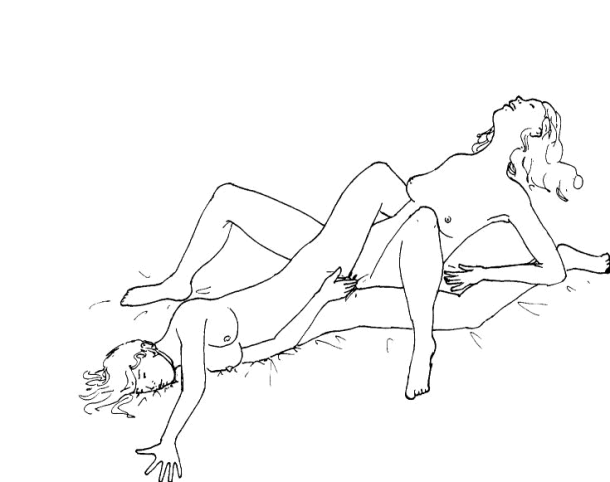 Lesbian Sex Positions #2 – Grinder
   The grinder position is basically the lesbian equivalent of the missionary pose. One of the partners is lying on their back, and the other is above them, embraced with the relaxed one's tights. Stimulation is decent if they find the right movements for themselves as a couple, but what really adds up to this position is the intimacy between the partners that it creates. This absolutely adds a sexy feeling, and in combination with the rubbing motions, orgasm is the only thing to enlighten both of you, girls!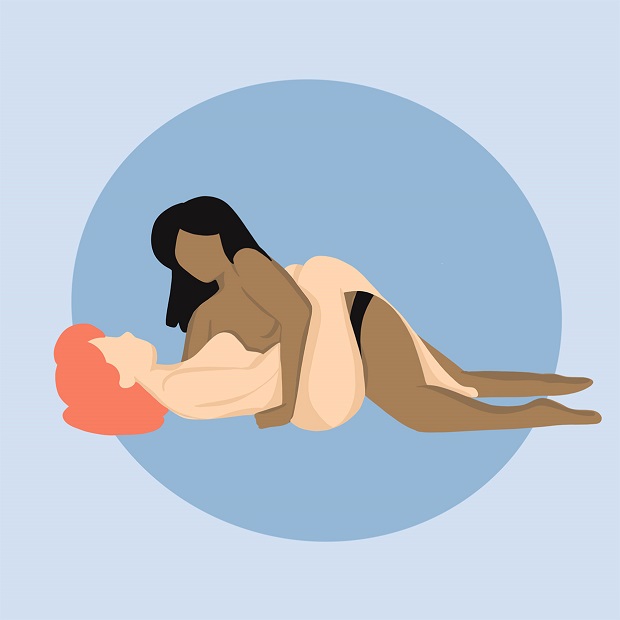 Lesbian Sex Positions #3 – The huggery
This is another one of my favorite lesbian sex positions. Here is how to do it! It really resembles spooning. Both partners lay down on one side and choose whether they want to be the big or the small spoon. The small spoon lifts one leg to form a triangle with both of her legs. The big spoon embraces her body with arms, reaching for her clit. This position offers close contact bringing a lot of intimacy. Not to forget that the stimulus is more concentrated and easily manipulated, and the other hand of the big spoon is free to play with the small one's tits, which doubles the pleasure!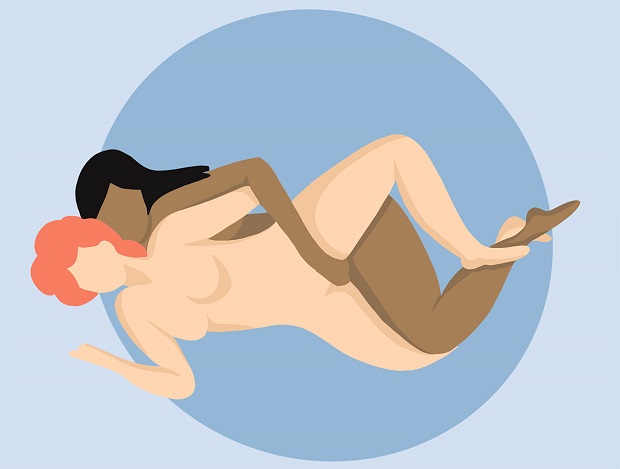 Lesbian Sex Positions #4 – Sideways
   This position very much resembles the classic 69 position. You do the real 69, and the both of you choose a side to lay down on together. I know that this sounds like the basic white girl of the sex positions, but it is more convenient than you have ever imagined! Having sex sideways is very comfortable because, first of all, both partners are relaxed, and it insists almost no effort to enjoy your partner that way. Second, if you wrap your hand around your partner's lying leg and use the other one from the front, you can add some fingering to the stimulation instead of just sticking to the regular mouth job!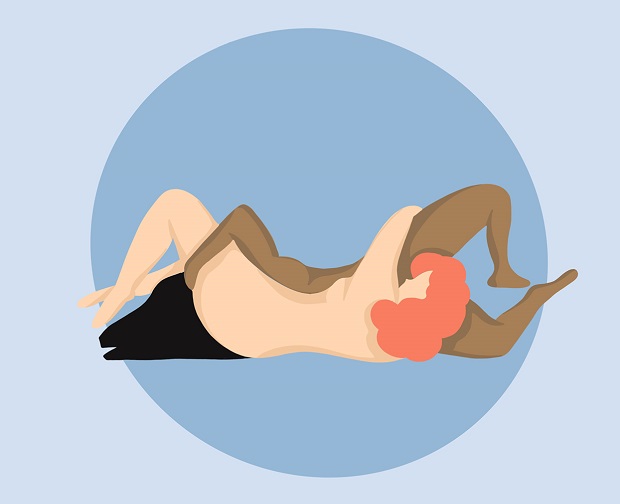 Lesbian Sex Positions #5 – Chair
   You have probably heard the phrase "to sit on somebody's face". This is it. One of the partners is laid on her back, and the other just sits on her face with a clit pointing to her nose. You can leave the partner under your pussy to take full control, or you can just ride her face like crazy.
If you are the one under the other, think about incorporating some fingering to bring additional pleasure. Do not limit yourself to the basic vaginal fingering… Why don't you try anal fingering, too? The anal and the clit are connected through the same nerve line, and anal stimulation will surely bring your partner to heaven!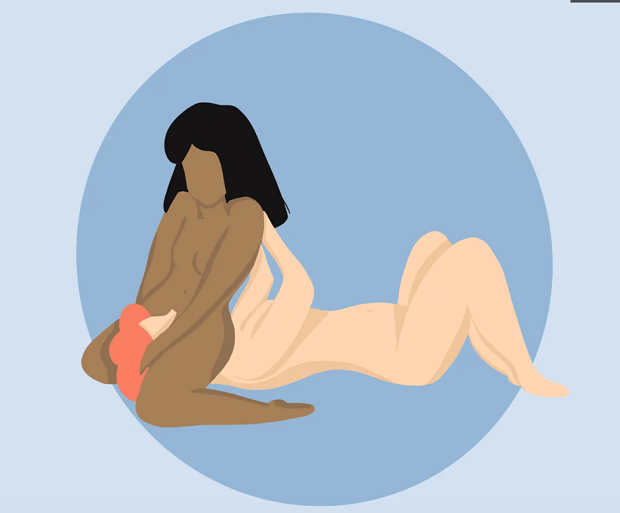 Lesbian Sex Positions #6 – Flamingo
   The Flamingo position is a one-side pleasure position. But who said that giving pleasure does not bring joy? The receiver stands up with one leg in the, and her partner is on her knees on the floor.  The partner under the flamingo does whatever they want to with it. They have full control! They can lick, suck, bite, finger, everything that brings them and the flamingo pleasure! To spice it up a little, you may want to tie up your birdie so that they have no chance but to stay straight and enjoy your skills!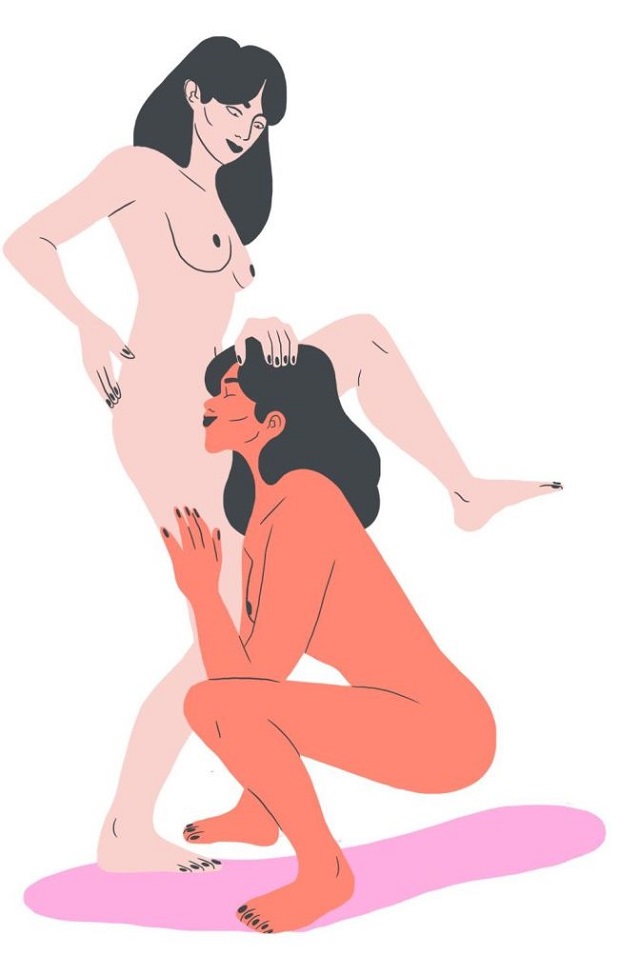 Intimacy
  Doing lesbian sex positions is not as easy as it is claimed by many people. Still, you surely feel comfortable as it is surely more stationary and does not require such physical intensity as the hetero experience. It also provides much more intimacy. Probably, the only thing that is not a misconception from the misleading statements about the lesbian fuck is that a climax is always coming easier and almost effortless with these positions!