Finally, wife first DP for Keisha Grey is better than she imagined
Lucky wife, Keisha Grey, has an amazing and very open relationship with her husband, Mick Blue. Now, when they have been married for a few years, they share literally everything with each other.
Not to mention, sex is amazing!
However, there is one thing Grey has been keeping to herself. To have two guys at the same time is one of her deepest fantasies. Hot wife needs her very first DP to happen.
The thought of it makes her horny and aroused what ends up with a masturbation session while watching threesome porn, imagining she is the girl in the scene. On a regular.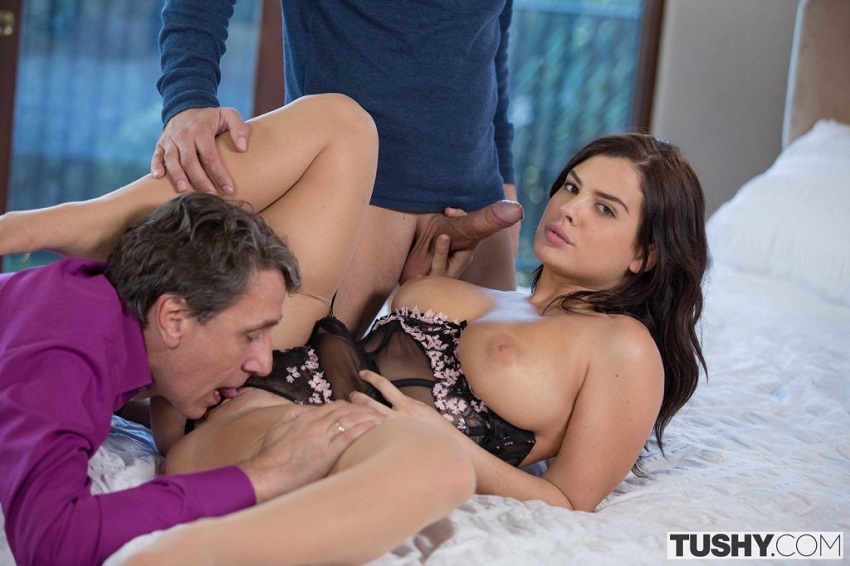 After all this time of waiting for wife Keisha Grey double penetration fantasy to happen, a weekend of new adventures is just about to go down.
Keisha's hubby, Mick, has his older friend, Mark, over for the weekend. It just, accidentally happens that Grey is very attracted to him.
After a day spent with Mark, Mick heads over to the master bedroom to spend some time with his wife.
Boom!
There she is, Keisha Grey wearing the sexiest lingerie your mind can think of. A few shared kisses later, Keisha reveals Mick her dark fantasy of having a threesome.
She wants the double penetration fuck fantasy to get realized badly!
To her surprise, her hubby knew exactly what she wanted for all this time. TWO COCKS at the same time, one in her pussy and one in her asshole.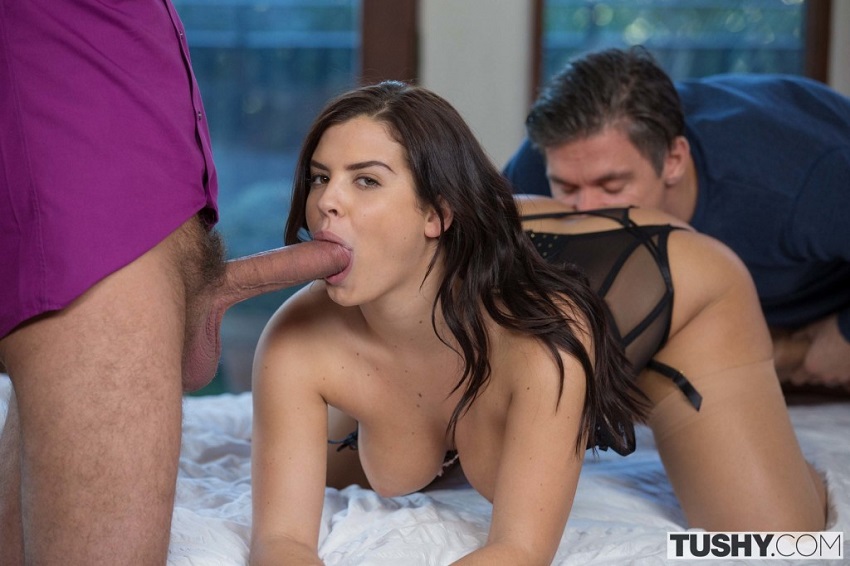 Blue texts Mark to let him know his wife wants a three-way.
Expectedly, Mark is down for it and rushes over to their room. There he finds them, Keisha on her knees sucking on Mick's stiff dick.
Mark joins them and the rest is history.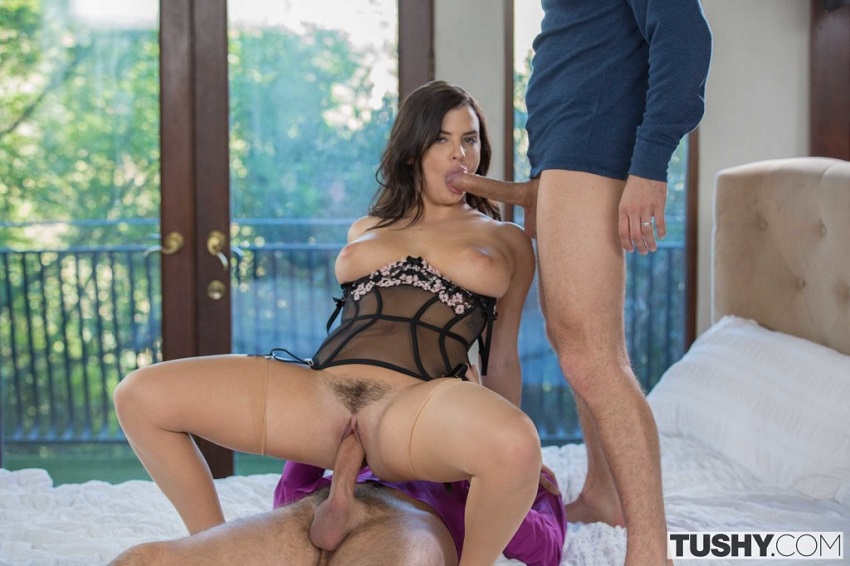 Finally, after all this time of waiting and keeping this big secret all to herself, wife first DP is about to go down.
Excitement goes through the roof when Grey gets to hold two hard cocks, taking them deep into her mouth, one at a time.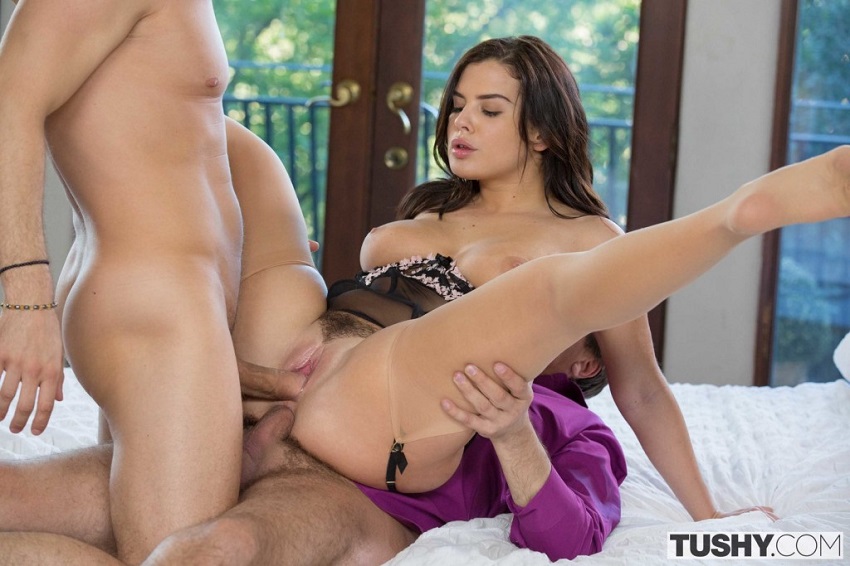 Giving both great pleasure with her magnificent oral fuck skills, it's time for them to put things in the next gear.
While sucking Mick's dong, Mark approaches Keisha Grey from behind and eases his cock inside her juicy pussy.
Stuffing Grey for a quick little while, it's Mick's turn to enter his penis in an already very well examined twat. Stuffing and warming up continues up until they decide to bring this hot threesome to a whole new level.
Level: DOUBLE PENETRATION.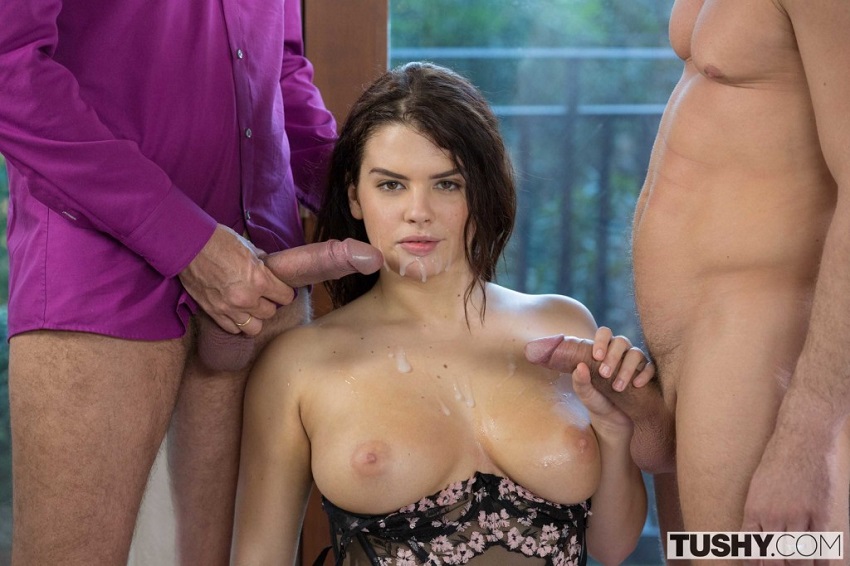 It finally happened, Keisha Grey DP fantasy for your viewing pleasure!
Lovely wife, Keisha Grey, climbs on Mark while her husband Mick Blue changes fuckholes and enters his wife anally. Grey's Ultimate fantasy of having two cocks inside her, penetrating her vag and ass at the same time, just became fulfilled.
Enjoying the wicked ride of having two dongs rubbing against her insides feels much better than she ever imagined. With her sex holes full, Keisha experiences the most satisfying sensations she ever witnessed.
Climaxing and understanding the language of three, Keisha, Mick and Mark finish their tasty threesome by letting Keisha Grey's experience a facial cumload with two hot doses of cum.
::
Since we are already speaking of Keisha, you sure do want to watch her first anal fuck with her best friend Leah Gotti one more time.