There is no one that comes even close to the wondrous, busty and highly skilled pornstar, Amy Anderssen. She is famous for her insane boobs. Another thing that is big about Amy is her ass. Oh boy, is it ridiculous. What a doll!
However, Amy is also known for all the amazing porn movies and scenes she filmed. One thing is for sure, Amy known darn well how to treat all her fans right.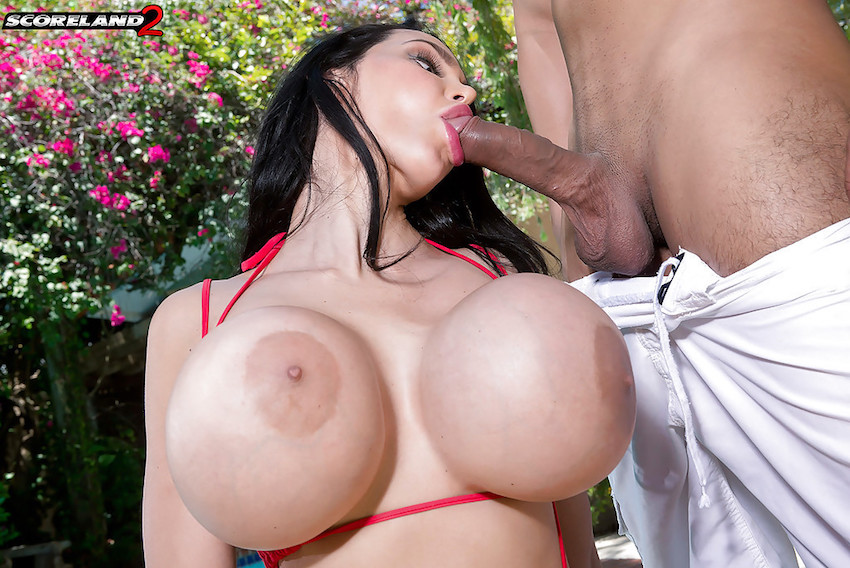 Today, we bring you an excellent collection of Amy Anderssen porn videos that are all free of charge. Sit back and enjoy yourself watching the lady with one of the largest breasts on the planet do her thing. You will love her!
And if you are new to Amy, you will probably want to watch her suck and fuck a few more times for your brain to finally process all the madness.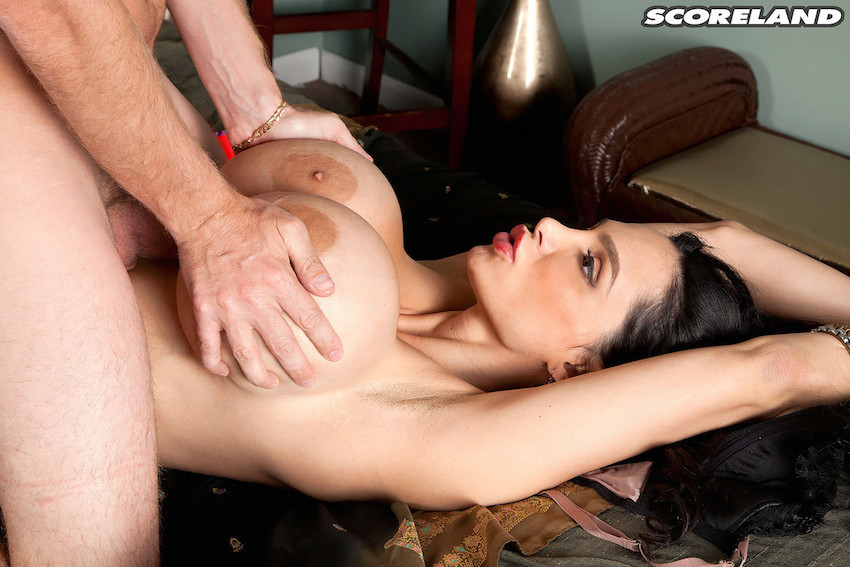 By the way, Amy also sports a very enticing Instagram profile which you should definitely start following if you aren't already. There is always something quite kinky going on that will make your day.
Without further ado, take action, click the play button and enjoy yourself in Anderssen's porn videos craziness.
Amy Anderssen with a mouthwatering webcam show

If you did not know it yet, yes, Amy is very, VERY good at throwing down outstandingly joyful webcam shows. And if you need proof, well, here it is. With the remarkable assets, Amy has no problem seducing even the pickiest porn fans (men and women!). She slowly and very seductively strips down and teases you with her jaw-dropping boobs and a perfectly rounded ass. However, this is just the beginning of all the fun that Anderssen has in store for you. Wait until she picks up that dildo and fucks the living daylights out of herself. You sit back, relax and enjoy the madness.
Son fucks his super busty stepmother Amy

It was just a year ago when Michael's father and mother divorced. Would you look at him today, he already brought home another woman who he is down to marry. In Michael's eyes, she is a complete slut. Just in time of proposal, Michael walks in and gets pissed through the roof seeing the two.
Later that evening, Michael is chatting with his friend about this new babe, Amy Anderssen, his dad dates. He wants revenge! Thanks to his friend, an idea to film her and post a video on social media is more than brilliant. Michael wastes no time and goes to business immediately. He catches Amy taking a shower but gets caught filming her with his smartphone shortly after. Now that definitely did not go as planned.
What will she do?
To his surprise, Amy drags him in and the rest is history. Bear in mind, the dad is still downstairs, about to leave. There is no way he can get away now. That said, Amy, or should I say, mommy, takes good care of Michale and even lets him fuck her. The whole experience happens while they are still under the shower. And those insane boobs and bubble butt that decorate Amy are simply spectacular. What will Michael do with the video? Or will he keep it a secret for as long as Anderssen lets him fuck her?
Perverted tutor Amy fucks student in her office

After they have a quick conversation about her student's behavior, Amy has enough of it. If he is a pervert, she will be an even bigger and filthier pervert herself. After all, they are in her office and she can do whatever the fuck she wants. He is under her command now and he will obey her regardless of what she says.
To his luck, only good things are about to happen.
After she approaches him and starts undressing him, Amy is left in shock as soon as she pulls down his pants. An enormous prick stands right in front of her and has her hooked immediately. No way will Amy miss on the opportunity that is given to her. Amy spits in her hand and starts rubbing it against his giant dick. She teases him with sucking his cock and later does exactly that. Needless to say, Amy Anderssen wants that humongous prick as deep in her mouth as possible.
Just a few moments later and Amy is already bending over on her desk, getting banged super hard from behind. He does her properly and Amy enjoys it through the roof. From behind, from the front, sideways, squatting on his shaft, you name it, Amy does it all and then some. If one knows how to fuck a student right, it is not other than the perverted tutor, Amy. Will that teach him a lesson? Or will he misbehave even more often to start visiting Amy's office on a regular basis? I think we all know the answer.
Two big black cocks and a lady with massive juggs

A big black cock is a perfect match for the monster boobs of Amy Anderssen. So, you can be sure it is an encounter of gigantic proportions! Watch Amy's ass wiggle as an invitation for his big black cock to bang her. The view from Amy's backside especially when she bends over can turn any man hard with excitement. Her wet, warm pussy gets him even more keyed up while fucking her from behind in the classic doggy style. It gets so intense he cannot hold back any longer and lets his cum out all over her face. But if you think Amy is done, you are wrong. What could be better than seeing her huge tits come head to head with one big black cock? Watching her satisfy two of them all at once.
This time around, Amy gets to shake her ass twice to the delight of both big black dicks. So, you are in for a treat with this fuck-filled video. As one smashes her warm vagina doggy style, she happily pays lip service to the other by licking and sucking his cock. If anyone can handle this threesome, it's Amy. So, you can bet these BBCs never had it so good!
Fucking a horny lady with insane body frame

Nothing could be more satisfying than to watch our favorite busty pornstar Amy Anderssen rammed in a variety of sexual positions. Her long pink gloves plus the white stockings add a certain touch of class to this porn video and make it even naughtier to watch. Are you hungry? Well, you are bound to love seeing Amy banged like a pretzel. In this position, you can see her massive jugs as they jiggle with excitement when she grinds his hard cock. From here, it is a quick transition to the classic missionary position with some tender kisses thrown in before their fucking gets more vivid.
This time around, Amy plays the cowgirl and rides his cock with such lust and pleasure. But she is nowhere near the end. Amy shows how well she can ride his hard cock in the reverse cowgirl pose. It is also the best position to show off her massive hooters shaking while she grinds. Are you drooling yet from the excitement?
Hold on, it is not over yet.
Watch Amy moan with delight as their bodies are tangled in the bizet pose. While he plunges her moist slit with such gusto, he still manages to be tender as he caresses her sweet tits. So, it is not surprising to hear both of them screaming and moaning with ecstasy.
Feminine touch

It looks like the feminine touch is just what Amy Anderssen needs to satisfy her sexual cravings with from time to time. The action gets hot straight away between Amy and Jessica. It is the perfect team up for these two horny ladies. Jessica looks so eager to show Amy how well she, too, handles her massive jugs. Without a doubt, her tongue knows her way around those sweet nipples. Watch her lick and suck them with delight. She will have you wetting your own lips and hoping she is suckling your jugs instead.
Jessica has a big appetite and she takes the action down to Amy's juicy pussy. You can already see how hungry she is to taste her slit. She gives her pussy a tongue-lashing like nothing you have ever seen before. The action gets more intense when Jessica brings out her surprise for Amy – a pink dildo. It seems to hit the right spot as Jessica fucks her with it. Watch Amy swing her ass to get the dildo deeper into her wet pussy. It does not take long before Jessica slides it out to taste Amy's cum all over it. She also goes the extra mile to please Amy further by licking her pussy to cool her down from their passionate encounter.
A pretty phat ass to fuck outdoors

Watch Amy Anderssen strut her stuff as she steps outside to do a bit of sexy modeling. Her cameraman is quickly smitten by her pretty ass and cannot seem to get enough of it. Indeed, the outdoor lighting does its justice and shows it off quite well. Plus, Amy is always happy to oblige any request to lower her jeans further to display her pretty ass — as long as you ask her nicely. She even adds her signature ass action to delight him even more.
Only Amy can shake it to make any man hard without even touching him yet. So, ladies be sure to take a cue from our favorite busty pornstar on this. The action gets intense as Amy bends over to take his hard cock into her pussy. In the standing doggy-style position, he thrusts deeper and harder to make her scream with delight for everyone who is nearby to hear. No doubt, the thought of anyone around to hear them moan makes fucking outdoors more exciting. A generous drizzle of lubricant to her huge ass makes it glisten in the light for the added visual appeal. Plus, the lube brings a faster rhythm to make fucking even more powerful.