I never thought I would be writing about metal music and inked pornstars at the same time. Thanks to Steel Panther and their new music video "Wasted Too Much Time" an NBD (never before done) has happened to me right now.
For the past 5 years, I am actively writing in the adult entertainment industry and crafting content for you to enjoy reading and watching. Meanwhile, for the past 16 or 17 years, I am an enthusiastic metalhead. The passion for the music, especially the extreme metal, like black, is only going stronger. And so is my passion for the porn business. That said, you know how excited I am writing about music and hot tattooed pornstars.
To be frank, glam metal is not really my things but whenever a new Steel Panther music video comes out, I try and not miss it. Whoever is following them knows that they are very open-minded when it comes to hot chicks and naked bodies. Especially boobs. Oh yeah, it is a YouTube video and you will see three girls flashing their pierced nipples.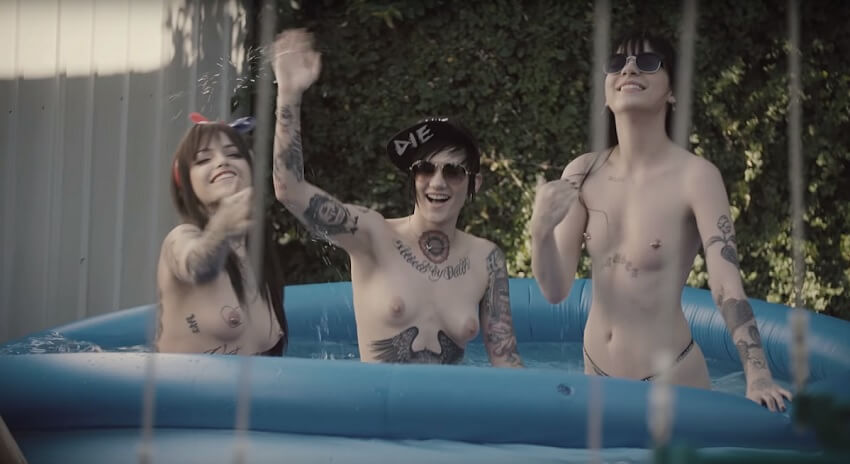 Speaking of women, inked pornstars, Charlotte Sartre, Leigh Raven and Nikki Hearts are all featured in "Wasted Too Much Time" (fucking you). You will see them in the beginning, and you will see them (almost) naked in the pool at the end of the video. There is even some kissing involved that I am sure you will enjoy a whole lot.
While band's lead singer, Michael Starr, should benefit from the trio of inked pornstars, his bitchy wife drives him away. But it is her who is the one not to be trusted. Whenever she has time, she fools around with whomever comes by, let it be a plumber or a police officer.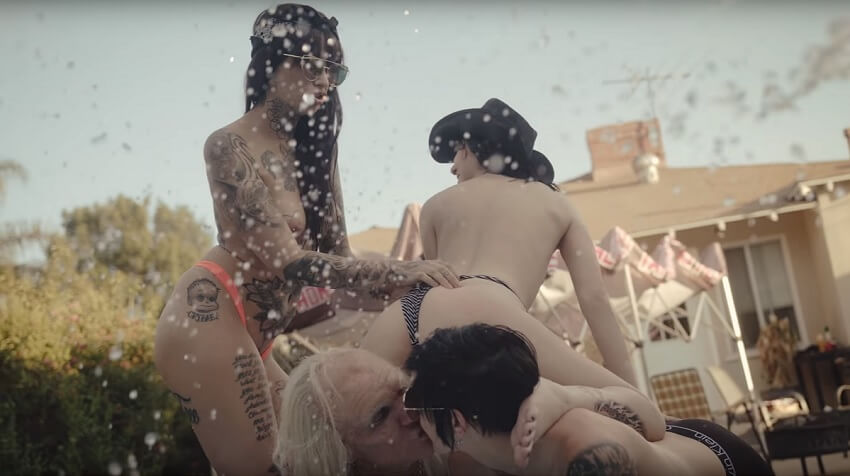 To cut a long story short, the song sings about a disastrous relationship. However, we aren't here about all that nonsense. We are here only about one thing. As a matter of fact, three. One is Charlotte, the other is Leight and the third one Nikki. The truth is, their tits are the only thing that matters. Do you even hear what Michael is singing other than, "Wasted too much time fucking you." You are glued to the screen waiting to see more pornstar appear on the screen. If that is the only thing you are after, watch the intro and then jump to 3:43. No need to watch and listen to all the rest if it is not your taste.
It always makes me excited seeing pornstars in the mainstream world. Let's make Smut world even bigger than it already is.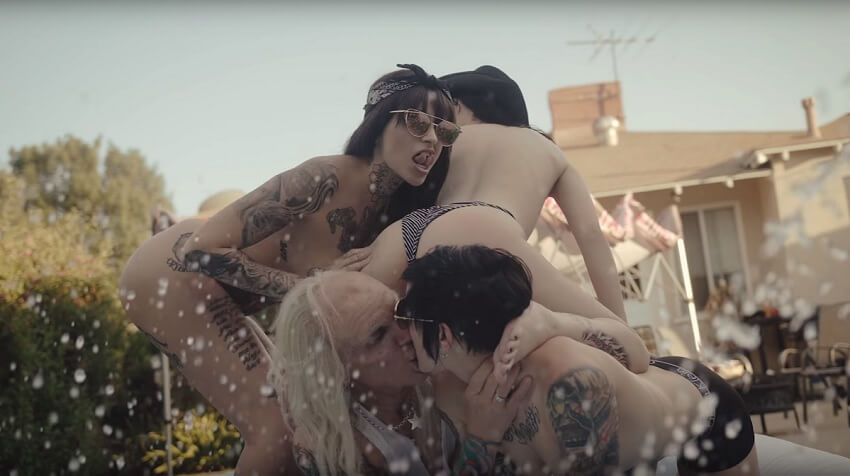 By the way, who would not want to join naked Charlotte, Leigh and Nikki to remember the past relationship quicker? Or just because one wants to have some fun and they are waiting for him and inviting him over. I cannot say about you, but I sure do know that I would not mind being the guy who rushes over and, while running, stripping down and jumping in the pool nude.
Since we are very NSFW, I want to get you even more familiar with the three inked pornstars. You guessed it, below you will find three videos, one per star. You know, just in case you never heard for Charlotte, Leigh and Nikki before. If that is you, a lot of work awaits you.
Enjoy glam/hair metal, have a good laugh and later take some extra time off for you know exactly what reason.
Charlotte Sartre
Leigh Raven
Nikki Hearts