Tattoos have become increasingly popular in the adult entertainment industry. Many pornstars have embraced body art as a form of self-expression and individuality. These tattooed performers bring a unique aesthetic and style to their work, attracting fans who appreciate their bold and edgy look.
Why Tattooed Pornstars Are in Demand
There are several reasons why tattooed pornstars are highly sought after:
Tattoos add an extra level of visual appeal, making performers stand out in a crowded industry.
Tattoos can convey a sense of rebellion and non-conformity, which resonates with certain audiences.
Many viewers find tattooed pornstars to be more relatable and authentic, as body art often reflects their personal stories and experiences.
Tattoos can enhance the overall fantasy and role-playing aspect of adult content.
The hottest and most popular tattooed pornstars that will rock your world and have you satisfied at any given time of the day. Look no further if you are into this kind of stuff.
Inked skin is getting quite popular both in the mainstream and in the adult world. As a matter of fact, just look around and try to find a person who does not have a tattoo. I know right, ink everywhere.
But isn't this something we all like? Seeing a smoking hot girl with her skin decorated in art gives you thrills and spills. It makes her look so rebellious and so damn inviting. Don't try and pretend you don't like them.
The same goes for the adult entertainment industry. The sexiest women are getting their bodies tattooed, and we sure do not complain. Bring it on! The more adult actresses I see wearing some ink, the happier I get. Indeed, I am a bit of a tattooed pornstars freak myself, too. Obviously, I love all the ladies who like to share with the world the inner animal and crazy soul by going against the grain.
To treat you right, below you can find the most popular inked pornstars who will always amuse you.
Famous tattooed pornstars who are breaking the rules
Here are some well-known tattooed pornstars:
Tanya Virago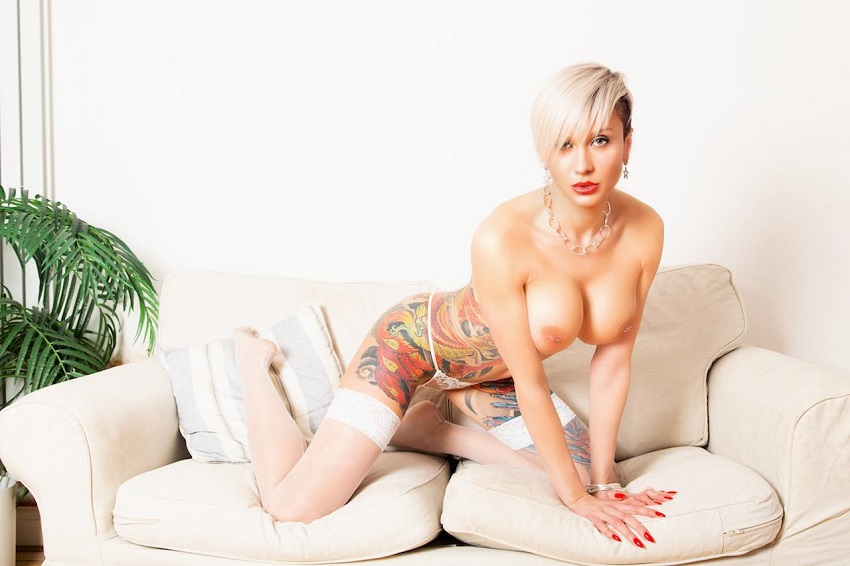 Since 2018 Dr. Virago (yes, she's MD Physical Therapist guys) has something to say to all tattoed pornstars lovers. Thanks to her awesome body, great talent and appearance she got viral very fast. Her body is like a treasure chest to explore. Tanya had pierced her nice and large boobs, her sweet clit and even her tongue. Such a naughty MILF babe! You can't miss the two sexy tattoos around her sexy curves: a phoenix and a large scorpion.
Tanya Virago is staring in high-quality productions which are a real must-watch for every fan of tattoed porn and pierced hot MILFs with big beautiful boobs. So, guys, regularly keep an eye on this outstanding model. She'll definitely enrich your fantasies and desires.
Instagram: instagram.com/tanyaviragoxx
Twitter: twitter.com/TanyaVirago
Sophie Anderson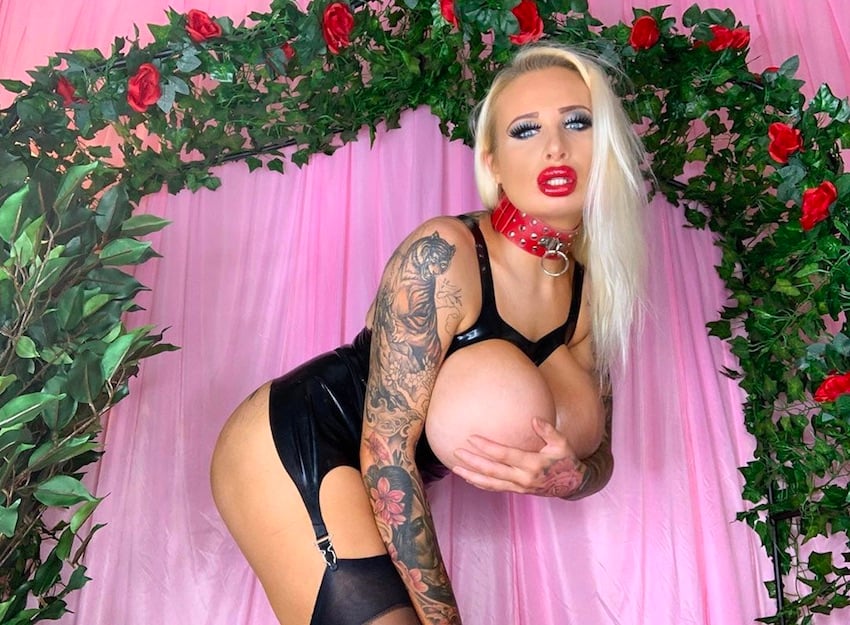 If you are looking for the most real tattooed pornstars, you better enjoy yourself some Sophie Anderson craziness. This lady is wicked, wild and out of this world. She likes to perform in the craziest XXX scenes, and you know why? Because that's the way Sophie rolls. She is like that by nature, I mean, just take a peek at her Twitter account, and you will immediately know what I am talking about. Sophie Anderson comes all the way from Bristol, UK, and was born on November 23, 1987. She has this insane pair of fake boobs that drive every porn fan crazy. Whether you are into enhanced tits or not, you will stare at those hooters undoubtedly.
Instagram: instagram.com/sophieasuccess
Twitter: twitter.com/sophieaslut
Charlotte Sins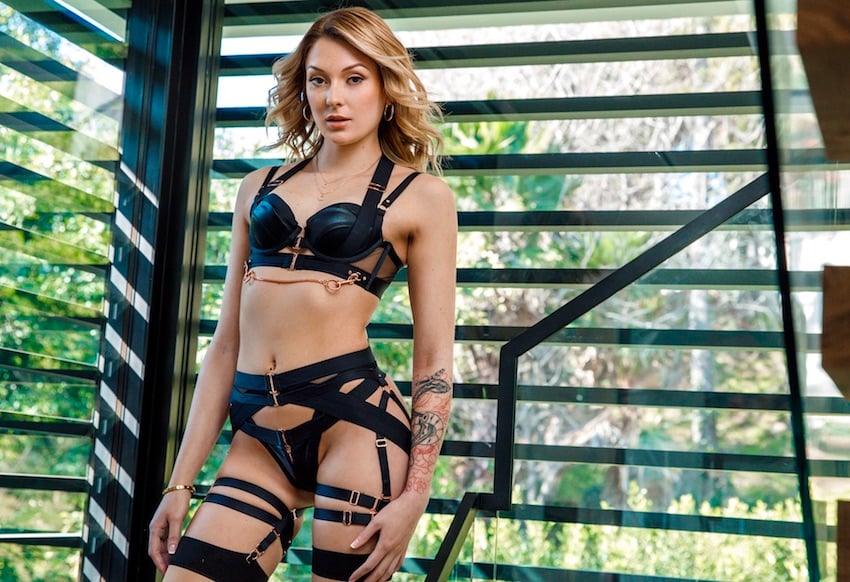 Charlotte Sins is skinny, glamorous and she is from that type of tattooed pornstars who always do whatever it takes to make the most intense porn performance. She is pretty new to the adult business, and we are all delighted that she took the leap and joined us. She is tall, standing at 5'9″, meaning, Charlotte could easily be a model. Still, she decided to have some fun in her life, fucking dudes and girls in front of the camera for money. Also, Charlotte Sins is pretty open-minded, willing to do all sorts of kinky stuff for her loyal fans to take pleasure in. Sins was born on August 15, 1996, in Las Vega, Nevada.
Twitter: twitter.com/charlotte_sins
Alison Avery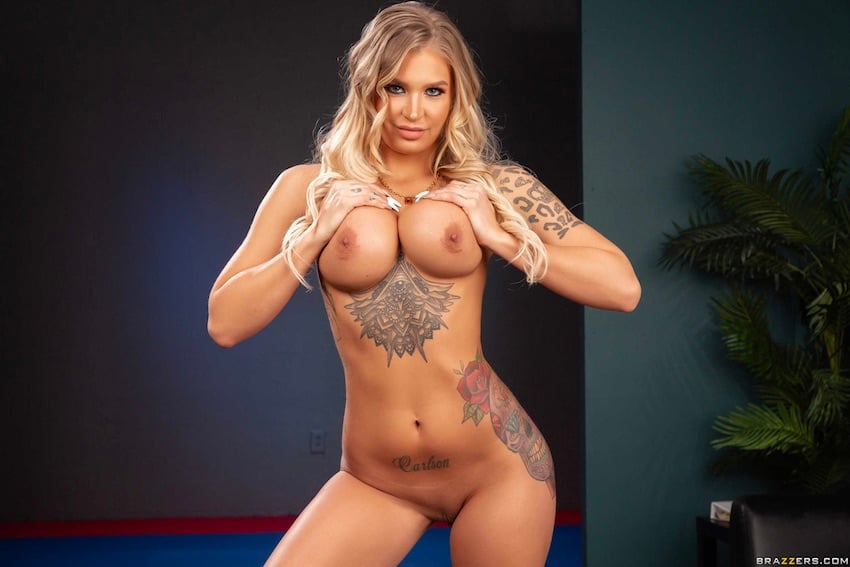 Blonde hair, slender body physique and a bunch of tattoos as a decoration, that's what's up when it comes to Alison Avery. If you have not seen anything from this lady before, you are doing something wrong. She is somewhat glamorous yet, at the same time, the wickedest and most perverted. What to say, we absolutely love Alison Avery. She is the one and only of all the tattooed pornstars that might be sort of new to the adult entertainment industry but already taking it by storm. It is a guarantee that there is a very bright future ahead of Alison. Taking the largest cocks with her mouth or her pussy is definitely Alison's favorite thing to do.
Instagram: instagram.com/itsalisonavery
Twitter: twitter.com/thealisonavery
Ophelia Rain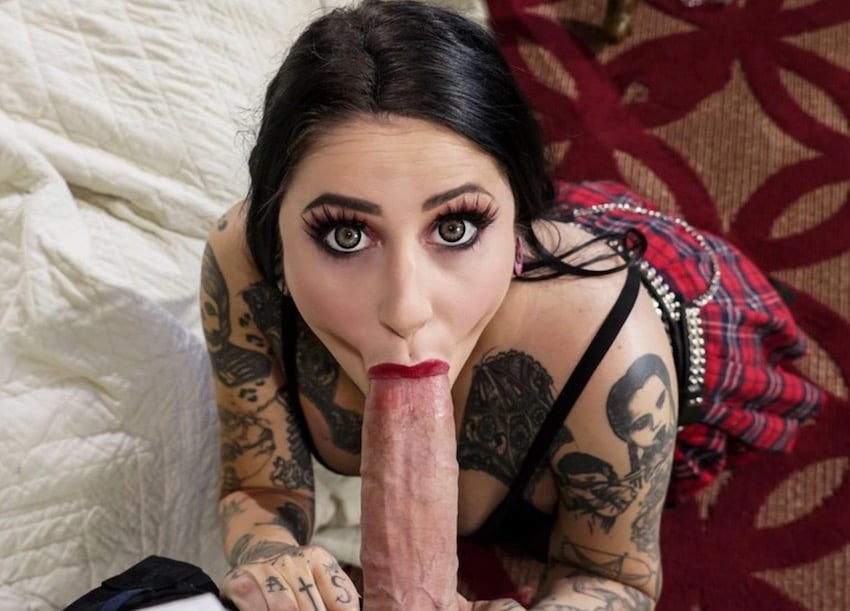 If gothic ladies are your cup of tea, you will surely enjoy all and everything about the extraordinary Ophelia Rain. This is one of the tattooed pornstars who has outstanding assets that will take your breath away in a snap. However, once you see her in action, do what she does best – FUCK – you will be blown away completely. Ophelia is no stranger to going all-in for every porn scene she shoots. And that is something you will notice right off the get-go: passion, enthusiasm and the love for cock. If you are ready to bring some darkness to your life, you now know who to watch and indulge in.
Instagram: instagram.com/ophelia.rain
Twitter: twitter.com/opheliarainxxx
Canela Skin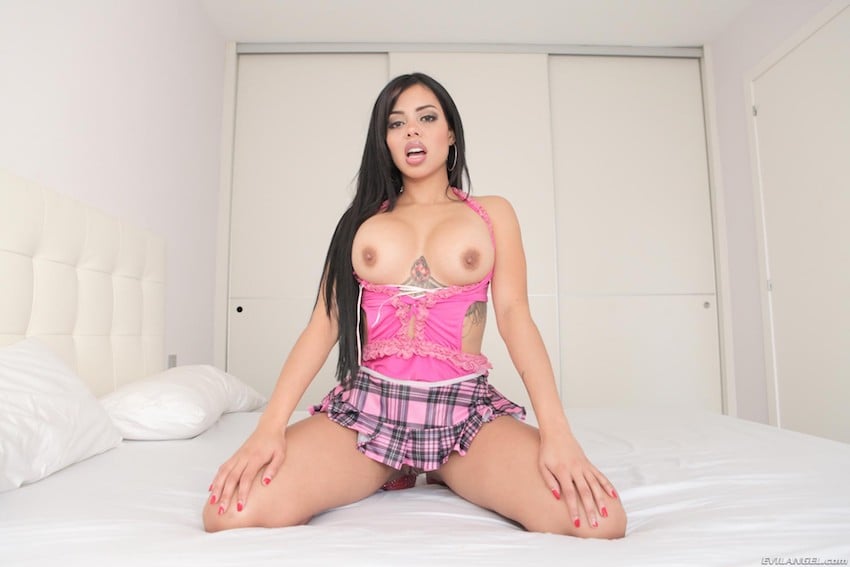 If you are into hot tattoos-covered pornstars with exotic looks, Canela Skin is the one lady for you. She is glamorous on one end while exceptionally dirty and perverted on the other. With that pretty smile, you will not guess she is in the adult entertainment industry, seeing her on the streets. However, the popularity of Canela Skin is growing strong with each passing day, meaning, you are, very likely, quite familiar with who Canela is. Not as heavily tattooed as some of the other stars that we have featured, however, just enough to meet our rules and regulations. Enjoy yourself in some Colombian heat and never look back.
Instagram: instagram.com/canelaskinx
Twitter: twitter.com/canelaskinoff
Janine Lindemulder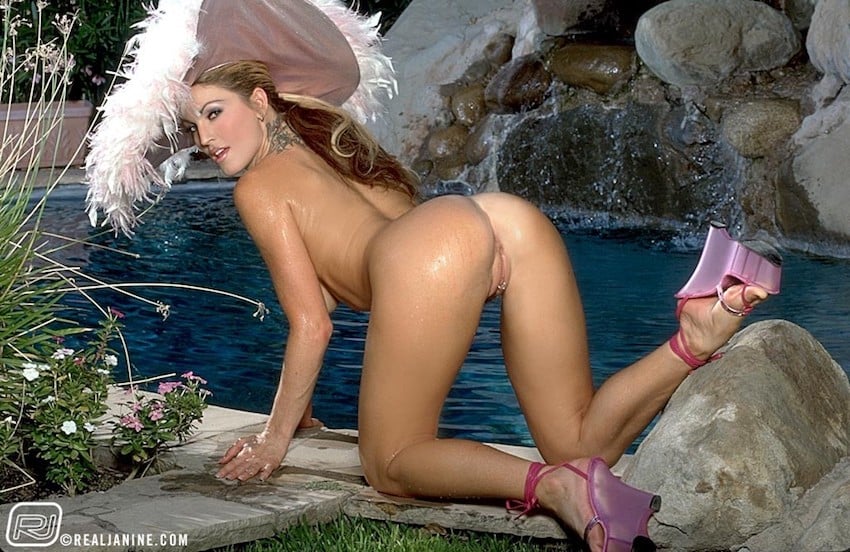 It is no secret why Janine Lindemulder got included in the list of the best and the sexiest tattooed pornstars of all time. She is a pure legend. I still remember the time of seeing Janine on the cover of Blink 182's album. At the time, I had no idea this babe is among the tattooed porn stars. However, of course, I immediately did research and found out who Janine actually is. As a kid, I did even more research on her later on, you know, for science. Today, Janine is a tempting fifty-year-old woman who looks better than ever. I will not get myself into details what she got herself into during her life, that is something you should consider researching yourself.
Twitter: twitter.com/msjaninelinde
Sydnee Vicious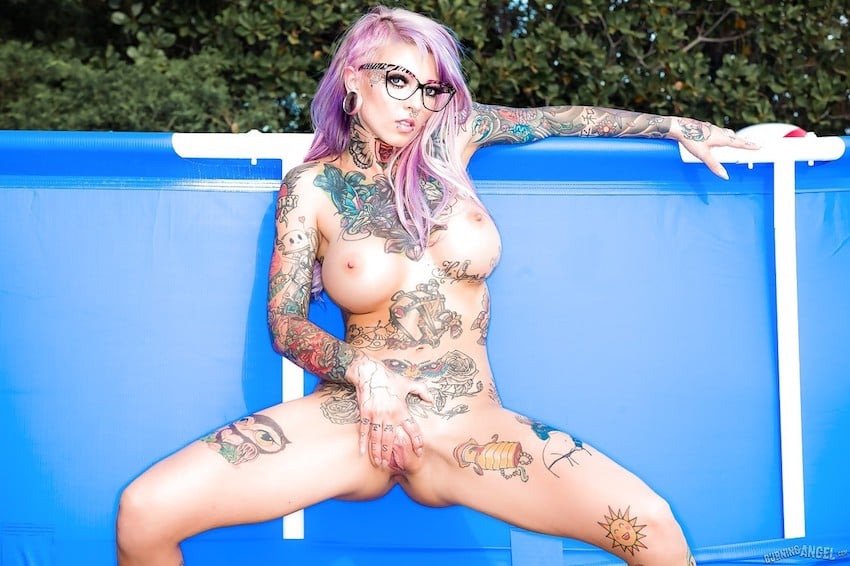 Sydnee Vicious calls herself a real-life anime girl. Indeed, this suits her better than anything else. What's more, Sydnee is heavily inked, as well as pierced, adult actress who will blow you away with her insanely amazing performances. Without even digging too deep into what Sydnee does on screen, you already know she can get extremely kinky. If babes who do not hold themselves back are your cup of tea, you better consider investigating Sydnee Vicious further. One thing is for sure – you will not regret it. And if you would like a dose of insanity regularly, make sure you follow Vicious on popular social media platforms.
Instagram: instagram.com/theonlysydvicious
Twitter: twitter.com/sydneevicious
Eva Angelina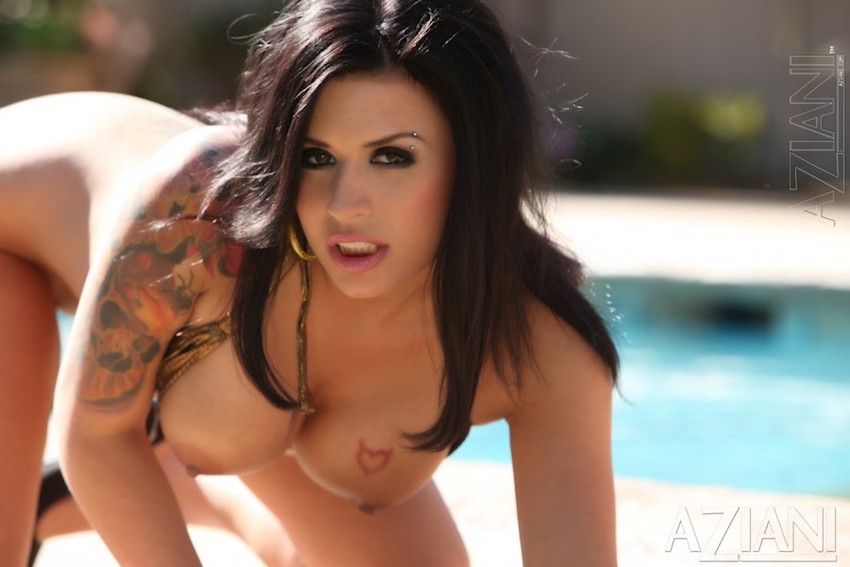 If tattooed skin is your thing while at the same time you like sweet and exotic girls, Eva Angelina is the one for you. This hotty is out of this world. Imagine running into her on the street not knowing what she does for a living; would you believe that porn is how she earns money? I know, right? Too cute and adorable! However, when this tattooed pornstar unleashes her wild animal, she goes berzerk. Eva Angelina is unstoppable when you couple her with a rock solid machete or another sexy lady. That said, Eva is an adaptable inked star who enjoys pretty much everything sex for as long as she orgasms at the end.
Twitter: twitter.com/theevaangelina
Helly Mae Hellfire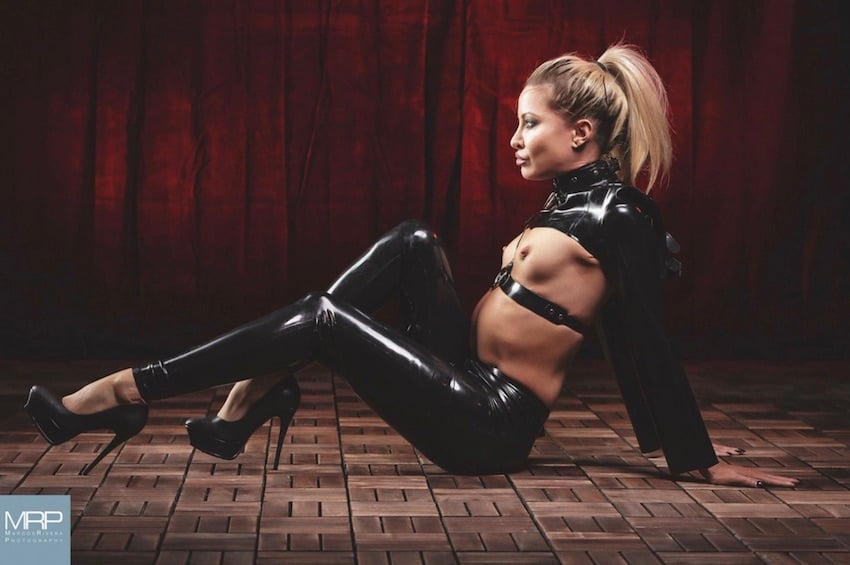 As her stage name suggests, Helly Mae Hellfire is one hell of a lady. Seriously, if Satan, Satanism, antichrist and other black magic-based ideas get your body juices flowing, Helly is the one lady for you. For the most part, Mae prefers being the dom, enjoying punishing all the naughty guys who misbehaved. If you are one of them, Helly Mae Hellfire always has a special surprise ready for you. If not torturing men and fucking like a crazy whore, Helly also enjoys participating in erotic, gothic-inspired photo shootings. In short, whatever Hellfire does, she does it with style and insanity in mind for you to get the most out of her every time.
Twitter: twitter.com/goddesshelly
Jenevieve Hexxx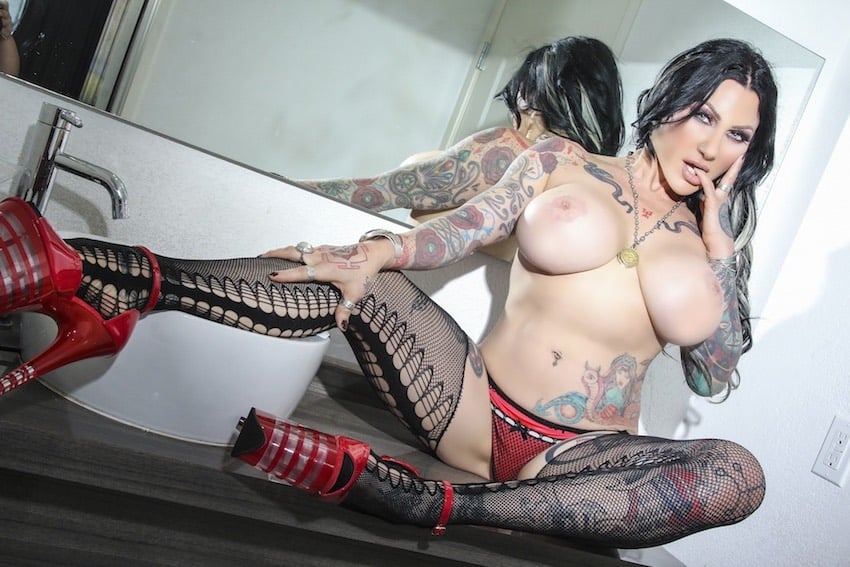 While her piercing eyes will immediately put you under a spell, Jenevieve Hexxx is not that scary after all. But she is a witch. However, if you need an alt pornstar to please all your wicked desires, Jenevieve could not be a better babe for you. She has it all, the tattoos, the massive fake boobs and the passion for fucking. One thing is for sure, Jenevieve is an unstoppable woman who is always down for some kinky action. Hexxx is a one-of-a-kind sex machine who does things her way no matter what. You become her little boy who she will do whatever she wants to. And you will enjoy every second of it.
To learn even more about the mighty goddess, you better go and read the porn interview we did with Jenevieve Hexxx.
Instagram: instagram.com/jenhexx_x
Twitter: twitter.com/jenevievehexxx
Charlotte Sartre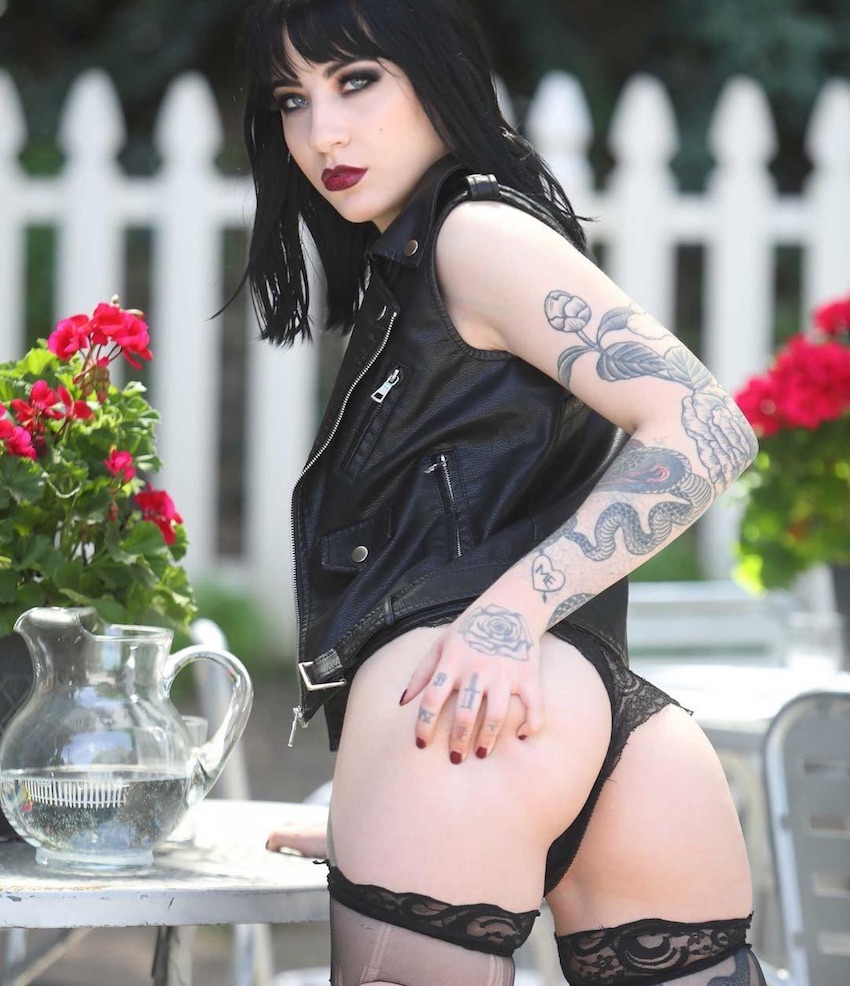 To some extent, Charlotte Sartre looks very shy and innocent, just like your average goth teen, who avoids people and likes to keep to herself. However, once she gets in front of the lens, Charlotte instantly becomes an entirely different person. Charlotte is this wild and crazy tattooed pornstar who likes everything insane. Seriously, whatever your deepest and darkest dream is, Charlotte probably already did it. There is nothing holding this brunette creature back. Whether it is double penetration, absurd rope play and accidental poop, Charlotte Sartre has been part of it all. What more she can bring to the table only time will tell. Charlotte keeps on surprising us with every fresh XXX scene she releases and there are a lot of them.
Instagram: instagram.com/gothcharlotte
Twitter: twitter.com/gothcharlotte
Larkin Love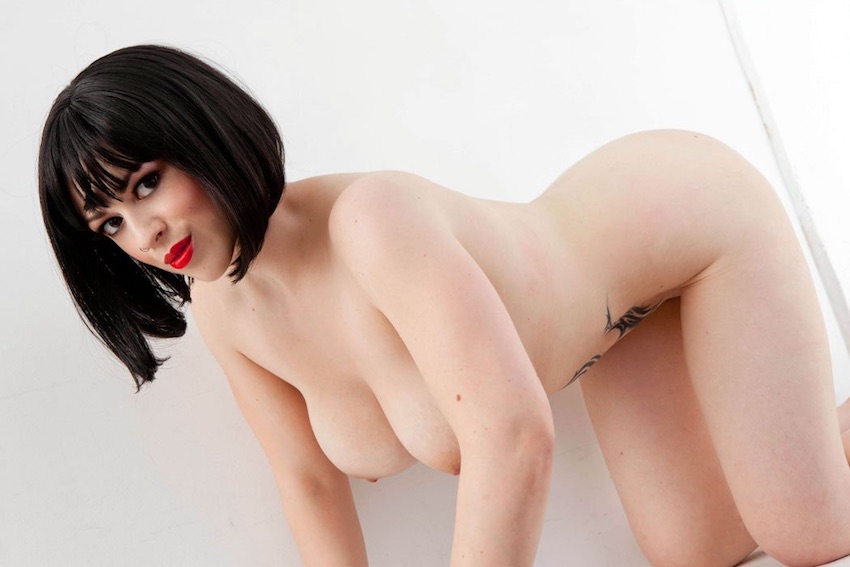 If curvy ladies with tattoos and piercings are your thing, then you sure will love everything about Larkin Love. This hottie is on another level and does some really wild fuck scenes. Be amazed and impressed with everything Larkin does and feel fulfilled for months to come. But I am 100% sure that you will enjoy Love's glorious big boobs the most. Those are just perfect. For the majority of the time, you will get to watch Larkin Love's self-produced videos and cam-like sex action. Needless to say, Larkin is a multi-talented tattooed pornstar who you will not mind dedicating all the extra time she deserves from you.
Instagram: instagram.com/thelarkinlove
Twitter: twitter.com/larkinlovexxx
Kali Roses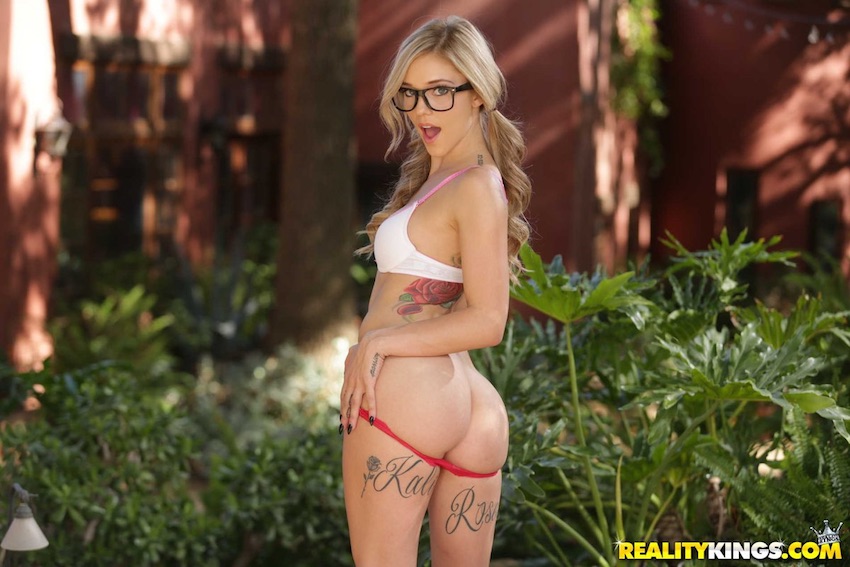 Kali Roses is this cute and adorable young blonde lady who has quite some ink decorating her body. If you look at her face, Kali is a sweet girl from next door, however, she is anything but that. Still, she might play quite some roles as a dirty neighbor what suits her more than perfectly. But when it comes to her tattooed pornstars performances, they are all of the highest standards. But you might like Kali Roses' solo scenes the most. To each their own.
Instagram: instagram.com/kali.roses
Twitter: twitter.com/kaliroses
Leigh Raven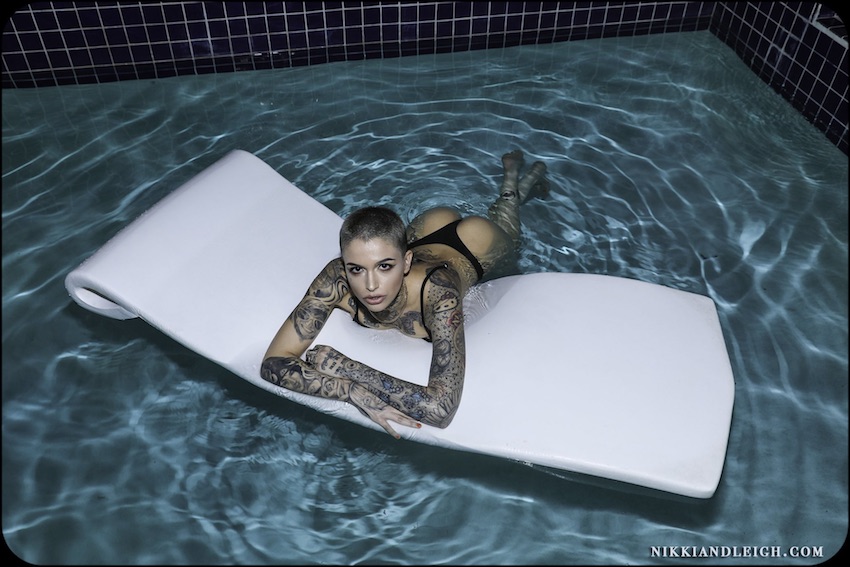 Sometimes she is with hair while the other times you will see Leigh Raven with a shaved head. Which version of Raven do you like best? I still cannot decide, but if I were to pick, I would probably go with the shaved Leigh. I dunno, she just looks even more rebellious than she already is. Along with a ton of tattoos covering her body, Leigh Raven likes and sports other body modifications, too. One wicked one is split tongue. While that sounds super painful, just imagine what Raven can do to your cock, wrapping her tongue around it. It makes you think, I know.
Instagram: instagram.com/leighravenx
Twitter: twitter.com/leighravenx
Juelz Ventura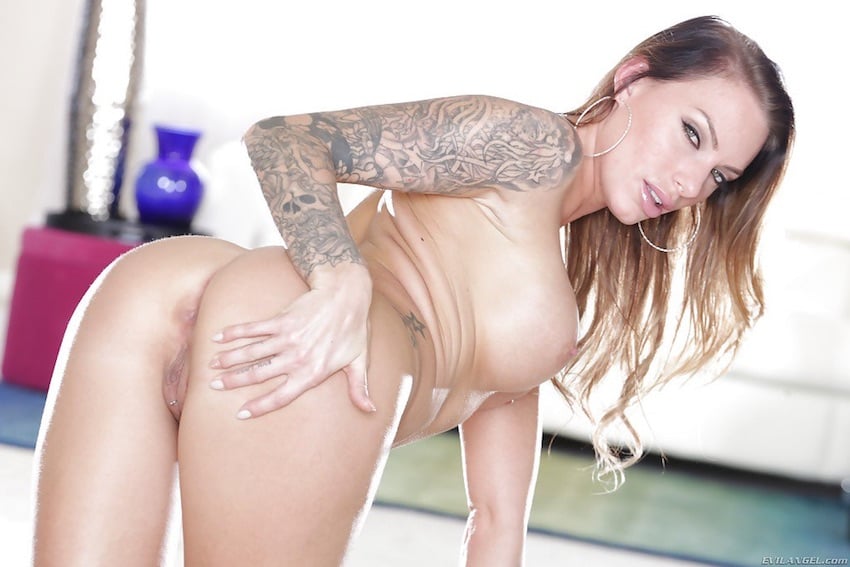 Juelz Ventura is a buxom MILF lady who everyone is very well familiar with. You have probably seen her do all sorts of stuff in front of the lens with other men and women. She fucks enthusiastically and does not waste anyone's time. Instead, Juelz always makes sure to over deliver and leave you fulfilled and satisfied. That is something she does best and always presents the experience of a lifetime. Even if it is your 100th video or a 21st scene replay, it is always a joy watching Juelz Ventura do her thing. Juelz was born on July 31, 1987, in Brazil. One fine and exceptionally hot tattooed pornstar, indeed.
Instagram: instagram.com/juelzventura
Twitter: twitter.com/JuelzVentura
Katrina Jade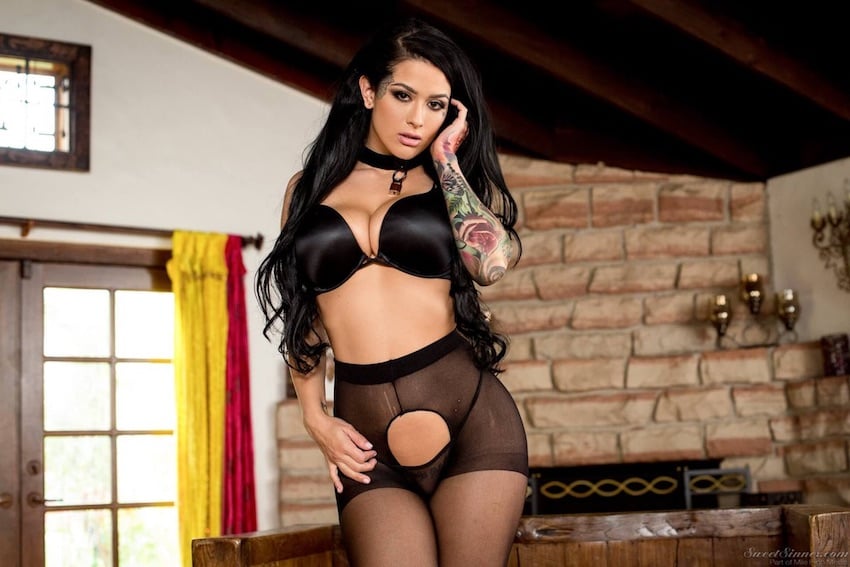 Katrina Jade has quite a spooky look when she appears in front of you. However, there is no need for you to feel frightened. But when it comes to cocks and pussies, Katrina will do plenty of damage. Who said that is a bad thing, right? With a spiderweb tattooed on her face, Katrina is a one-of-a-kind babe who all top tattooed pornstar studios love to work with. They all know she is a very open-minded girl, always down for any type of action. You will also find Katrina Jade do all sorts of fetish modeling which she is passionate about.
Instagram: instagram.com/officialkatrinajade
Twitter: twitter.com/kj_fetishmodel
Karma RX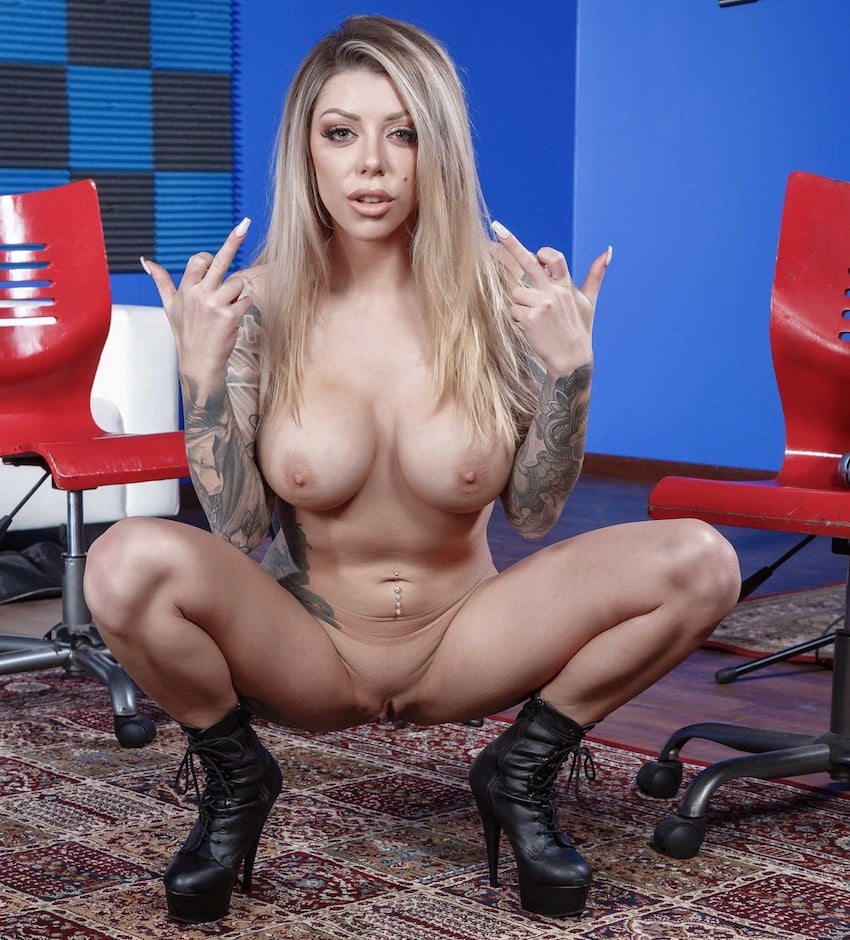 Big and fake boobs, constant hunger for some cock and a mesmerizing look, all this is what you get with Karma RX. Stroking cocks, offering titjobs and fucking like a legit slut, Karma does it all and then some. If you are lucky, you will also find her in her cam room, doing stuff to herself live. And that is when you should tip her and even take Karma to a private room. Who knows what will happen there. One thing is for sure, Karma RX is surely nor a shy girl, but that is something you already know. If you have the balls, feel free to join Karma on her wild fuck adventure.
Instagram: instagram.com/karma.rx
Twitter: twitter.com/karma_rx
Honey Gold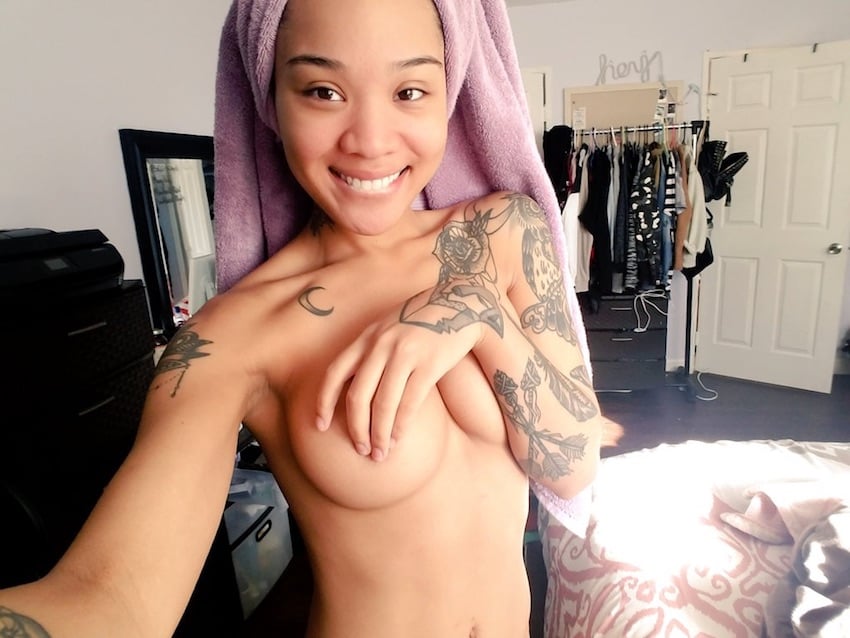 We once featured Honey Gold in our Hottie of the week feature and now we have her here again. Does that mean we like Honey's talent and her beauty a whole bunch? You bet! She is an ebony hottie with a tattooed body who digs entertaining herself with shooting tattooed pornstars videos. Having sex on camera is something that satisfies her and fills her with joy and happiness. Just like it fills you when watching Honey Gold getting banged and sprayed with cum. But in her spare time, Honey likes to go to the gym to stay in such amazing athletic shape.
Instagram: instagram.com/honeygoldlovexx
Twitter: twitter.com/goldghostxx
Nina Elle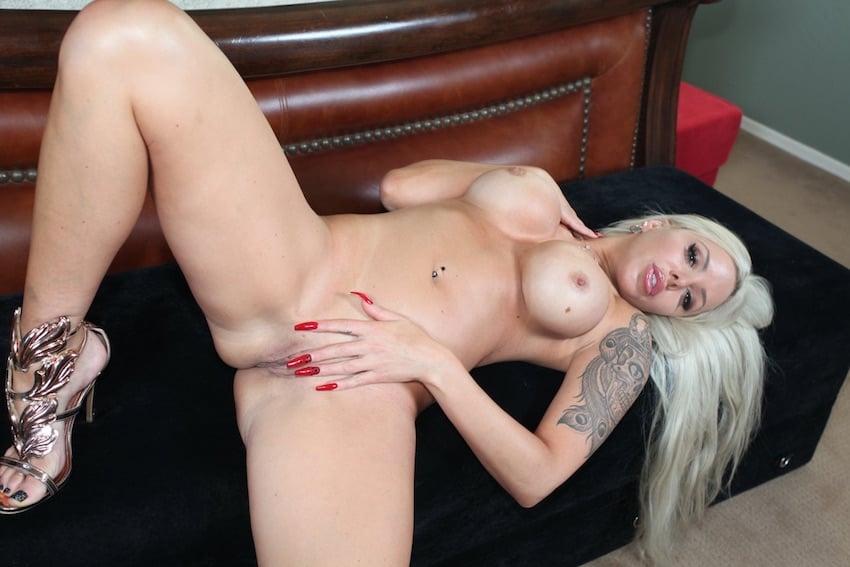 While Nina Elle's body is mega tight, her boobs are humongous and her rack nicely rounded. Those double D's will make you glued to the screen for hours to come. No biggie, indulge yourself in them for as much as you want. Whenever you feel down or whatever, just pick up any of Nina Elle's movies with tattooed pornstars and she will cheer you up. Her enthusiasm and the good vibes she forms hit you so heavy you can almost feel the warm breath that comes out of Nina's mouth when moaning. With the years of experience, she has in the adult entertainment industry, Elle is always down to shoot almost any type of hardcore action.
Instagram: instagram.com/ninacochina69
Twitter: twitter.com/ninaellexoxo
Ivy Lebelle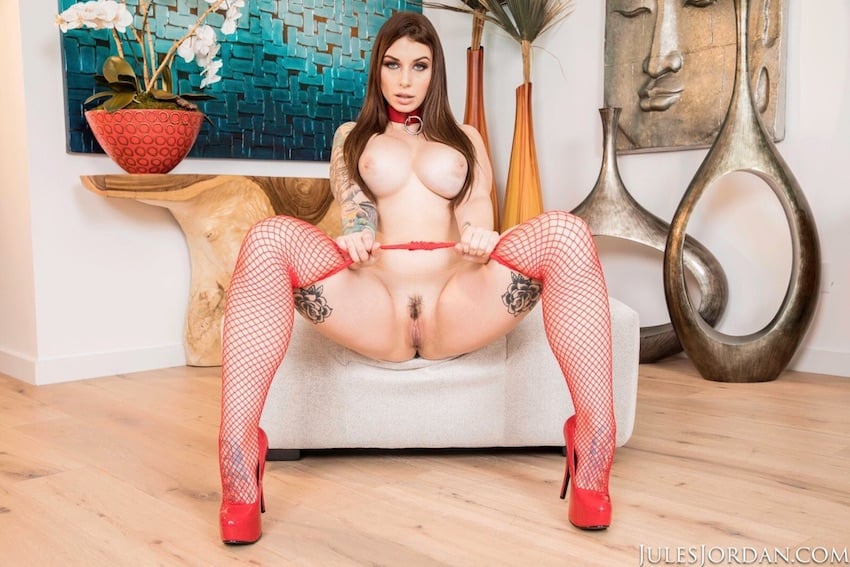 I do not know whether it is the tattoos or the hooters what will make you stare at Ivy Lebelle immobilized. And you will do it in a way not daring to blink. You do not want to miss a single moment when the chance arises to see Ivy in action. And she could only post a video of her taking a shower naked to her Twitter profile. By the way, do yourself a favor and follow Ivy Lebelle's social media profiles and keep yourself up to date. All that means is loads more (raw) sexy moments on a daily basis straight to your smartphones.
Instagram: instagram.com/ivylebelle
Twitter: twitter.com/ivylebellexxx
Danielle Derek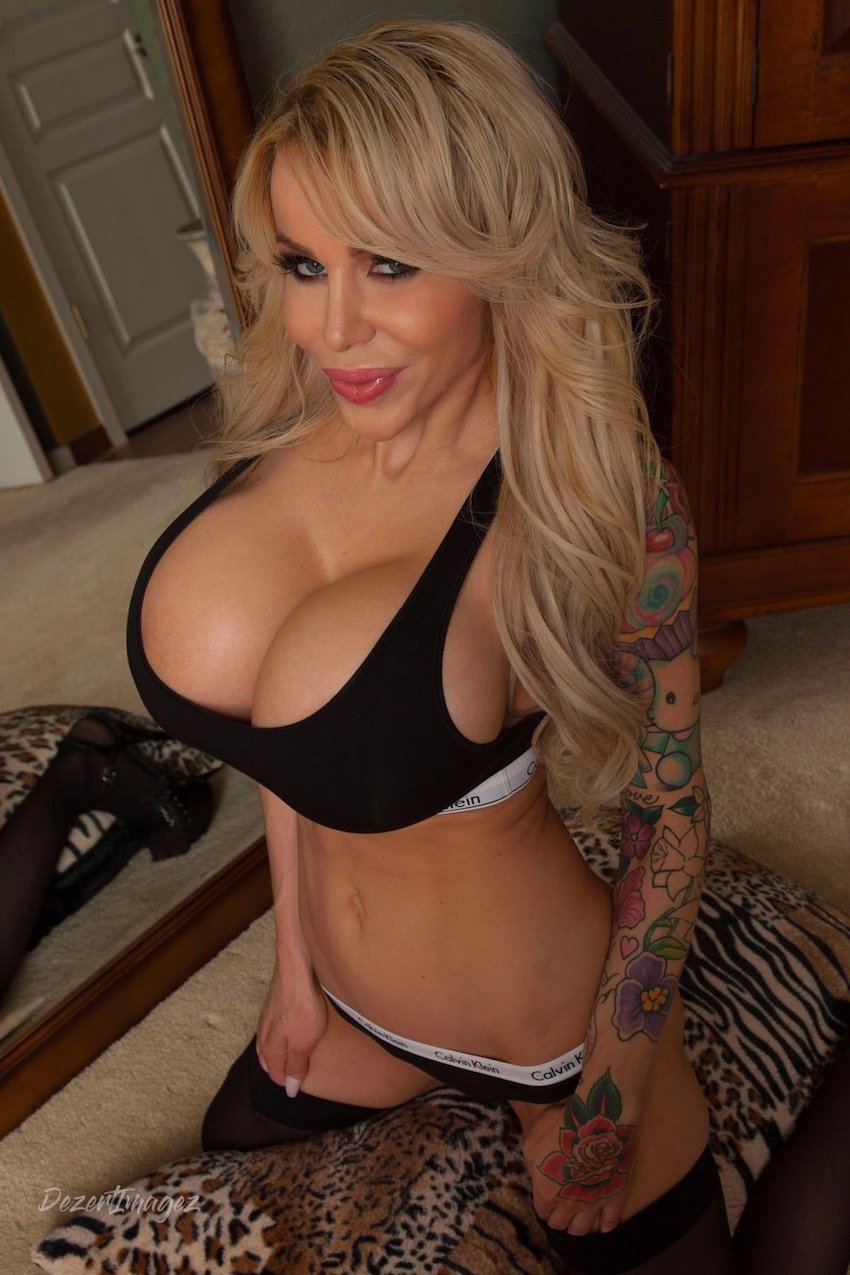 If you need tattooed pornstars and big boobs in your life, you truly need only one chick. Her name is Danielle Derek and she is one who will drive you nuts. If not due to her incredible breasts then it will be due to her veteran sex skills she perfected over all these years. But most likely, it will be because the whole Danielle Derek pack is one to not miss in your life. Even if you are not a fan of this type of women, Danielle might make you become one.
Twitter: twitter.com/daniellederekxo
Teagan Presley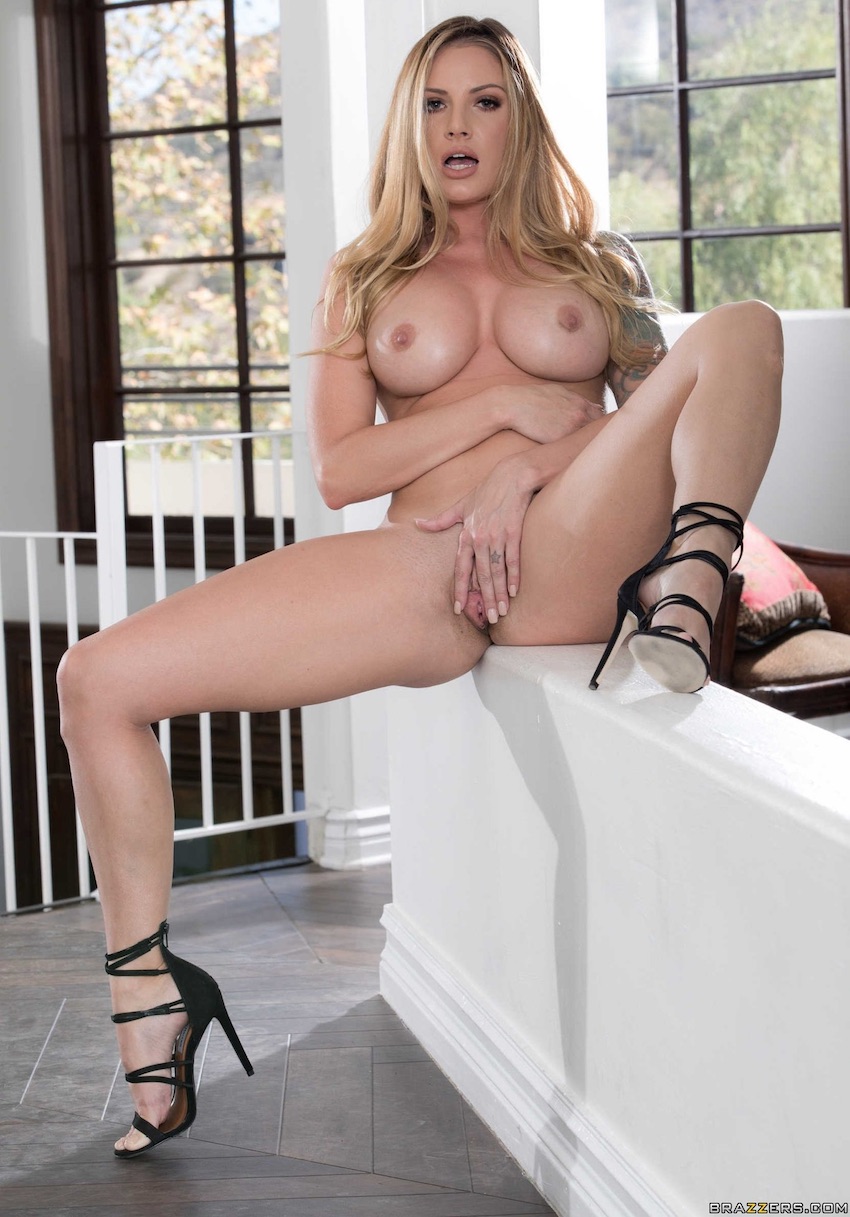 Born Ashley Ann Erickson, Teagan Presley is an American inked pornstar from Texas who began her adult career as a stripper. Teagan shot her first XXX scene at the age of eighteen and quickly became one of the most notable adult actresses. She is that kind of tattooed pornstars models, a Penthouse Pet, a Fleshlight girl and even an AVN Hall of Famer. Indeed, Teagan Presley is a serious deal when it comes to the tattooed porn stars industry. No matter if it is an Instagram post, a short porn scene teaser or a full-length dirty video, everything Teagan does, she does it like a champ.
Instagram: instagram.com/msteagan
Twitter: twitter.com/msteagan
Christy Mack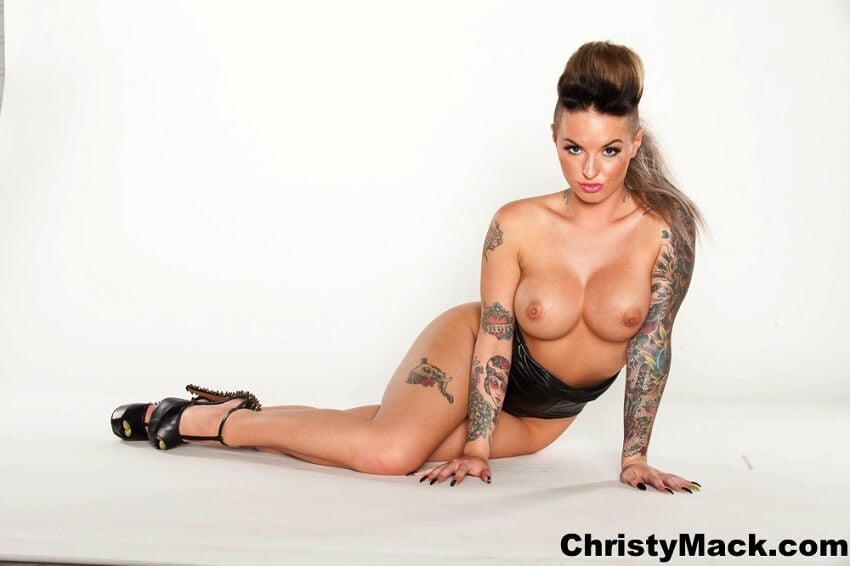 To kick off our female list with tattooed pornstars, we will start with one of my favorite, Christy. Always rocking a wild haircut, Christy is a big breasted porn superstar with a ridiculous ass and an overall incredible body physique. Born on May 9, 1991, as Christine MacKinday, Mack hails from Chicago and began her porn career back in 2012. She was this different looking adult actress who everyone got crazy for. Christy went completely against the grain what worked like a charm. Needless to say, Christy Mack's fame skyrocketed through the roof and become one of the most recognized adult film performers.
Instagram: instagram.com/christymack
Twitter: twitter.com/christymack
Bonnie Rotten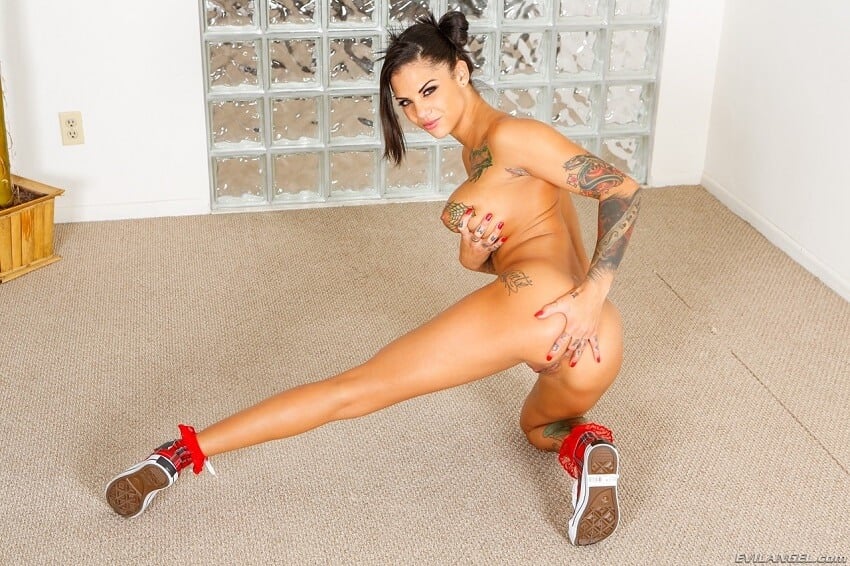 Whenever something super wild and wicked happens in an explicit video, there is a good chance Bonnie is part of the act. Seriously, if there is someone who knows how to go above and beyond with her porn performances, it is no other than Bonnie. A stunning inked girl with signature spider web tattooed boobs, Bonnie Rotten will always fulfill your fantasies. Even if they might be extremely dirty and dark, Bonnie is the one who does not have a problem taking care of any nasty desire. As a matter of fact, it is in her honor to treat everyone right.
But are you down for the challenge?
Instagram: instagram.com/officialbonnierotten
Twitter: twitter.com/thebonnierotten
Joanna Angel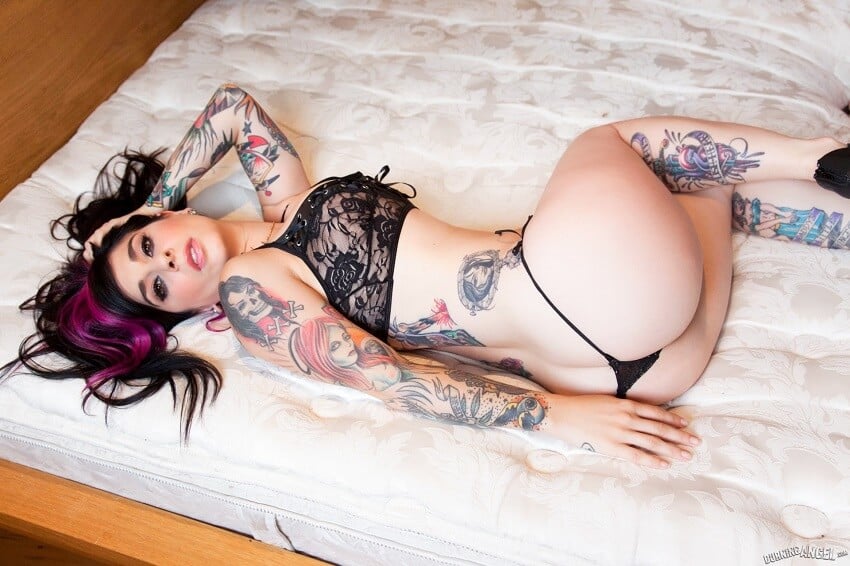 Born on December 25, 1980, everyone is familiar with the horny tattooed angel, Joanna. Working exclusively with Burning Angel and witnessing huge success with the studio, Joanna became one of the leading alternative pornstars in the adult entertainment industry. Her talent, yet business mind, made her start working with many companies and appeared in a ton of magazines. Even in The New York Times. Turning into a lustful MILF, Joanna Angel keeps on going strong both in front of the lens, as well as behind. A busy woman if you will who knows how to surprise and get the juices going.
Instagram: instagram.com/joannaangel
Twitter: twitter.com/joannaangel
Anna Bell Peaks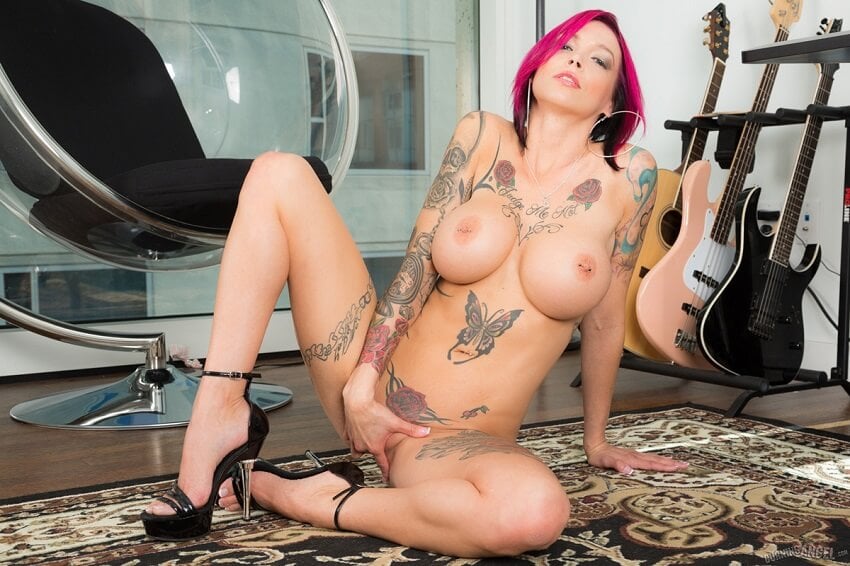 You can still find Anna throwing down live webcam sex shows quite regularly, however, if it wouldn't be for her vibrant porn scenes, we might never know about the raging Bell. Sporting vivid red hair color and a pair of incredible 32G boobs (yes, enhanced!), you can hardly miss the always excited Anna Bell Peaks. This is one of the tattooed pornstars who successfully runs her official site and her social media, always entertaining her loyal fan base will all sorts of fun stuff. By the way, going on a date with Anna is not totally excluded. Oops, did I really just said that? Keep yourself up to date by following her and never miss the opportunity.
Instagram: instagram.com/annabellpeaksxx
Twitter: twitter.com/annabellpeaksxx
Kleio Velentien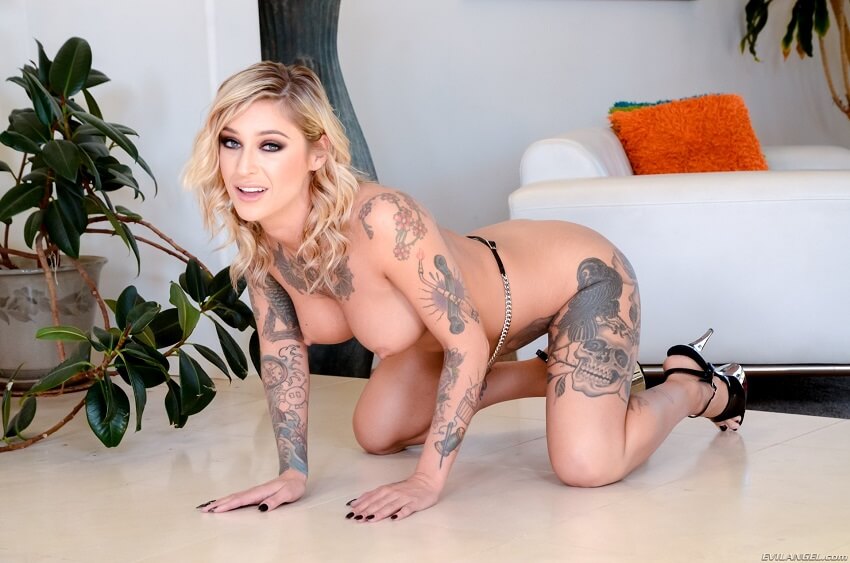 Born on January 15, 1986, in Texas, Kleio grew up on a farm and was a real troublemaker as a kid. Her naughty mind and passion for sex eventually made her decide to test the adult entertainment waters. It all happened when Kleio Velentien was 23 years old. She became enthusiastic about having sex in front of the camera and all the rest became history. A new inked pornstar was born and quickly became quite popular. Porn fans started craving more and more of her because everyone knew that Kleio is open for pretty much everything hence she won a few industry awards.
Instagram: instagram.com/kleiovalentien
Twitter: twitter.com/kleiovalentien
Monique Alexander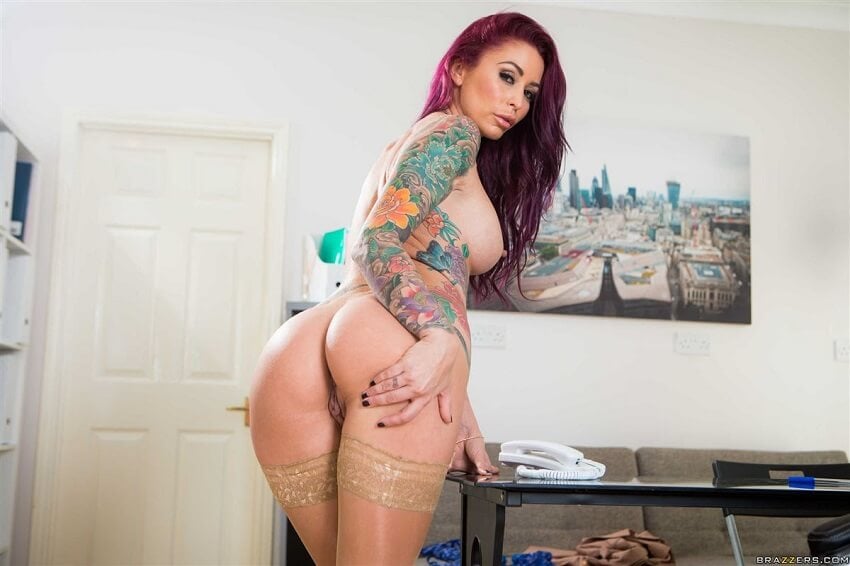 Seeing Monique when she started off in porn, you would never tell she is having sex for money if running into her on the street. Seriously, such a cute and adorable creature, yet so bad and so horny. Over the years of actively shooting pornographic videos, Monique Alexander began decorating her sexy and slender body with tattoos that turned her into this incredible human being she is today. Hungry for cock 24/7, Monique is releasing videos with sexy tattooed porn stars on a regular basis, keeping everyone excited and satisfied with her expert cock sucking and fucking skills. By the way, Monique is 2017 AVN Hall Of Fame queen, as well as 5 times AVN winner. A woman who knows how to take care of herself, making business without an agent.
Instagram: instagram.com/realmoniquealexander
Twitter: twitter.com/moniquealexande
Sarah Jessie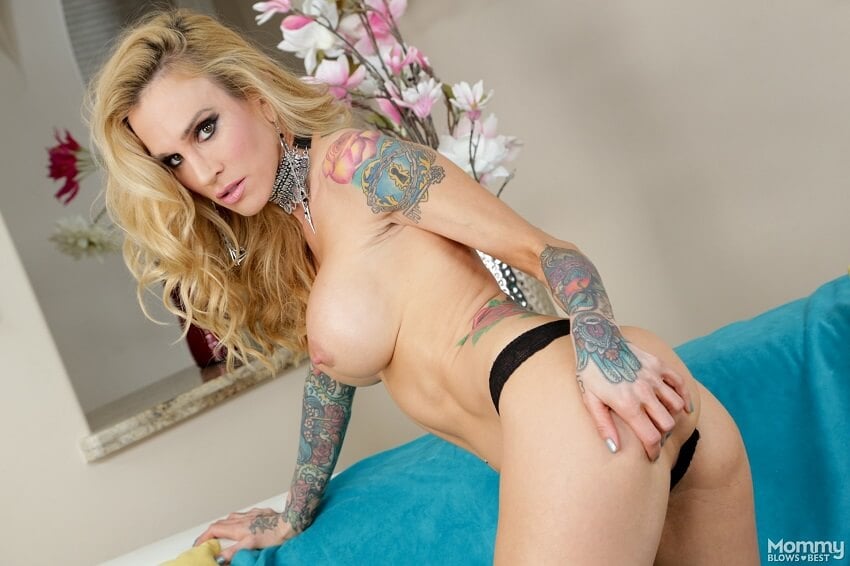 To have such a huge sexual appetite, it might be all due to her parents. If you do not know it yet, both of Sarah's parents were somehow involved in the adult entertainment business. It was just a matter of time when Sarah Jessie decides to take the plunge and join the Smut world. I bet her parents must really be proud of her. Growing up in Detroit and Australia, tight frame owning Sarah finally settled in California and shot her very first scene at the age of 29. Quite late, to be honest, however, overall these years of being very well familiar with the porn biz, Sarah gained enough knowledge and skills to take the industry by storm.
Instagram: instagram.com/sarahjessie420
Twitter: twitter.com/sarahjessiexxx
Skin Diamond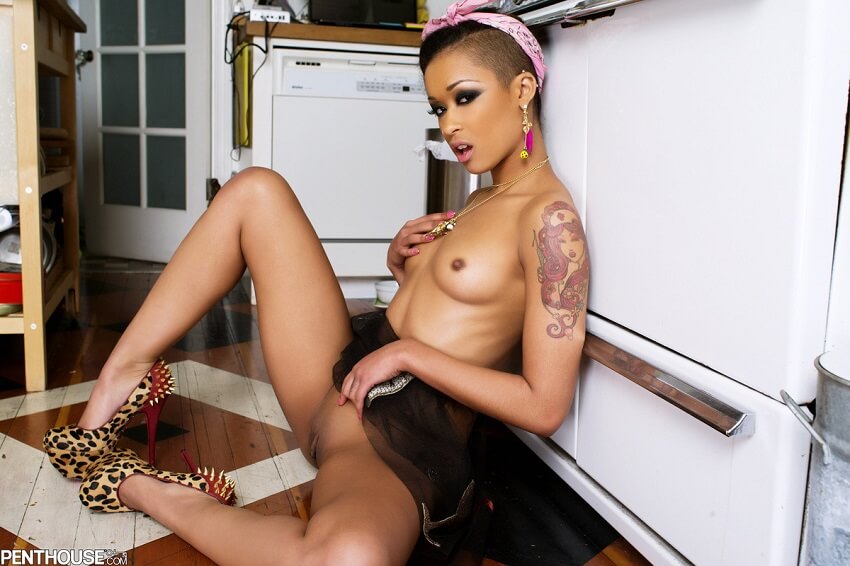 Did you know that Skin was living in Scotland for about twenty years? I know, shocking. To be frank, Skin might just be my pornstar crush. Her little chocolate body and her mesmerizing dark eyes always glue me to the screen.
Starting as an alternative model, Skin Diamond's porn debut happened back in 2009 with a scene she shot with James Deen for Burning Angel. Over her super rich adult career, Skin won several industry awards, worked with some of the major adult studios and appeared in more than 300 explicit movies. From soft lesbian scenes, all the way to some really hard and rough stuff, Skin has something in store for every taste.
Twitter: twitter.com/skin_diamond
Rizzo Ford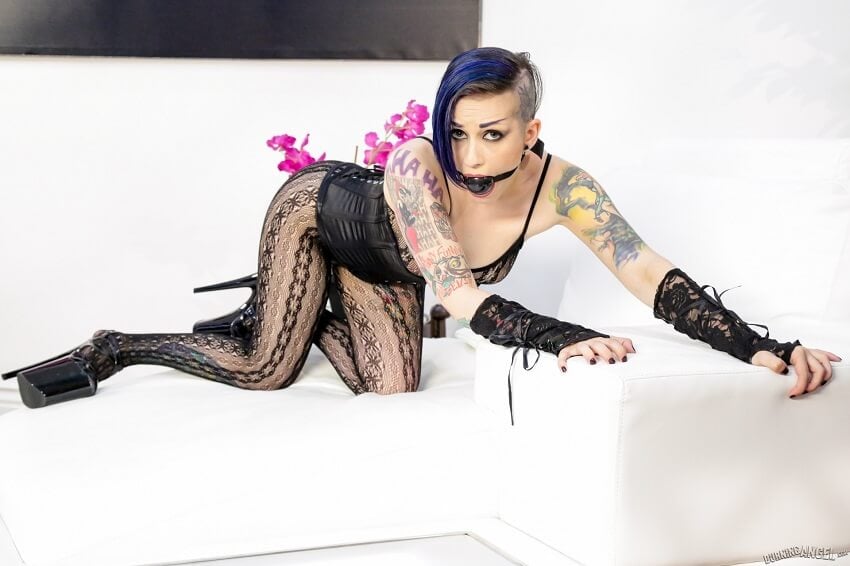 Shaved side hairstyle, a bright smile, tattoos, piercings, it is Rizzo who we are talking about. A member of the mile high club, a fan of BDSM and an overall super sexual person (aren't all on this list?), Ford knocks your socks off with any of her porn scenes. While you may see her doing a ton of super inviting lesbian stuff, Rizzo Ford is also very familiar with taking cocks and doing other amazingly sinful things in front of the lens. And yes, Rizzo also likes when someone plays with her butthole. Does this call for an epic anal experience?
Instagram: instagram.com/rizzoford
Twitter: twitter.com/rizzoford
Lily Lane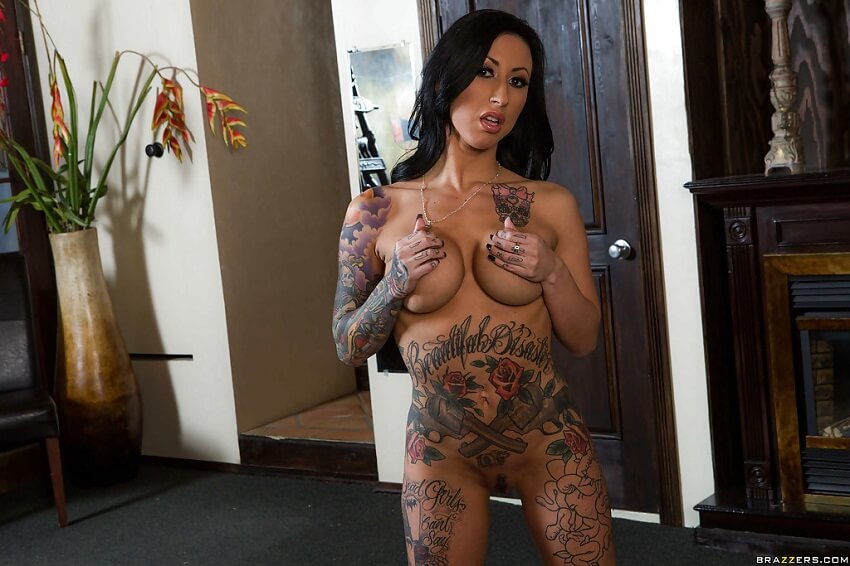 Always available for all kinds of sexual acts, anal, double penetration, squirting, gangbangs and a whole bunch more, tattooed porn stars like Lilly is a sweet treat who will always take care of you. No matter what you fancy and what you are truly into, no other than Lilly can help you out. Feeling intrigued yet? When you look into her eyes, Lilly puts a spell on you and has you covered for years to come. Just try not to break the spell and you will be good to go forever, always fully satisfied and ready for new hot and inked bitch fuck action.
Instagram: instagram.com/lilyxlane
Twitter: twitter.com/lilylanexxx
Jessie Lee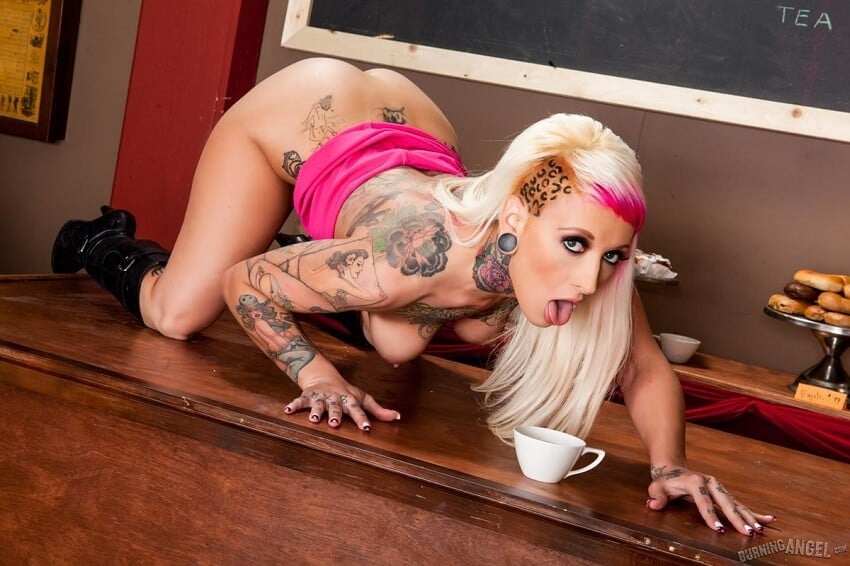 Punk-ish sex machine, covered in tattoos all across her body, with her ears stretched wide, Jessie always makes sure she delivers beyond your expectations. As professional as she is, Lee never disappoints. You will be blessed that you stumbled across this adult film star since there are some serious things that will go down. Always ready for an energizing orgy or spreading her legs wide to finger herself, Jessie Lee takes you on a journey of explicit wilderness that you will never forget. Not to mention, black cocks, white dicks, Jessie loves them all for as long as they bring her to an explosive climax.
Instagram: instagram.com/jessiexlee
Indigo Augustine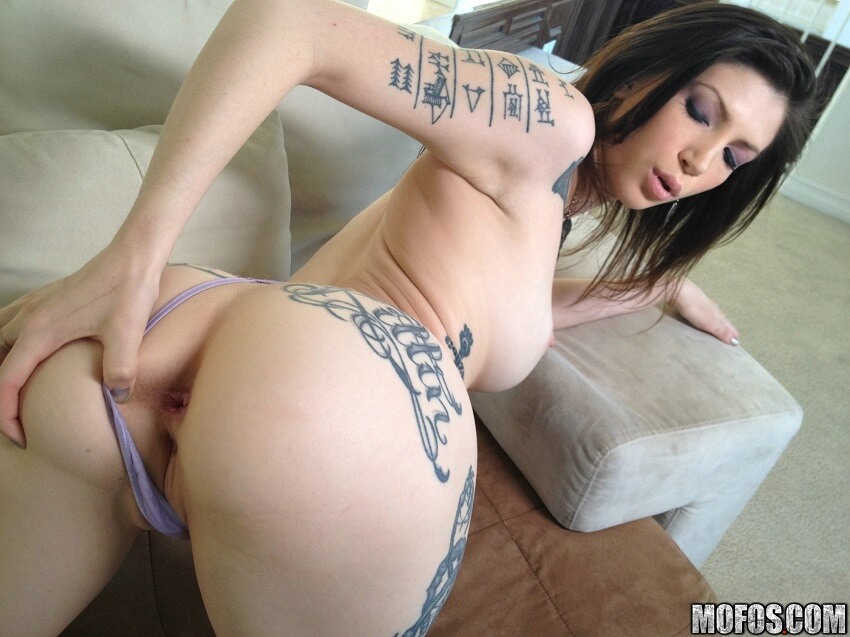 With two guns tattooed across her collar bones, Indigo is a real badass who is not shy to gobble down a super-sized shaft. She is this alternative slut machine who is excited to enjoy some seriously kinky moves with other like-minded ladies and fellas. There is going to be alt people, punks, metalheads, hipsters and the like involved in any of her XXX scenes and you will going to love it. Something you can only fantasize about in real life can now happen at any given time of the day. Look no further if you want, once a cam girl, now a pornstar, Indigo Augustine get things sorted for you down under.
Instagram: instagram.com/indigoaugustine
Twitter: twitter.com/indigoaugust
Brooke Banner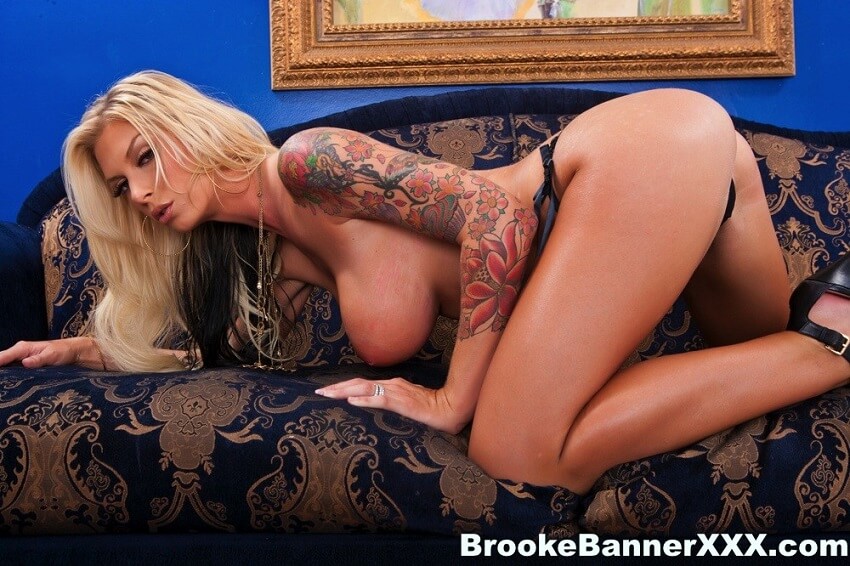 At one point, Brooke decided to left the industry, however, after having a baby and getting a bachelor's degree, the hot and busty among all tattooed porn stars is back in the business. Fresh and experienced MILF is going stronger than ever, making porn fans excited and thrilled for the amazing performances. Just look at her body without forgetting that she already gave birth and your jaws will drop and your eyes bulge. Miss Brooke Banner is a born adult film performer whose passion for the Slut industry made her come back since she could not stop thinking about it. Once you go P, you never go back.
Instagram: instagram.com/newbrookebrand
Twitter: twitter.com/newbrookebrand
Angelina Valentine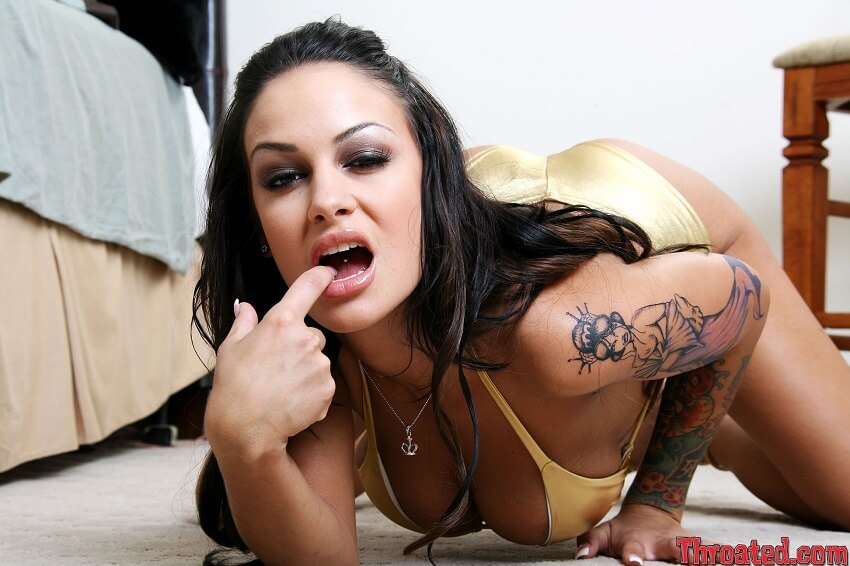 Hailing from Kentucky and born on September 19, 1986, Angelina has a mix of Italian and Venezuelan blood rushing through her veins. Aside from her slender, ink decorated body, Angelina Valentine's pair of 34DD breasts are simply extraordinary. When entering her 20's, one of the sexiest tattooed pornstars, Latina lady decided to move to California to fulfill her big fantasy of becoming an adult superstar. What to say, Angelina jumped in with both feet and became quite popular in a very short period of time. She is mainly known for all the stormy sex scenes, as well as squirting madness. A love machine who goes by the name Angelina never fakes it on camera.
Instagram: instagram.com/therealangelinavalentine
Twitter: twitter.com/angelinavalen11
Draven Star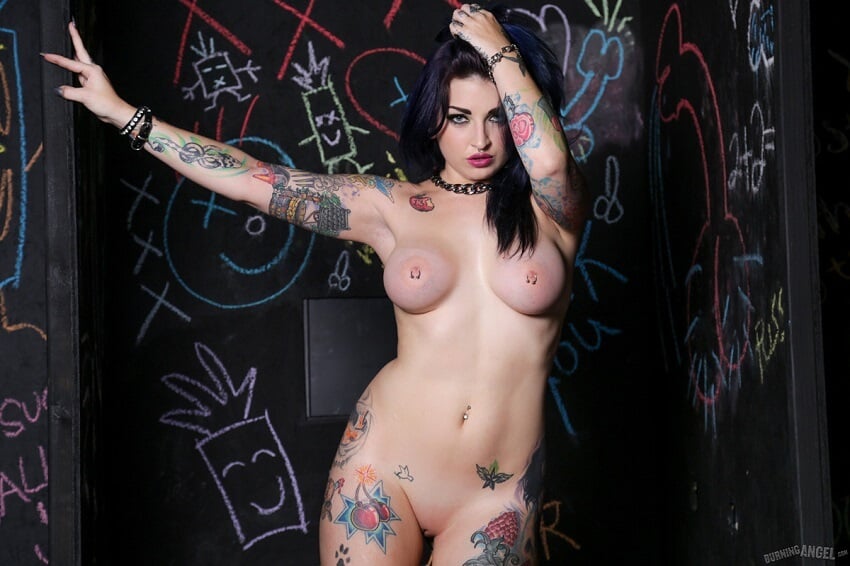 The doom doll, the goth doll, the fuck doll, however you want to call her, Draven Star is this filthy hottie with a lustful mind. Her porn scenes involve a ton of kink what suits her perfectly. I mean, it is hard to imagine her doing soft and gentle stuff. Rather rough and intense, that is how Draven rolls. Threesomes, loud moaning, crying, hair pulling, tossing salads, you name it, Draven is an alternative porn superstar whose middle name is Wicked. Boy, she even has a Burning Angel tattoo what says more than enough about the raven Draven.
Instagram: instagram.com/thedoomdoll
Twitter: twitter.com/thedoomdoll
Kayla Carrera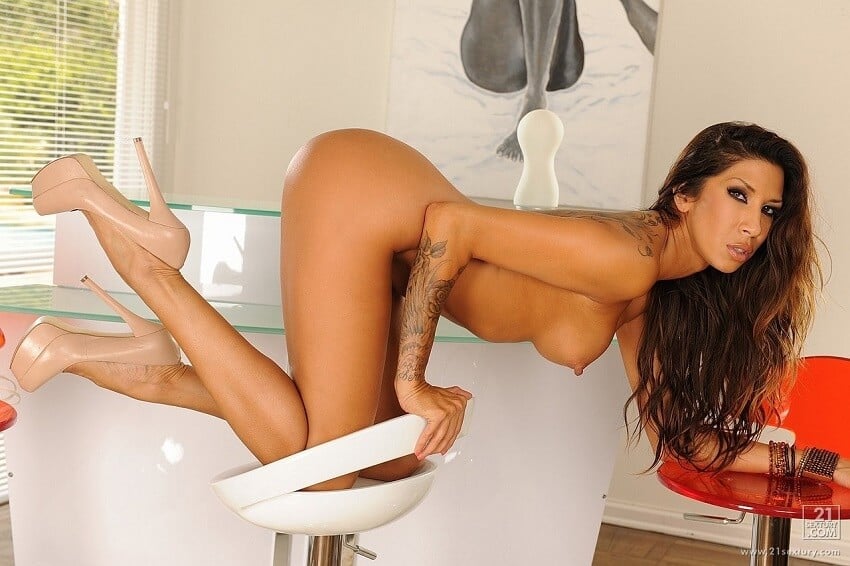 Exceptionally flexy bombshell (have you seen her do splits and sliding on a dong?), Kayla unlocks a whole new horizon of satisfaction when she goes down on a stiff shaft. American sex goddess who is a mix of German, Spanish, Filipino and Irish descent has everything a man could ever want. A fitness freak with a massive passion for pleasing a dick and a pink muff always brings it to the next level and luxuriates you with the unexpected. Hot inked Latina pornstar, Kayla Carrera, never wastes her time and goes straight to the point sucking and riding a shaft or munching on a juicy va-jay-jay.
Instagram: instagram.com/thekaylacarrera
Twitter: twitter.com/kayla_carrera13
Bella Bellz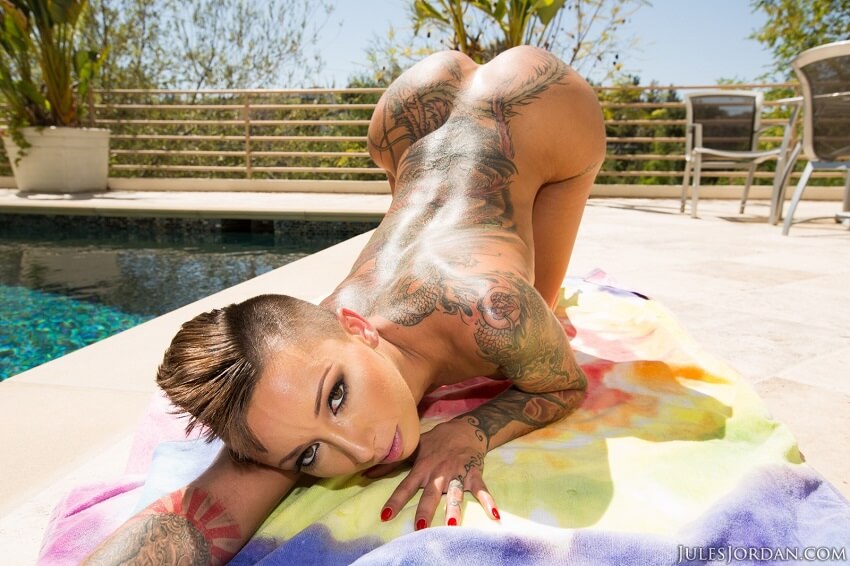 Even on her social media profiles, Bella uses the word inky what fits her more than perfectly. Her big ass owning frame is covered in tattoos, and her hair is like of a true punk slut. What to say, Bella Bellz sure is one of those. Upon entering the adult entertainment industry, Bella gave it all her best, fucked everyone's brains out and quickly became one of the most favorite tattooed pornstars. But what truly makes your mind bend is Bella's bubble butt. It is like it would not be true, however, when it gets slammed hard by an XXL machete, it kills all the doubts. Bella's fat butt is as real as you and me.
Instagram: instagram.com/bellabellz_official
Twitter: twitter.com/inkybellabellz
Gina Valentina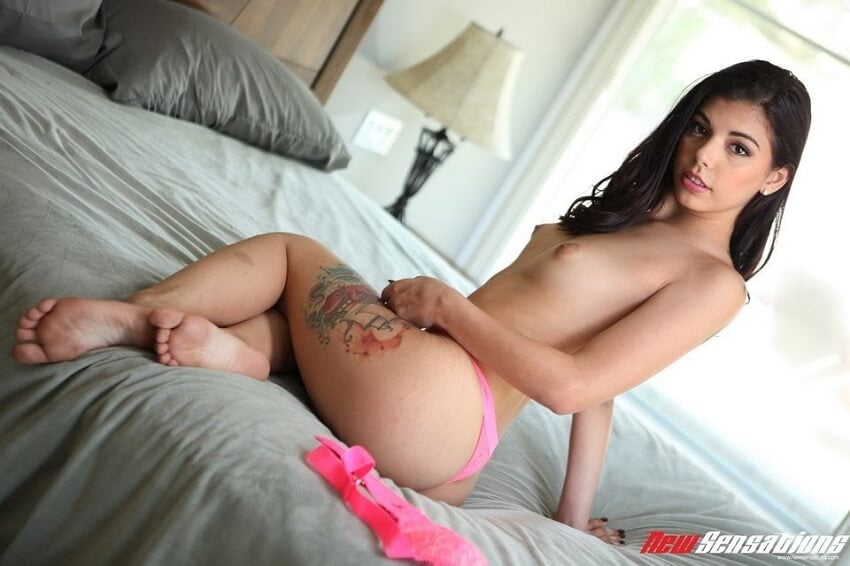 A Brazillian girl with a bright smile, a ridiculously hot and petite physique and massive lust for fucking, Gina Valentina is always down for the business. Her body might not be as crazy covered in ink like of some other P-stars in our collection, however, we simply could not skip Gina. Eager about stripping down to the bare minimum, teasing and seducing, this is all what Gina is exceptionally good at. And when someone starts to play with her asshole, the excitement goes through the roof and Gina reaches a volcanic climax. Confident and open-minded, yet looking so innocent and shy, Valentina brings magic to the screen with each and every single one of her porn flick. A must watch.
Twitter: twitter.com/gvalentinaxxx
Ryan Conner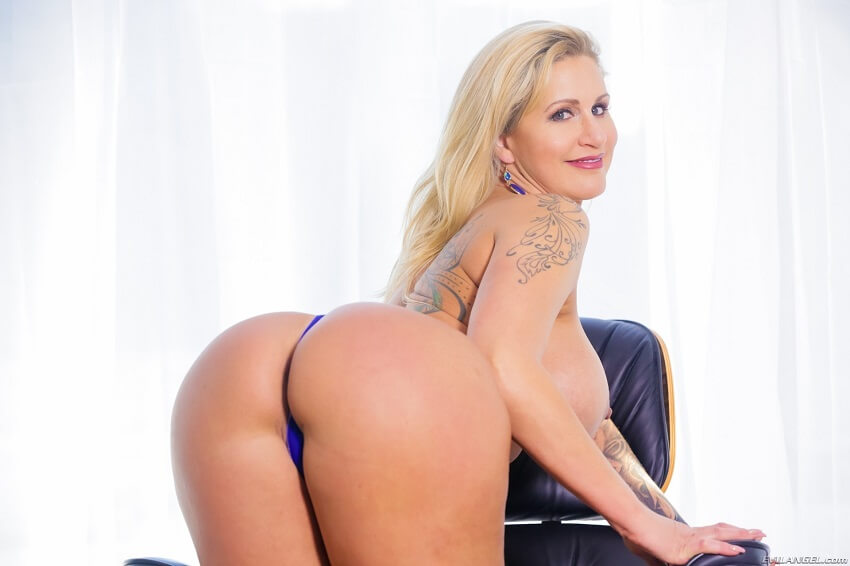 One of the best blond and tattooed pornstars who are MILF also. This is Ryan was not always as you can see her in her dirty videos. Married at the age of 18 (still a virgin), she spent ten long years in despair. Eventually, Ryan Conner decided to make an end to it and followed her sexual instinct. Her cock and pussy hungry mind made her join the porn biz where she finally became the person she always wanted to be. Still, later in her career, she took a long hiatus and once again came back in June 2015. Experienced Ryan fucks the living daylights out of anyone who she comes across. FYI: Ryan has a daughter called Dylan Phoenix who is also an adult film performer.
Instagram: instagram.com/ryanconnerofficial
Twitter: twitter.com/ryanconner69
Felicity Feline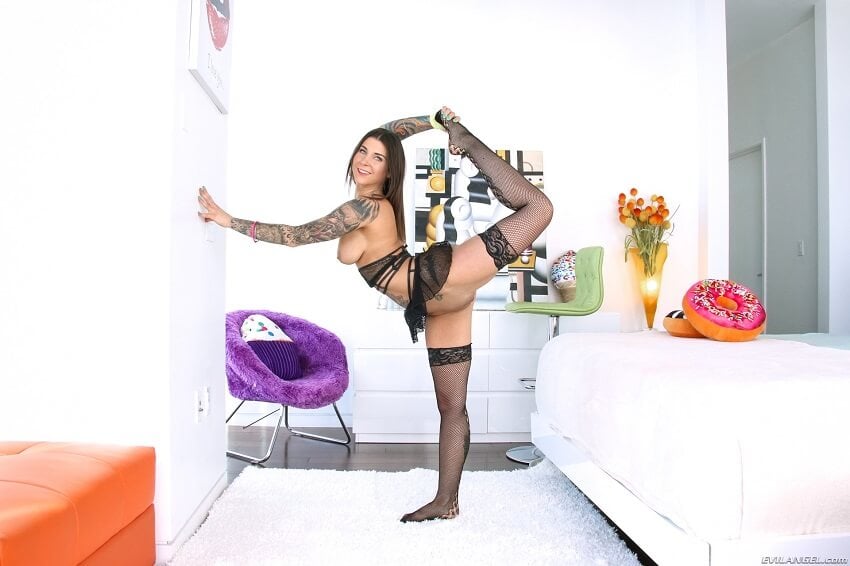 A multi-talented slut machine who follows one simple quote: "adapt or die." Felicity is dead serious about it and you can easily see the vivid energy in her eyes. From playing the drums and being a nutrition and writing enthusiast, all the way to the most important thing for all of us, sex. It seems Felicity Feline never takes a break. She is always on the go. If not in front of the lens, banging guys and gals, you can find her on stage, playing in her band called Feralicity. Either with cocks or drumsticks in her hands, Felicity is a rocker bitch consistently entertaining her followers.
Instagram: instagram.com/felicityxfeline
Twitter: twitter.com/felicityxfeline
Riley Reid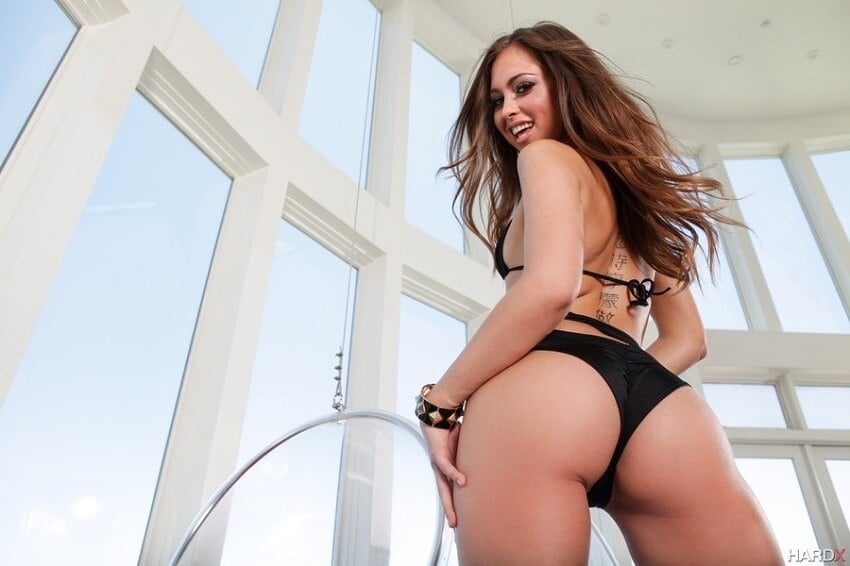 Easy on the ink, still, there are enough tattoos on Riley's body that just fit our tattooed pornstars ranking factors. Lucky you, lucky me, lucky all of us, once Riley went anal, nothing can truly stop her from scoring every crown in the adult biz now. Taking home many industry awards already, Riley keeps on doing what she does best – taking care of herself, ladies and studs for all you avid porn fans. So harmless on the outside, yet so bad on the inside, Riley always gives it 110% of her effort to release the most mouthwatering porn scenes ever.
Instagram: instagram.com/baconbootyy
Twitter: twitter.com/rileyreidx3
All the tattooed pornstars are not listed in any particular order. It is simply too hard to choose which is the hottest and sexiest one. We simply love them all and that is a fact. They are all winners and most popular ones in our eyes.
However, feel free to share your favorite one in the comments section below.