It is only fun to be overworked and depressed when Izzy Mendosa is around. That's because she is always going to take it on herself to help you out.
Today Izzy walks in on a coworker aka her boss in a haze. He just has too much work to get through. It will be next to impossible to get everything done and still get home tonight.
That's okay, though.
The boss does not need to go home to have his needs tended to. That's where Izzy comes in, and she is more than happy to oblige. All she has to do is walk around to get the ball rolling.
Hot German secretary, Izzy, turns her back on him and lets him make his own choice to accept her help.
One look at her tight little ass and he cannot tear his eyes away. Her pants are so tight that he can make out every curve of her butt cheeks. He's well on his way to getting the full Izzy Mendosa treatment.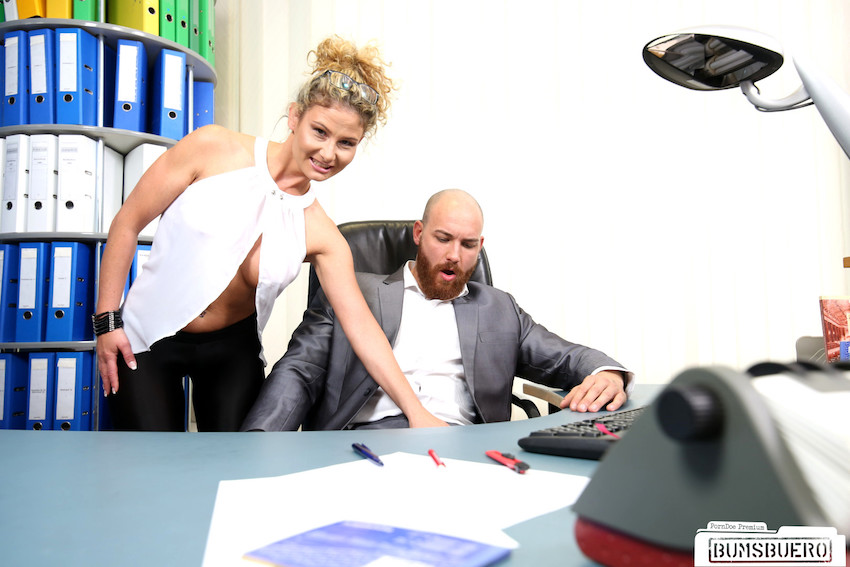 His eyes lock on and he cannot help himself.
Boss' is hard as a rock and he just has to pull it out of his pants. With her standing right there, he starts stroking it behind her sexy back.
Naturally, Izzy has a sixth sense for these kinds of things.
She's come prepared.
Feeling the sexual tension in the air, Izzy Mendosa turns around and sees what he is up to.
She sure has no problem when spotting him stroking his shaft.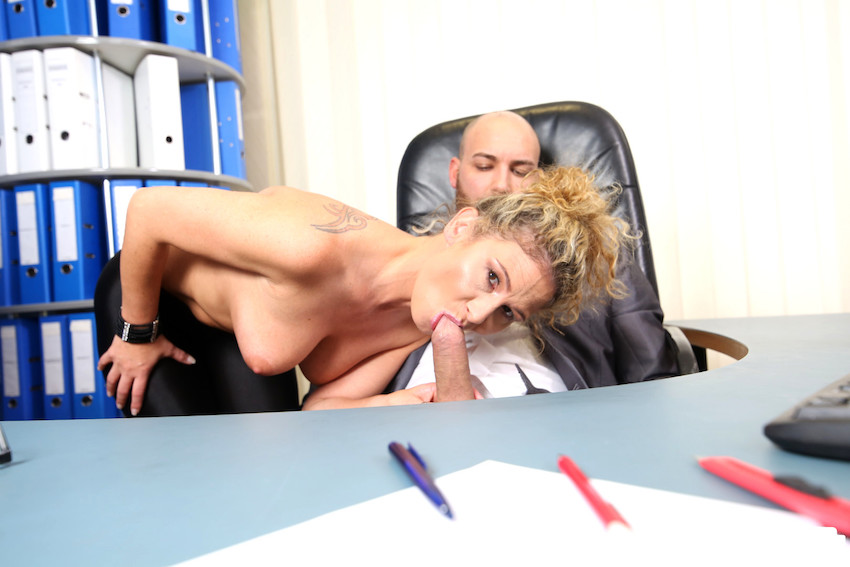 In fact, Mendosa is going to help him jerk it off even more. She's not wearing a bra, so all she has to do is open her shirt to show off her tits. They are so perfect that he can only stroke faster as her hands glide down her body. They find her pussy and make sure to point out her camel toe.
Every single line in her pussy lips is showing through her pants.
Mendosa makes sure to rub it and get it nice and wet. Then it is time to take matters into her own hands. She knows what he needs and Izzy Mendosa is going to deliver.
She stands next to him and lets him suck on her nipple while he jerks off the big and thick dick. After that, she has enough of his self-love. Mendosa's shirt comes off and she gets right up on the desk.
If his cock needs to be stroked, it is going to be with her mouth. Izzy wraps her lips around his head and bobs up and down until he is almost ready to blow.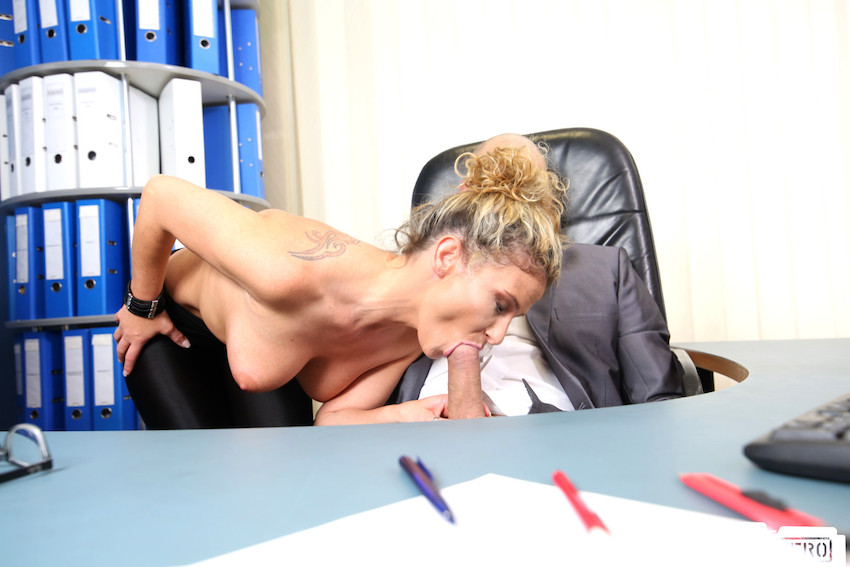 A simple suck off is not enough for this job and she knows that. That's why Izzy lies on her side and offers up her pussy hole. He happily accepts it and jams his throbbing dick inside.
Her pussy is warm and inviting.
Will Izzy Mendosa treat her boss right tomorrow, too?
He cannot help but start to jackhammer her right there. She closes her eyes and takes all of him in. Izzy is used to sharing her pussy, so she knows she can take it with ease.
Her reward is seeing the smile on his face after he covers Izzy's in his thick and creamy cum.
Make sure you do not miss the full video on Bums Buero.