The babysitter is an iconic figure in porn: she is taboo, available, horny, and sweet. Edgy and careful pornographers love to play games with the ambiguity of her youthfulness: is she a high school girl, really too young and therefore a little taboo, perhaps a curious virgin? Or is she a college woman, nubile and sexual, horny and demanding, ready to tempt a father and wreck a marriage? Either way she can always be counted upon to be fresh and lusty; and in any given bit of pornography, there's no need to specify her precise age.
What's more, the baby-sitter role can be trusted to throw our nubile sweetie (who usually is shown with pigtails or twin braids) into the heart of a nuclear family, where she'll find a virile Dad figure (he has young children after all that need watching) and a MILF (Dad obviously must enjoy fucking Mom on the regular, the kids are proof) and often (if only for the pornographer's convenience) a too-old-to-babysit son so that we can get another sex scene in before the end of the video. There's no shortage of people to seduce and be seduced by; there's never a need to order pizza to bring somebody fuckable into the scene.
This sexy scenario offers plenty of quasi-incestuous themes, too. It's family-style sex but not (for the babysitter at least) her own family. There's adultery, usually, but in half of these porns the Mom joins in, one way or another. If the family has an adult son, he will inevitably remind the babysitter of her brother or her brother's friends, invoking the sibling taboo without violating it. Babysitter porn prefigured the modern popularity of "faux-cest" porn by half a century; there is truly nothing new under the sun.
How about some examples? I have no idea what the earliest true babysitter porn might have been, but the B-movie soft-porn sexploitation flick from 1969 called "The Babysitter" that carried a self-rating of "X" will do for a candidate until a better one presents itself. Here is a Youtube trailer and a detailed review:
The tagline from the movie poster is "She came to sit with baby…and ended up with daddy!"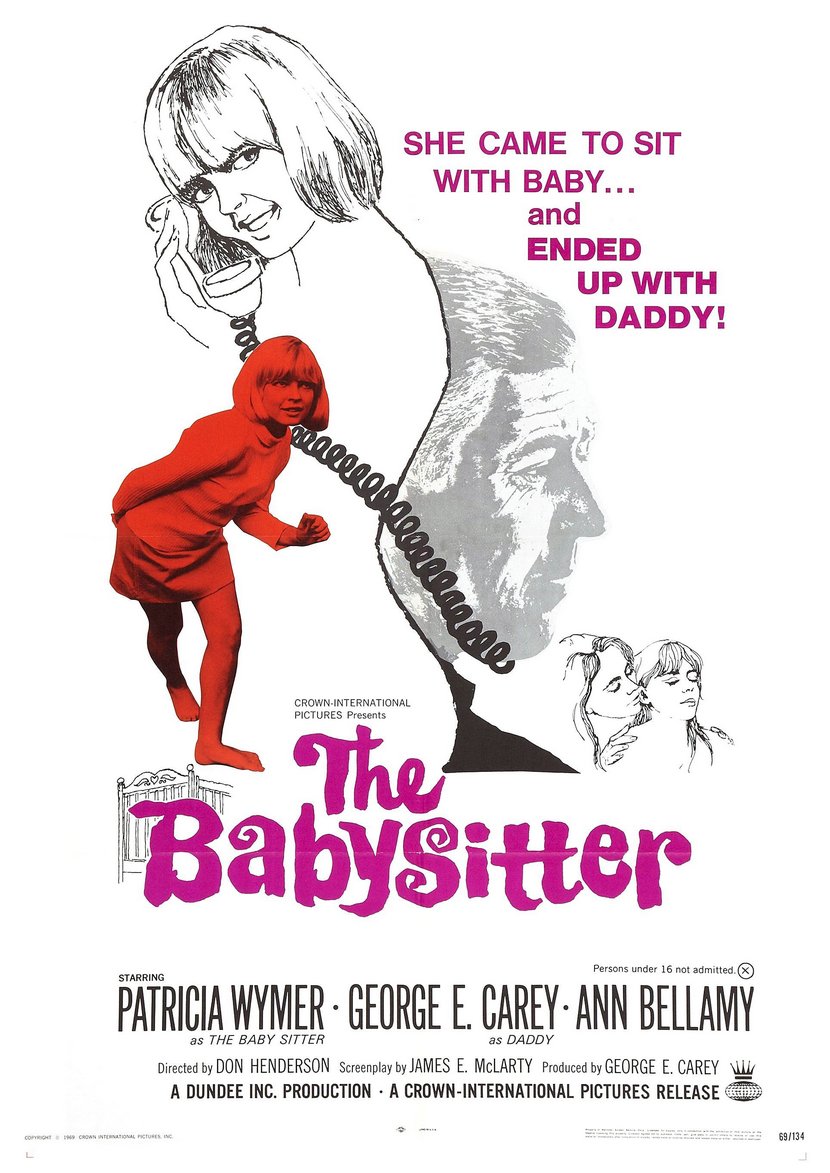 My next example is a sleazy stroke book from 1980 by John Kellerman: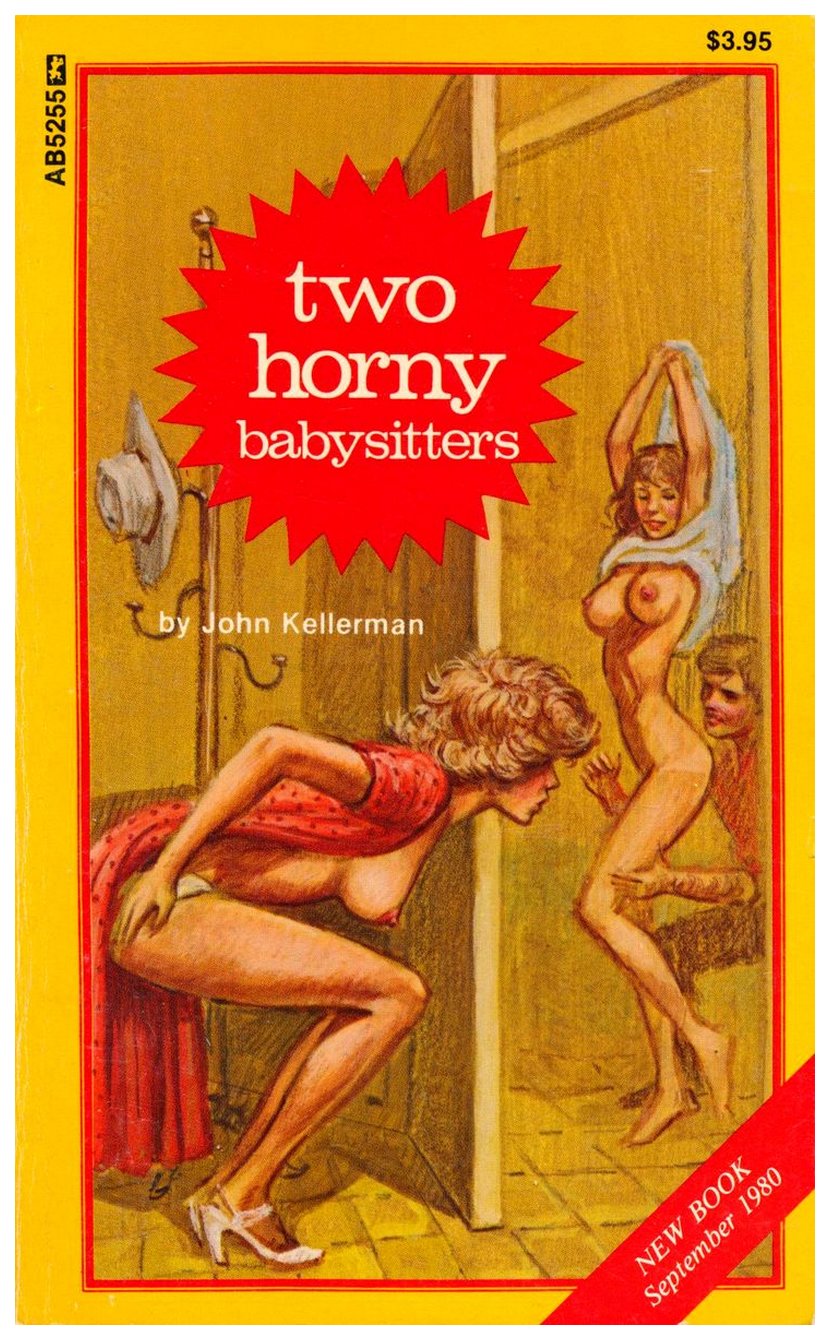 Two Horny Babysitters features a trope that's at the heart of a lot of babysitter porn: that the babysitter's intimate access to a family's personal life inevitably gives her sexual access to it as well. Babysitter Terri is curious about married sex and cannot resist a bit of voyeurism when her employers come home drunk and horny:
When Ralph Carlton didn't come to drive her home, Terri decided to go on by herself, it was only a few blocks and she didn't really mind walking. When she stepped into the hall to tell him, Terri saw why she'd had to wait.

From where she stood, she could see into the Carltons' bedroom. Ann Carlton was on her back, her dress pulled up around her waist. One shoe had slipped off and her panties were hanging from her hand. Ralph Carlton hadn't even bothered to take off his pants. He was fucking her, his ass plunging as the blonde woman moaned and dug her heels into her husband's back.

Terri let herself out and headed down the walk in the darkness. Her mind was swirling with what she'd just seen. The way Ralph Carlton had been fucking his wife thrilled Terri. It was easy imagining herself on that bed with Ralph fucking her. He seemed to know what he was doing! Terri went back, crossing the lawn to a bedroom window.

"Ohhh, get me, honey!" Ann Carlton groaned. "Fuck me good!"

Terri stood on tiptoes, peering into the partly darkened room. The bed creaked under Ann's shifting hips. Ralph had opened the front of his wife's blouse and was sucking her big tits like he wanted to eat them…
Our next example is another movie, a classic of early shot-on-video porn from 1983, also called The Babysitter. Luckily it's available in its entirety on Vporn.com:
Next are two more stroke books from the early 1980s, both by Thomas Trent, both mixing the babysitting memes with other kinks.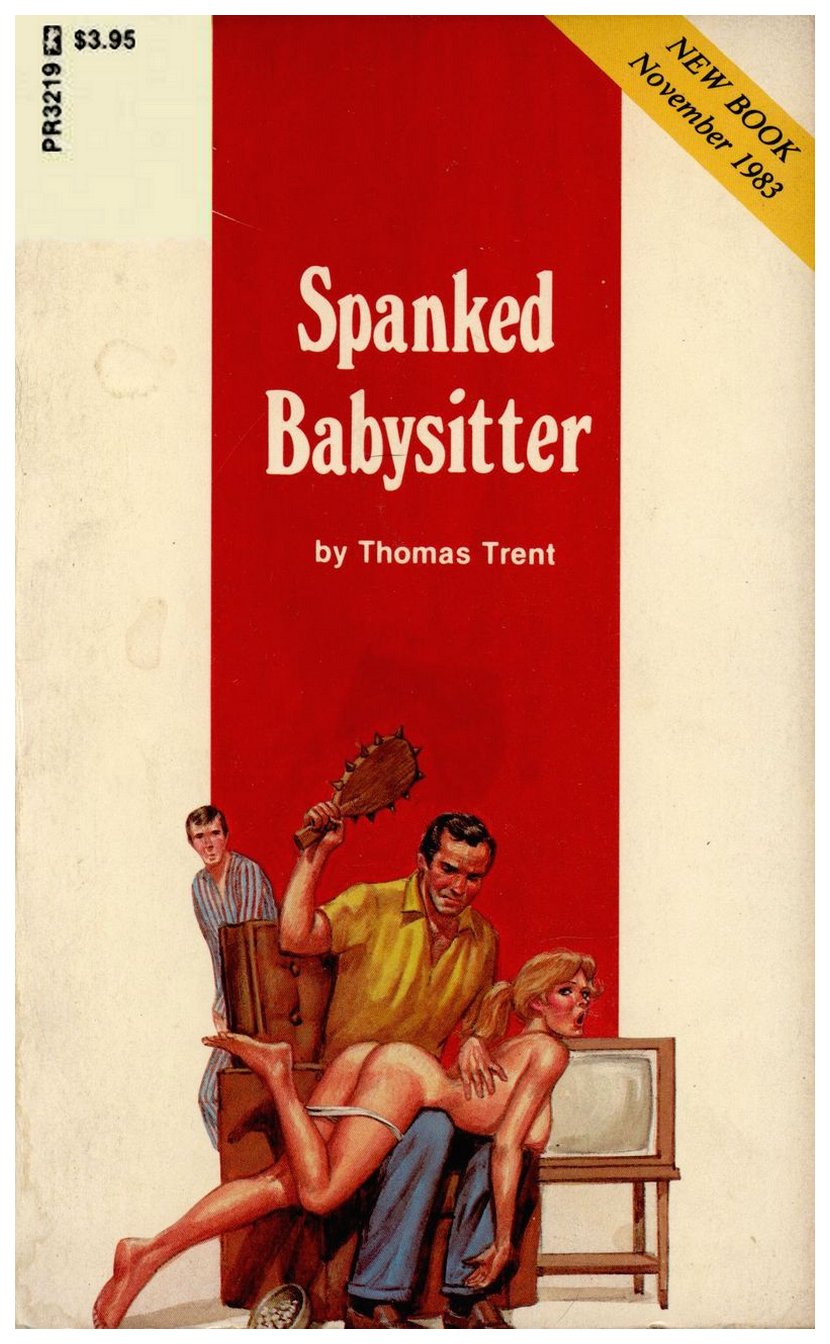 Spanked Babysitter contains the classic setup, the horny babysitter who searches out the household porn after putting her charges to bed:
After explaining the layout of the house, Mr. Parker left to go on a date. His young daughter, Stephanie, stayed with Vicki. Following directions, Vicki put Stephanie to bed at eight o'clock. Having the house to herself, Vicki began to breathe faster. It was time to do some snooping around.

It hadn't taken her long to find Mr. Parker's stash of porn books and magazines. She looked through the photographic assortment of swollen cocks and cunts, fucking in very position imaginable. Her own cunt had begun to swell and seep its hot liquid. Seeing the pictures of pricks spurting thick cum on cunts, faces, assholes, and everywhere else had turned her on.
Of course she gets in trouble for this — the title of the book tells you how. And, of course, she gets fucked a lot.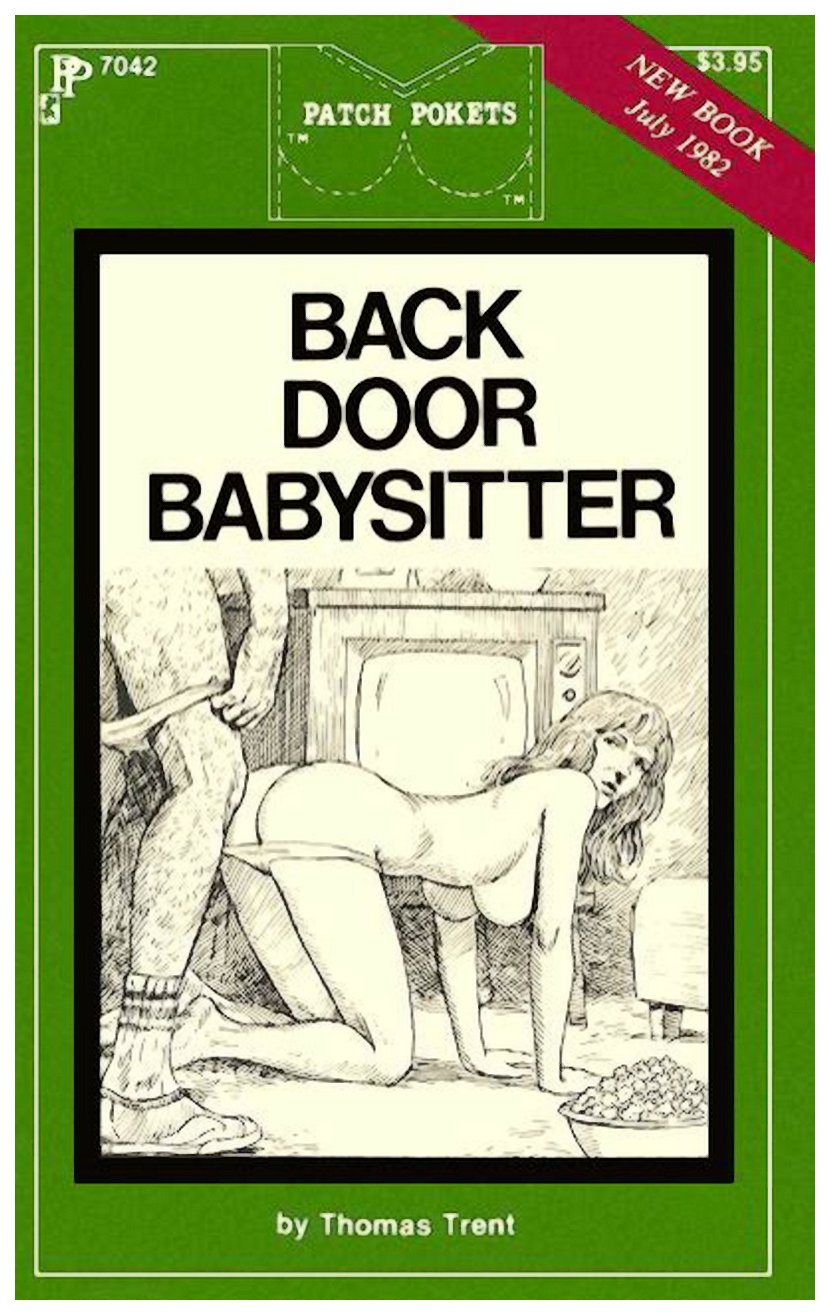 By contrast, Back Door Babysitter introduces us to a young woman already wise to the ways of anal pleasure, who prepares for one of her babysitting jobs with the full intention of seducing Dad and his 18-year-old son:
In the spring of her sophomore year, Annette Holley was a prime piece of fuckable American womanhood. Her bright blue eyes were highlighted by a shock of long black hair which flowed down her shoulders. A sensuously shaped mouth gave the impression that she was no stranger to cock-sucking. Her ruby lips invited penetration, whether by tongue or throbbing prick. It was a Saturday night, and Annette was preparing to babysit for the Longs, who were going to their weekly bridge club.

…

Annette turned more toward the mirror. She ran her hand down her bottom and into the crack. Sliding her hand downward, she brushed her fingers against her puckered asshole and rubbed the sensitive opening. Annette could already imagine she felt a hard, throbbing cock entering her asshole. There was nothing she liked better than hard and fast ass-fucking….
Spoiler: she succeeds in her seductions, and learns a thing or two about bondage in the process.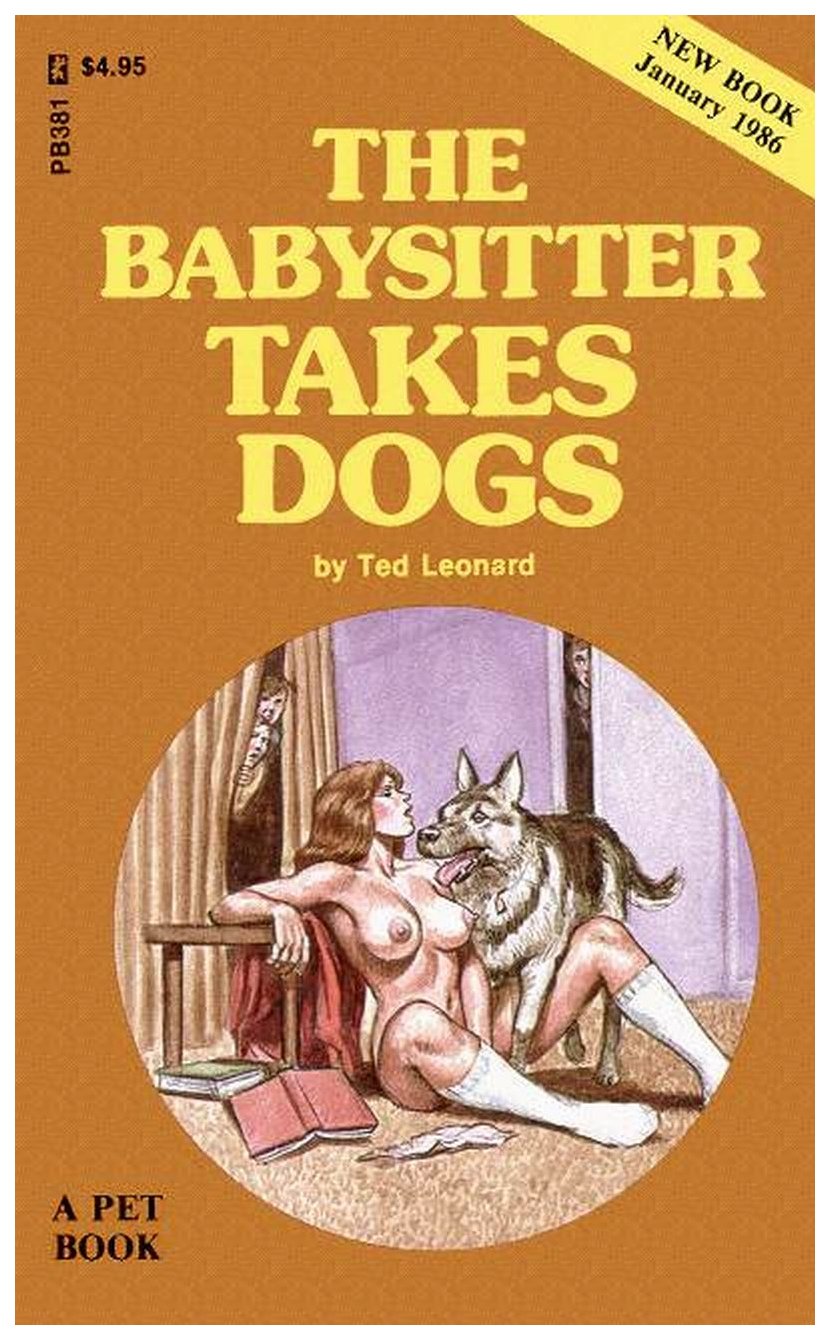 In case you thought there was some limit to the diversity of the other kinks and perversions that could be cross-pollinated into babysitter porn, I have included as an example the 1986 stroke book The Babysitter Takes Dogs by Ted Leonard to disabuse you of that notion. This book takes the "babysitter alone in the house with the children asleep" trope in a a direction that would be rather unexpected if you had not already seen the cover art:
Pretty Cindy Lake waved good-bye to Mr. and Mrs. Jenson and closed the door. She went to the children's bedroom and checked on the kids. They were fast asleep. Cindy smiled to herself. The Jensons wouldn't be home for hours. Now she could have her fun. Sex fun.

She went into the living room and perched her cute little ass on the sofa. She leaned back and felt her tits for a few moments. Her nipples spiked in the tightness of her light dress. She smiled and slipped her hands down between her curvy young thighs. She drew her dress way up on her belly and exposed her naked pussy.

Her blue eyes grew heavy as she stroked and fingered her juicy cunt. She stretched her pretty legs real wide so she could really get at her hot pussy. Then she called to the dog that was sitting watching her. "Frisky," she said breathlessly. "Come here, boy…"
Let's wrap up this tour of babysitter porn with a bit of modern porn video. The following clip on Vporn.com is not well identified. I like it for the classic "pouty blonde with braids" babysitter look and the way she enacts the predatory Lolita trope, swooping in to offer sex as soon as her employer has a fight with his wife:
But my favorite babysitter porn of the entire tour is perhaps this last clip, the fully-possessed au pair deliberately seducing the gorgeous single dad she works for. There's nothing creepy about it, just a pretty young woman with agency setting out to get what she wants:
And that's your fast tour through fifty years of babysitter porn, I hope you enjoyed it!