To kick off a new week with some serious style, here we have Amanda Lee, ready to get your brain spin 360 degrees. When I first stumbled across her Instagram profile, I probably spent at least an hour browsing her photos. If you are wondering what the hell was I doing on her Insta for an hour, wonder no more. I tell you one thing, head over there and try to leave it sooner. It probably will not happen. Each pic she publishes is worth taking a peek at for at least a minute if not more. Some way more.
Then, when I came all the way to her very first published picture, I ended up being speechless. I needed at least thirty more minutes to finally cool down my brain and start processing what I just saw.
OK, let's finally get to the business. Yes, Amanda is a freaking ridiculous babe. She might be slim, however, her ass is thick and her boobs are big. That butt probably did tens of thousands of squats already. It's so tight it hurts. It hurts my eyes, my mind and I don't even want to fantasize what it would do to my cock. It would probably crush it like a walnut. And that I would not mind! Make it hurt baby, I don't care.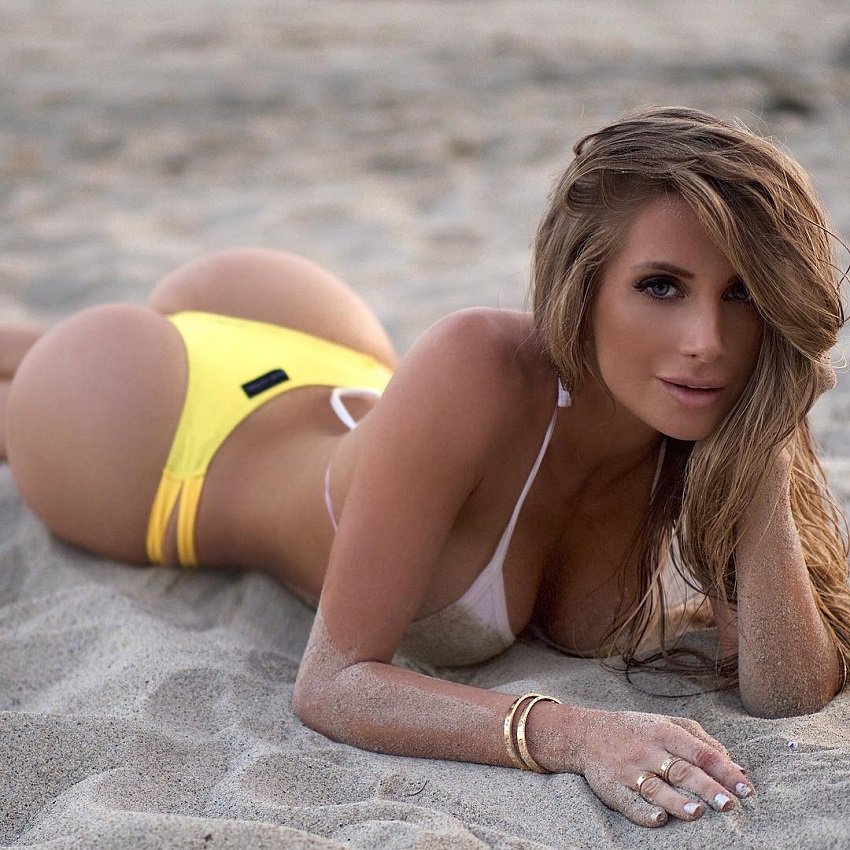 Anyhow, fitness model Amanda Lee has a strong sex appeal and will take you by storm. No matter which pic of hers you see first, you will end up becoming one of her loyal fans. I sure am so join me on this wild path of sexiness.
The LA-based model and personal trainer is slowly approaching the 7 million followers mark on Instagram. It seems she will get there sooner rather than later.
In an interview for Maxim, Amanda says that she always had a booty. She adds that working out only helped her out shape it to one of the hottest asses on the planet. Lee's major tip for an extraordinary butt: "Always mentally focus on your butt when you work out." Wise words.
FYI: Amanda says she is a very shy person in real life. I guess this means we have a shot at taking her on a date! Or do we really? Moreover, she kind of likes being dominated. Not to mention, rough sex is kind of her thing. Or did I miss something when she says that she likes aggressiveness?
Since the New Year is slowly approaching, Amanda has a little gift for all you beautiful people out there. She already released her 2017 calendar which could be decorating walls of just about every room of your apartment. Find more about her promotional material and other whatnots on her official website. But the most important thing you need from Amanda is definitely her regularly updated Instagram profile.
Go and dedicate an hour of your life to this stunning beauty. You will not regret it! It will be time well spent, trust me.
The best sexy pictures of fitness model Amanda Lee