Needless to say, published model and designer, Beautifull April, sure is a beautiful lady. Her face is pretty and her body incredible. Need to mention her curves separately. They are extraordinary. A nice rack and, what seem to be, the perfect chocolate boobs will take your breath away immediately. No wonder why she is our Hottie of the week.
If it's as cold as here is wherever you live, man, have this collection of April's Instagram photos to warm you up. No questions asked she will most definitely warm your body and soul up with her loveliness.
However, Beautifull also has the naughty side. You may find a ton of very tempting pictures of her where she is dressed rather minimal.
Wait, no need to do it yourself. I already checked for her nudes but did not find any. I believe she still needs to put the naked shots on her repertoire. My mind is currently working hard, picturing her naked breasts and delicious nipples. Not to mention, that rack and the tunnel of love. WOW.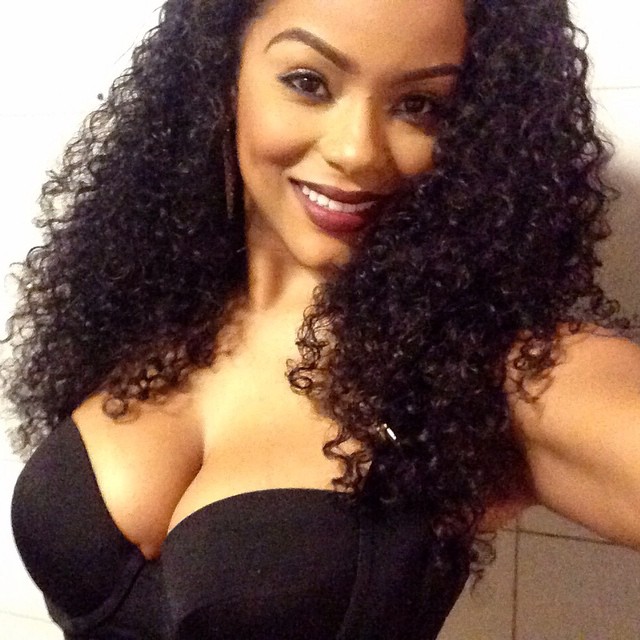 Although we treat you right by picking some of Beautifull April's best photos, you still need to chek her Insta profile. Believe me, you will find more sexiness from her posted on a daily basis.
Moreover, the photo that really got me glued to the screen is the one where she is dressed as the cat lady. Wearing black v-string panties and a black bra with a cat mask, she is bent over, drinking milk. Just like the cats do! When you will see the photo, you will immediately know what I am talking about. Doesn't she look absolutely remarkable? Maybe not the right word pick but I will leave it as is. We can get the discussion going in the comments section below.
From super sexy pictures to Beautifull smoking weed and a ton of gorgeous selfies, you don't want to miss this girl on Insta. I believe you have just enough reasons to become one of her many loyal fans.

I so needed to start with this one. What a freaking sexy cat she is! I sure got a bit excited.

You want that tongue, don't you?

Now that is called beautiful.

That ass.