She is young and she is curvy and bubbly, we are speaking about adorable, yet naughty, pornstar, Ivy Rose. Her mesmerizing eyes, brunette hair and voluptuous body will get the body juices going when the action begins. Speaking of action, it does not have to be something wild and wicked. Ivy will increase your blood flow only by appearing on screen, touching and possibly, fingering her clit. Fresh blood will rush down to your private parts and the next moment you realize, your dick will be hard as a rock and your clitoris swollen and super sensitive.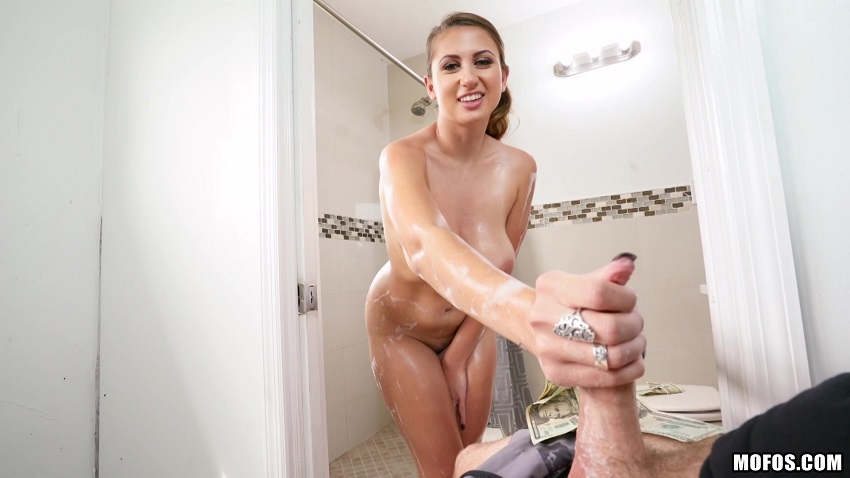 Born on October 31, 1995, Ivy Rose looks like a real girl next door who absolutely adores a hard schlong. Stroking it with her hands, wrapping her lips around it or sliding up and down its length with her juicy pussy, all this and a ton more is what Ivy enjoys. And if someone offers her some money for fucking to help her solve the broken student problem, she is even more excited about the fuck action.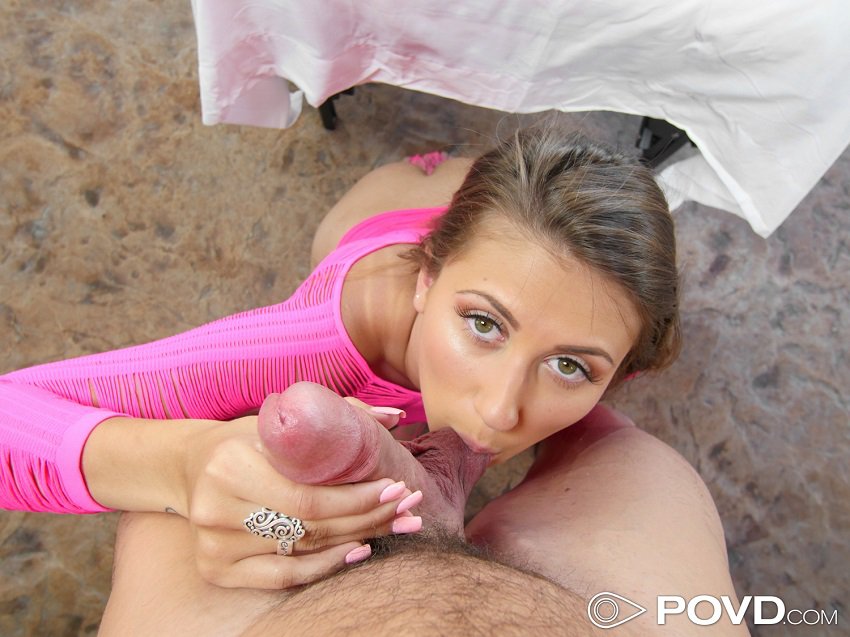 With her amazing, all-natural boobs, Ivy makes you start craving her even more. Especially if she takes a bath or gets her whole body oiled up and banged roughly. Watching them big tits bounce up and down when she pursues the role of a cowgirl, even your head will start nodding. Just let yourself loose and go with the flow and let gorgeous Rose take you on a pleasant journey. She will do wonders in front of the camera and never leave you disappointed with any of her porn scenes.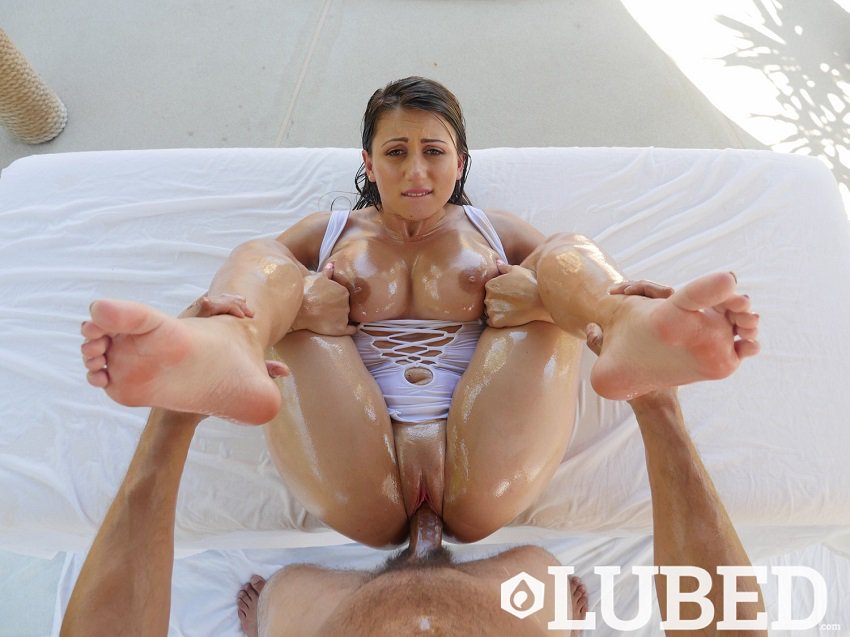 Though being in the adult entertainment industry for a very short time, Ivy Rose already worked with some of the major companies. MOFOs, Brazzers, Reality Kings and Naughty America are just a few of the most popular ones that Ivy already worked with. I mean, who does not want to bring such a hot and sexy hottie who Mother Nature rewarded with an astonishing body under their wing.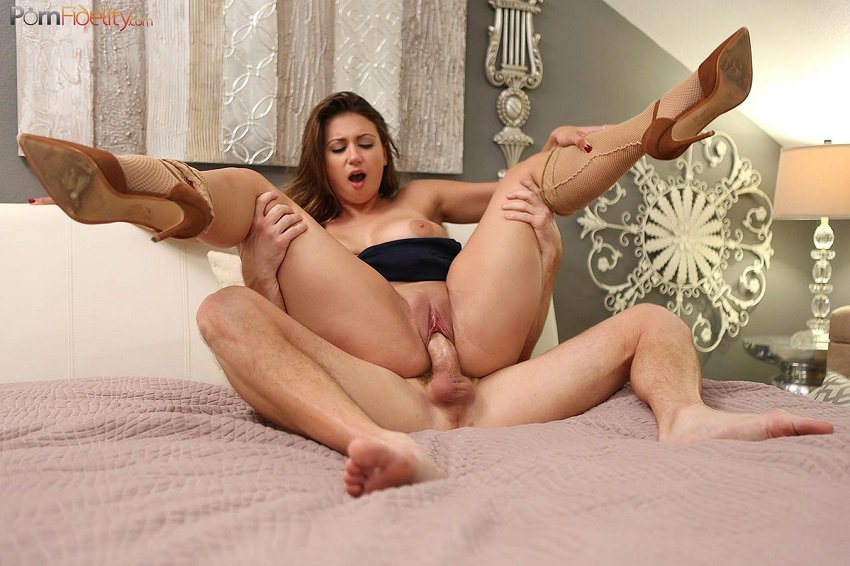 According to IAFD, Ivy is in the business since the year 2016. Meaning, she is still super fresh to the porn industry so only time will tell how big of a pornstar she will become.
Naughty collection of Ivy Rose porn videos
That helmet is worth a fortune if you show me your titties

Not exactly, but something quite similar happens to Ivy when she steps into this store to sell a helmet. She has no idea how much it is worth, but when the store owner sees that it is signed by the famous stuntman, Evil Kenevil, he goes berserk. She should not even sell it in the first place because this is part of American history. The value will go only upwards.
However, Ivy is in need of money. That said, the guy is willing to offer her more money only if she shows him the boobs. Right there, in the store? Well, he owns the place, and the other lady almost showed him her knockers, too. That is enough to convince young Ivy to flash her big breasts.
A few moments later, Rose gets another offer that she does not reject. The dude's mind is racing and she is in serious need of money. In other words, they move to the office where Ivy shows him her natural hooters one more time before she goes all in and sucks his cock and gets fucked on the desktop. The money won't be a problem anymore for the teen. Ivy now knows who will give her money for fucking.
Young Ivy Rose pays for the training with her glorious boobs

More intimate services for $$$.
After a working out session on a hot and sunny day, Ivy's personal trainer asks her if she is willing to pay him right away. He does not want to bother her but he really needs the cash. She is completely fine with it.
Back at her apartment, Ivy gets a great idea. Instead of paying him with the green stuff, she decides to pay him with her boobs. The adorable Ivy reveals her true naughty self.
Guess what her trainer does when Ivy comes back flashing her big chest? He is in shock, forgets about the payment and attacks her jugs. He is totally fine with this kind of a payment. As a matter of fact, this could become the only way of paying him for the training if that is in her interest. About that, we do not know, however, this time, Ivy Rose is ready to open up completely and offers him her pussy, too. Now that is a nice stretch after workout. You better start practicing it too, you know, for better results.
They fuck hard, Ivy moans loud and receives a nice load of semen on her face.
Lesbian cowgirls show sexy brunette how they do it on the ranch

When Ivy finds her dad's old camera, she immediately puts it to use and starts filming her hot friend. Get ready because the girls are about to show you how they do things on the ranch. Not the actual work, but how they do the lesbian stuff. Be prepared because it is hot as fuck and you do not want to miss the fact that they take full advantage of a sexy brunette rich girl.
Thanks to father's camera, they are able to film the hot action for you. Three girls bring to you an unforgettable experience that will have you excited through the roof. Cowgirls licking each other's pussies and bringing one another to reach explosive orgasms will get your mouth to water and your toes to curl.
Every gym workout should end with a doggy fuck

What you normally do after the intense gym workout? You either pick up a protein shake and go straight home or possibly take a quick shower to cool down a little bit first. That is not something what Ivy does. She does something very special that helps her reach desired goals quicker. Instead of doing the very important stretch, she rather takes a guy's rock solid cock and gets her snatch fucked hard in a doggy style. Going on her four while exposing her bubble butt is exactly how Ivy does it. That round ass looks incredible.
This is this mysterious secret to achieving goals quicker that no one talks about. Are you up to give it a go? I mean, a good and passionate sex session never hurt anyone. And if you are willing to combine it with your regular workout the results will come to you quicker. Don't believe me? Give it a go yourself and you will see.