Born in Germany on June 22, 1991, and raised in South Carolina, Jasmine Sanders is a media sensation both online and offline. Her exotic looks and talent started making her more and more popular when still in her teens. If it wouldn't be for her mother, who knows, maybe Jasmine would not be as successful as she is today. Not to mention, we probably would not even know of her existence and would not be able to feature her as out Hottie of the week.
But we aren't here about the "what if."
It was actually her mother's agent who got Jasmine into the modeling world. It all started for Jasmine back in 2005 when she signed with companies in New York and Los Angeles. Nowadays she works with some of the major brands, like Forever21, Seventeen, American Eagle and many more, and is signed to The Society Model Management.
Tattoos, glamour and a natural body, all this and a ton more is what you get with Jasmine. She is a pack of goodies you can only dream about. But the one part of her body that really made my jaw drop are her eyes. She has a pair of beautiful and mesmerizing blue eyes that I just cannot stop staring at.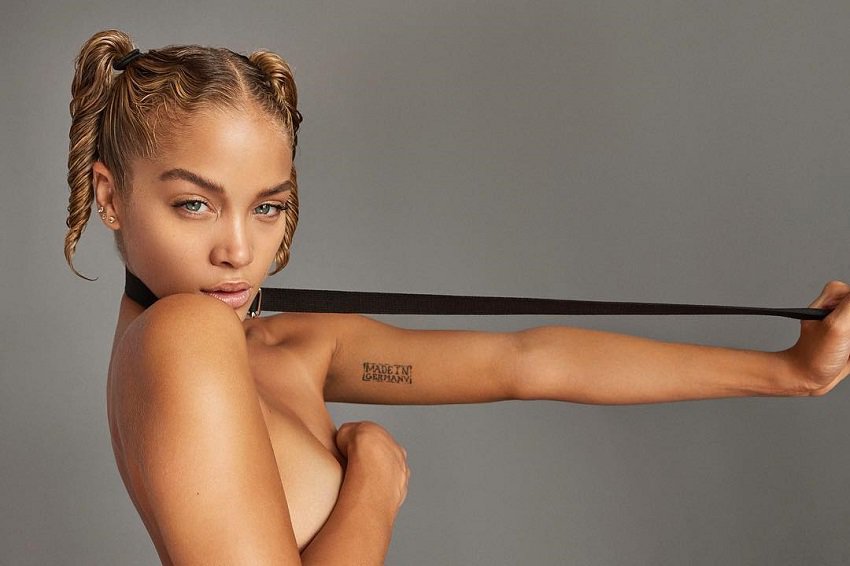 On all of her social media, Jasmine goes by her childhood nickname, Golden Barbie. One of her teachers was actually calling her Goldilocks due to her curly hair and her friends were telling her she looks like a human Barbie. A little world play later and she and her sister came up with the username, Golden Barbie. She stuck with it ever since.
To date of writing this post, Jasmine has over 2.1 million users on Instagram. She posts various pictures on a regular basis, but it wasn't quite like so back when she started using the photo sharing app. As a matter of fact, Jasmine only used it to steal its filters. However, she soon realized that people are actually liking her posts and she continued the journey into the unknown.
Look at her today, Jasmine Sanders is taking the industry by storm. She appears in ad campaigns, photo shoots and even video ads and is friends with the biggest celebrities.
In case you missed it, she appeared in a very successful video for Kylie Jenner's Cosmetics, titled "Glosses."

And the photo…
More sexiness from Jasmine Sanders to get the excitement and thrill going: