Super sexy high school drop out, Jillian Janson is a dirty little bitch who does wonders in front of the camera. The moment she turned 18 years old (3 months after, actually), Jillian entered the adult entertainment industry and all the rest was history. Born in Minneapolis, MN, Janson later moved to Los Angeles to pursue the porn career full-time and live a dream lifestyle.
It all began back when Jillian was only 12-yr-old. This was the age when she started watching pornography. At first, it was all due learning, however, she soon realized how horny she gets watching explicit videos.
But her first sexual experience happened even earlier. At the age of 10, Jillian played with a little penis for the very first time. It wasn't rally a fuck, not even a blowjob, she just put it in her hand and had some fun with it. Say whatever you want but I am sure the percentage of people doing something so naughty at the age of 10 is small.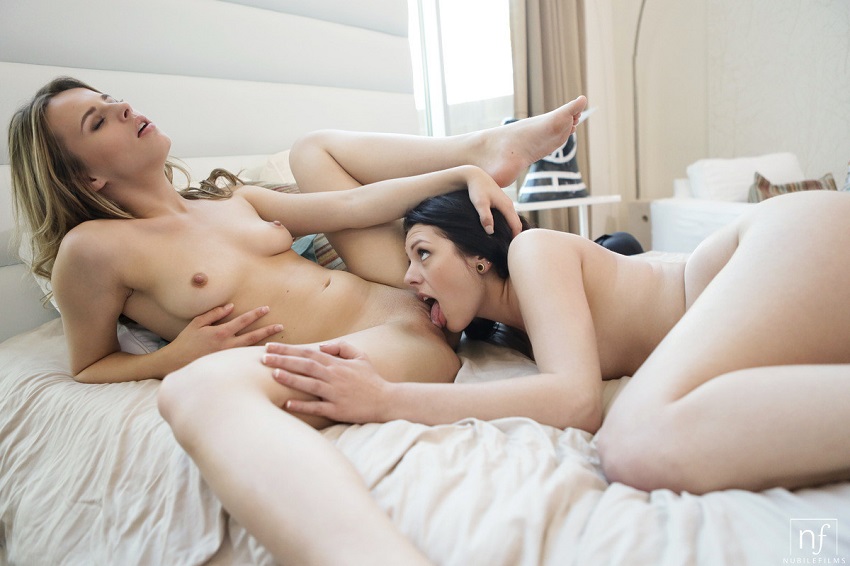 Moreover, she first had sex at the age of 13. This was the year she realized how much she truly loves sex. From then on, she became a promiscuous one. Girls no, guys yes (at least at the beginning).
As a young lady, Jillian was very independent and did not like the drama. That said, she wasn't hanging out much with girls, rather going out partying with boys. As far as her parents go, her father disowned her when she joined the adult entertainment industry. Bear in mind, they did not go along very well after all. Though it was rough and she needed to work hard, Jillian preferred living with her mother. It was her mother who was one of the first people Jillian told about her new career. Even before she did her first shooting.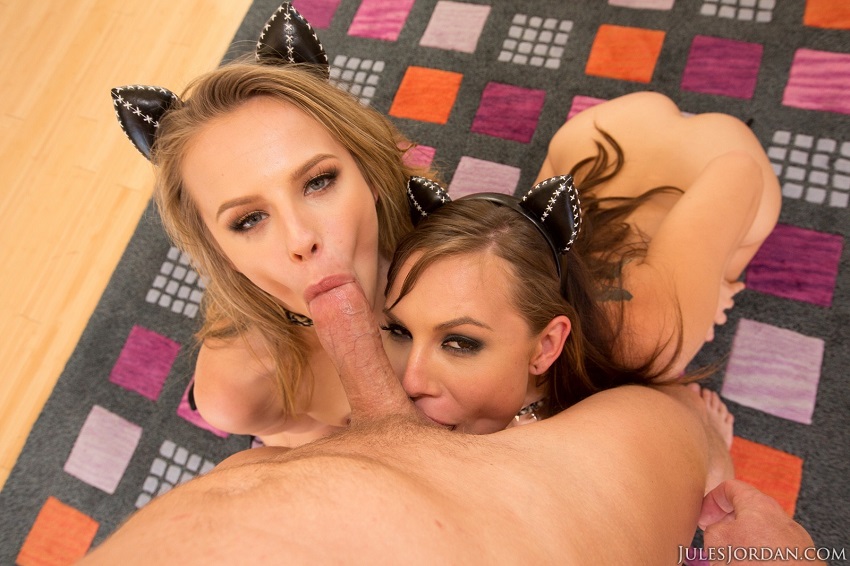 Born on May 23, 1995, Jillian Janson started sharing her body with the world doing webcamming first. Soon after she joined the website, she got contacted by an agent who offered her a nude modeling opportunity. It only took her several hours of conversations with the agency before she found herself in California and her life changed completely.
From a "nobody" Jillian became a somebody. In a very short period of time, she grew fame and popularity amongst porn fans and she keeps on growing strong. Not only does she work with all the major companies, her talent even made her won industry awards. In 2015, Jillian won NightMoves' Best Female Performer award and a year later AVN's Best POV Sex Scene. As for the companies, Jillian worked with the likes of Evil Angel, Jules Jordan, Elegant Angel and Brazzers to name a few.
Nothing is stopping this young lady from retiring any time soon. Instead, Jillian keeps on exploring the Slut industry and herself.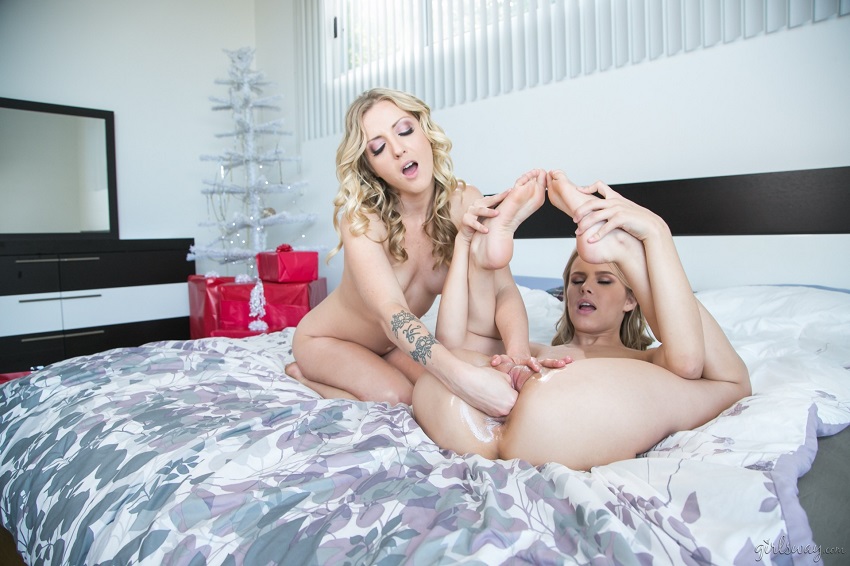 You can now enjoy a wide collection of free Jillian Janson porn videos right here on vPorn.
Due to the porn business, Jillian started believing in herself and really began loving herself both physically and emotionally. Not only that, but she unlocked a wide horizon of new ways how to satisfy her horny needs. From interracial and lesbian experiences all the way to anal sex and more. Blue eye hottie wasn't into this kind of stuff early on but she eventually grew into it.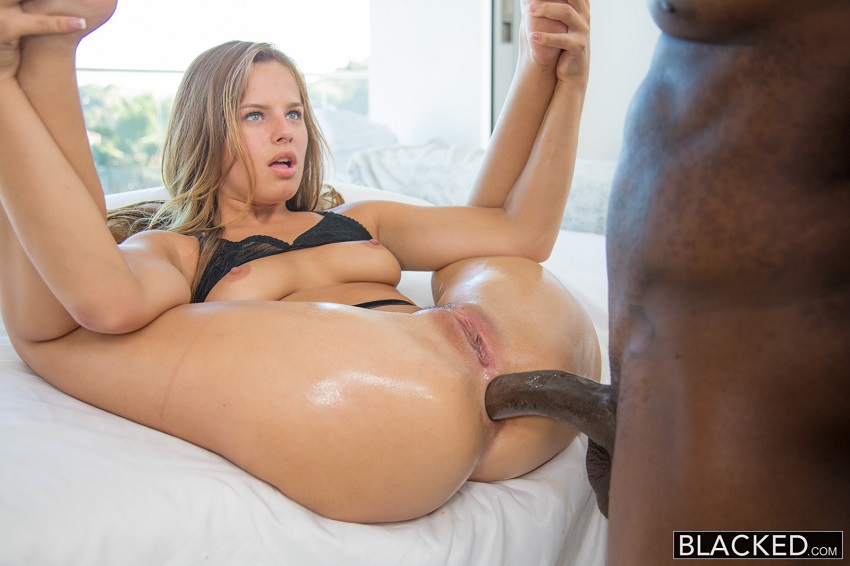 Do yourself a favor and follow the beauty on Instagram and Twitter.
Free Jillian Janson porn videos to get you off
Solo masturbation scene that will water your mouth

Whenever you will see Jillian do what she does best in front of the screen, your mouth will start salivating. She is a hot, all-natural beauty with a ton of talent and skills to seduce you no matter what. Janson always goes full tilt when she throws down a show.
This time, it is a super seducing solo masturbation performance that will knock your socks off. First, Jillian slowly teases with a striptease show before she goes down on herself and starts to finger her pussy. On the floor, right before the entrance, Jillian Janson plays with her pussy juices and brings herself to a volcanic orgasm.
Abigail Mac teaches Jillian a lesson

Poor Jillian is sick and tired of everything and then the bossy Abigail Mac arrives to give her a lesson on her posture. FML! As a matter of fact, Jillian is in need of some charm school. To her luck, Abigail is the best teacher she will ever have. Her approach might be different compared to others, however, it always does the trick.
At first, Jillian Janson is resisting, but with a ball gag, she starts to enjoy herself. Abigail puts her to a test and sits her behind the dining table. No luck. Clever Mac comes up with a great idea. She places a big dildo on the chair and makes young Jillian sit on it. She is getting better and better at it.
As a reward, Abigail then fucks the living daylights out of the teen lady with a strap on.
Sexy school girls go all in for history professor

It is a little late for the extra credit, however, courageous Jillian and Elsa Jean will do all there is to seduce the history teacher. Will he even be able to resist such smoking hot schoolgirls like Jillian and Elsa are? I believe you already have the answer. Not to mention, Jillian is curious whether or not Elsa is down to impress her. As you may know, Jean is sort of obsessed with her friend. Plus, Elsa needs to go above and beyond if she wants to remain a member of the sorority.
After a quick conversation with the teacher, Jillian goes to the restroom and lets Elsa take over. Soon she finds herself with her arms pressed against his crotch and there is no turning back. Lucky professor is not as professional as he should be anymore. Having such amazing youngsters available, they move to the bedroom to experience a vivid threesome fuck session together.
So, is it still too late for the extra credit?
Blonde hottie Jillian Janson destroyed by neighbour's big black cock

There is this noise coming out of the neighbor's house that is keeping them all awake over night. Dad wants Jillian to go over and see what is going on and put an end to it. After inviting herself to his house, Jillian finds out that he is clean. No music, no nothing. However, the noise does not necessary come from music. She sees all the girls he is bringing home on a regular basis. It's the love sounds that is keeping them awake after all.
Instead of being mad or whatever, Jillian wants him to make her release those noises, too. She starts to undress him and stuffs her mouth with the big black cock. He returns the oral favour and later on smashes her snatch and stretches it wide.
How loud did he make her go? Or will he need to do a better job next time?
Two BBC's are an irresistible opportunity

Although her boyfriend is downstairs, Jillian simply cannot hold herself back when the black studs attack her. Especially not when they release their monster black cocks. An interracial threesome is something Jillian always fantasized about. Finally, the opportunity is here and she sure will not miss it.
Taking good care of their dongs orally, young Jillian makes them ready to stuff her juicy muff and help her experience the pleasurable sensations her boyfriend cannot get anywhere close to. While one rams her hard, Janson blows the other up until the point their balls fill with semen and unload a portion of spunk inside her mouth.
Wild lesbian show featuring Jenna Ivory and Jillian Janson

The unstoppable girlfriends, Jenna Ivory and Jillian are so horny they are in desperate need of some pussy treating. Both naked and looking sexier than ever, they go down on each other and fool around for a girl-girl show you will never forget in your life.
First, they do each other orally and with their delicate fingers before they introduce sex toys and put them to some really good use. At some point, you will find them double fucking a large dildo in a doggy style position, facing away from each other. Babes keep on drilling each other until they both experience a fulfilling climax.
Nothing beats an unexpected anal by the poolside

While enjoying herself on a sunny day by the poolside, Jillian becomes aroused through the roof when she begins to cover her body with oil. She starts to touch herself and the next moment, Jillian is flashing her bush and fingering her pink taco. To her luck and surprise, her boyfriend, Chad, joins her and helps her out on a journey to reaching an explosive orgasm. He fingers her first but soon goes to stuffing her muff in a doggy. With his thumb, he helps her relax her anus and gets it ready for penetration. From tanning her body, Jillian Janson is now getting her asshole fucked hard and passionately.
Experienced Dillion Harper takes care of 18-yr-old Jillian

New girl is coming on set to shoot a WebYoung scene and it is no other than Dillion Harper who will welcome her. Her name is, Jillian Janson and she is 18 years old. Upon her arrival, Jillian expresses herself how big of a fan of Dillion's she is. And now, she will get to fuck her in the hottest lesbian fuck ever. Once an idol now a co-worker, you see, life can flip around very quickly.
With Dillion on set, you can expect only spectacular things to happen. Harper makes sure she takes very good care of teen girl, Jillian. With kisses, she helps Janson fully relax before she dives deep and starts munching on her tunnel of love. Oral foreplay leads to sex toy fucking what ends up with a satisfying cumming.