Being around for a little while now, Love Lynn C. is our Hottie of the week and we cannot stop drooling over her. Her smoking hot body physique and her exotic looks are just too much to stay normal. And when you see her wearing the sexiest lingerie you can think of, you are about to pass out. This is just a warning so you don't blame us later. Be prepared for the hot vibes to strike heavy.
Hailing from San Diego, Love is, at the time of writing this, a 21-year-old brunette gorgeous who never disappoints. A lifestyle and travel enthusiast and blogger who also has a huge passion for modeling.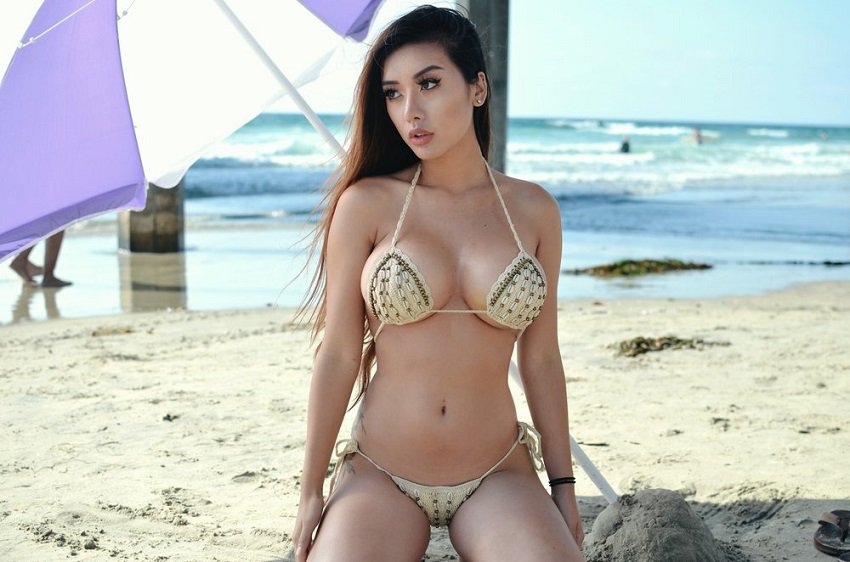 You can run into Lynn taking a street massage in Bali, or sunbathing at one of her favorite beaches, La Jolla Shores in SD. In case you happen to get to meet the beautiful girl, just try and be a gentleman. Bear in mind, those big boobs Love Lynn C. is sporting can be of a serious distraction. But what can a simple man do, right? He stares and just does not give a fuck.
Hint: if you two are at a bar, surprise Love with a vodka + orange juice, or a tasty mint mojito. Those are the drinks she is super into. Moreover, some bacon, maple syrup, eggs and toast for breakfast will do the trick, too. While you think she is super picky, it all ends up with the basics. Never overcomplicate and you are on the right path to win her heart.
By the way, Lynn is kinda, sort of in love with Daniel Ryan Lee.
Enough of me, giving you relationship tips or whatever, we are here for the sexy girl, Love Lynn C.
A bit of ink decorating the side of her body, the mesmerizing (blue?) eyes, the incredible (enhanced?) hooters, the perfectly rounded butt and the bright smile, Love, you truly make me speechless. But that is alright.
Enjoy the always sunny Lynn releasing sensual vibes at all times. Check out her official website and follow her on Instagram for a better tomorrow.