There is a lot going on in the world of the young and hot pornstar, Dakota Charms. You might be unfamiliar with this beauty but not for long. We managed to get in touch with her for a short interview to get to know her better. Here we are now, with a fresh pornstar interview that will get you on an even more personal level with lovely Dakota.
Ain't she just adorable? I could stare at her face for hours upon hours and never sense a touch of boredom. There is something so special about her that always gets me hooked and glued to the screen. Maybe it is all because of those mesmerizing eyes. I dunno. What I do know is that I sure do like Dakota. And you? Are you experiencing Dakota similarly?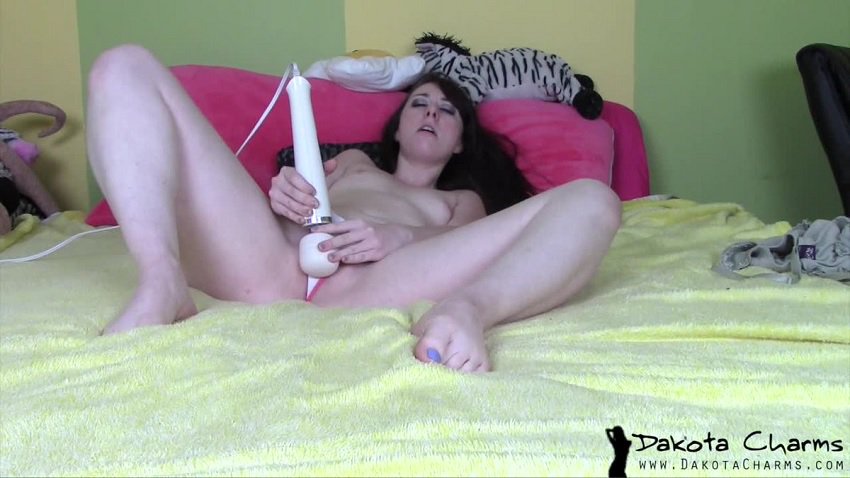 Anyway, Dakota Charms likes to express her weirdness through fetish modeling and just does not give much fucks. The type of a lady I kinda like the most. Luckily, and thanks to the adult entertainment industry, Dakota can be who she is and never get judged by it. And if you are into foot fetish, boy, Dakota always has something special ready for you. Those cute feet are very lickable, indeed.
Dakota likes to experience and sticking different objects inside her pussy, too. Wait until you learn about which was the strangest object she ever inserted into her tunnel of love. Almost an icecream just that it is not. Speaking of her pussy, you can purchase a replica and fuck the living daylights out of it. Yep, the sex toy is available and it might just be that this is the closest you will ever get to Dakota. Or maybe you are the lucky one.
Enough from my end, let's hear it from Dakota Charms now.
1. Hey, Dakota! Please introduce yourself; how old are you, what is your name, where do you come from?
Dakota: I'm Dakota Charms, I'm 27 and I came from space 😉
2. What were you like growing up? Were you a promiscuous one?
Dakota: I was very shy and a little odd, lol. I was promiscuous in high school when puberty hit.
3. Why did you decide to get in porn, do your parents know about it?
Dakota: My ex-boyfriend got me into it. His name is Conor Coxxx, he actually has an agentry called coxxxmodels.com. It was 5 years ago and I was his first model so we just traveled together and now we are business partners. My parents still don't know.
4. How has your life changed ever since joining the adult entertainment industry?
Dakota: Besides making more money? lol. It hasn't changed my life much besides that I'm not working a day to day job and I get to choose my hours.
5. How did you come up with your stage name?
Dakota: I choose a random state that sounded like a name and Lucky Charms is my favorite cereal before I went vegan, lol.
6. What do you wish you had known about porn business before becoming part of it?
Dakota: There are bad people.
7. What do you like the most about being a fetish model?
Dakota: Being my weird self and not being judged by it.
8. What are your three biggest fantasies, sex-wise, you would like to realize?
Dakota: Cuckolding, 2 guys threesome, and it's a secret 😉
9. How did the creation of your pussy replica come about? How excited were/are you about having your very own pussy so others can enjoy you?
Dakota: Everyone is doing it. Lol, I think it's sooo cool [that] people actually want to buy and fuck my pussy.
10. When do you feel the sexiest? What do you think is your most attractive physical quality?
Dakota: After my period 😉 My eyes.
11. Where is the weirdest place you've fooled around?
Dakota: A car wash.
12. What would be your fantasy fuck?
Dakota: Jake Gyllenhaal and Channing Tatum 3 some!
13. Which was the most bizarre object you have put into your vagina? How was it?
Dakota: A frozen banana it was unbearably cold, lol.
14. What would you do if you had $10 million?
Dakota: By a speed boat, a Volkswagen bus and A BIG MOUNTAIN HOUSE.
15. Where do you see yourself 20 years from now?
Dakota: Kids, Family, Married to someone famous 😉
::
You can see what is going on in Dakota's day to day life, what used clothing she is selling and more by following her Instagram and Twitter profiles.