Are you ready to bring your (sex) life to an entirely different level with Pulse aka "The Guybrator" by Hot Octopuss? Either for solo usage or for couples, this award-winning male sex toy is one you should most definitely try out. There aren't that many high-quality masturbators out there and when something dope is released, you know we will be writing about it.
Seriously, it seems we are all always talking about the good old vibrators, magic wands and dildos – the sex toys for women. But what about men? Why isn't there just as much pleasurable devices produced for men as there is for the female population? Why don't we get a chance to have some fun with our cock using an extraordinary sex device?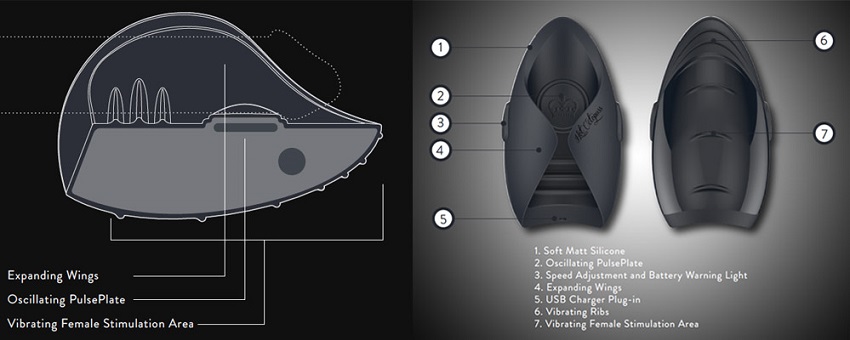 If you are looking for something special, look no further because you just came to the right place. This next-generation masturbator will help you experience sensations like you haven't experienced yet. Not to mention, your lady or fuck buddy will have a fair share of it, too. How exciting does this sound, huh?
Anyhow, what exactly is this Pulse, "The Guybrator" thing?
It is a male stimulator, a cock sleeve if you will, that uses oscillations to stimulate and arouse the dude. You can use it either with a rock solid dick or when your penis is flaccid. As for the latter, it is a great toy for the guys who suffer from erectile dysfunction. Plus, the Duo version is perfect for all you horny couples who want to spice things in the bed.
Moreover, you can use it with or without (for static stimulation) lubrication. Other than that, the usage is quite simple. You stick your hard or flaccid penis in the Pulse, making sure that the back of your cock aka the frenulum is pressed against the PulsePlate. In case your cock is still soft, the vibrations provide stimulation direct to the frenulum what will make your member grow, causing the "wings" of the toy to expand and wrap around the penis tightly.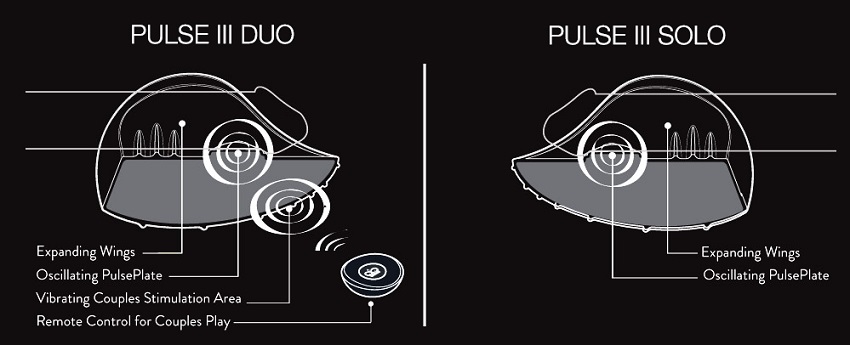 The only thing left for you to do is to either slide it up and down your shaft (with lube), or you enjoy the static stimulation.
Mentioned earlier, there is also Pulse Duo version available by Hot Octopuss. This one is ideally suited for couples. The dude wears it but both get to benefit from the unique oscillations. Plus, it's a hands-free experience. Meaning, you can do with your hands whatever you want. Touch, massage, caress, squeeze, you name it.
The foreplay that may turn into the main sexual adventure.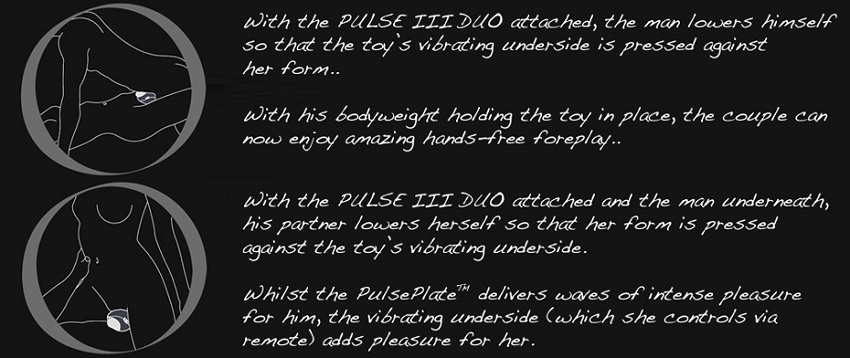 Guy on top.
The stud approaches his lady by lowering himself towards girl's vagina. He presses against her and they both start to experience the awesome benefits Pulse has to offer.

Girl on top.
Just like the man, the woman lowers herself and sits on the sex toy until she starts to sense the vibrations. She can then stay static or slowly and gently slide her va-jay-jay on the lubed device.
By the way, the vibrations can easily be controlled via remote control.
You can learn even more about this amazing and revolutionary male sex toy, Pulse, by watching the above and below videos.
I personally haven't tried this ingenious male masturbator myself yet. However, what I read and heard about it, it really does feel amazing for both the guy and the girl.
Obviously, the guy gets more from it, still, you will both enjoy it to the fullest.
How much it costs?
The solo version can be yours for €99.00 and the duo version for €129.00. Bare in mind, "The Guybrator" is made of the softest silicone, is 100% waterproof, has five different stimulation modes and uses magnetic charging.
Now guys (and girls) it is up to you if you would like to give it a go. I will say only one more thing; never stop testing and trying out new things.