It is hard to meet pornstars like Richelle Ryan is. She is a hard working adult actress with a very down to earth and extremely open minded personality. But what you came here in the first place is her inviting and very round booty. It is shaped like someone would pick up a pencil and draw it on a piece of paper. It is as perfect as it can get. But it gets even more ideal when Richelle slides with it on a rock solid cock. You will go bonkers. But who are we kidding? You are all very well familiar with the curvaceous pornstar, Richelle Ryan. She is in the business, what now seems like forever.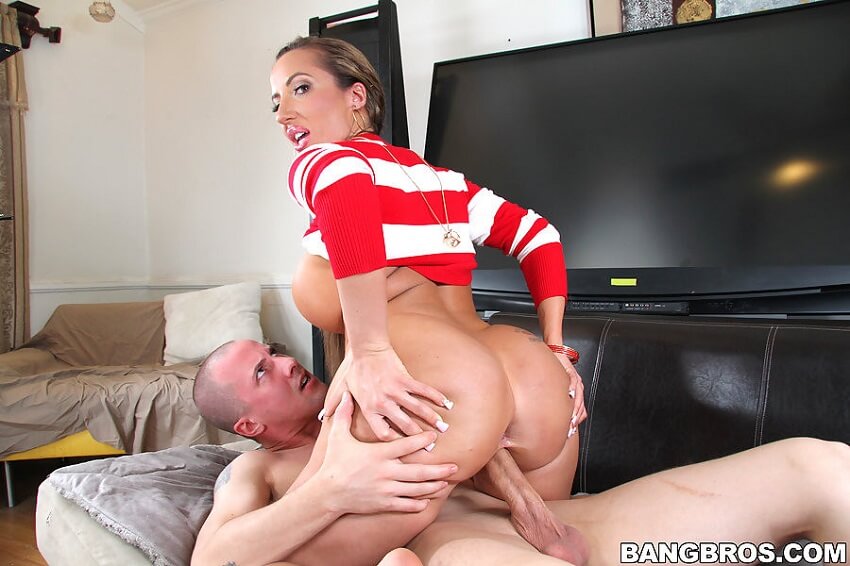 A well-liked pornstar, Richelle was born on July 11, 1985 and raised in upstate New York. She went to a Catholic school and lost her virginity somewhere at around 15 or 16. But only then, Richelle became a more girly teen. Before losing virginity, she was a real tomboy. But the tomboy part never truly faded away. Even today, Richelle still seems to have it in her since she loves sports and is one of the biggest fans of New York Giants.
One of the sports Richelle Ryan is especially passionate about is sex. The good old fucking. But before she entered the adult entertainment industry, Ryan was an exotic dancer. In other words, she was really used to getting naked in front of a live audience.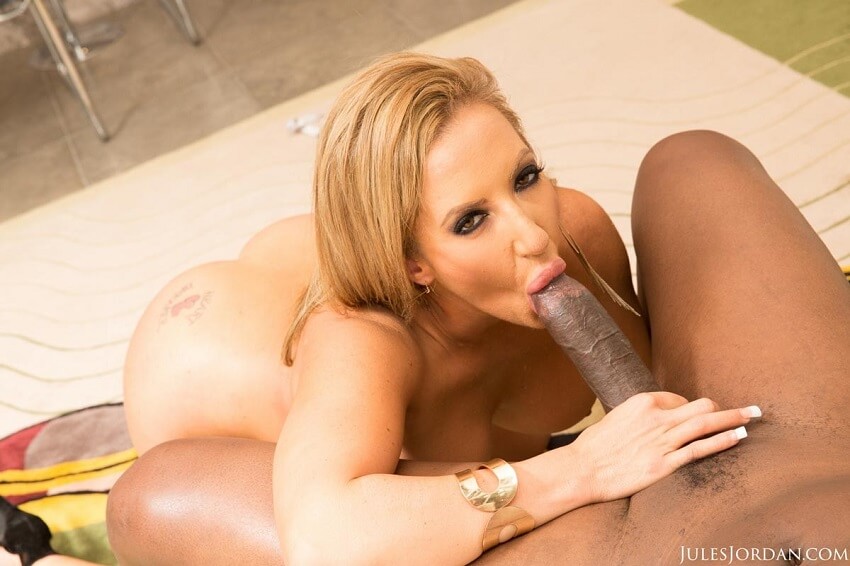 At this club, Richelle danced, she met all bunch of big names like Gina Lynn and Nikki Benz. After spending time with the ladies, she became very fascinated by porn. This was the time when Richelle began watching a ton of pornographic videos. But not for the fact to rub one out or to spice things up when fucking. Instead, she watched it like you would watch a regular full-length video on television.
One day, Briana Banks came to the club and started giving away DVDs during her performance. That night, Richelle rushed home to watch the scene and ever since knew that she was made for porn. She went online, visited the LA Direct Models' website and the rest was history.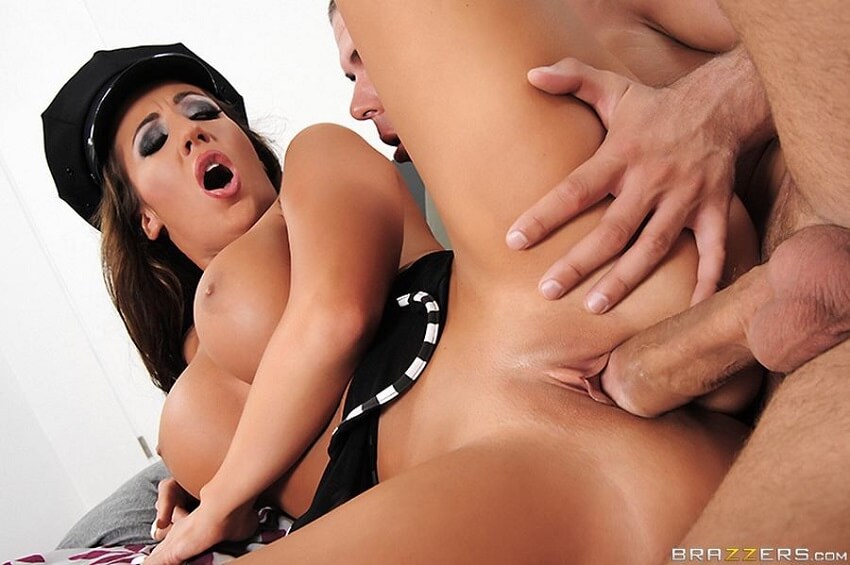 It all began for Richelle back in 2006. It was her 21st birthday for See Her Squirt. A new pornstar was born and to this day, Richelle keeps on going strong. To kick it off in her own style, Richelle first wanted to pick a boy's name. Do I hear a tomboy? However, her agent suggested choosing something else instead.
So far, Ryan worked with all the most notable companies, like Evil Angel, Kink, Brazzers and Twistys. Some of them, we will get to watch in our hot collection of free Richelle Ryan porn videos you find below. Are you ready to watch that big butt and fabulous body in action? Look no further, we have you sorted.
Richelle is a fan of young studs

It is no secret that Richelle Ryan likes to bang young boys. And when she encounters one, she will do whatever it takes to get his cock, first deep in her mouth and later deep in her pussy. Even if he tries to hold himself back, he is unable. After all, when Richelle kneels, all the rest immediately becomes history. She pulls the cock out and already finds it rock solid. The amazing looks of Richelle's make everyone go crazy, even when fully dressed. After she puts her amazing skills to use and climbs on top of his cock with her juicy vagina, he thanks himself that he went with the Richelle flow. That big bouncy ass is jaw-dropping.
Perverted mom enjoys stepson's large shaft

When they are home alone, Richelle's stepson just cannot resist but pulls his cock out while watching her talk on the phone. She is just too hot to be true! And he is more than right. I mean, have you even checked Richelle in great detail yet? I bet you did. In that tight, blue dress, she looks better than ever. However, Ryan looks even hotter when she turns around, goes on her four and reveals that large and rounded ass. And do you know what's even better? You guessed, seeing that butt get smashed from behind, as well as in a reverse cowgirl position. You will definitely not regret this one.
Busty Richelle gets tricked into fucking her massage client

If you are a clever boy, you can succeed in life greatly. Even when it comes to tricking your masseuse to give you a happy ending – although she is definitely not down for it! After Richelle puts her skilled arms to use, the stud grows a boner, and they are both in shock. He smartly advises her to continue doing what she is doing. Not only that, but he tells Richelle to stroke his cock so he maintains his erection for longer. Little does Richelle know, the next moment, she is already titty fucking him, blowing his throbbing shaft and even riding him in a bunch of different sex positions.
Naughty Richelle gets her twat fucked by a police officer

At a Halloween's party, Richelle comes dressed up as the sexiest prisoner you have ever seen. To her luck, there is a police officer who happens to be very interested in locking her up and fucking her brains out. And that is exactly what Richelle is interested in. No wonder why she put up such a slutty outfit! After police officer handcuffs her and takes Richelle upstairs the rest is history. She is already horny as fuck, ready for a strong arm to squeeze her round ass and big boobs. Besides, what Richelle Ryan wants even more is his dick to smash her juicy pussy like never before.
The lesbian threesome you always dreamt about

Get ready because this one will hit you extremely hard. Indeed, in a positive way. Three insanely beautiful ladies go down on each other in the most inviting lesbian three way you have seen in a while. They are Alexis Monroe, Kayla Kayden and the very own, Richelle. I would advise you to not even waste the time reading rather immediately press the play button and enjoy the GGG fuck show. The endless pussy licking is of the highest standards which will get your body juices going forever. When one reaches an orgasm, they move to the second and lastly, the third one. They all explode with cum and experience insane amounts of pleasurable sensations. And you can freely join their adventure and be part of it.
Big ass festivity with Bella and Richelle

On a warm and sunny day, Bella and Richelle hang out outdoors, in the pool, teasing and seducing you. But they are not there only to show their ridiculous asses. As it turns out, all that ass grabbing is only a warm up for a vivid fuck. Before any action even begins, your cock will already be throbbing due to the fact that Bella and Richelle are proud owners if amazing body physiques. They are just so scorching hot it almost feels like they are not real. However, they are as real as you and me, and they are about to get smashed so hard they will scream so loud you will be able to sense the positive vibes through the screen. One on top of the other while the stud penetrates their juicy vaginas until unloading a large load of cum.
How many cumshots can Richelle take in a row?

Hurray for the glory hole! If you haven't yet been part of it at least you can now enjoy Richelle Ryan undergo a glory hole fest. One cock, second cock, third cock and so forth, Richelle is more than excited to receive a session of cumshots inside her mouth until she gives up. But how many will she take before Richelle calls it a day? For a professional as she is, you can expect a lot. Cocks of all shapes and sizes are at her service to jerk them off and offer them salivating blowjobs. Deepthroat included. The taste of cum on her tongue only fires busty Richelle up to keep on keepin' on. Instead of me ruining it all for you, sit back and benefit from the glory hole loving pornstar, Richelle.
Ryan fucks herself with a big black dildo

There is something about girls and black dildos. What? Maybe it is the fantasy of being with a big black cock just that they cannot find the opportunity to be with one. The best solution? A big black sex toy. While we know buxom Ryan can have everyone she wants, she sometimes keeps all the fun for herself. That said, she picks up her favorite artificial cock and rams her pussy exactly how she likes it.
But first, she performs an outstanding strip show which will have you hooked and glued to the screen. With a body like Richelle's and very enticing moves, you cannot help yourself but have your mouth wide open. Your hands begin reaching for your private parts and it is a rub or a tug that follows. Alongside Richelle stuffing her tunnel of love with the black toy, you can imagine yourself penetrating that pussy with your bone.
Massseus fucks Bill Bailey near his wife

If your name is Richelle, you can pretty much do whatever the fuck you want. After all, there is no man out there who is able to resist you. Even if that means seducing you and sucking your cock right beside your wife while she is snoring. That's right, of course Bill cannot say no to such offering. Once curvaceous Richelle Ryan opens her mouth and starts to slide her full lips up and down the rock solid cock, Bill's mind goes berserk. But later, they continue the little secret adventure alone, Richelle riding his shaft in a squat position.
Busty teacher fucks the janitor

While cleaning her desk, the janitor finds a bag of coke under her desk. Right in time, teacher, Richelle, walks into the classroom, acting all bossy and whatnot. However, once she finds out that he holds her bag, Ryan quickly comes with a solution to keep him shut. With her massive boobs, Richelle sure will keep him quite. Well, not only with her tits, with her mouth and juicy pussy, too. He does not think twice about it, sits down on her chair and let Richelle guide him through the journey of her pure satisfaction. Sucking his large shaft and letting him fuck her pussy sure will shout the janitor's mouth forever.
Richelle gets her big and round ass smashed hard

When she turns around and goes on all her four, the whole world stops and focuses on Richelle Ryan's big and curvy ass. Surprisingly, although a large bum, Richelle is still keeping it super firm and tight, just like her pussy. The large cock slides deep in between buttcheeks and straight into her deliciously moist vagina. Ramming Richelle doggy style feels like you would be on top of the world. From time to time, she turns around, sucks the shaft and slurps for a quick break before they continue fucking like mad people. Ryan moans with joy, releasing a whole lot of positive vibes that you feel through the screen.
Crazy Thanksgiving threesome for a curvy MILF

Years back, Richelle's husband fucked her sister and it is about time to pay him back. This time around, Richelle gets an opportunity to go kinky with her hubby's coworker. They do all sorts of things in the bathroom, cock sucking, pussy munching and fucking before they go to the bedroom and continue the adventure. However, right in time when he is licking Ryan's pussy, her hubby walks in and catches them. To their surprise, he does not go all insane on them rather pulls his dick out and let Ryan suck on it. It just happens that he surprises her with a holiday threesome that every MILF out there wants to experience.
The tastiest outdoor solo masturbation you have ever seen

Wearing the sexiest black out fit ever, Richelle Ryan begins throwing down a solo tease show right away. She knows how to use her body to her benefit to seduce everyone on the planet. Ryan's big and fat boobs are as perfect as her ass is. Round and large, almost like someone would draw it on a piece of paper. Richelle is a real doll if you will. Slowly and seductively, Richelle strips down and begins to finger her clitoris. First, she does herself in a standing position before she goes to the floor and keeps on fucking herself. If one knows how to make solo masturbation session look remarkable, it is no other than Richelle.