Big breasted brunette Italian pornstar, Romi Rain, does never let you down. Whether it is an XXX scene or a random conversation, you always have the time of your life when hanging out with Romi. She is this exotic lady with an insanely beautiful body physique with which she drives every man crazy. With years upon years of experience teasing, seducing and having sex with men and women, Romi never disappoints. She is a very down to earth girl who you will find being a real wifey material. A caring beauty, if you will.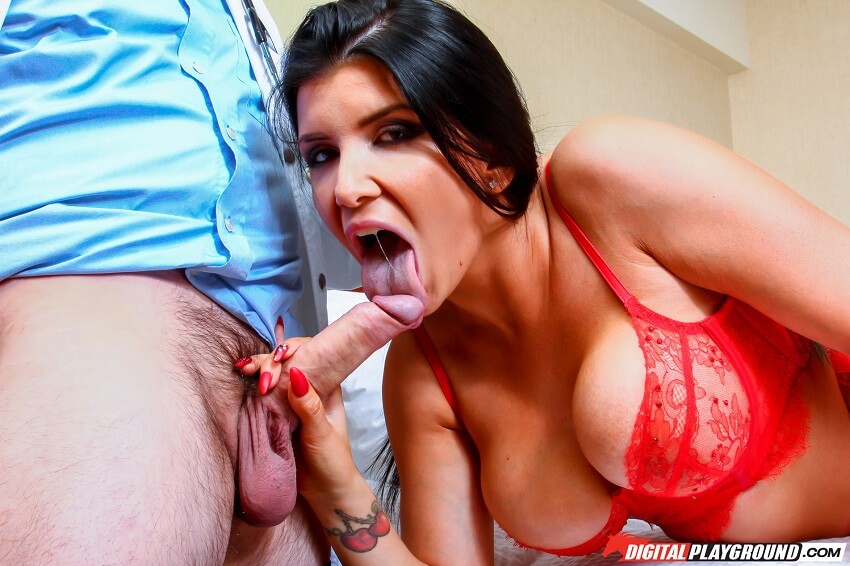 Of Italian descent, but Romi is often mixed up with Latina, Brazillian or many other ethnicities. Being Italian, Rain says, is the best thing that could happen to you. You are exotic in every sense of the word. But the body she sports is definitely adding up to the whole meaning of the word "exotic."
Born in Boston on January 12, 1988, Romi is not really a winter person. She prefers hot, summer days what might be one of the main reason why moving to Los Angeles at the age of 18. For the first year, Romi was a hostess at a bunch of restaurants before she began practicing exotic dancing at 19. From then on, things slowly and steadily escalated. Before entering the porn business, Romi Rain did nude modeling, camming, work bottle service and more.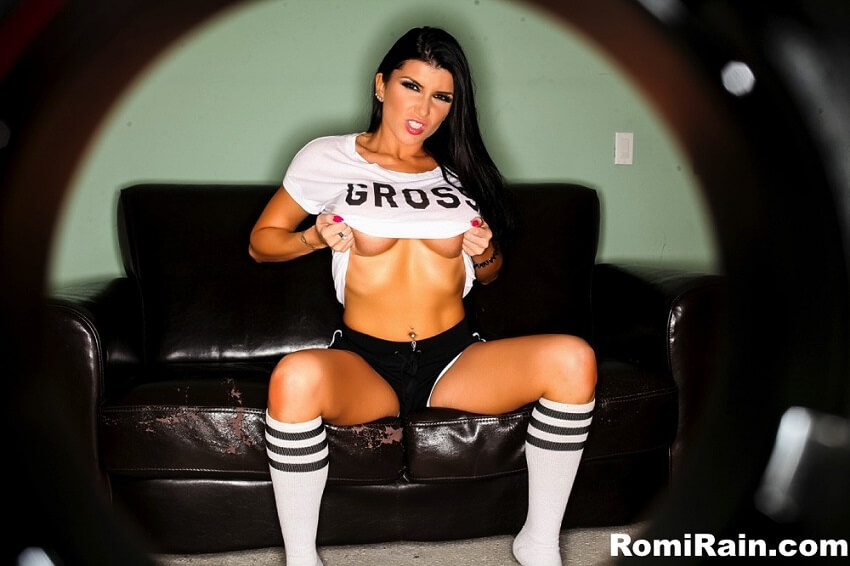 But open-minded Romi was always a sexual person and was not afraid to tell that she is a bisexual. Even with her parents, Romi always had an open conversation. For your information, Rain's mother was in Hustler, however, she never did porn or any other dirty stuff.
After Romi began appearing on Playboy Live, she became more and more curious. She even did some live girl-girl stuff and a ton of solo masturbation cam sessions. The idea of getting into the porn business intrigued her for a good little while before Romi decided to take the plunge end entered the Smut world in October 2012. Romi started having sex in front of the camera with girls first. She only did her very first boy-girl scene in February 2013, after about 5 months in.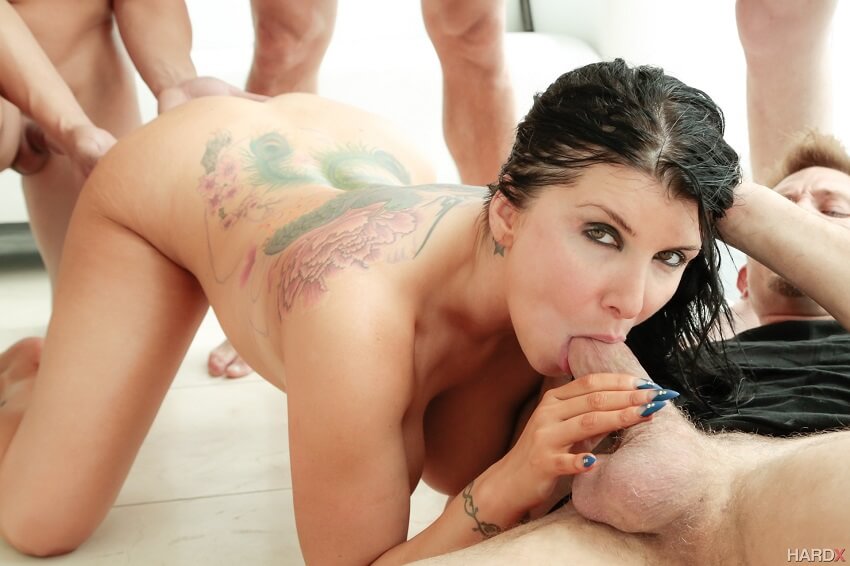 Up to this time, Romi worked with companies like Naughty America, Brazzers, Evil Angel and Jules Jordan to name a few. What excites Romi the most is the fact that others get off watching her get off. Seems like a win-win situation. Hint: Romi prefers giving a blowjob over having her pussy eaten out. Yes, that is how much Romi Rain loves cock!
Romi is quite a heavily tattooed pornstar with a few small tats and a large back piece. She approaches each scene with all of her passion and enthusiasm what calls for unforgettable explicit content. Romi is not limited too much and that is why she came so far. By the way, you can also buy Romi's signature Fleshlight and get a chance to fuck her.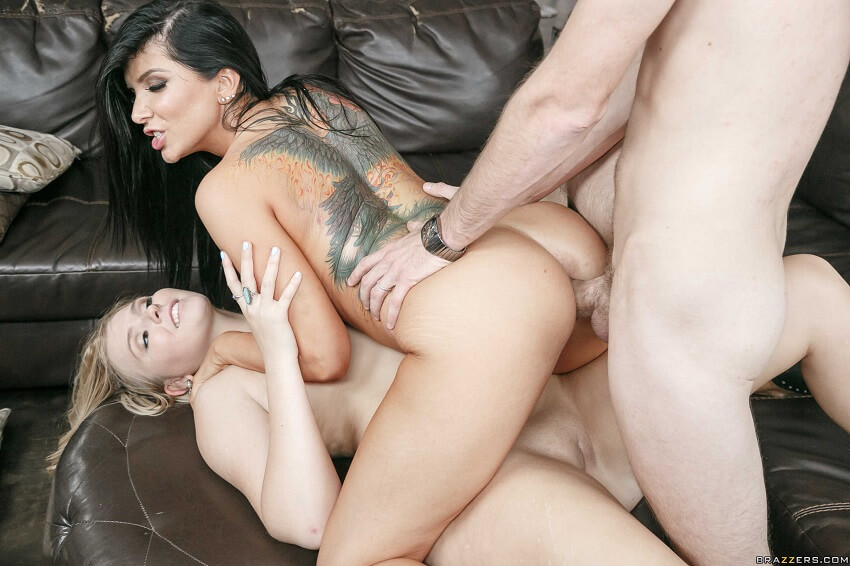 To keep yourself updated with what Romi is up to, follow her massive Instagram and Twitter social accounts.
The hottest free Romi Rain porn videos
Fulfilling anal for curvy Romi

One thing is for sure, Romi Rain has never in her life experienced an anal fuck session like this before. And, to your luck, we have it all documented in this True Anal porn video that happens to be entirely free of charge. Watch Mike tongue fuck Romi anally first before he slowly eases her giant cock deep inside her anus. The penetration begins, and hot Romi releases a ton of love sounds, showing you just how much she enjoys it. At one point, he even lubes that delicious ass with some cold butter. In short, I bet Romi did not expect that.
Intense anal featuring Manuel Ferrara and Romi Rain

Pretty much every woman wants to experience Manuel Ferrara at least once in her life. The French guy is a real gentleman who prefers anal fucking over anything else. To her luck, Romi is here today to get a dose of that European cock deep inside her asshole. The harder he pounds her, the more she loves it. That shaft stretches Romi's ass super wide, giving her all the pleasurable sensations that she has not experienced before. And to end the vivid fucking session in style, Manuel explodes with a nice torrent of cum right onto her face. I bet Romi wants to have more.
Now that's one hell of a wifey material

Needless to say, Romi Rain loves to take care of her hubby, treating him to all sorts of deliciousness that he enjoys oh so much. Yes, she does not mind dressing in a tight latex-like leather outfit, getting his body juices flowing in an instant. She wants to take care of him badly, making sure he will be a good boy from now on. After she kneels and gives him a satisfying handjob and blowjob, he returns the favor and penetrates that juicy pussy like never before. The two of them go on for a while, banging like there would be no tomorrow.
Gorgeous pornstar enjoys dirty threesome

After the wedding, Romi thought that she was done with getting laid for favors. Even if she decided not to do it anymore, she had no choice. After some bad investments, her husband offers her to Mr. Mandigo for the afternoon, as a solution to his financial problems. He knew that Mr. M would do anything to bang this nasty babe. She hated it at the beginning, but once he showed her what he got, she was impressed. She went for it and after a little warm up with Mr. M's female assistant, she got extremely horny. It was the best bang that this dirty lady has had in a while!
Insatiable babe enjoys getting all of her holes filled with cock

Stunning, black-haired slut, Romi Rain, is using her seducing abilities to get fucked by a huge white cock. Looking sexier than ever, in an extremely hot red one-piece bodysuit, she is teasing and craving for wild and loud anal experience. Romi uses a big glass dildo to get relaxed, stretched and prepared for enormous dick between her legs. She gives him amazing wet and slimy blowjob and makes his shaft hard as a rock. She'll take it everywhere, between her huge tits, in her soaking wet pussy or big, tight ass, and make him deliver hot cum all over her big melons and filthy mouth.
Sexy chick just loves getting her mouth stuffed with dick

Glamorous, big breasted Rain shows her filthy, twisted fantasy and plays with men just for fun. She wants this guy to suffer and show that he desperately needs her, to go through unimaginable and unbearable just to be able to have her. Romi never before met anyone who is willing to do so much to earn her sexual attention. From the get go, her goal is to gain full control and make him do whatever she desires. And Romi has the perfect tool to make it happen. Mind blowing slobbery blowjob will make him go wild, tear up the ropes and give her a wild and unforgettable fuck.
Lustful threesome with two hot sluts and a hunk

Gorgeous black-haired bombshell Romi Rain tries to make her friend's last night of freedom memorable. These two horny girls are looking for a wild threesome experience, right after Dani's bachelorette party. They noticed a good looking bartender and asked him for drinks, but that wasn't everything they came for.
They take him out of the bar and rip off his shirt and pants. He is powerless in front of these two dominant sluts. They take advantage of him and share his big, hard dick with pleasure. For full satisfaction, they please each other, rubbing and eating their pussies while he fucks them. Definitely, they will never forget this night.
Three horny lesbians get their pussies wet and satisfied

When three gorgeously looking women go shopping, it could take a while. There are so many nice outfits they should try on. At one moment, beautiful Romi Rain gets bored and wants to spice it up a little. She takes off her dress and starts teasing her two busty friends. These two hotties don't have a choice other than satisfy all of Romi's needs until she cums hard. This turns out to be a great lesbian three-way. They are rubbing and eating each other soaking wet pussies without a stop using toys, fingers and their filthy mouths. There is a lot of screaming and squirting in this wild, jaw-dropping rough lesbian fuck.
Cheating stepmom enjoys playing with stiff teen penis

Stunning, big-titted MILF Romi is seducing her stepson. She desperately dreams of a wild and unrestrained fuck to satisfy her desires, which she can't get from his father. Romi puts his enormous dick between her breasts and sucks it like there is no tomorrow. This amazingly wet and tempting blowjob looks like it is never going to stop. She is choking and struggling with his huge prick, but stopping this crazy sucking is not an option. Like this is not enough enjoyment for both, he munches on her soaking wet pussy and asshole and blows her mind until she cums hard.
Wonder woman gets her pussy and ass licked and fucked

No one can pull off the Wonder Woman outfit better than the naughty Romi Rain. This ravishing brunette with big tits and a desire for power gets really horny and just cannot wait to stuff the soldier's face with her pink pussy. Rain makes him lick and suck on her clit while she moans and demands more. The kinky babe sucks his dick and makes him extremely horny while licking her wet pink muffin. The 69 pose makes Romi so hot that she spreads her legs and lets him fuck her from behind until she gets all of her fantasies fulfilled.
Two kinky pornstars, Romi and Abigail, team up and share a big fat cock

Don't miss out this fantastic wild threesome fuck session with real pro adult actresses. Sweet and stunning models, Abigail Mac and Romi Rain show the process of shooting scenes and how they are spending time on set, while filming a professional adult movie. They found a man waiting, with an amazingly huge dick, big enough to satisfy their dark and dirty wants and wishes. By joining efforts, Abigail and Romi make his cock so hard, that it almost explodes. Xander Corvus can feel the luckiest guy on the planet, while fucking these two horny and busty girls. After an unforgettable three-way fuck, satisfaction is spiced up by a big load of cum on their beautiful faces.
Hot lesbians enjoy having anal fun

Dark-haired big breasted mature girl, Romi, wants to tell you all about her lesbian fantasies and desires. Like she says, Romi has never had an anal adventure with another girl before, and she is very glad to do it with hot Abigail Mac. They are so attractive and ready to go down on another. Both of them are looking warmed up and prepared to make each other cum. These hot ladies are using everything they have, from their fingers and oral skills to different types of sex toys and dildos. And they are so wild, that it makes them cry and scream out of joy and pleasure, and even getting a few marks.