It was about time that we bring you a list of some of the best brunette pornstars for your pure enjoyment. This time is today and the list is not put together in any particular order.
Since some like one over the other, and our opinion is entirely different compared to yours, we just selected top adult actresses at random. And if you have any additional suggestions, we would love to hear it from you. Meaning, make sure you do not miss sharing who your favorite brunette pornstars are and we will consider adding them to the list.
From thin and slender to curvy and big breasted, we have them all here, ready and set to please you. Besides, do not miss doing your own research if you are unfamiliar with a porn superstar – you know, for science!
One thing is for sure, whether it is a MILF or a teen, they are all out of this world.
Keira Croft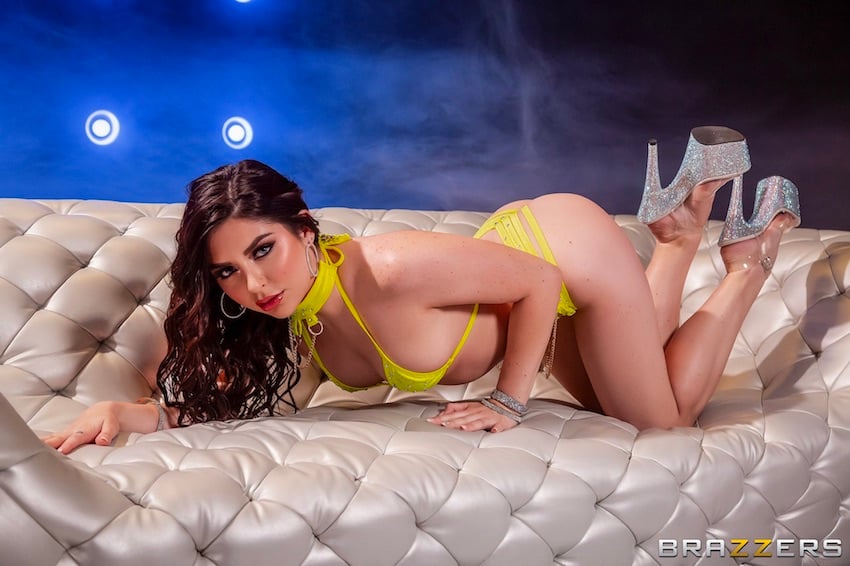 Keira Croft is one hell of a raven-haired pornstar who went seriously with her porn career right from the get-go. Meaning, she did not hold back at all, jumped straight to shooting anal and gangbang scenes. And that's how Keira rolls. She might look cute and adorable at first glance, however, she always goes the extra mile. This hottie was born on March 17, 1995, in California. Surprisingly, when Keira is at home, she just likes to cuddle and keeping to herself, reading books or playing video games. By the way, Keira squirts like a big fountain! If you are ready for a wicked, brunette and petite adult actress, Keira Croft is the way to go.
Instagram: instagram.com/keiracroft/
Twitter: twitter.com/keiracroft
Aubree Valentine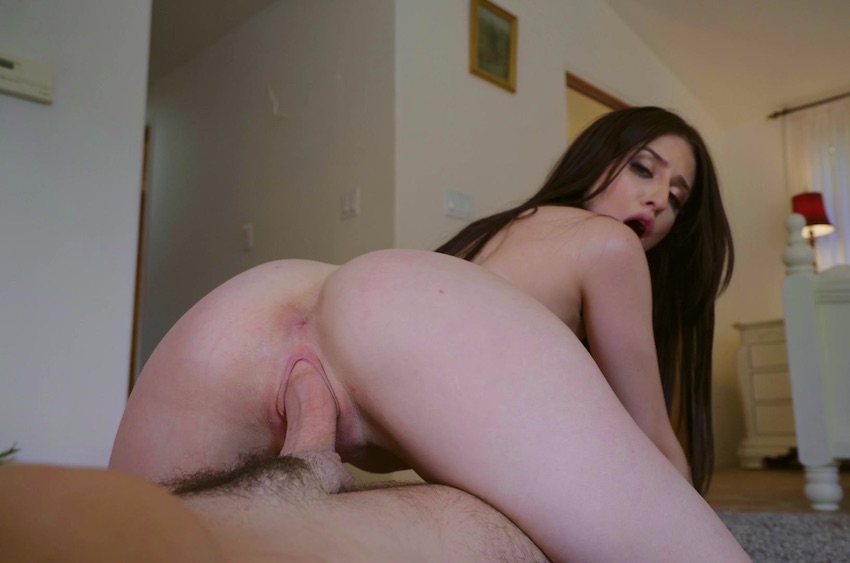 With a massive ass and a slender body physique, Aubree Valentine turns head without a shadow of a doubt. This brunette pornstar gets the juices flowing immediately. She likes to play both with hot women and muscular studs with massive cocks. Everything seems to work for Aubree. Before doing any of the adult stuff, Aubree Valentine was a waitress in Utah. However, she later decided to go all-in with doing webcamming. But finally, she made the plunge and started doing porn for a living. Still, do not be surprised if you see her stream live, doing all sorts of kinky stuff in front of the lens.
Instagram: instagram.com/aubree.valentine/
Twitter: twitter.com/naughtyaubree
Valentina Bianco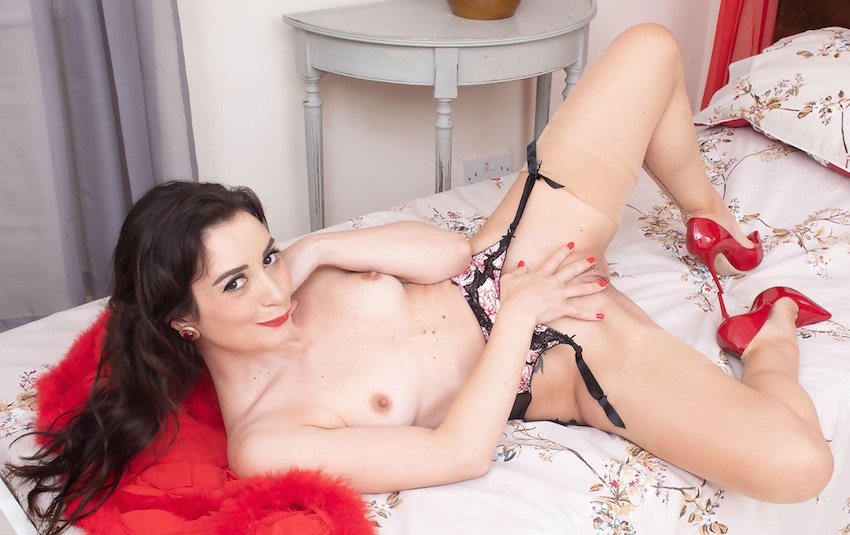 Valentina Bianco is a skinny and petite brunette pornstar who was born on December 6, 1982, in Naples, Italy. She entered the adult entertainment industry back in 2013 and appeared to be one of the sluttiest bitches out there right from the get-go. With her slender body and very experienced fuck holes, Valentina drives every porn fan crazy. And I am no different. Today, you can watch Valentina Bianco work with many of the notable porn studies all around the globe. Not just that, do yourself a favor and follow this babe on her social media platforms for a daily dose of wickedness.
Instagram: instagram.com/valentinabiancox/
Twitter: twitter.com/valebiancoxx
Crystal Rush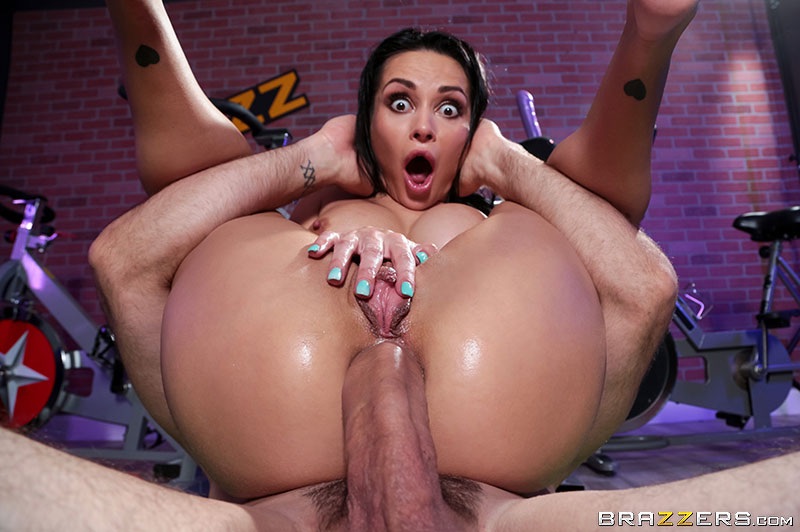 If brunette europornstars are your cup of tea, Crystal Rush is the lady that you should not miss. This lady is as perverted as one could be. She is down to receive a cock in all her fuck holes – ass, pussy and mouth. By the way, Crystal Rush is from Russia and was born on October 5, 1988.
To date, Crystal has done pretty much everything you can possibly think of. It is no secret that Crystal is ready for the wildest and dirtiest XXX scenes to fulfill your wicked desires. For your information, Rush is especially famous for all the crazy anal scenes she has shot so far. Would you like to hear her speak English with a Russian accent? Well, what are you waiting for, do you own research.
She has been in the business for about ten years now, so if this does not make her a real professional, I do not know what does! Just like most girls who are actresses from other countries, she has those specific traits you have been looking for, for ages. However, there is no chance that you guess where she is from! She is a nasty Russian slut! You can never suppose that because of her darker and warmer traits! What really reveals her nature is the naughty character! Her tits may be fake, but they are worth massive applause for the perfect surgeon's skills as they look absolutely natural!
Instagram: instagram.com/_rush187_/
Twitter: twitter.com/_rush187_
Ivy Lebelle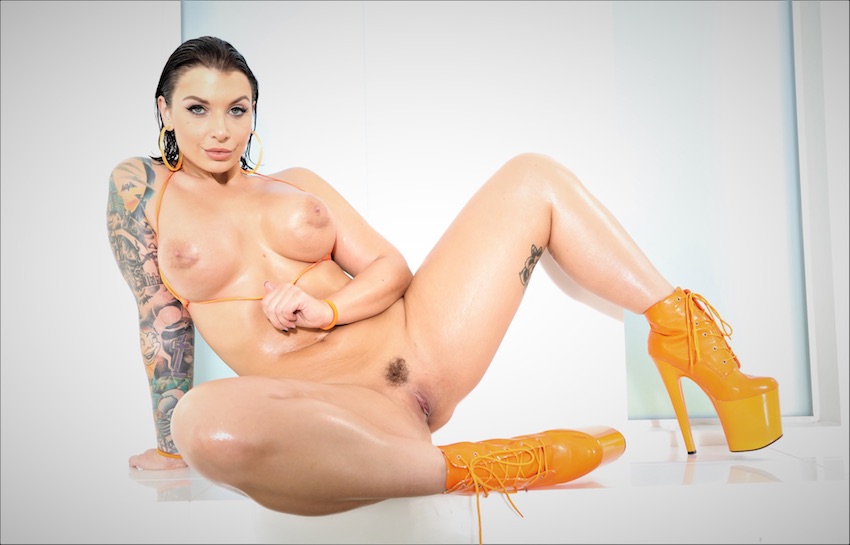 Ivy Lebelle is real wifey material. She is curvaceous, she is carrying, she has tattoos, well, she has it all. That insane body will knock your socks off as soon as you see it butt naked. But wearing glamorous lingerie will do the trick, too. Before she dived all in, shooting porn, Ivy was behind the camera, doing makeup. However, the idea of getting her snatch penetrated in front of the lens intrigued her so much, she just could not hold herself back. It was only at the beginning of 2017 when this brunette pornstar shot her very first porno. Well, her fame skyrocketed shortly after, turning her into one of the most popular adult performers.
Ivy Lebelle was born on June 15, 1987, in Los Angeles, California.
Instagram: instagram.com/itsivylebelle/
Twitter: twitter.com/ivylebellexxx
Adria Rae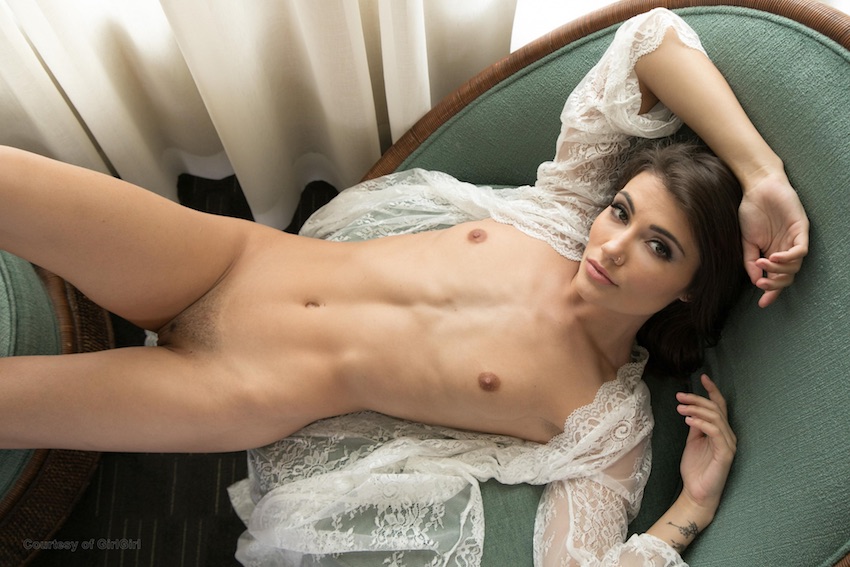 If you would see her on the streets, not knowing who she is, you would never tell Adria Rae is a famous pornstar. Those cute and adorable looks are very deceiving. However, once you place her in front of a throbbing cock, Adria releases her horny animal that blows everyone away. You can see Adria do herself with the most gigantic dildo, perform in a romantic, almost softcore adult video or getting her anal walls absolutely demolished – Adria Rae does it all and then some. If you would like to experience a teen brunette pornstar, you better enjoy yourself watching what Adria does best. You will not regret it.
Adria Rae was born on August 27, 1996, in Nevada.
Instagram: instagram.com/realadriarae/
Twitter: twitter.com/adriaxxrae
Abigail Mac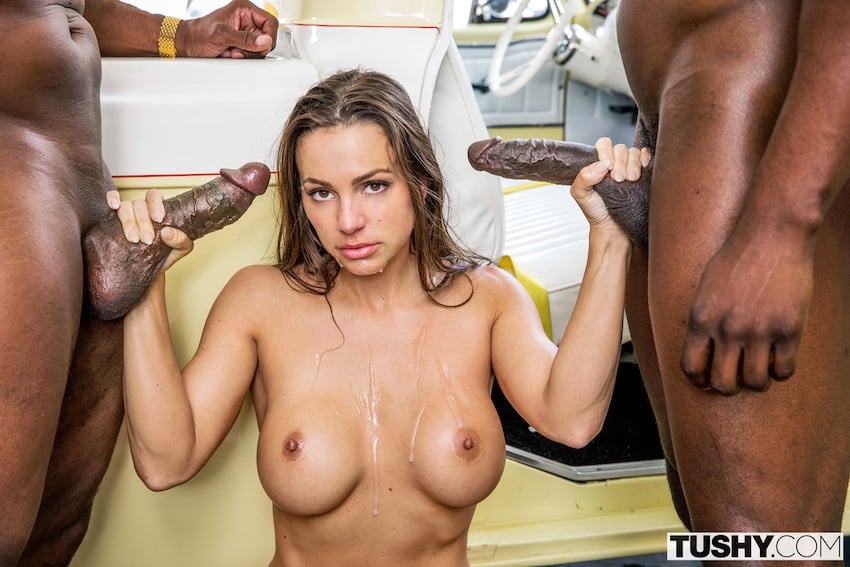 Abigail Mac is a really glamorous brunette pornstar who enjoys pleasing her fans with her outstanding performances. In the adult entertainment business for quite some time now, you know Abigail knows damn well how to get things going in front of the camera. Whether in a solo, getting fucked by the largest cocks or in a lesbian scene, no matter what, Abigail Mac never disappoints. And if you happen to never hear of Abigail before, boy are you doing something wrong.
For your information, Mac was born on June 2, 1988, in Columbia, Maryland. That's that, now go out on the hunt to see the amazingness of Abigail Mac.
Instagram: instagram.com/msabigailmac/
Twitter: twitter.com/msabigailmac
Ella Knox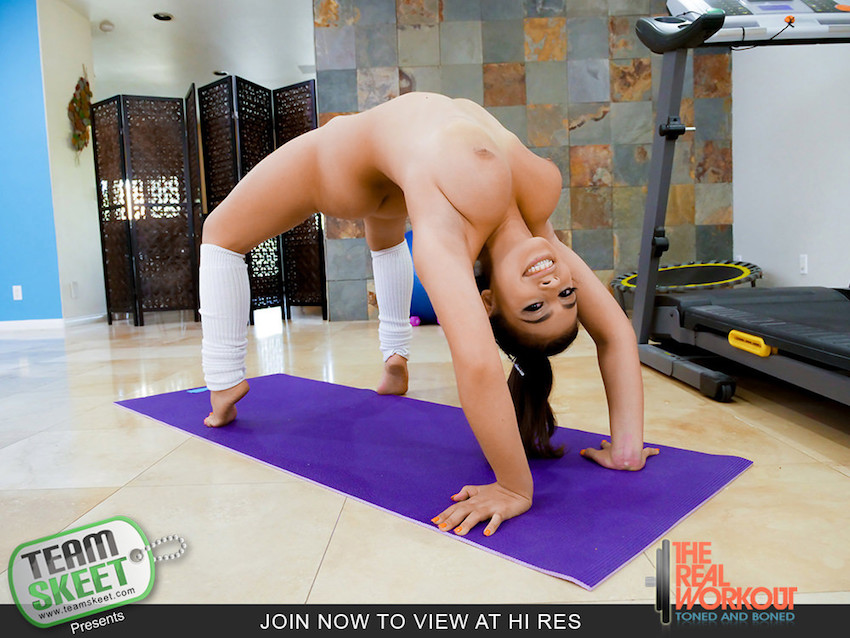 Ella Knox might be new to the Smut world, however, she already made a name for herself. With that in mind, you better rush checking out this Latina bombshell in action, enjoying pussies and cocks to the fullest. The one specialty about Ella Knox is the amazing bush she sports. That said, if you like babes with bush, you will enjoy watching Ella do what she does best even more. In her spare time, Ella enjoys flipping through a book and playing her favorite video games after she puts on a vinyl record. Do you know where her slightly curvy body comes from? From her big passion and love for pizza!
Twitter: twitter.com/ellaknoxxx
Kira Noir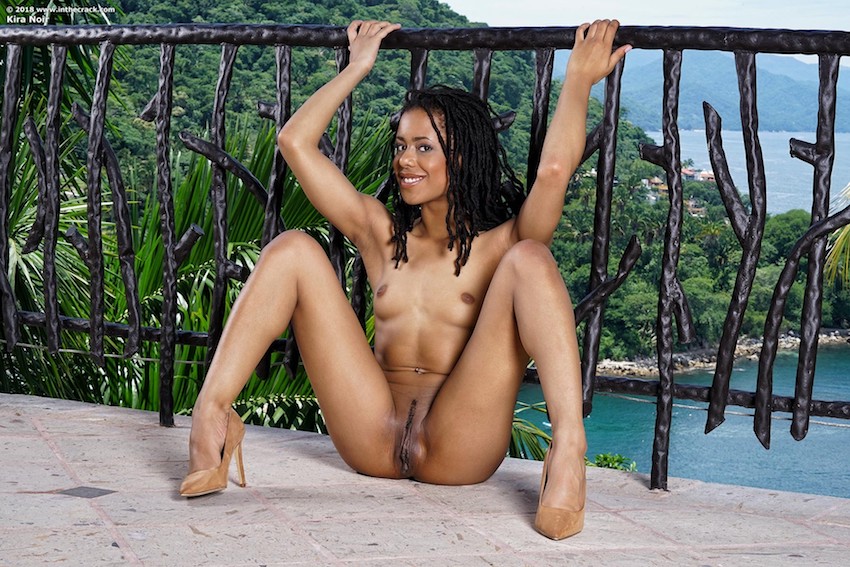 Lately, Kira Noir is my all-time favorite. This smoking hot brunette pornstar is a pack full of goodies. Her body might be skinny and her boobs small, but her enthusiasm for fucking goes through the roof. Kira entered the porn industry back in 2015 with one aim: to try it all!
From getting her asshole destroyed by a large dick to enjoying a sensual lesbian scene, there is no stopping for young and outstanding Kira Noir. Even when it comes to BDSM and bondage, Kira goes all in, testing herself out to see what her limits are. And she surely did not find her limits yet. You can expect a lot more wickedness from Kira in the near future.
Instagram: instagram.com/official_kira_noir/
Twitter: twitter.com/thekiranoir
Lisa Ann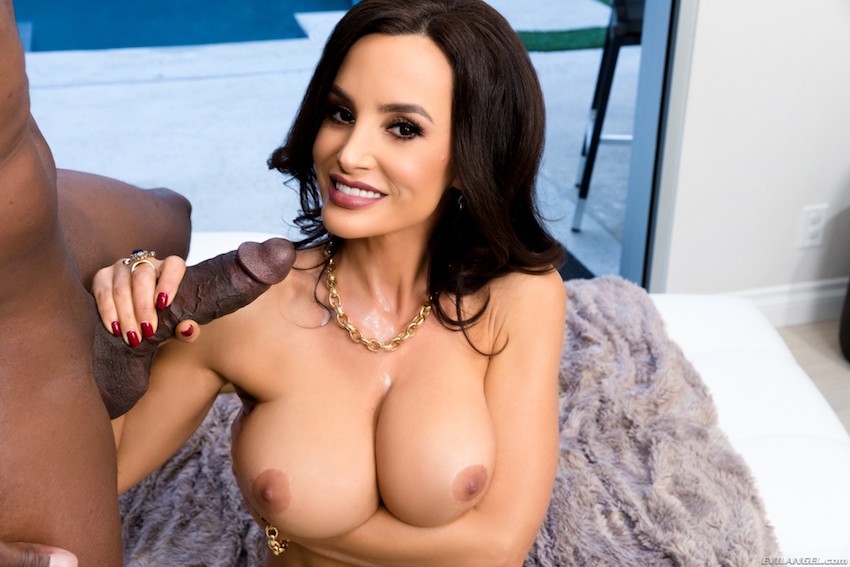 There are a lot of words that you can use to describe Lisa Ann and one of those is phenomenal. This brunette pornstar has gone from being an exotic dancer to one of the most searched adult actresses in the world. Looking at her, it's easy to see why Lisa has so many fans going crazy over her. She first became famous when she parodied Sarah Palin. That allowed her to gather enough attention that she was featured in the mainstream media. When the initial fanfare fizzled out, Lisa's natural charm allowed her to stay in the limelight. Lisa has a nice bubble but and flawless complexion that continues to be a fan favorite.
Instagram: instagram.com/thereallisaann/
Twitter: twitter.com/thereallisaann
Natalie Brooks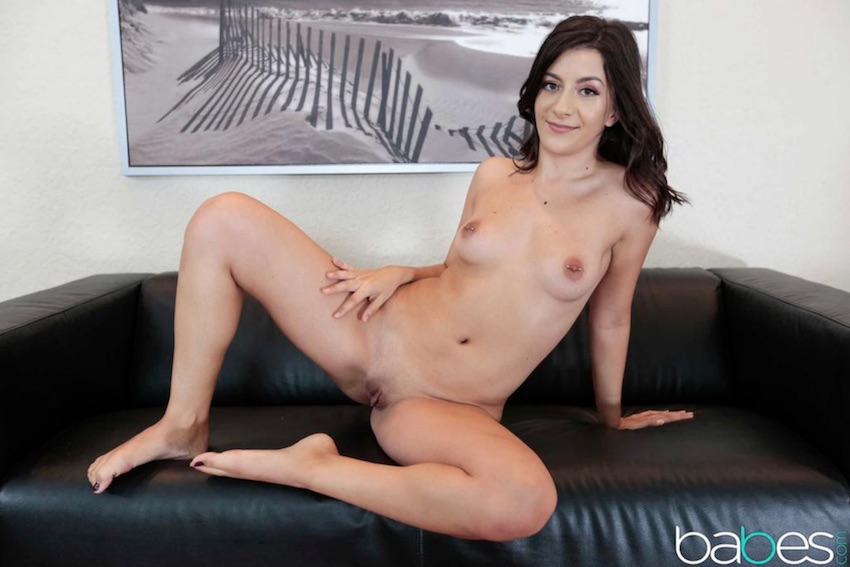 Pretty much since the time she kinda knew what for she has her flower, Natalie Brooks knew that the adult entertainment industry is what she needs to get herself into. As soon as Natalie turned eighteen years old, she reached out to an agency and the rest was history. Her sexual vibes persuade them in an instant and shortly after, Natalie Brooks was booked for her first porn scene. This brunette pornstar was born on November 18, 1997, in Miami, Florida. Natalie rocks a pair of small and pierced boobs, slender body with a round rack that was meant for bouncing up and down a thick, long cock. Do not miss this youngster!
Twitter: twitter.com/nastynatxxx
Emily Addison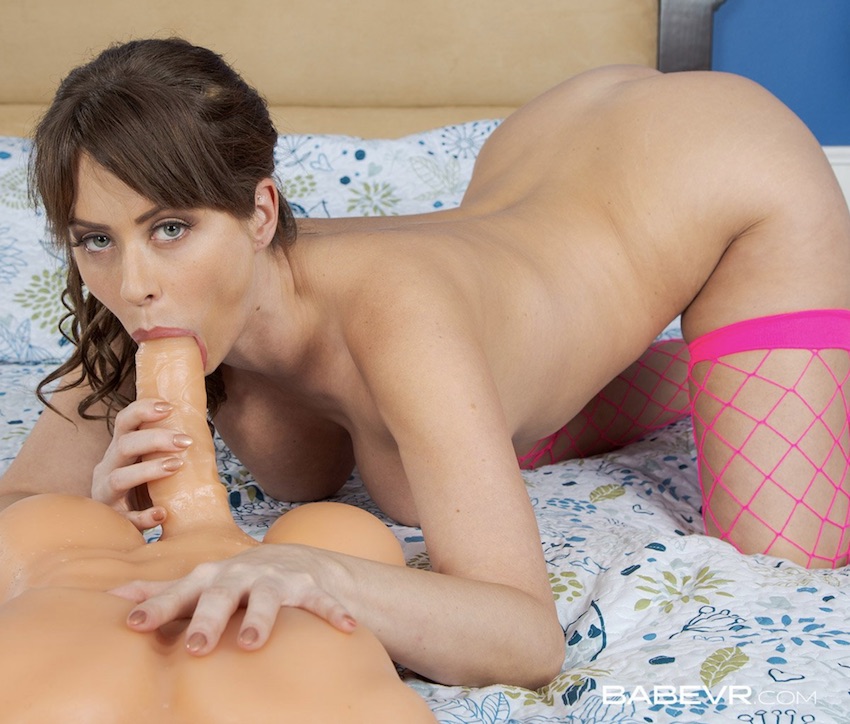 Born on May 31, 1986, Emily Addison is a smoking hot, horny and seductive pornstar with lovely brunette hair. But what will amaze you the most about Emily are her crazy sexy looks. Still, to take it to a whole new level, watch and enjoy any of Emily Addison's vivid XXX scenes and you will be hooked immediately. Plus, with each new porn scene, Emily releases, expect to be blown away just as you were the last time. Needless to say, Emily never disappoints! Her strong sex appeal never stops, not even for a slight bit. Emily Addison goes full-tilt all the time, enjoying fucking both ladies and guys.
Instagram: instagram.com/emiaddisonnyc/
Twitter: twitter.com/emiaddisonnyc
Paige Turnah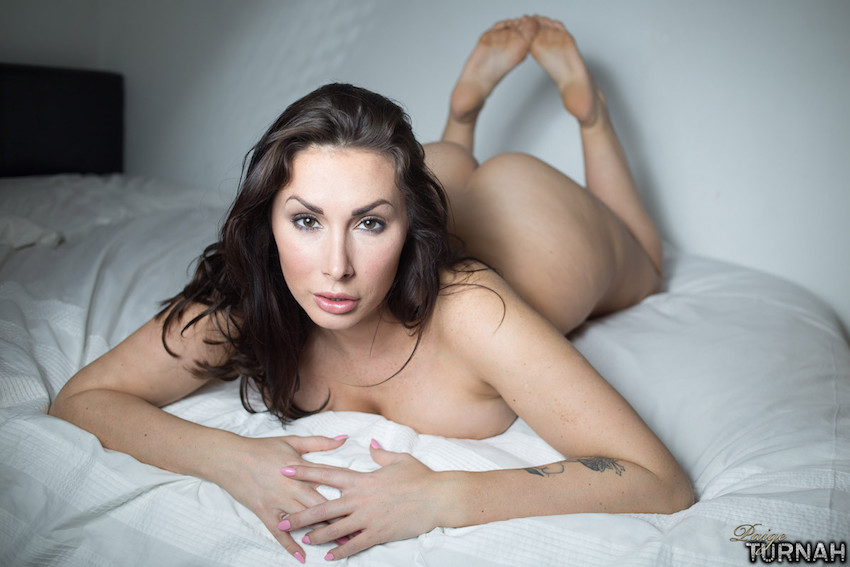 Paige Turnah is actually more of a head turner. This brunette pornstar is a real stunner. She was once a professional flight supervisor but thankfully she started doing big butt porn in Britain and so now, we get to enjoy seeing her being fucked by big cocks, in which she's also a pro. She enjoys sex with a passion and that's one of the reasons why she switched over to making adult films. When she's not shooting her XXX scenes, Paige is busy doing wifey stuff like cooking and cleaning. She takes her time to warm up to anyone but when she does, she goes all the way.
Instagram: instagram.com/paigeturnahofficial/
Twitter: twitter.com/paige_turnah
Keisha Grey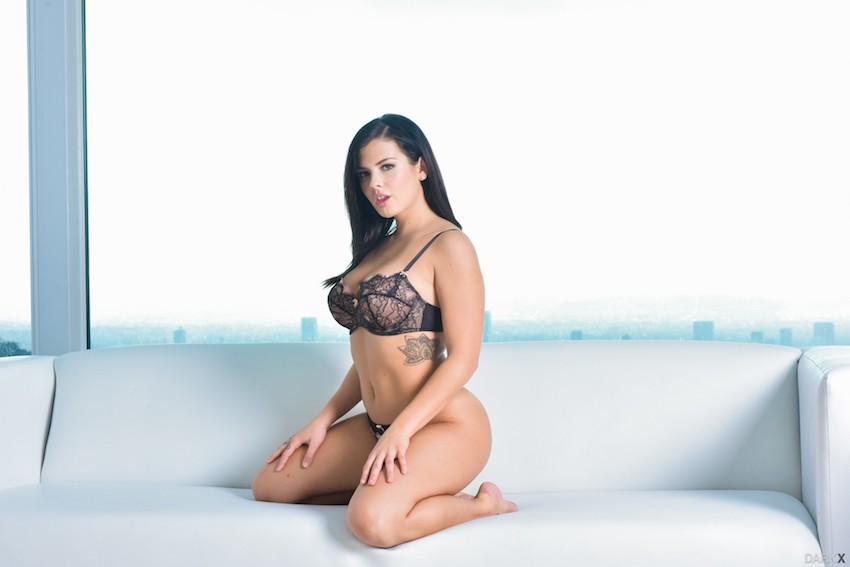 If you're looking for a really horny brunette pornstar then you should check Keisha Grey out. She's horny all the time and that includes the days when she is not shooting scenes, so you know that Keisha's pussy is never satisfied. Keisha has always dreamed of becoming a pornstar but she's surprised at how far she's gone. A real fan favorite, Keisha has also collected loads of nominations for her scenes. Perhaps the highlight of her career was her back-to-back win in 2016 and 2017 for the Best Group Sex Scene from AVN. When she's not shooting adult movies or playing with her pussy, Keisha loves making music with her cello.
Instagram: instagram.com/officalkeisha_grey/
Twitter: twitter.com/iamjasonluv
Aidra Fox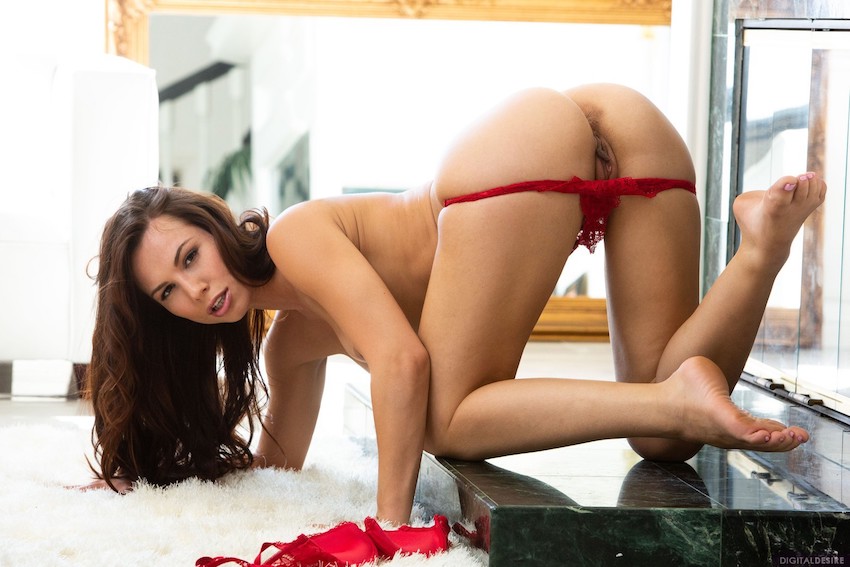 Aidra Fox is one of the leading brunette pornstars in the adult film industry today. She started pleasing fans by doing personal shows in front of a webcam. Thankfully, Aidra was discovered by an agent and she has become one of the hottest names in the industry since making that transition. When she's not doing pornography, Aidra Fox loves going out with her friends, but she could also just spend the whole day watching a movie or fooling around with her vibrator. When you see Aidra biting down on her lower lip, that's a sure sign that she's getting turned on and that her pussy is ready to be fucked.
Instagram: instagram.com/aidra.fox/
Twitter: twitter.com/xaidrafox
Dana DeArmond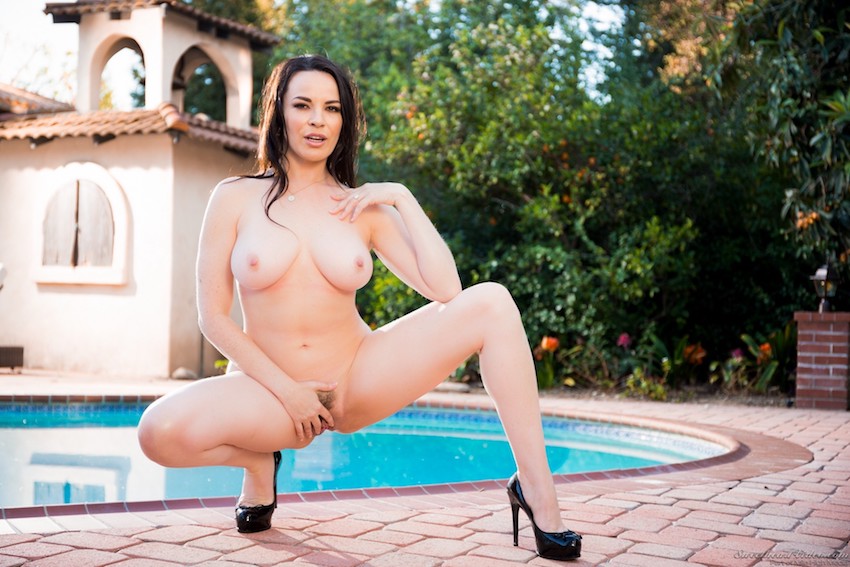 "The internet's girlfriend", that's the title that Dana DeArmond has given herself. That's because she has maintained a presence on social media platforms before that was considered to be cool. On top of having an active online presence, this brunette pornstar is also known for pushing the boundaries of what the body can do. Dana fucks harder, longer, and deeper. She takes in more dicks in her pussy and all other holes. It's not surprising that she has won recognition for her performance. She won the Best Girl/Girl Scene from AVN in 2012. DeArmond credits her passionate performance to her insatiable love for sex.
Instagram: instagram.com/danadearmond/
Twitter: twitter.com/danadearmond
Adriana Chechik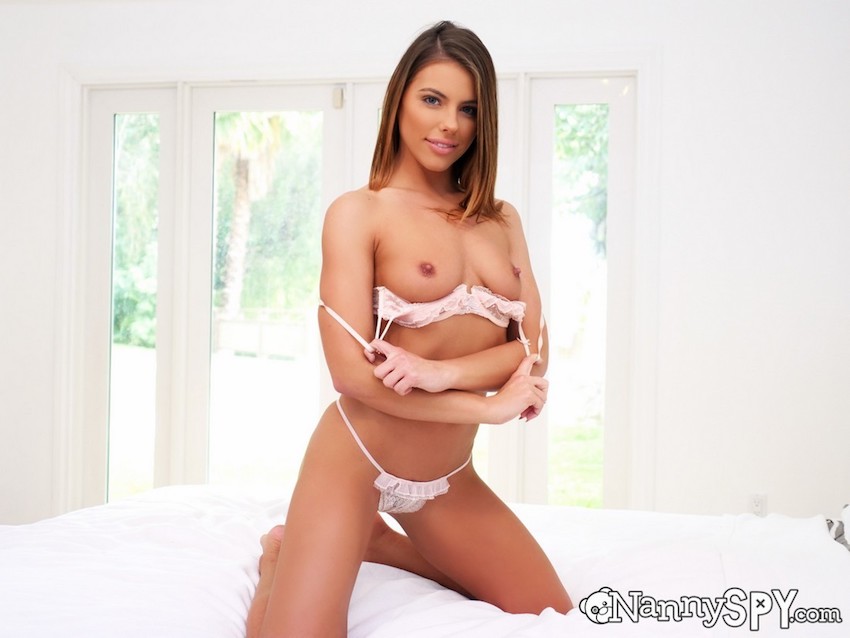 When you rank all the brunette pornstars out there today, Adriana Chechik would be at the top. Amazingly enough, she has not been performing for that long and yet she has managed to gather a huge following already. This beauty from Pennsylvania has perky boobs and a tight butt. Surprisingly enough, becoming a pornstar was not a part of her plans. She was actually studying biochemistry in college. Adriana first tried stripping, which then led to making porn films. She managed to get a great deal of attention right away. During her first year alone, Adriana made over 100 scenes already. Talk about a hardworking girl!
Instagram: instagram.com/bratnasty69/
Twitter: twitter.com/adrianachechik
Ariella Ferrera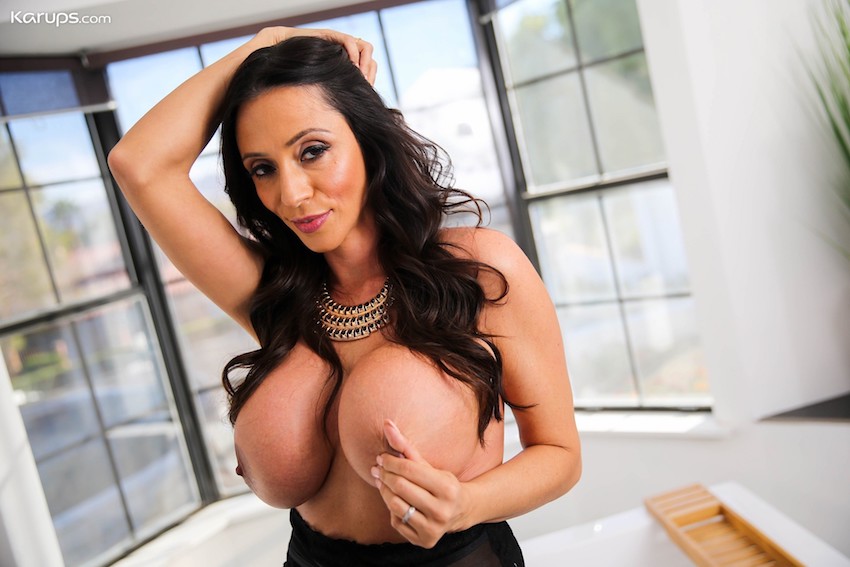 As a newcomer in the industry, Ariella Ferrera gave an interview back in 2009 where she said that she would quit if she stopped having fun. Well, guess what? Ariella is still here and is now one of the most recognizable brunette pornstars today. When watching her scenes, it is quite obvious that this former dental hygienist loves fucking. It's quite a sight to see her juicy tits bouncing while she's being fucked by different guys. As if that's not enough, Ariella loves to have fun with the ladies too. Hopefully, Ariella would continue to have fun being fucked in front of the camera.
Instagram: instagram.com/ariellaferreraofficial/
Twitter: twitter.com/ariellaferrera
Madison Ivy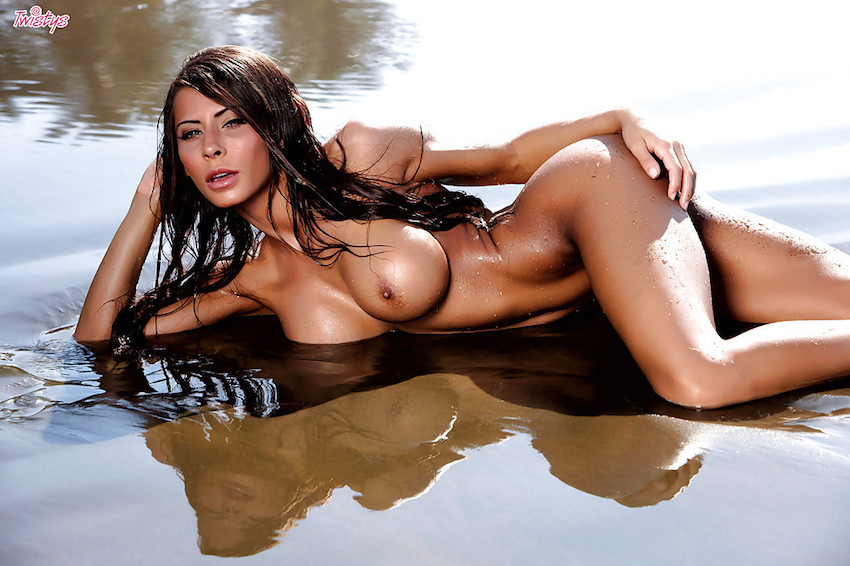 How does Madison Ivy begin her day? Ideally, she likes to have a fat and long cock sliding in and out of her pussy to get her started. This brunette pornstar was born in Germany and then raised in Texas. Amazingly, she was homeschooled and when she started making porn, after turning 18, it was unleashing her pent-up sexual energy. Standing at 4'11" Madison is a really tiny powerhouse. Don't let her small stature fool you though. She can take in the biggest of cocks roughly. With her blue eyes, stunning face, tight body, Madison has fucked her way to the hearts of legions of fans.
Instagram: instagram.com/420madisonivy/
Twitter: twitter.com/madison420ivy
Peta Jensen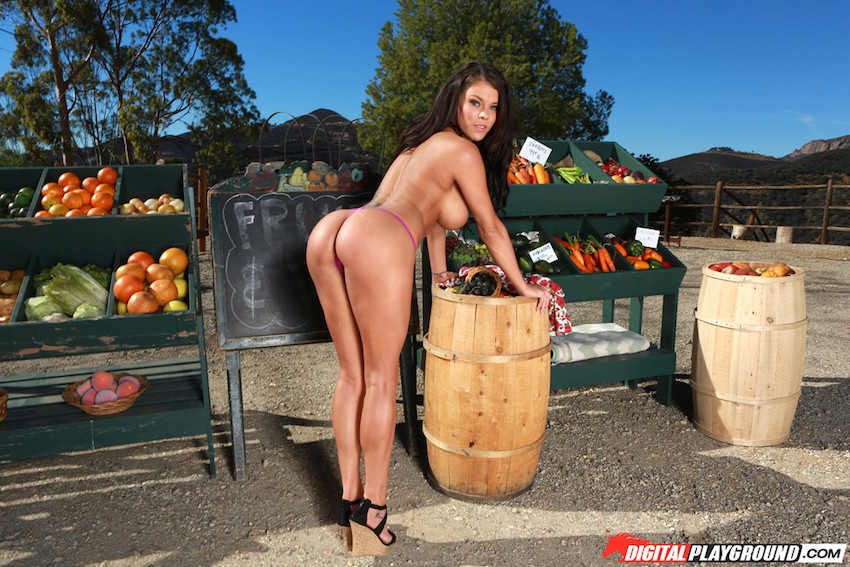 Peta Jensen has stunning almond eyes that literally pierce through you. Of course, that is not the first thing that you would notice about this tantalizing brunette pornstar. Her tits would probably catch your attention, too. Peta has magnificently huge boobs and they go bouncing deliciously whenever she's being fucked for a scene. You know that she's serious about staying fit and you can see that through her tight body. She's also quite serious about doing well with each and every scene that she does. No doubt! Whether Peta is eating a pussy out or being fucked by a huge dick, you know that she's giving her all.
Twitter: twitter.com/petajensenxxx
Katrina Jade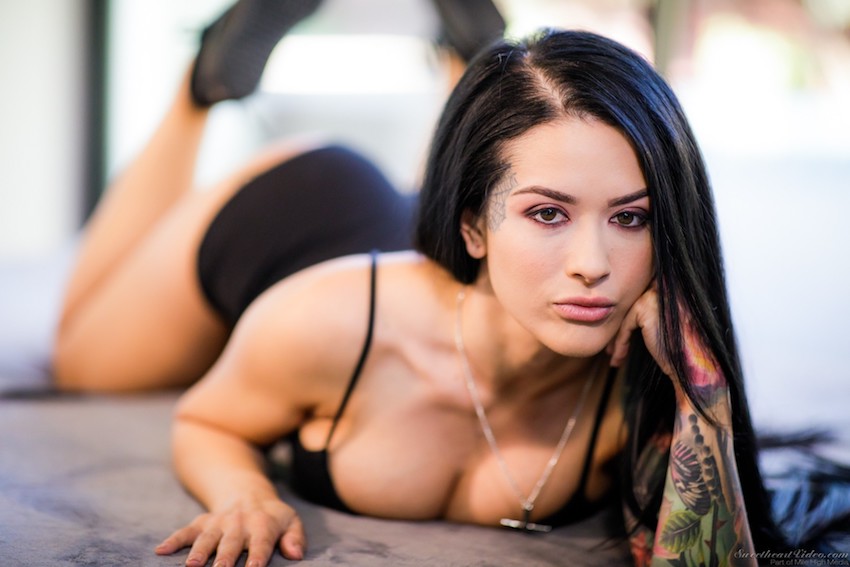 Are you looking for a brunette pornstar with a perfect all-natural body covered in tattoos? Then you should check out Katrina Jade if you're not familiar with her yet. She has smooth olive skin combined with chestnut eyes that are tantalizing to look at. Then there are her all-natural big tits. She is an unforgettable mix of Italian, Mexican, and Hawaiian blood. Any man would want to spend some time with her in the bed. She takes her love for sex in real life. Katrina is in a relationship with a guy who loves watching her get fucked by other guys. What more could you ask for?
Instagram: instagram.com/officialkatrinajade/
Twitter: twitter.com/kj_fetishmodel
Jessica Jaymes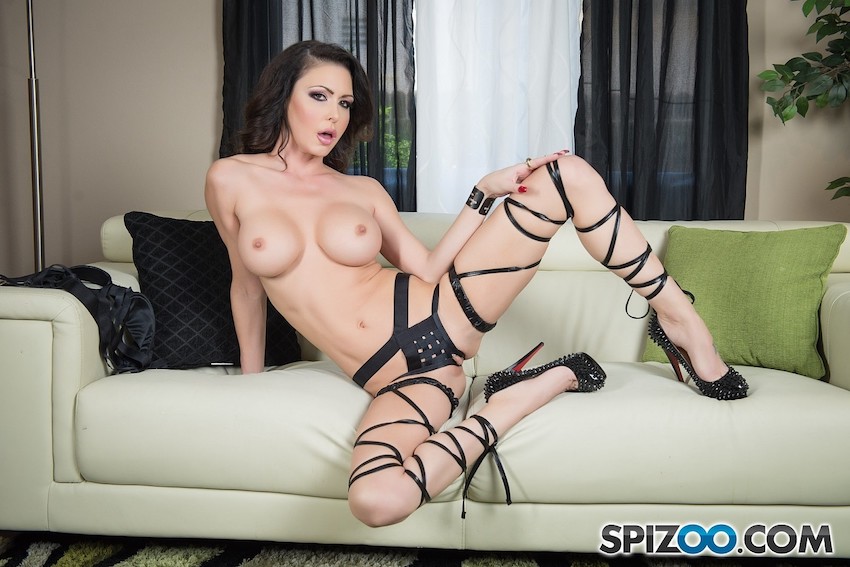 Jessica Jaymes has that combination of having a stunning body and a powerful intellect. This Alaska native was born to a French mom and Czech dad. She went to college and Jessica even started teaching kids in high school and elementary. There must have been a lot of high school boys in her class fantasizing about her at the end of the school day. Thankfully, she decided that she would have more fun being fucked by different men in front of the camera. She's one of the few pornstars who have made the cross-over to mainstream media. Though Jessica is not yet a household name, fans all over the world are jerking off to her as one of the top brunette pornstars today.
Instagram: instagram.com/theofficialjessicajaymes/
Twitter: twitter.com/jessicajaymes
Riley Reid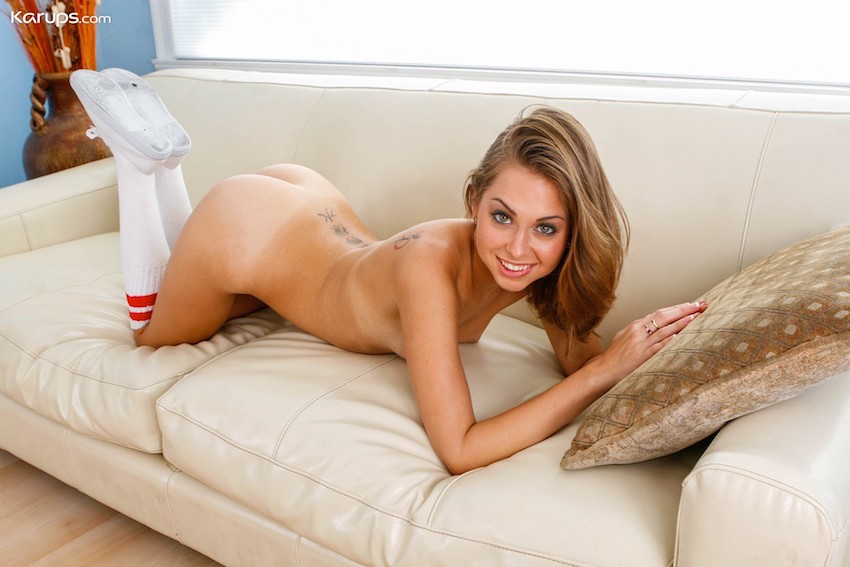 Riley Reid started out early. She kicked off doing porn films when she turned 19. Today, she's the favorite brunette pornstar of many porn aficionados around the world. It's easy to see why so many are going crazy over this fresh-faced sex nymphet. She's cute and naughty and when you first see Riley, you find her adorable. But when you see her in one of her videos you will be left breathless. Riley has a good girl vibe around her, but she drops it once she gets a cock in front of her. She's ready and willing to do some the raunchiest scenes you can imagine.
Instagram: instagram.com/baconbootyy/
Twitter: twitter.com/rileyreidx3
Angela White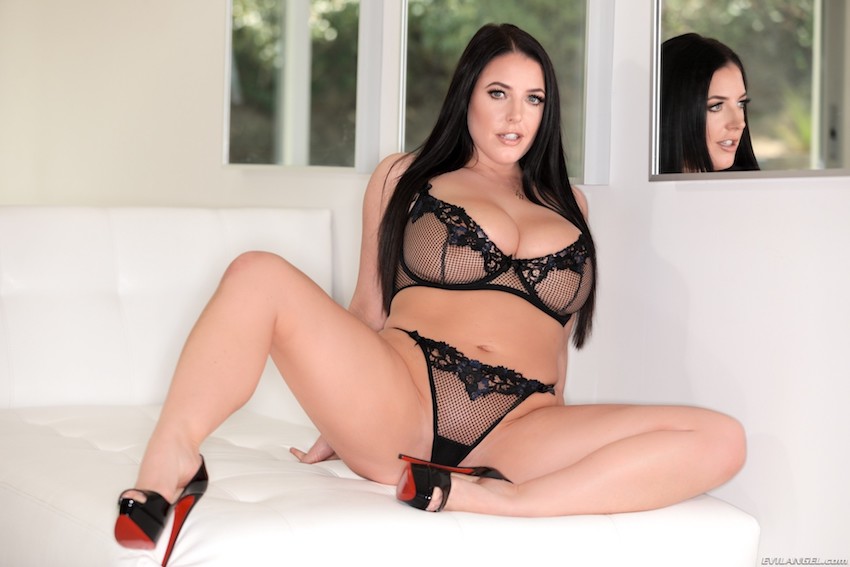 Angela White has a reputation for being one of the most outspoken voices in the adult film industry. She's a university graduate who has made it her personal mission to speak for the right of the workers in the adult film industry. She's actually using her real name as a way of fighting for the rights of the people in the industry. Angela is a curvy pornstar who wants to end the discrimination that they are getting. Her advocacy does not get in the way of enjoying her job. Fans love her juicy tits and nice ass making her a favorite brunette pornstar. She's an industry veteran who is beloved fans and her fellow pornstars.
Instagram: instagram.com/theangelawhite/
Twitter: twitter.com/angelawhite
Lana Rhoades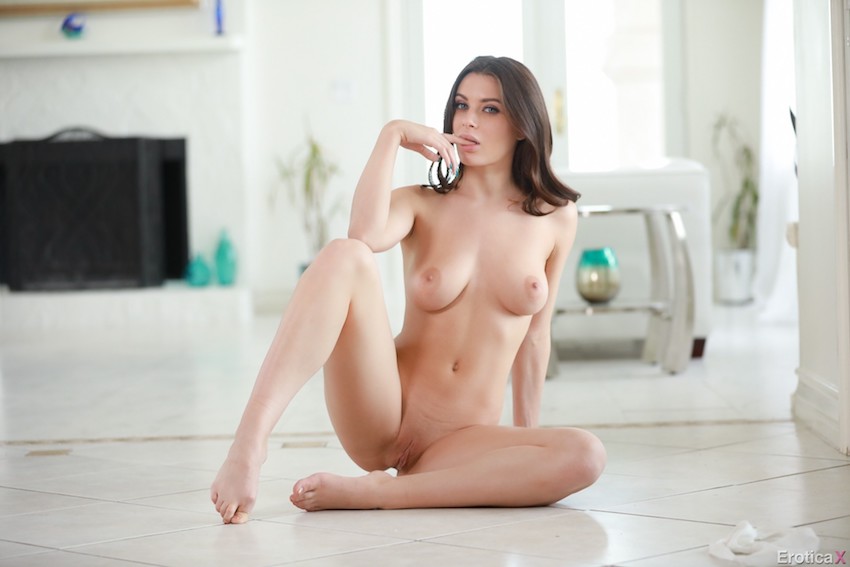 Lana Rhoades is a real slut and she's proud of it. If you follow her on social media, her posts alone would be enough to make your dick hard. Raised in Wisconsin, this country gal has that girl next door charm but don't be deceived by that. Lana moved to Chicago where she started stripping and then moved on to Los Angeles where she started getting fucked for a living. Her stunning blue eyes and 34D tits offer a stunning combination to her fans. They love watching her enthusiastic riding of cocks. That's why Lana Rhoades is one of the up and coming brunette pornstars today.
Instagram: instagram.com/lanarhoades/
Twitter: twitter.com/lanarhoades
Aletta Ocean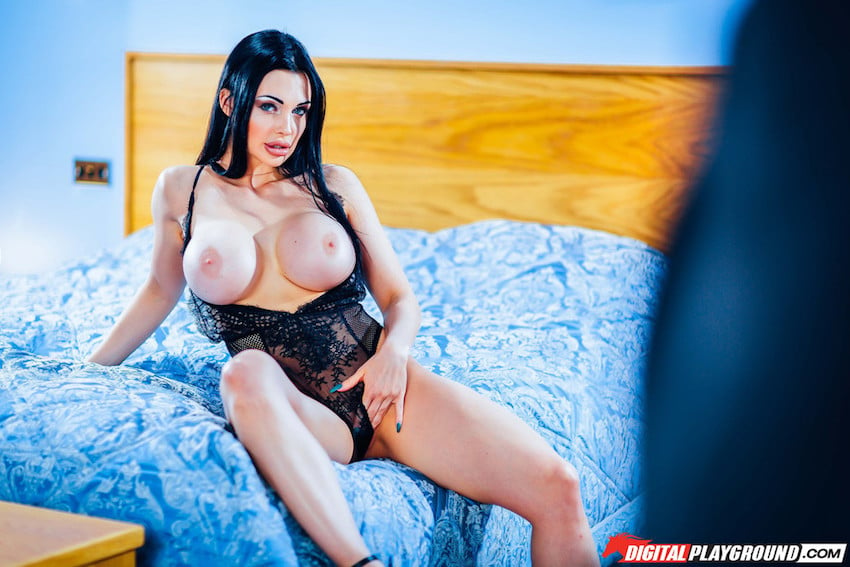 It's said that Aletta Ocean decided to do porn to get back at a guy that she was dating. Thanks to that jerk, we now have one of the hottest pornstars today to enjoy. Some say that she's the sexiest woman in the world. With her massive tits, bouncy butt, perfectly seductive face, and smooth skin, she really has a shot for the title. Though she might not have been serious when she first started doing porn, she enjoyed the job and so she stayed on and is now a leading name in the industry and hopefully, she will continue making scenes that make men cum all over the world.
Instagram: instagram.com/alettaoceanofficial01/
Twitter: twitter.com/alettaoceanxxxx
Ava Addams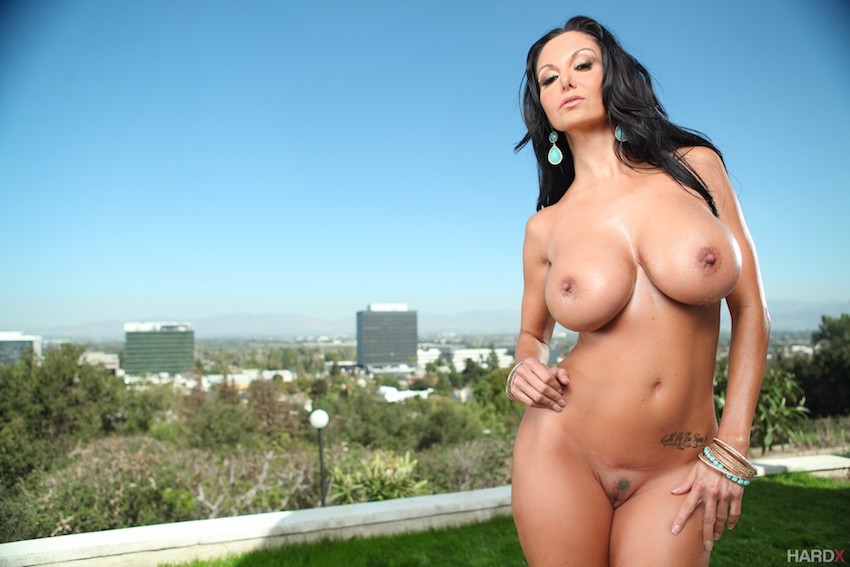 Ava Adams has massive, jaw-dropping tits, that is a fact. That would be the first thing that you would notice with this brunette pornstar. But Ava is not just about her tits. Fans love her because of her passionate performance in her dirty scenes. That is why she has been the talk of the industry for over a decade now. You know that she's not just acting when she's getting fucked in front of the camera. She's doing it for real. She orgasms on each and every one of her scenes. That's why men get excited right away, the moment that they see she has a new video out.
Instagram: instagram.com/theavaaddams/
Twitter: twitter.com/avaaddams
Chanel Preston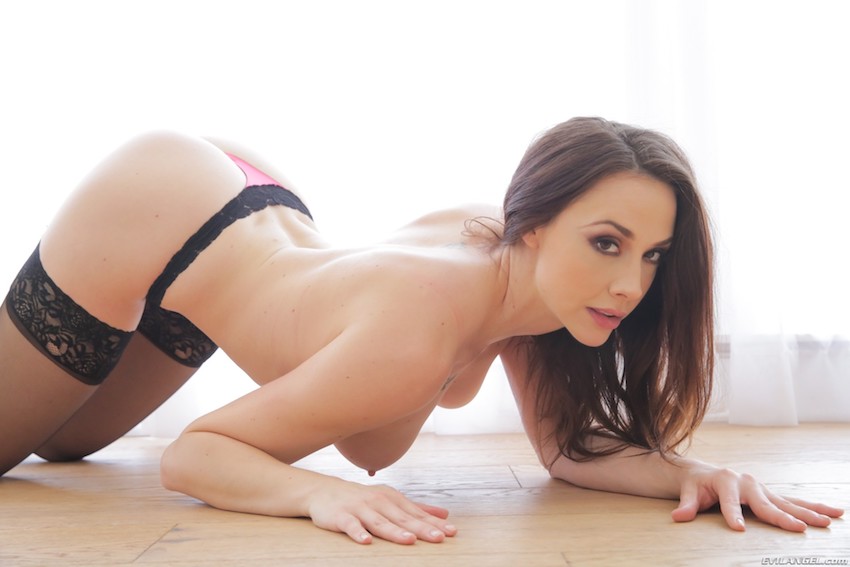 The winner of the 2014 AVN Most Outrageous Sex Scene Award, Chanel loves to push the envelope of porn. She's willing to do things that other brunette pornstars would not even consider trying. Chanel is ready to do bondage scenes and getting gangbanged by a group of BBCs. She's actually taken some of the biggest cocks in the industry today up her ass. In other words, Chanel is ready and willing to do anything to gain stardom. With her perfect face, flawless skin, and awesome body, she's well on her way to achieving that. When you start watching a video that stars Chanel, get ready to cum multiple times.
Twitter: twitter.com/ChanelPreston