Surprisingly slutty babysitter takes hubby's big schlong like a pro
Brunette MILF, Mia Ryder, and her hubby are in desperate need of a babysitter. They just want to spend some private moments together and, you guessed it, fuck and go wild like animals.
It was a while since they last spent quality time together without any distractions.
They give young blonde lady, Hope Harper, a call and she is more than happy to offer them help.
When Hope rings the bell, stunning brunette in sexy lingerie, Mia, opens the doors and welcomes her inside. Before she leaves her alone in the house, Ryder first wants to show her around and introduce Harper to her hubby. But then something unexpected happens. Something both Mia and Hope aren't really prepared for.
They find Mia's husband sitting on a chair with a phone in one hand, watching pornography, and stroking his machete with his other hand. For a quick moment, they stare with their eyes wide open, not being able to speak a word.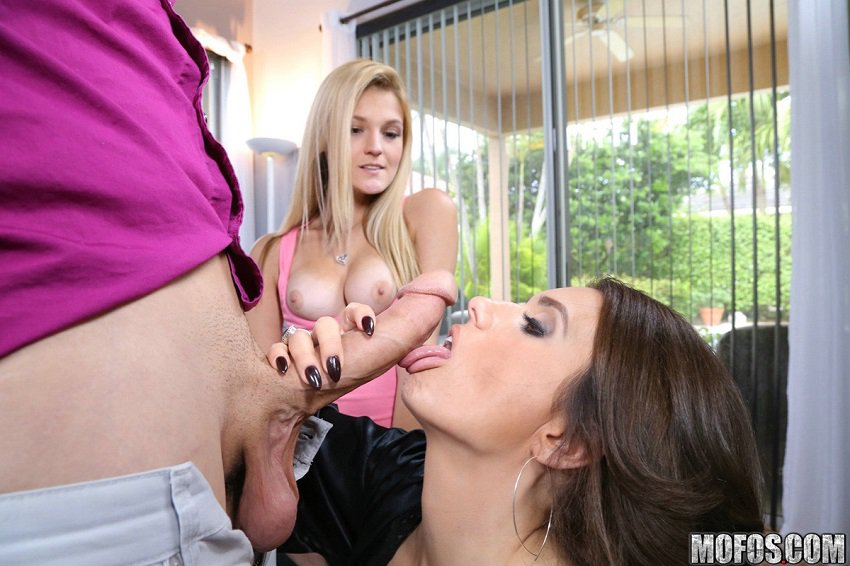 Mia places her hand over Hope's eyes, but it is too late. The horny teen girl gets hooked immediately by the size of his cock. Women move to the master bedroom where they discuss the situation. Hope cannot hold herself back and tells Mia that she has never in her life seen a dick that big.
"Do you want to touch it?" goes Mia and, expectedly, Hope giggles. "Let me get my husband," and off the experienced woman goes.
They get back, and he is already with his hard schlong out. Hope does not know what to do when Mia encourages her to touch it. She wraps her tiny hand around the rod, and her face gets filled with excitement.
It was just minutes ago when she saw the largest bone in her life, and now she is holding it in her hand. "It must be my lucky day!" thinks Harper.
However, she does not do anything else. Adventurous MILF bitch, Mia Ryder, does not want to waste any of her time. That said, she takes things in her hands and shows slutty babysitter how things need to be done.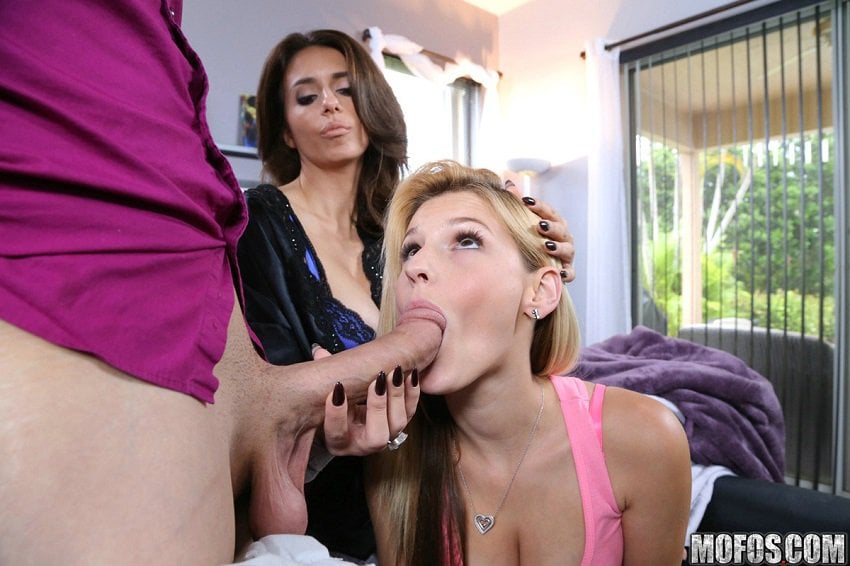 Ryder, still wearing that super-hot outfit with one of her nipples half peeking out, kneels down, takes the cock in her hand and starts to work it inside her mouth.
Naughty blonde is about to learn a thing or two how to give a proper blowjob to an XL dong. She could not have a better mentor than Mia is.
Years of experience sucking and fucking around helped her gain a ton of knowledge how to treat a stud right. Pleasing is her passion.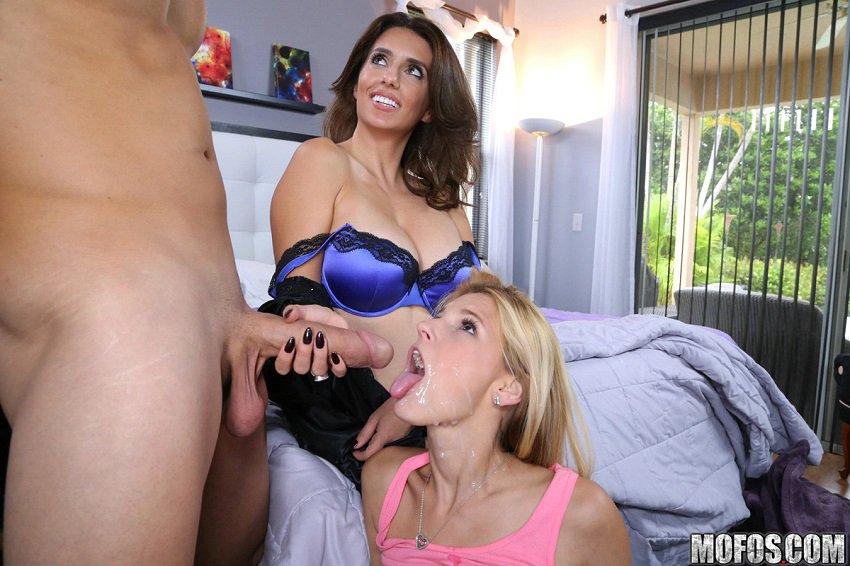 Finally, it's Hope's turn to suck the snake and make it grow even bigger. The married couple is in shock by how well tiny teen does the cock. Like a pro.
From then on, they bring it to a whole new level. While Harper thought everything will end with a handjob and a blowjob, she is dead wrong.
There is way more to this hot teen-MILF threesome session than she thinks.
From the floor they move to the bed, get rid of their bottoms and begin with a vivid fuck. What to say, they both get a good portion of his monster machete.
Banging them from the front and from behind and letting both of them ride the penis cowgirl style, the girls happily receive a facial cumshot. Covered in cum, they could not look prettier.
You can find all the top adult sites serving you more slutty babysitter action on Porn Dabster. These innocent looking girls next door become really filthy when you let them fully relax and serve them a python.