We bring you only the best, the hottest and the most outstanding blonde pornstars that have ever lived. Some are fresher to the game while all the others are true adult industry veterans.
In short, all are worth mentioning and putting some extra shine one. They absolutely deserve it!
In the porn world, this is somewhat of a stereotype: blonde hair, big boobs, round ass, skinny legs and a big passion for sex. Similar to a barbie just slightly more perverted if you will.
It is a pure pleasure to share with you all these hot babes with blonde hair.
Moreover, if you would like to enjoy these blondes in action, you know that you can find them all on vporn.com. Also, do not miss following them on Instagram and Twitter for a daily dose of amazingness and sexiness, delivered straight to your screens.
From first to the very last, they are all always down for one thing and one thing only; to get the juice flowing and all your nasty desires fulfilled.
The best blonde pornstars to fulfill your desires
Alice Pink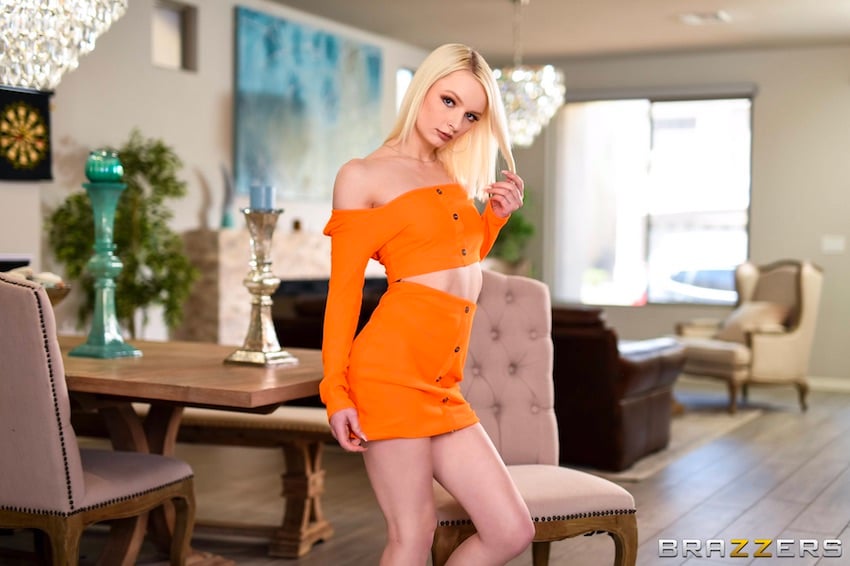 May her stage name not fool you, Alice Pink is this hot, skinny and petite blonde-haired pornstar who will knock your socks off. Any XXX scene that you see from here is absolutely mind-bending. However, the only downside is that Alice is still relatively new to the adult entertainment industry; thus, there are not that many pornos available of her. Still, the ones that are are worth giving them several watches, only to truly understand the true potential Alice Pink has in the Smut business. Even though Alice looks very innocent and shy, some of her favorite sexual acts are BDSM, as well as anything related to domination and submission. I told you she is a serious deal!
Instagram: instagram.com/alicepinksworld/
Twitter: twitter.com/alicepinksworld
Phoenix Marie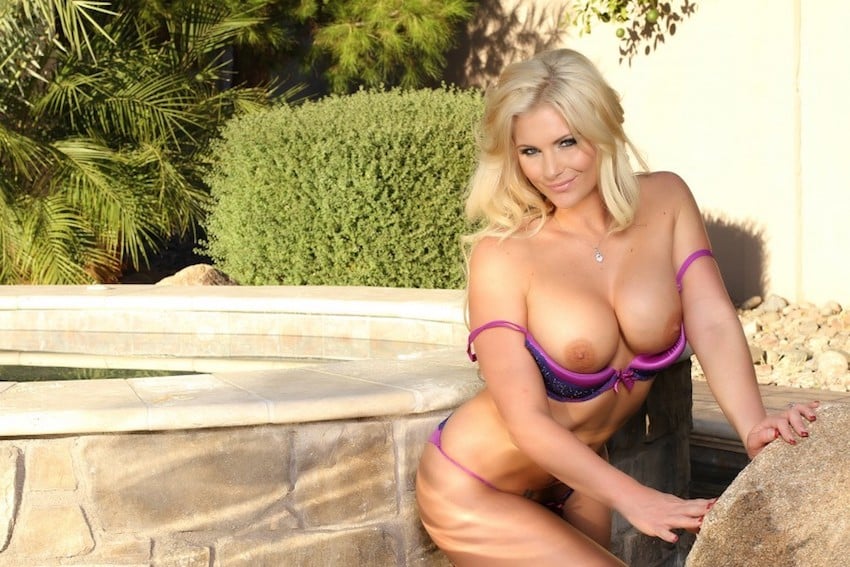 Being in the business for oh so long, Phoenix Marie almost does not need an introduction. This adult model with blonde hair gets the body juices flowing with her outstandingly sexy and mature body that takes your breath away every time you see her. Phoenix was born on September 21, 1981, in Moreno Valley, California, and looks better than ever. Her XXX scenes are very engaging and intensive, not to mention, a must-see. Also, Phoenix is no stranger to getting her asshole fucked deep and vividly. Moreover, she entered the adult entertainment business back in 2006. With years of experience, Phoenix Marie always delivers an unforgettable sex experience that teaches you a thing or two.
Instagram: instagram.com/phxsquadron/
Twitter: twitter.com/pmarizzle
Abella Danger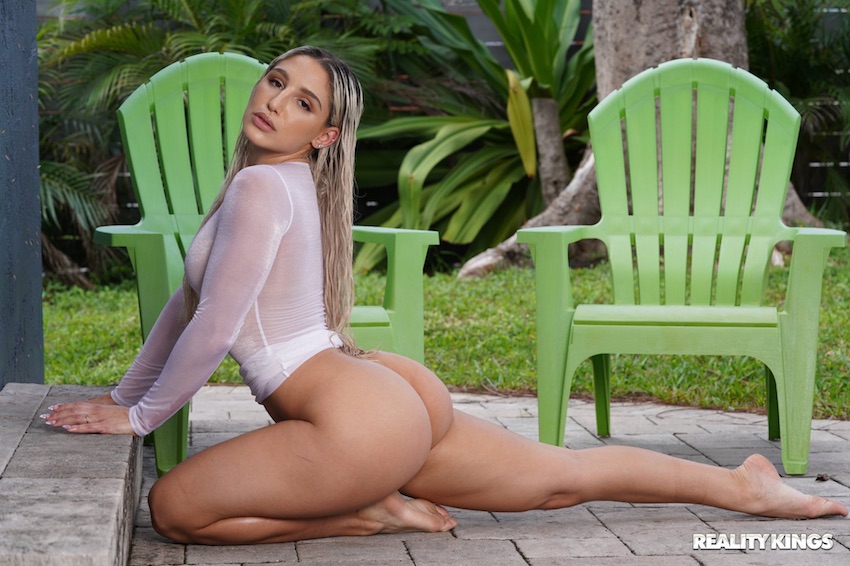 In this list, you will find both dyed and natural blonde pornstars, and Abella Danger inevitably falls in the former bucket. Going natural for years and years, one day, Abella decided to go blonde. To everyone's surprise, it fits her more than perfectly. It is not a guarantee that she will stay like that forever, but as for now, she is the perfect fit in the category of the hottest blonde pornstars. Abella and her ass sure are dangerous, especially when it comes to anal sex. If this lady does not drive you crazy, you must be doing something wrong in your life. Abella was born on November 19, 1995, in Miami, Florida, and has been doing porn ever since she turned 18 years old.
Instagram: instagram.com/dangershewrote/
Twitter: twitter.com/abella_danger
Ryan Keely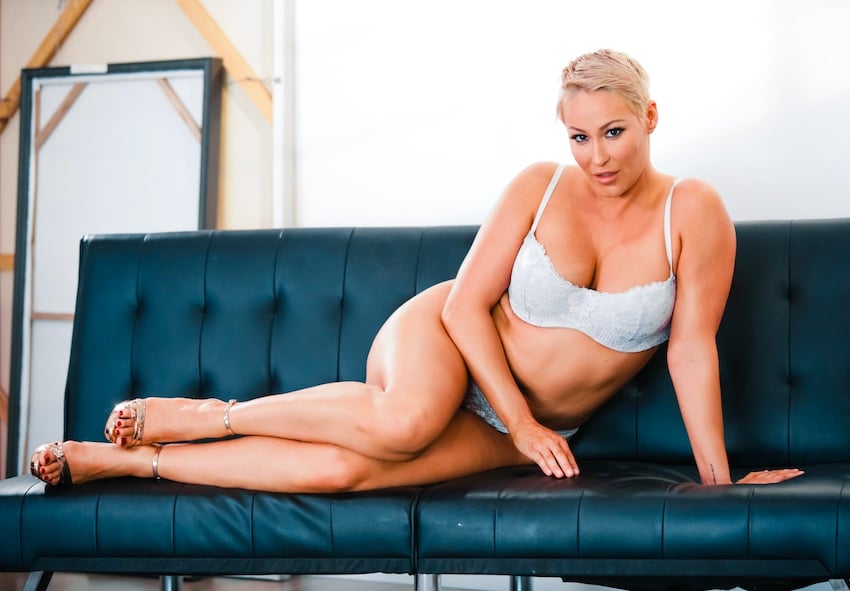 Curvy and short hair blonde pornstar, Ryan Keely, is a lady that knows her spiel damn well. Ever since she turned eighteen, Ryan was part of the Smut business. Keep in mind, Keely was born on July 2, 1984, in Washington State. Yes, she is in the game for quite some time now, which makes her a real porn veteran. If you are looking for "America's favorite 5'9" stepmom," you just found yourself the one. Those curves are really something, especially once she bounces up and down a throbbing shaft. Fun fact, Ryan Keely took a hiatus; however, the passion for porn brought her back to the industry in 2017. Not long ago, she even shot her very first anal!
Instagram: instagram.com/ryankeelytm/
Twitter: twitter.com/ryankeely
Brandi Love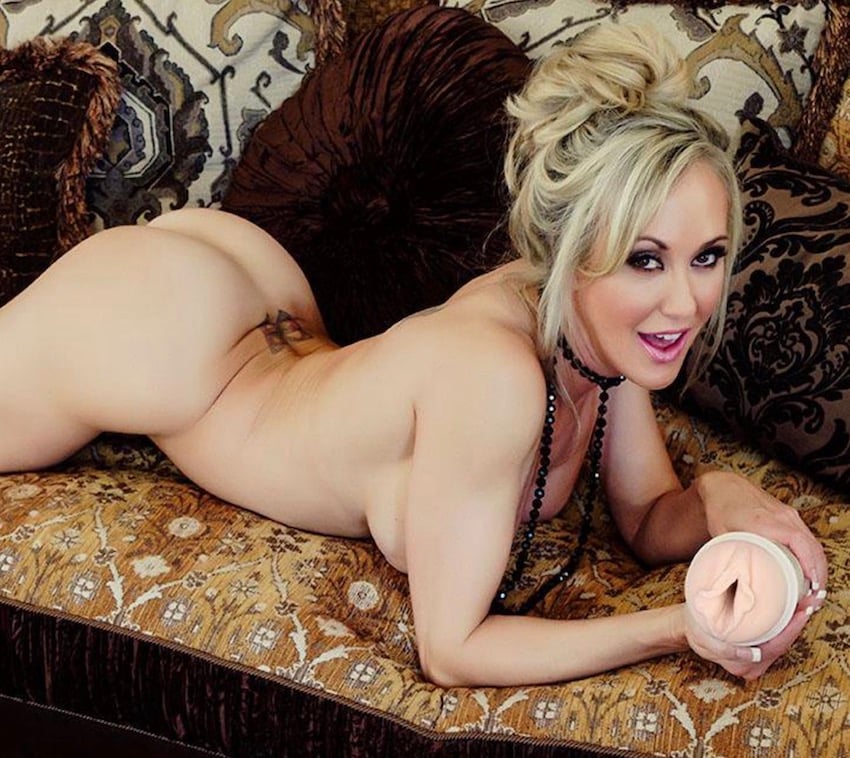 There is pretty much no gentleman or lady out there who is not familiar with Brandi Love. This blonde pornstar is in the game for a very very long time, debuting back in 2007. Over the years, Brandi has done it almost all. Nowadays, she is one of the hottest MILFs in the business, destroying every cock and young pussy that she comes across. And no one surely is complaining. Brandi is always ready to get the action going strong in front of the lense, pleasing all her fans' dirtiest desires. Have in mind, Brandi Love was born on March 29, 1973, and it seems she keeps on looking better and better.
Instagram: instagram.com/brandi_love/
Twitter: twitter.com/brandi_love
Carolina Sweets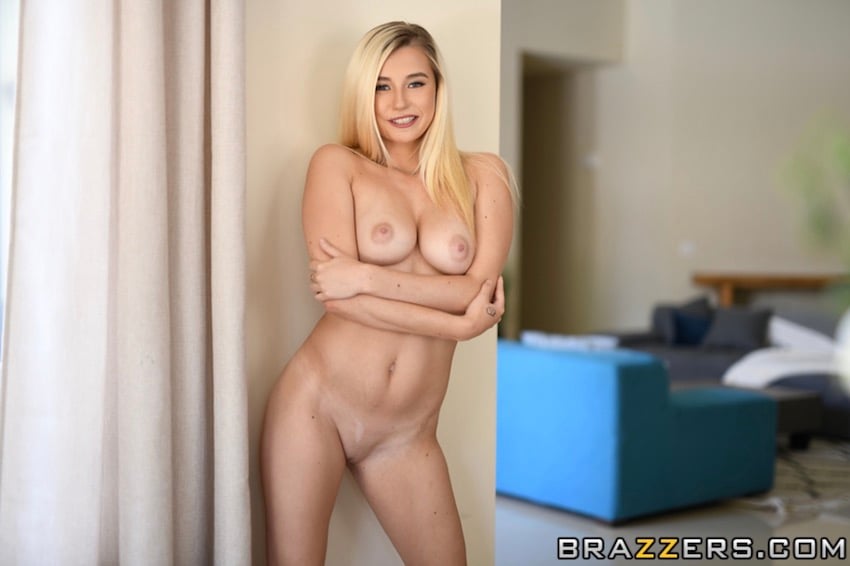 Carolina Sweets might be relatively fresh to the adult entertainment industry. However, her passion for fucking and throwing down epic porn performances quickly boost her fame, making her one of the most popular blonde pornstars. For your information, Carolina started as a cam girl before she decided to get dirty and sweet in the Smut world back in 2016. Her petite, all-natural frame is, undoubtedly, to die for. And when she rides a throbbing shaft with her dripping wet pussy, your juices start exploding. If you are ready for some kinky fun with the adorable Carolina Sweets, go out there and search for her name – indeed, for science.
Instagram: instagram.com/real.carolina.sweets/
Twitter: twitter.com/xcarolinasweets
Kenzie Reeves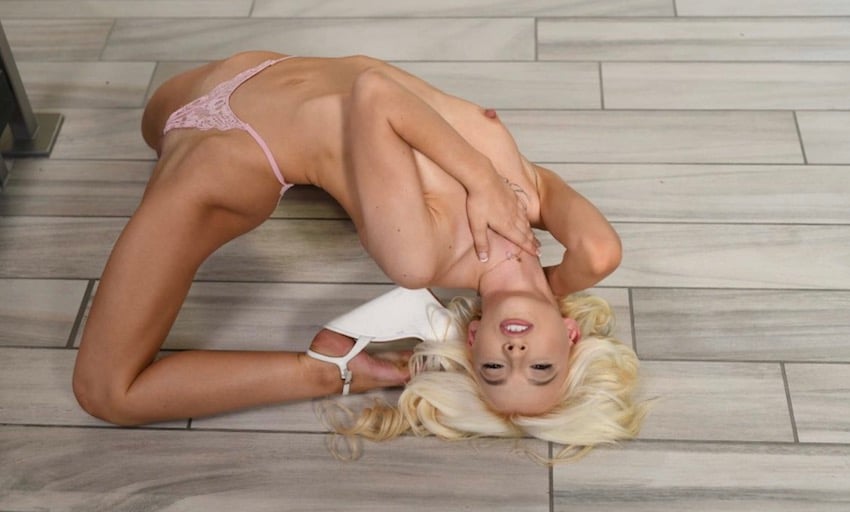 Young and cute Kenzie Reeves is new to the porn business but already making moves. With her insanely hot and toned body, you know immediately that she will drive you crazy when in the company of another sexy lady or a muscular stud. Even with her solo performances!
Needless to say, Kenzie always gives it her best, to throw down an unforgettable and fulfilling show each and every single time. No doubt why she became one of the most popular porn superstars in a relatively short time. That said, there is only a bright future ahead of her. Kenzie was born on July 7, 1997, in New Hampshire and she is only 4'10" tall and weighs 86 lb. With such a tiny body physique, all the cocks she faces look even bigger than they already are.
Instagram: instagram.com/kenziereevesofficial/
Twitter: twitter.com/kenziereevesxxx
Elsa Jean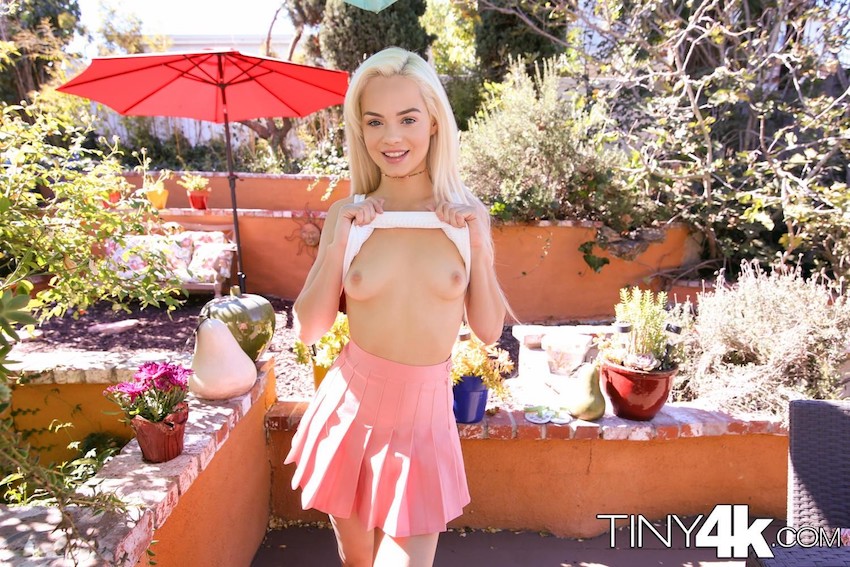 When you see Elsa Jean for the first time, you could end up thinking that she's a sex doll come to life. With her green eyes, perfectly beautiful face and smooth pale skin, she seems to have been conjured as the perfect fuck doll in some pervert's fantasy. This adorable princess is one of the top blonde porn superstars today. She might look like an innocent and sweet girl, but Elsa is quite naughty. Elsa knows how to turn on guys and make their dicks rock-hard. She likes nothing better than to be fucked by older dudes and see them moan with pleasure while she's sucking their cocks.
Instagram: instagram.com/elsajeanofficial/
Twitter: twitter.com/elsajeanxxx
Jessa Rhodes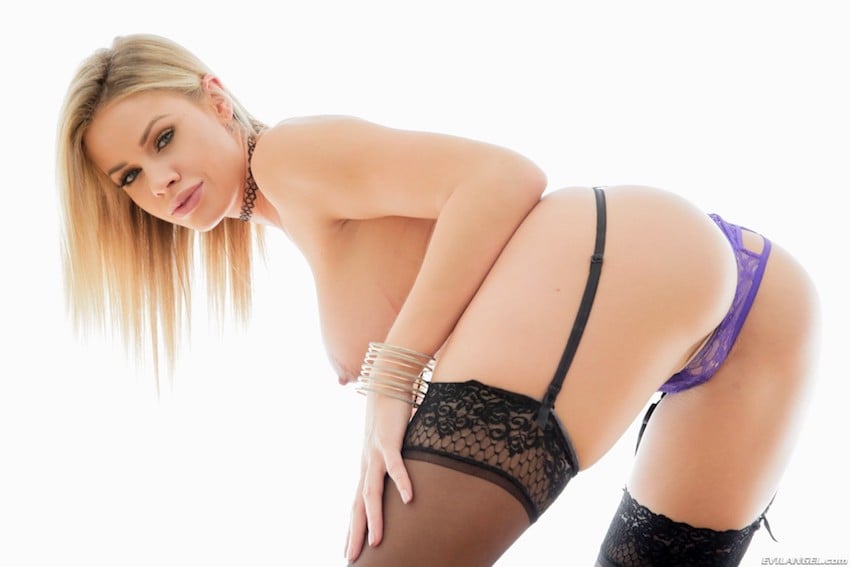 Are you looking for a blonde pornstar with the perfect ass? Then you should check out the videos of Jessa Rhodes. She has an awesome butt that you could stare at all day long. To see her bubble butt bouncing, as she is being fucked by a monster cock is a real delight. She loves living the glamorous lifestyle of a pornstar and partying all the time with her friends. Of course, partying also means getting to fuck hot guys all the time. Whether she is having sex in front of camera or in private, Jessa loves to lose herself in the moment.
Instagram: instagram.com/missjessarhodes/
Twitter: twitter.com/missjessarhodes
Brett Rossi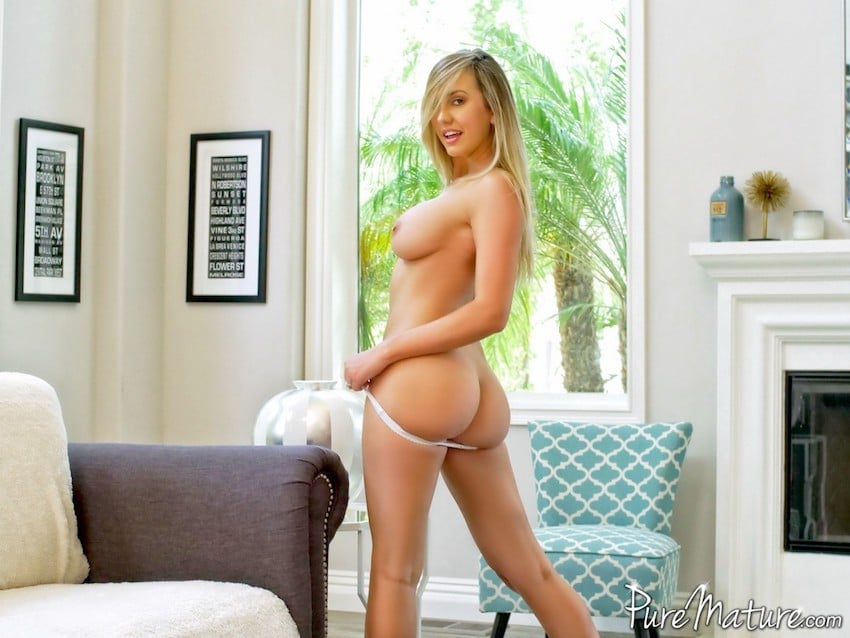 Brett Rossi has received numerous recognitions from the adult film industry. She was Twistys Treat of the Month back in November 2011 and for December 2011, she was the Playboy Cyber Girl. Those recognitions are just some of the signs that Brett's popularity is on the rise and that she's one of the leading pornstars with blonde hair fucking in the industry today. Before working in the porn business, Brett was mattress salesgirl. She must have received a lot of offers from customers to test out the mattresses in their homes. Happily, she realized that she has the looks to make it big in porn. Brett is normally more interested in the ladies, but if you are super-manly, then you might catch her attention.
Instagram: instagram.com/imbrettrossi/
Twitter: twitter.com/imbrettrossi
Blanche Bradburry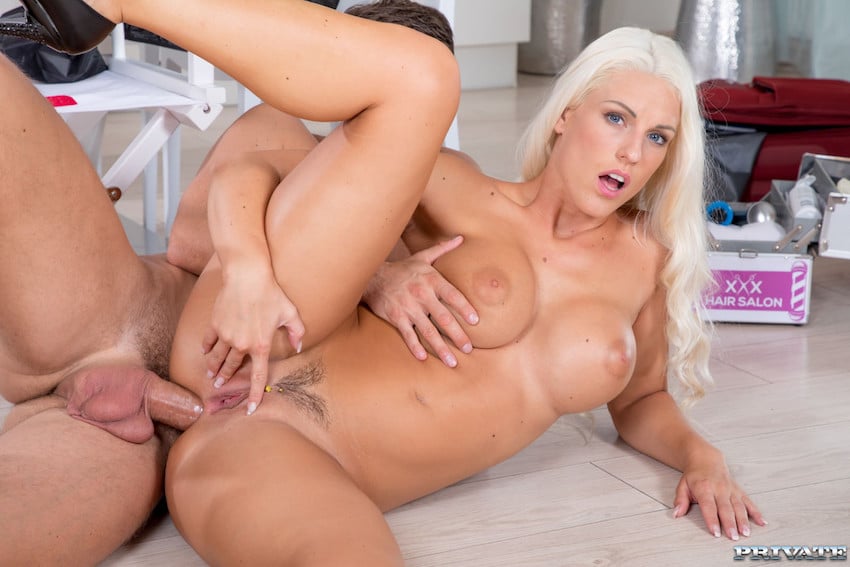 Blanche Bradburry was born in the Czech Republic in 1988. This self-confessed sexual deviant and nymphomaniac is one of the top blonde pornstars today. Blanche got her start in doing adult stuff by being a webcam girl. That was back in 2009 and it did not take long for her pussy to get noticed enough for her to be offered to do adult films. Since then, she has had all of her holes fucked in front of cameras to the delight of her fans all over the world. Blanche has piercing blue eyes and massive butt that is an invitation for fucking. That's how awesome she is.
Twitter: twitter.com/blanchebradburr
Nicole Aniston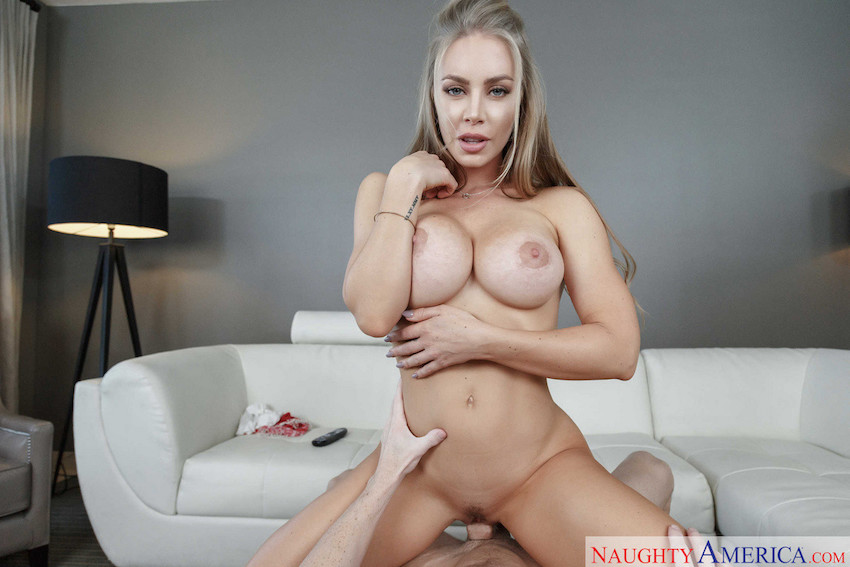 Nicole Aniston is a fitness fanatic and is obsessed about healthy living and it shows through her body. She's a vegan and so, the only meat that she puts into her mouth are the massive dicks of her costars when she's shooting scenes. Nicole started doing adult films back in 2010 and it seems like she's done it all, from doing girl-to-girl scenes to threesomes. This blonde pornstar has been fucked in all kinds of places and scenarios that the most perverted fan can come up with. When she's not shooting adults scenes, Nicole is sharing tips and ideas to her fans about the vegan diet and healthy eating in general.
Instagram: instagram.com/realnicoleaniston/
Twitter: twitter.com/xnicoleanistonx
Lexi Belle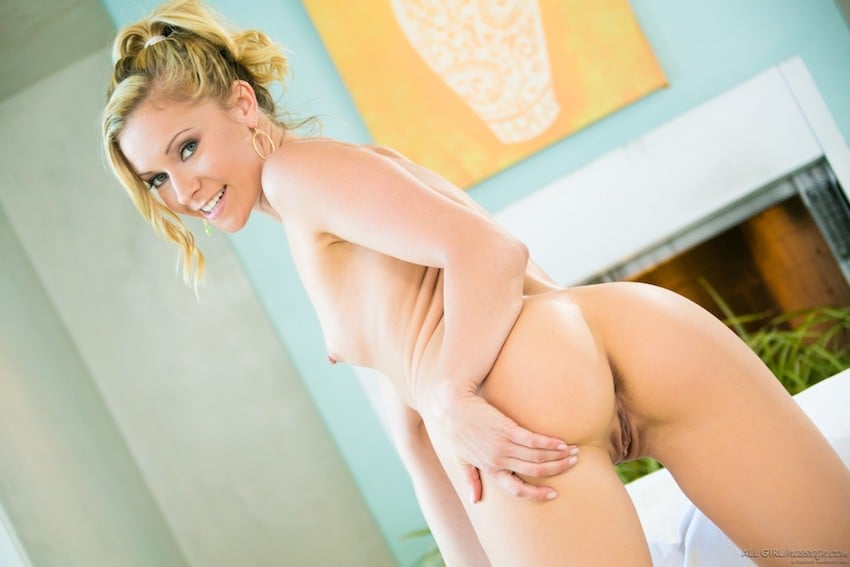 Lexi Belle is not your typical blonde adult actress. She loves snowboarding and she's a huge Star Wars fan. Don't be fooled by that geeky background because Lexi is as raunchy as a girl can get. She was initially recruited from social media. Back then she was totally unfamiliar with porn. In fact, she didn't know that much about sex at all. The first time that she gave a blowjob was during her first adult scene. Since then, Lexi has learned a lot and has fucked a lot too. She's an expert now when it comes to sucking and fucking cocks. She has since then won numerous awards.
Instagram: instagram.com/omgitslexi/
Twitter: twitter.com/omgitslexi
Mia Malkova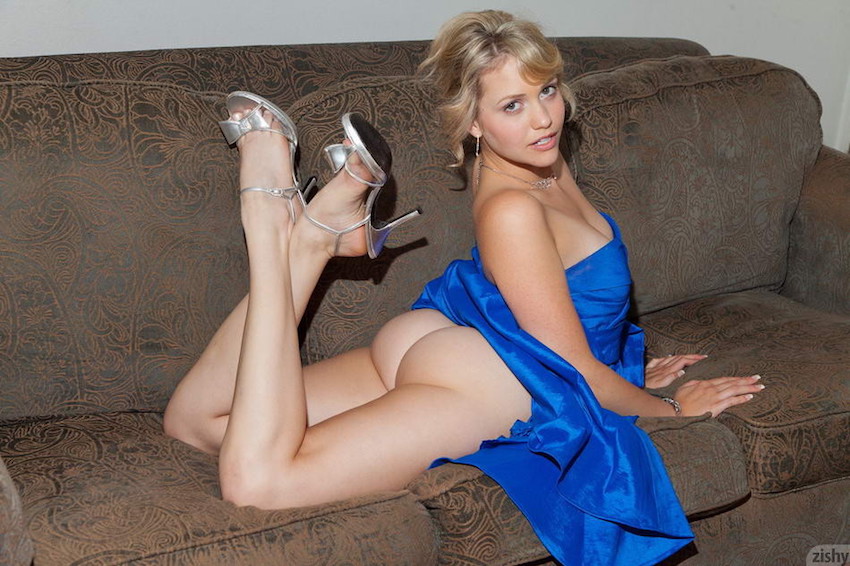 Mia Malkova is the quintessential California babe. She loves going to parties and having fun. She also loves to fuck. That's the reason why she got into the adult film industry in the first place. Being one of the hottest blonde pornstars in the industry allows her to have fun and have sex all the time. One of the amazing things about Mia is that she's a gymnast who can bend and contort her body into all sorts of positions. Men have been going crazy imagining her contorting her body. Since her debut in the industry back in 2012, Mia has fucked and twisted her way to the top.
Instagram: instagram.com/mia_malkova/
Twitter: twitter.com/miamalkova
Alex Grey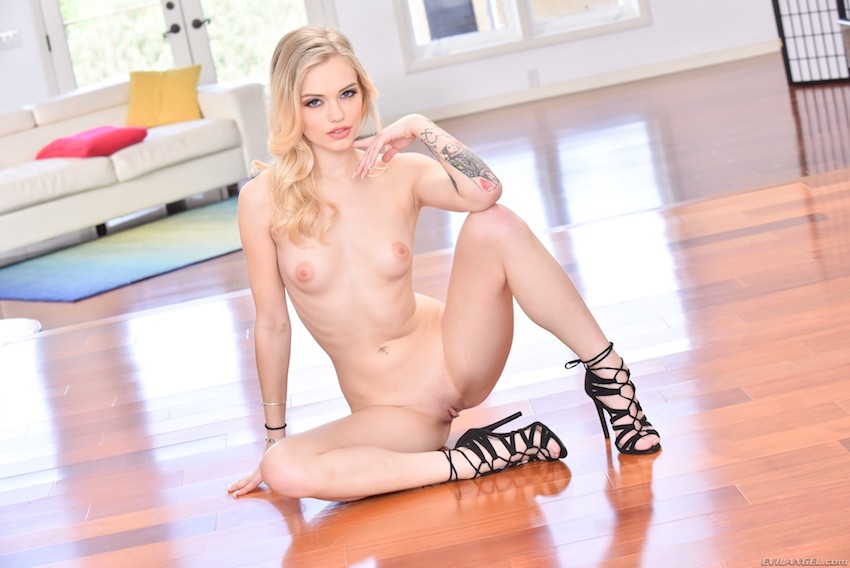 With her log blonde hair, beautiful eyes and smooth skin, Alex Grey looks like a sweet and very pretty girl next door. Don't be tricked by her appearance though because Alex Grey didn't earn her spot as one of the blondes in porn today by being sweet and cutesy. This petite beauty has done some very kinky and raunchy scenes. She might look like small and delicate, but Alex has proven that she can handle the biggest cocks out there with ease. Alex started doing adult videos in 2015 and hopefully, she will be doing a lot more scenes that her fans can enjoy in the years to come.
Instagram: instagram.com/xoalexgrey/
Twitter: twitter.com/alexgreyxxx
Samantha Saint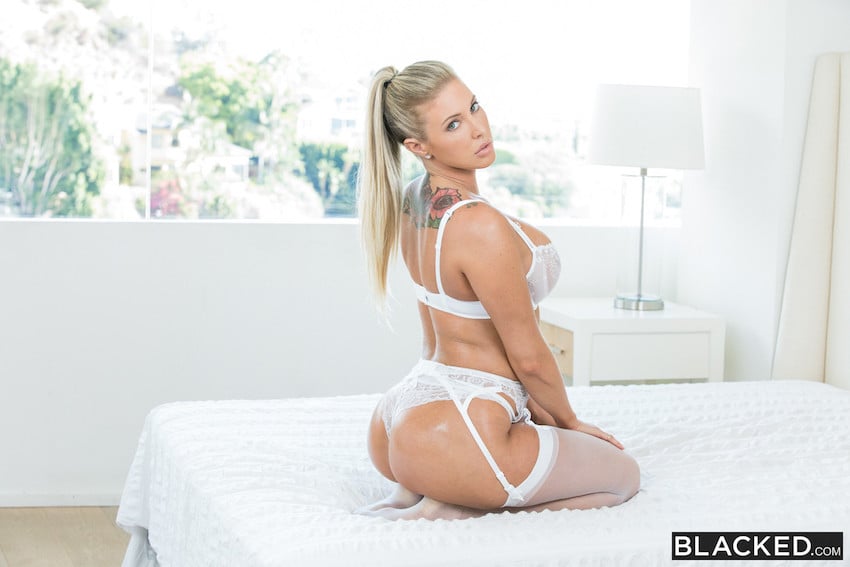 If you're looking for a blonde pornstar with the most gorgeous looking pair of boobs today, then you need to checkout Samantha Saint. She knows how to use her assets best, which is why she emphasizes them whenever she does a scene. With her classical good looks and a passionate energy when doing scenes, Samantha has managed to gather fans all over the world. When Samantha first started doing adult videos, she did solo and girl on girl scenes, but a girl as horny as she is just bound to get some hard and long dicks stuffed into her pussy in front of the camera too.
Instagram: instagram.com/samantha_saint/
Twitter: twitter.com/misssaintxxx
Alexis Texas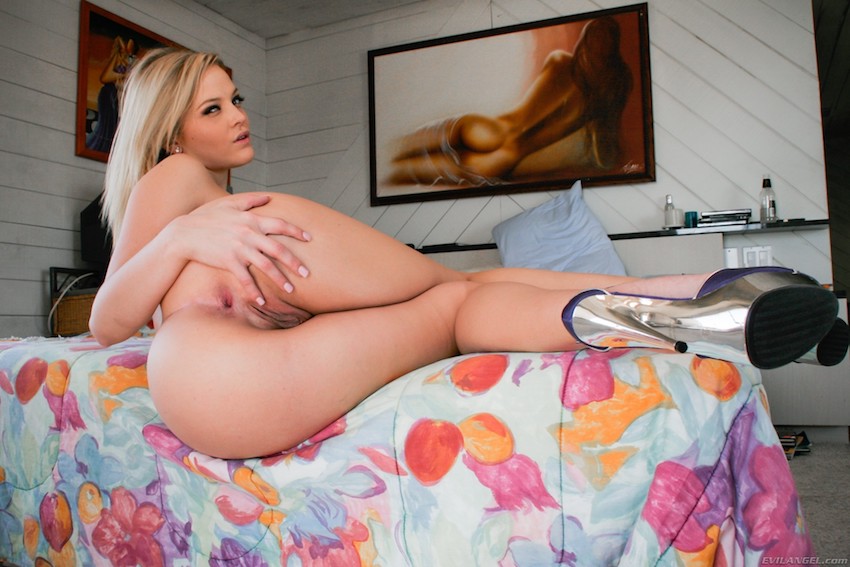 Alexis Texas has a huge ass that can make any man's dick hard. Born in Texas, Alexis is your all-American girl. She loves to party and to have fun. That includes having sex and sampling as many dicks as she can. As one of the leading big butt models and blonde pornstars working out there today, you need to see her in action. Alexis shows a genuine enthusiasm when she gets rammed in front of the camera. She's quite popular that the mainstream media is taking notice of her, too. Alexis was recently featured in a music video with the leading rappers.
Instagram: instagram.com/whitegirlpoliticking/
Twitter: twitter.com/alexis_texas
Natalia Starr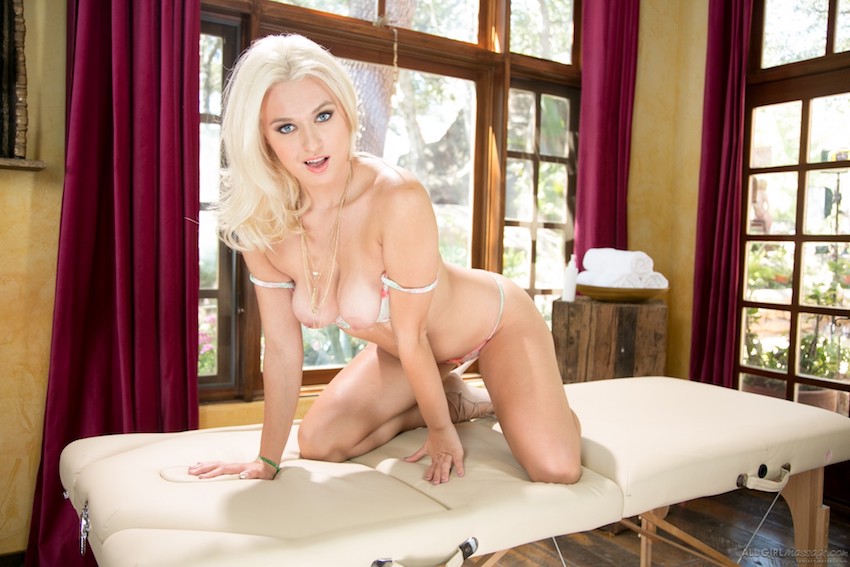 Natalia Starr grew up in Poland. She followed her big sister to the United States in order to pursue her dreams. Natalia knew that she has the looks, which is why she lost no time and started doing porn right away. Natalia has managed to find success as she is one of the most recognized blonde pornstars right now. There is another motivation for Natalia to do porn. She loves huge cocks and by doing porn, she manages to have her pussy stuffed with the most massive dicks to her heart's delight. This Euro-teaser really knows how to tease and please.
Instagram: instagram.com/natalialandx/
Twitter: twitter.com/nataliaxstarr
Karla Kush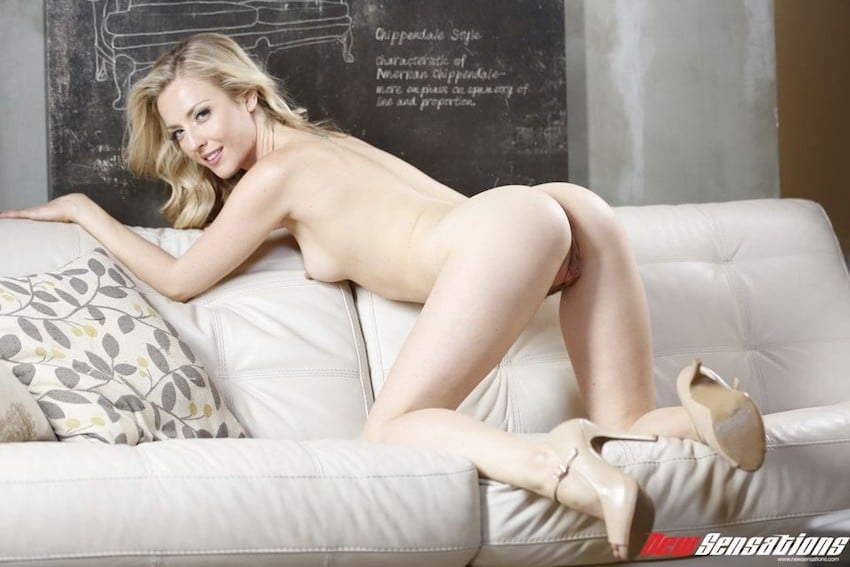 Karla Kush seems like she's a really cool girl to hang around with. Creative, funny and smart, she is the sort of girl that you could introduce to your folks. Not many blondes today have that sort of vibe to them but don't let that mislead you though. She can suck and fuck you until your ball runs dry. Karla started working as a babysitter and she must have fueled some nanny fantasies with her clients back then. It's a good thing that she decided to get herself involved int he adult industry. Now, Karla is fueling the sex fantasies of guys on a global scale.
Instagram: instagram.com/thekarlakush/
Twitter: twitter.com/karlakush420
Angelika Grays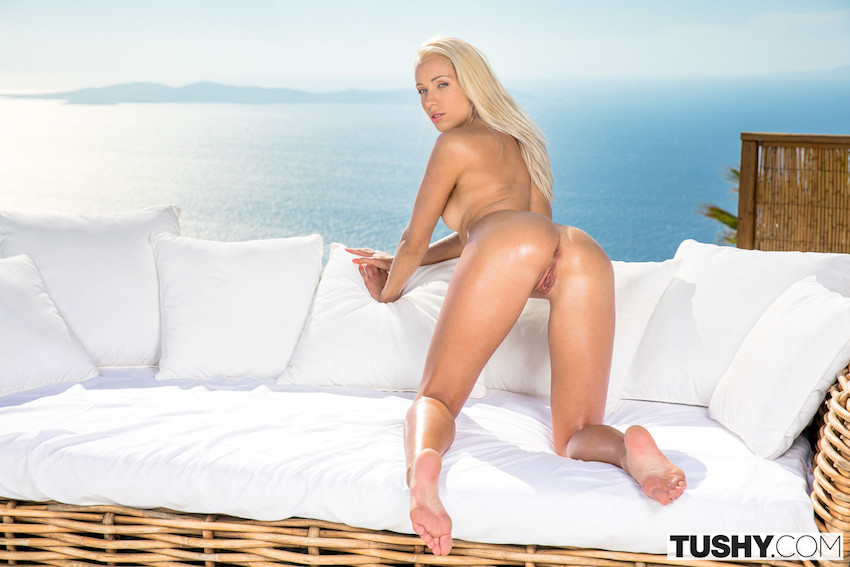 Angelika Grays is a bombshell from Ukraine. She is one of the most promising blonde pornstars working in the industry today. She just started doing adult videos in 2018 and hopefully, she would be staying for a long time to make dicks hard again and again. With blue eyes and long blonde hair, Angelika can fulfill the blonde goddess fantasy of most guys. She has an amazing body that looks really good when her pussy and asshole slide up and down a thick shaft. What's amazing is that there is nothing fake on her body. She's all 100% natural, even the way that she moans when she's being fucked.
Instagram: instagram.com/nicolette_shea/
Twitter: twitter.com/angelikagrays
Nicolette Shea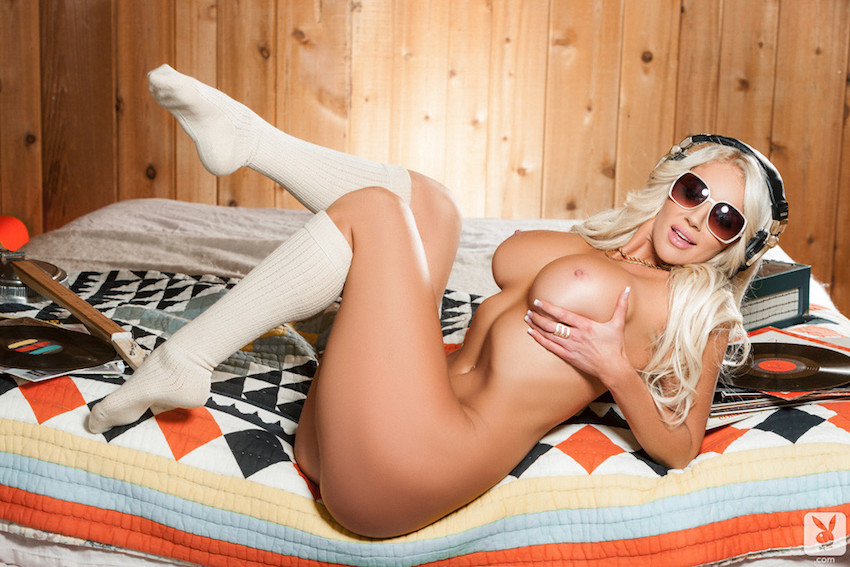 With a beautiful face, massive fake tits and huge thighs, Nicolette Shea seems like the fuck goddess that many sex-starved guys are fantasizing about. She used to play poker as a profession and she placed her opponents at a disadvantage because they got distracted by her looks. It was just a matter of time before she got noticed and was offered a chance to do adult films. Now, Nicolette is recognized as a leading blonde pornstar and she's ready to fuck her way to stardom. You can bet that this girl is not bluffing at all and she's willing to get down and dirty.
Instagram: instagram.com/realajapplegate/
Twitter: twitter.com/nicolette_shea
AJ Applegate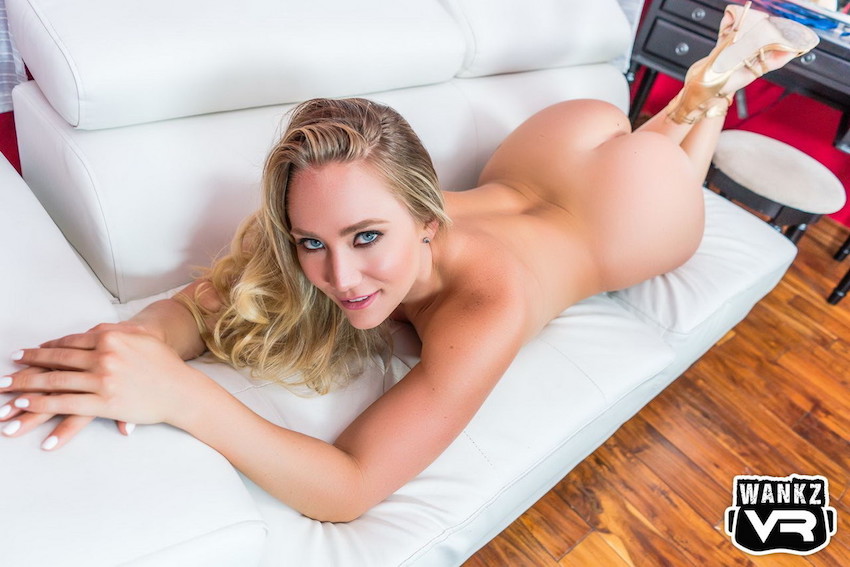 AJ Applegate has a combination of bodily assets that can make the jaws of many men drop. She has stunning blue eyes, massive tits, beautiful blonde hair and a sexy figure. It's not surprising that AJ is the favorite blonde pornstar of so many porn aficionados today. Before doing porn, AJ Applegate was a dancer. She developed her dancing skills with intensive training while she was still a teen. Now, her agility and flexibility come in handy when she enjoys rough fucking in front of cameras to please guys and gals. In the few years that she has been doing videos, AJ has managed to create a name for herself in the industry.
Instagram: instagram.com/officialkmig2/
Twitter: twitter.com/ajsapplebooty