Get yourself ready for a dose of Latina sexiness in the form of pornstar hottie, Sophia Leone. Her super cute smile and shy attitude will have you hooked and make you one of her loyal followers forever. You just cannot deal with the tropical vibes she releases whenever she appears on the screen. And it does not even have to be a porn video. Sophia can only post some random content on her social media, and we all start to drool. An adorable teenager who always throws down an epic performance for the fans.
Sophia was born in the year of 1997 to a Spanish father and mother. Her parents had immigrated to the States before she was born. She is 5 feet 4 inches tall, her feet are size 6 and her boobs are 36C cup.
A 100% Latina girl who, as she says, is always wet down under. Always ready for the action, huh?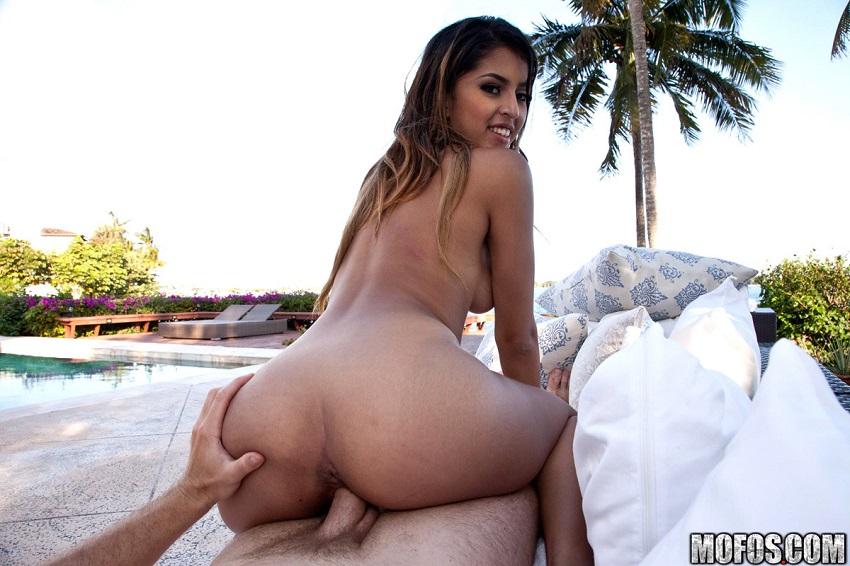 As far as guys go, Sophia likes older nerdy dudes. Moreover, missionary is her favorite position mainly because it is more intimate. Indeed, Sophia Leone is one of those girls who like kissing and passionate sex. No really into rough stuff, however, she still does it for her supporters. You see, Sophia makes sure she takes good care of her followers.
Outside the adult entertainment industry, Sophia dated four guys, and that is exactly how many guys she had sex with. Within the industry, she doesn't really count how many studs banged her wet and bushy pussy. If you know anything about lovely Sophia Leone, you are probably aware that she wears a well-trimmed bush.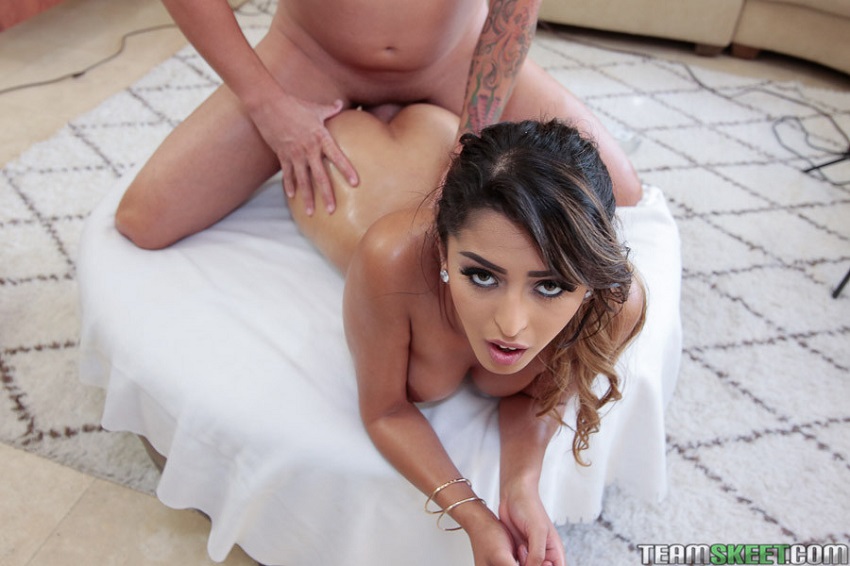 Surprisingly, Leone is not really into giving head. Only because she believes she is not good at it – you decide! Have in mind that she swallows. So, if she swallows that means that she made the guy cum. And if she made the guy cum then her BJ skills must be great, don't you think?
The always-wet-Latina-girl, Sophia enjoys having sex all the time, just like she loves to play with herself. The later she does on a daily basis. Sometimes even multiple times a day. I am getting more and more impressed.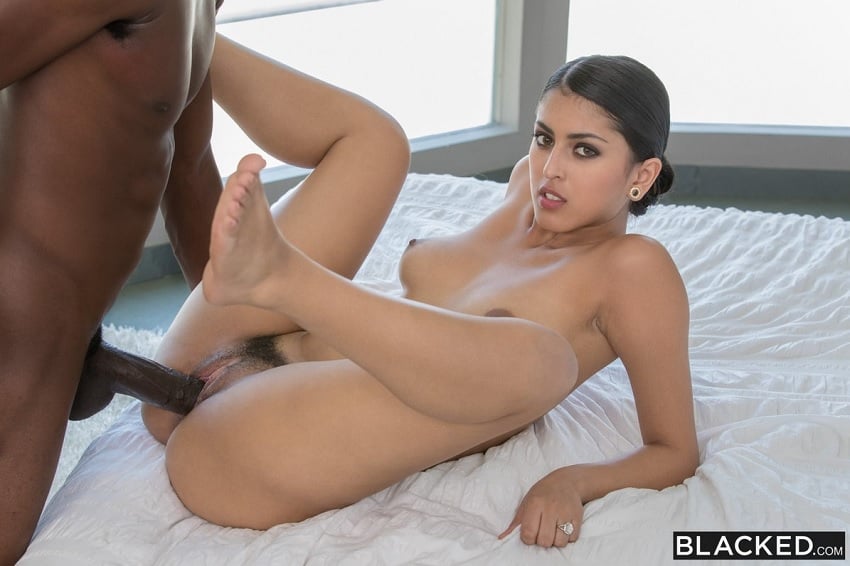 After joining the adult business at the age of 18, Sophia Leone quickly gained fame and interest. That said, she worked with all of the major porn companies to date, like Reality Kings, PornPros, BLACKED and Evil Angel to name a few.
Following her Twitter account, there is nothing slowing down Sophia. She keeps on going strong, taking new challenges and fucking guys of all shapes and sizes.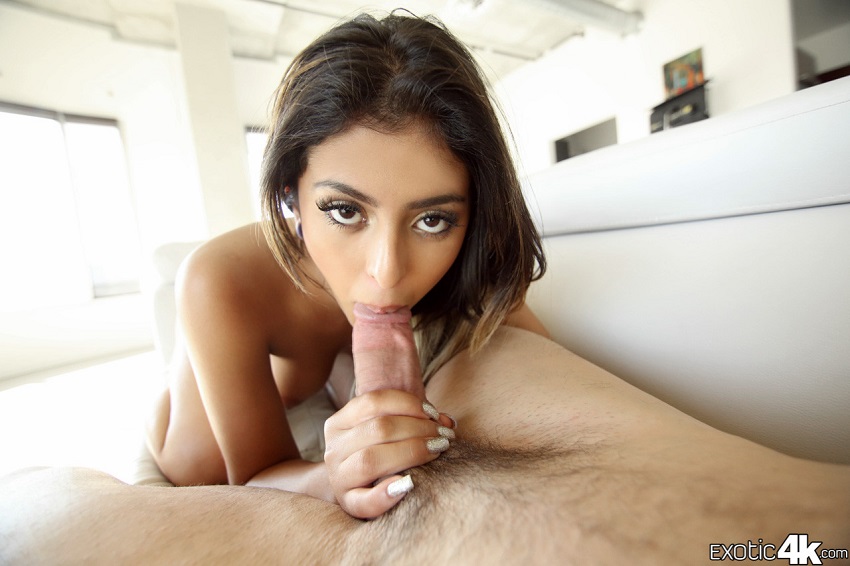 It is time to end our little conversation we just had about Sophia and let her scenes do the talking.
A collection of vivid Sophia Leone porn videos
Latin chick Sophia experiences her very first BBC

Hot and exotic lady, Sophia, gets hired for this high-end photo shooting for a wedding magazine. She is excited about the gig. When she meets the black model, Jason, she instantly feels a solid connection between the two of them. Is it due to the wedding theme or the fact that Jason is just super attractive? She really gets turned on. Just the way the staff wants them to be. To look genuine.
When the production team leaves for lunch, Jason takes Sophia upstairs for some fun time. Bare in mind, this is the very first black cock Sophia is about to experience in her life. She takes that monster black cock like a champ orally and with her moist twat before she lets Jason spray her face with a torrent of spunk.
Outdoors solo masturbation with Sophia Leone

We strike you with her first interracial scene for BLACKED and now, we are slowing things down with a tempting solo scene. Oh yeah, no matter what she does in front of the lens, Sophia will always throw down an epic and very fulfilling show.
Leone first plays with water what makes her horny as fuck. All this, in combination with the warm weather, makes Sophia strip down and start playing with her already moist love button. She touches her whole body before she begins stimulating her clitoris and finger fucking her muff. The sun in shining and so is Sophia when she drills herself so hard that she reaches an explosive orgasm and a bright smile decorates her pretty face.
Foot fetish action with lustful Spanish girl

When doing webcam shows, the most recommendations Sophia gets is for her feet. Everyone wants to see her feet and toes. Isn't it obvious?
To your luck, here we have a special porn video that will feed all your feet cravings.
Sophia shows her feet, gets them toes licked and even offers a footjob. Getting her toes sucked and licked makes her so horny she starts to touch herself and gets ready to make the dude excited to smash her pussy. Leone does not even need to put much effort into getting the man stiff and strong. Her sexiness does the trick!
Are you satisfied?
Burglars Bruno and Sophia go all in when they hit big

They have been doing it for some time now, breaking into families' houses while they are on vacation. The thing is, Bruno and Sophia haven't yet hit big. Up until this day.
Finally, they find a house of a super wealthy family who owns a ton of valuable objects. They go berzerk and start stashing their bags with everything they find is of value.
Sophia finds the family jewelry which she wants all for her own. Unfortunately, Bruno is right behind her and sees everything.
To make a long story short, to end up their big hit, they decide to spend some kinky moments at that place. All fine and mega exciting up until the point when Sophia realizes that she is tied to the bed with a facial and the cops are on their way. No one will fuck with Bruno!
Luscious lesbians Selena Santana and Sophia fuck each other's brains out

You have been in need of this as badly as I have been. A dirty girl-girl scene with Sophia Leone. She likes cocks more but she does not have a problem doing a lady, too.
One day, Sophia is late and her boss, Ms. Santana, is pissed at her. She is waiting for her and when Sophia arrives boss lady fires her.
However, when Sophia walks through the door, Ms. Santana realizes how badly young lady needs the money. That said, she decides to fool around with her for a bit in return for the payment. Ms. Santana wants Sophia to do the work naked. She goes for it, and before she knows it, Ms. Santana is masturbating in front of her. She later pulls out a big pink dildo and face and pussy fucks young Latin girl, Sophia Leone. Moreover, they both start to take turns on each other until they both reach sensational climaxes and cum all over one another.
Oiled up and fucked Spanish ass

The moment Bruno spots Sophia, he starts to fantasize how incredibly gorgeous her ass would look when oiled up and massaged. Not many moments pass before he realizes what a horny slut Sophia Leone is. She is in desperate need of a cock 24/7.
Needless to say, the very next moment they find each other on the bed, enjoying some nasty, intimate moments together. Sophia's cock wallet is already dripping wet and ready for his XXL rod to ease inside of her and penetrate her deep.
It gets slippery, and it gets scorching hot between the two of them when the sexual encounter begins.
Bad Santa fucks Sophia and Alexis Fawx

It is always Christmas time with Sophia Leone and Alexis Fawx. Unfortunately, Santa is too loud and wakes the babes up. They rush downstairs, however, there is no Santa. Apparently, Sophia was hearing things.
They are fully awake now and all this candy that is available to them, as well as how they are dressed up, makes both start to feel naughty. They don't hold themselves back and begin touching each other. Bare in mind, Santa is there, he is just hiding behind the Christmas tree, passionately enjoying the live show. Of course he later joins the dirty bitches and lets them play with his monster bone and fucks them hard as a special Christmas present from Santa himself.
Jamie Valentine and Sophia Leone have an epic surprise for a lucky guy

It is Valentine's Day and it is time to buy chocolatte and toys, right? Well, Sophia has something completely different in mind.
Her boy excitedly walks into the bedroom with the sweets and balloons when he spots her wearing the hottest and most erotic lingerie she owns. Just for him! She wants to fuck! And so does he.
While enjoying the chocolate, Sophia finally reveals something extra she prepared for him. He always fantasized about being with two girls. As an icing on a cake, Sophia invites another tempting Latina girl, Jamie Valentine to join them for an unforgettable threesome experience. Dude, the way how these two ride his stiff pole is ridiculous.