If blonde bombshell, Tasha Reign, comes to your mind when you think of a true pornstar, you cannot be more correct. From head to toe, Tasha is a perfect example of a talented adult actress. With all the experience and skills she gathered over the years, you can never go wrong with any of her XXX videos. After all, since her porn beginnings, Reign is one who should not be missed. Her fame really did skyrocket the moment she pursued adult career professionally. No need to wonder why. She is a pure natural!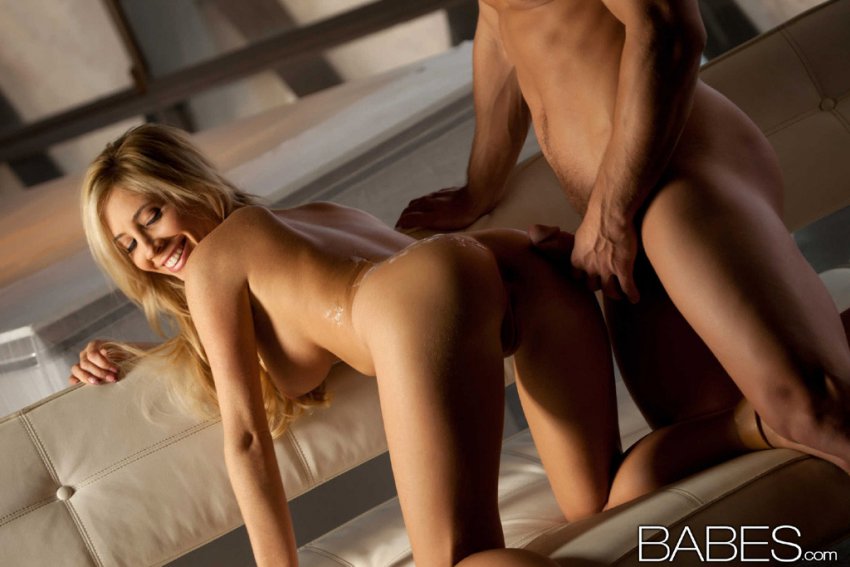 Hailing from Long Beach, California, Tasha was born on January 15, 1989 and grew up in a big family. Born Rachel Swimmer, Tasha is a former Hooters Girl who started stripping back in 2008 when attending college. For your information: Reign has a degree in Women's Studies from UCLA. I told you she is no joke!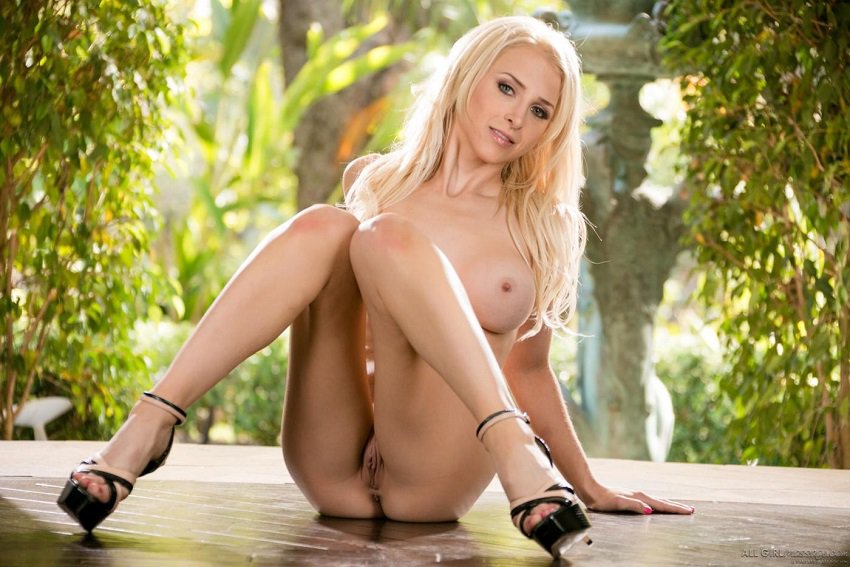 Gaining experience, entertaining men and women at strip clubs for 2 years, Tasha Reign shot her very first girl-girl movie in 2010. She did some mainstream stuff prior to shooting XXX scenes but that wasn't really her passion. Tasha always found pornstars confident women who always crave sex and that's what really motivated her to become one. However, don't you think Tasha is a wild and naughty babe all the time. There are two sides of Reign; the porn side and the normal side.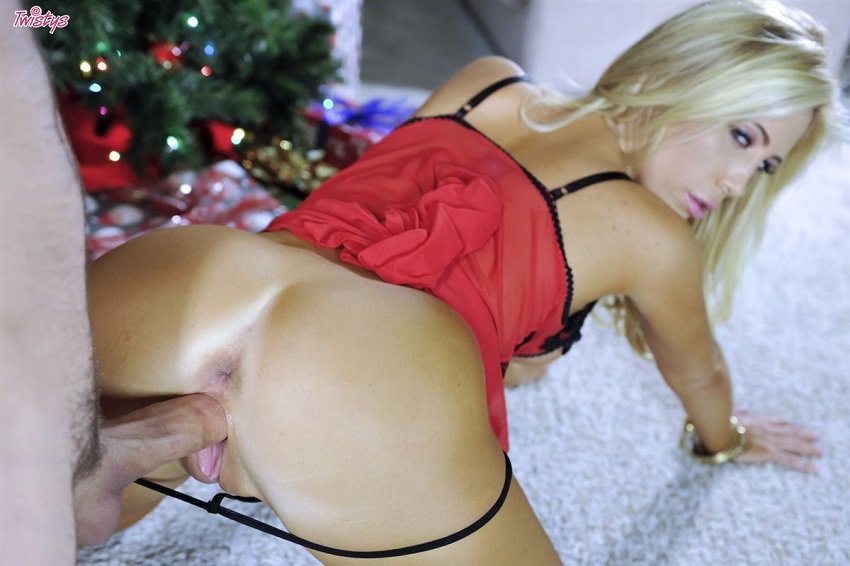 Continuing chatting about the dirty side of Tasha, we must not miss mentioning that you should definitely give her official website (launched in 2012) a visit. Not only is she releasing a ton of exclusive content, she also produces the majority of it. Like she says, "Let's get to know one another on a whole new and sexually gratifying level like never before, shall we?" How can you say no to that? You cannot.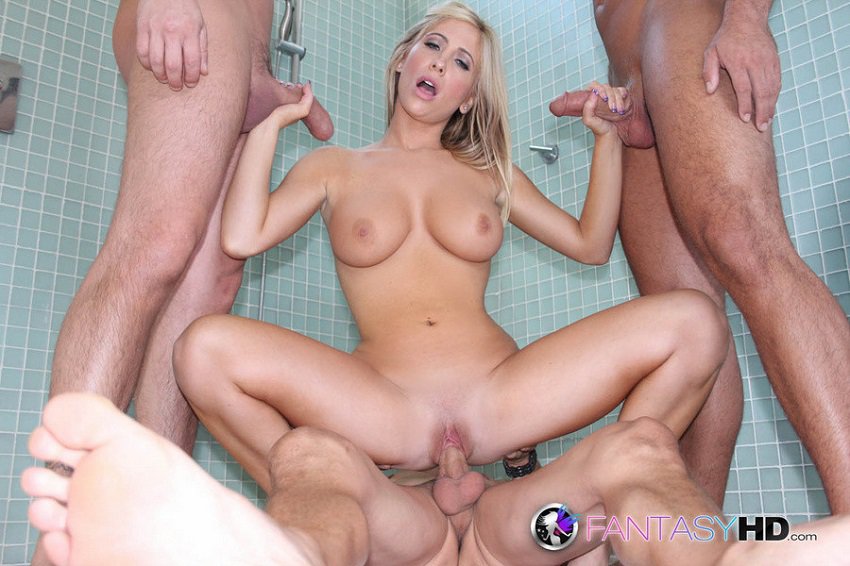 During her super rich adult career, Tasha Reign was nominated for a ton of industry's awards. Not to mention, she also appeared in Penthouse and Playboy magazines, as well as scored the cover of OC Weekly.
What's up with her stage name? She brainstormed the first part of it with her girlfriends and mom. Yes, mom! As for the Reign part, she picked the name after the club in Santa Monica where she used to strip, called Silver Reign.
When asked what is her favorite thing about pornography, Tasha simply responds, the modeling part of it. Taking pictures was always her true passion. Not only does she enjoy posing, Reign likes the fact that you can have complete control over photo shoots. The second favorite thing about the adult entertainment industry are boy-girl scenes. She loves studs and she sure does enjoy having sex. In the mouth, in the pussy, in the asshole, double penetration, you name it.
Is she submissive? Only with guys, while with women, Tasha is more of a dominant lady.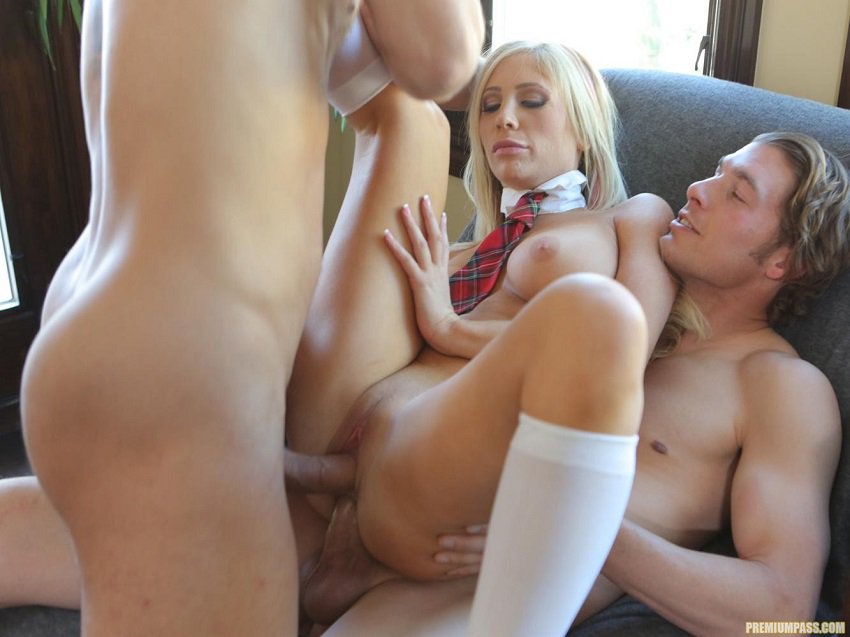 In regular life, when not taking large cocks or licking moist pussies, Tasha Reign enjoys doing all sorts of stuff. For instance, Tasha enjoys spending time outdoors, hiking, doing yoga, cardio, pilates and, listen carefully, eating. Boy, does she enjoy herself a good meal. In case you ever take her on a date, make sure the dinner consists of a vegetarian burrito bowl. Speaking of dates, the following is how Tasha enjoys spending them. Needless to say, eating is on the first spot, followed by amusement parks, playing with animals, kissing and, yes, sex. By the way, Chipotle and In N Out are her favorite restaurants.
Make sure you follow this Elegant Angel contract girl on Instagram and Twitter for a daily dosage of sexiness.
To get yourself aroused, enjoy this hot collection of Tasha Reign porn videos
Lena Nicole's fantasy of fucking Tasha's ass comes true

For a very long time, Lena was fantasizing to spend some naughty moments with the hot blonde bitch, Tasha. She was dreaming about fucking her pussy and asshole with a nice dildo and anal beads. Not only that, but it would make her extra horny only watching Tasha fuck herself in the asshole.
Finally, that special time comes when people over at Girlsway hook up Lena Nicole and Tasha for some hot lesbian anal fuck fun.
Just like Lena pictured them in her dream fuck, they both wear some really sexy lingerie while enjoying themselves in the bathroom. It only gets hotter and hotter between the two of them. And then it happens, Tasha exposes her tight ass and lets Lena penetrate it with a dildo. WOW!
Amazing sex session at their beach house

On a sunny day, Tasha Reign and her man enjoy the nice view from the porch of their beach house. It is absolutely amazing. He is hugging her firmly from behind and enjoying squeezing her magnificent tits. That's when Tasha decides to go inside. Nope, she is not annoyed by what he is doing, she just has different plans with him.
Waiting for him on the bed, these two horny people cannot wait to go down on each other and fuck the living daylights out of each other. In the most exciting way you can think of. Tasha knows how to seduce him and make him feel on the top of the world with her oral fucking skills. She gives it her best, all because he took such good care of her pussy, licking that clitoris and making it swell. Her muff became dripping wet straight away.
From a satisfying foreplay, they move forward to an even more pleasing sexual intercourse. It will get the juices going at an instant!
Tasha gets to fulfill a fantasy that she has always dreamt about

Finally, Tasha Reign gets to spend intimate moments with her favorite, Keisha Grey. She always fantasized about her all-natural titties, her sexy ass and overall amazing body. Moreover, up until this point, Tasha put her fantasy to use on a regular, imagining herself fucking young Keisha in her bum.
What you are about to witness is a super tempting lesbian butt fuck under the shower. Reign wants to stuff her back door with a dildo and fuck her so hard Keisha will come just fo her. Will she manage to pound her butthole until Grey reaches an explosive anal orgasm? Do I even need to ask, right?
Ass fucked Tasha screams with passion

Seeing a hot blonde getting her ass stretched wide from a close up is always fun, right? Well, it gets even better if her name is Tasha and her last name Reign. Dude, this chick is all about getting her fuck holes stuffed with big and stiff rods. And when the sensation strikes, she might scream loud and fill the room with good vibes. Yep, we speak about the one and only, the blonde hottie, Tasha. Indeed, you will see a lot of gaping ass, from a close up. Do yourself a favor and take some time off, press the play button and enjoy Tasha analyzed properly. From a close up.
Black leather couch and a horny couple

Everyone who ever had sex on a leather couch knows that that thing can be really cold. The very moment your skin touched the leather it chills you to the bone. But then, when you warm it up, it can be really cool. Just don't get too sweaty or you will stick to it. Me personally, I do not really prefer fucking on a leather couch. Meanwhile, Danny Mountain and Tasha Reigh don't really give a fuck. When the horniness strikes them, they fuck wherever they can. But first, a proper foreplay to get those body juices going. Fingering and stroking, as well as licking and sucking – the game is on! It truly is a pleasure to watch that shaved pussy get penetrated hard.
BJ, titjob and pussy pounding for a luscious blonde

The way how Tasha gives head goes beyond expectations. Seriously, just watch her slide her mouth on that large cock and you will be blown away. That's what happens when a true professional takes things in her hands and over delivers. A blowjob is only the beginning of this super fuck session with Mick Blue. When Tasha brings his shaft to start throbbing, she inserts it between her boobs and offers a satisfying titjob. From then on, Mick is ready to smash that dropping wet va-jay-jay with all of his enthusiasm. Riding the cock cowgirl style and getting fucked spooning, they practice it all and make Tasha Reign's pussy jump with joy.
After massage fuck with a facial

Either being the masseuse or masseur or the client, it is just something so damn arousal about a massage. I do not know about you but boy, I always get horny through the roof when offering a lady a massage. My hands sliding on a silk smooth skin, grabbing and rubbing the sexy body – are your hard yet? I am already getting there.
However, for those who enjoy watching it, here is a very tasty after massage sex with yours truly, Tasha. She is like everyone else. When a strong stud takes care of her body and especially takes good care of her ass, the only thing she wants next is his stiff cock. Needless to say, he approaches Tasha from behind and smashes her vividly. There is no stopping for these two now up until the point he unleashes a hot load of spunk all over Tasha's face.
The sexiest yoga session you will ever see

Tasha is in need to stretch her slender body and get loose of all the tension she struggles from. There is no better way other than doing a quick yoga session wit Patrick Delphia, right? However, what kind of yoga is she really after? Definitely not the kind you know about.
Reign goes in the back door and instead of warming her body up, she strips down and starts to finger her twat. Well, that may be the kind of a warm up that no one really thought us about. At least not before the yoga session.
As it turns out, seeing hot Patrick and his athletic body made Tasha aroused AF. Since she is a horny bitch, she cannot hold herself back and starts to finger herself.
To his surprise, Patricks finds Tasha Reign naked on the couch, ready for him to help her stretch that love button even wider with his big machete. That is correct, Tasha came for the pussy yoga, something that not many of you practice.
Tasha goes as sensual as possible with Johnny Castle

Just like we usually start the dirty session with something a bit more slow and easy, so will we do it this time. We need to prepare you and warm you up for the real action.
That said, shall we start with a very sensual and passionate fuck show? Of course, why not! Like real lovers, Johnny Castle and Reign enjoy themselves a nice foreplay before they put their sex parts to use.
By putting her skillful mouth to use on his dong, Tasha helps Johnny grow strong and ready for penetration. After she does a wonderful job, face fucking his cock, Tasha climbs on top of him and starts to ride his big shaft. From a vivid hump, Castle dives deep between her slim legs and starts to munch on her juicy twat. It makes Tasha even wetter and ready for the second dosage of penetration.
Lastly, Johnny bangs her doggy style and releases a portion of jizz straight on her back.
Lelani Gold gets her pussy pleased by Tasha

You can never go wrong with two busty babes, a blonde and a brunette, in a tempting lesbo scene. That is a fact and you know it. It's something really special about it that we both men and women enjoy watching two piping hot mistresses naked, fucking.
This time, it is Lelani who gets to benefit from Tasha's incredible va-jay-jay pleasing skills. No doubt will Tasha help Gold reach a satisfying orgasm with her tongue and with her fingers. Reign knows darn well how to make a woman moan. In this Tasha Reign lesbian XXX scene by Twistys, you will get to witness every single move she makes to get the clitoris swell and the girl whimper with joy.
A girl-girl play with two mega sexy ladies

It's obvious, Tasha loves brunette lasses. Being a very delicate girl, yet one who knows how to get dirty, Reign chooses only the best in the game. Each and every single Tasha Reign XXX movie should be on your repertoire. She knows what she is doing whether she is alone, with a girl or with a boy. Not to mention, Tasha is insanely good at interracial scenes, as well as double penetration ones. A girl of many talents.
This time, no schlongs for Tasha, only Maddy O'Reily. To bring you something more, Reign is not only the giver, she is a receive too. First, she takes care of Maddy's pussy with her oral and finger skills, as well as a sex toy, and then O'Reily returns the favor. I am quite sure this nasty flick will water your mouth. Who wouldn't want to be sandwiched between Tasha and Maddy, right? That would feel absolutely The Best.
That's how horny Tasha Reign blows a cock

One of the scenes in Digital Playground's Swans of LA series features Tasha and Seth Gamble. Tasha is on her way to become one of the top performers in the industry, but will she achieve the long time dream?
No matter what she would need to do to get to the top, she will enthusiastically do it. If that calls for the most epic dick sucking and fucking action then Tasha will do just that. With her incredible experience, Reign is not far from getting the role. However, she is not the only one who is after it. The challenge is tough and the winner will be only one.
Hit the play button above and below and see how good is Tasha at taking a large cock deep inside her mouth.

Blonde and busty Tasha welcomes her new neighbor with a bang

Nothing feels better than having a great neighbor. You can chat freely, hang out and spend happy (and sexy) moments together. In Tasha's case, when Danny Mountain moves in, she decides to bring him cake and champagne as a welcome treat. However, that's not really what Tasha is after, but definitely a great way to get invited into his house.
Watching him for a little while now, Reign really finds Danny hot. And vice versa. When it's time to take the first sip of the drink, she spills it all over her majestic boobs. Does she need a cloth? Not really. More like Danny's tongue to lick the liquid of off her tits.
Soon, these two fresh neighbors get to know each other in great detail. They go very intimate, get rid of the clothes and begin their very first sexual intercourse. Sucking, licking and fucking, they end the sex session with a nice load of cum all over Tasha Reign's pretty face.
I bet Tasha will be visiting Danny on a regular form now on.
The only thing she wishes for is young stud's hard cock

She was a good girl all year long, if only Santa will make her wish come true. The only single thing Tasha hopes to find under the Christmas tree is a young and athletic stud. To be exact, the only thing she needs is a hard dick. Will she get what she wishes for?
Apparently, Reign really was a nice girl and Santa heard her wish. When she wakes up in the middle of the night due to an unexpected noise, Tasha heads downstairs and finds exactly what she dreamt about. A nearly nude dude, Tyler Nixon.
Without questioning, Tasha grabs his shaft and the rest is history. She needed a rock solid dong inside her twat badly so she will not waste any more time. The action is on. Christmas present fucks Tasha's brains out and makes her the happiest girl alive.
Please, enjoy yourself a shower fuck more often

In case you haven't yet spent naughty moments under the shower, do it ASAP. All the rest of you, it sure does feel great banging a hot chick in the bathroom, right? Especially when warm water is purring all over your bodies and the only sound there is, aside from the water flow, is her, moaning.
From all the Tasha Reign videos that are out there, we sure needed to feature this one, too. Reign gets her pink muffin fingered before she kneels down and enjoys sucking a large woody. The sexual encounter continues with a vigorous cowgirl style on the floor. It is impossible for Tasha to stay silent. Instead, she begins to scream of pleasure and fills the bathroom with great vibes.
Such a colorful and energetic porn show, you will begin to crave even more from the one and only, the busty babe, Tasha. Hint: this is only the beginning of the #Reigndeer experience!