What does balloon porn mean to you?
If you're really old, you might hear "balloon porn" and think of the old burlesque routine from the days of vaudeville, where a pretty girl came out on stage wearing pretty much nothing but a bunch of balloons, as in the picture above. She did a song and a dance number, she'd suffer various comedic mishaps, and her balloons would start popping! By the time she escaped the stage, she'd be completely nude, or she'd be trying to cover her pussy and both tits and her butt with the one ballon she had left. It was always an audience pleaser.
But we are not that old.
You might think I'm talking about "balloon fetish." That means different things to different people. I've seen videos — more or less modern — of naked chicks popping balloons with their butts. I even remember once seeing photos of a messy girl who used two balloons and a tub of whipped dessert topping to give a guy the balloon equivalent of a tit job.
My friends, this is not the balloon porn I am here to talk about today. No, I am talking about the real shit. I am talking about genuine fucking-in-the-gondola hot-air-ballooning, the hanging-out-of-the-basket jizzing-down-on-the-peasants porn variety thereof. You would not think this was ever a thing. You would not think that a man could get it up or that his lady would "let it all hang out" in such a fashion. You would be, in a word, wrong.
I take you now to a cool day somewhere in central Europe. These photos appeared in a German porn magazine in 1984. Our intrepid male balloonist brought his lady a rose, which she is sticking to the gondola rail because she knows she's about to be using her hands for something more important than tepid romance: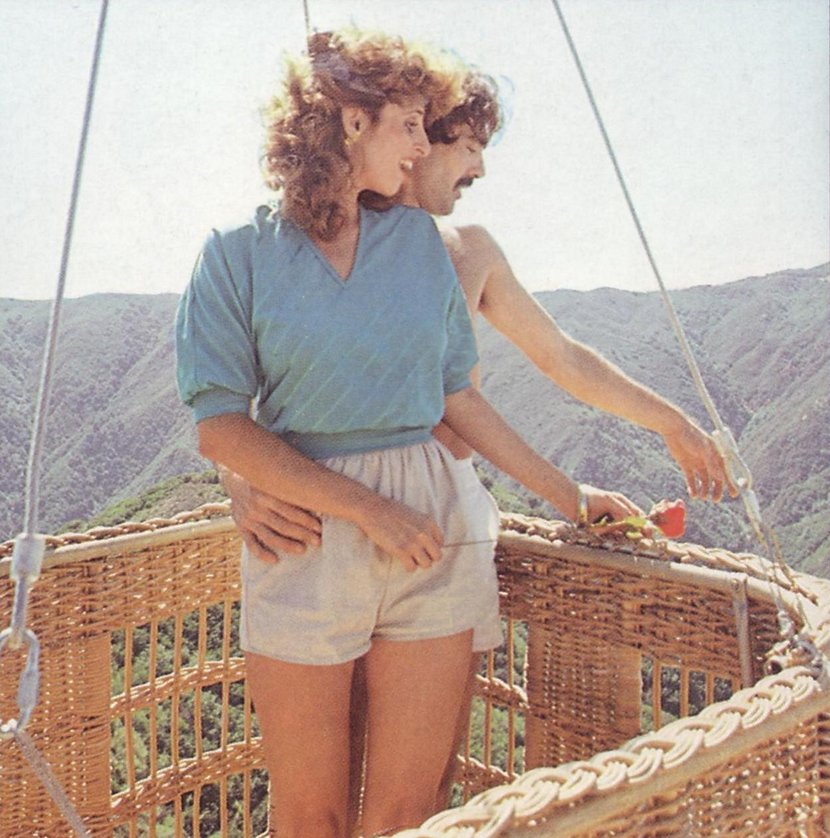 Nothing like a neck nibble and a titty squeeze to get your fellow aeronaut rapidly in a sexing kind of mood!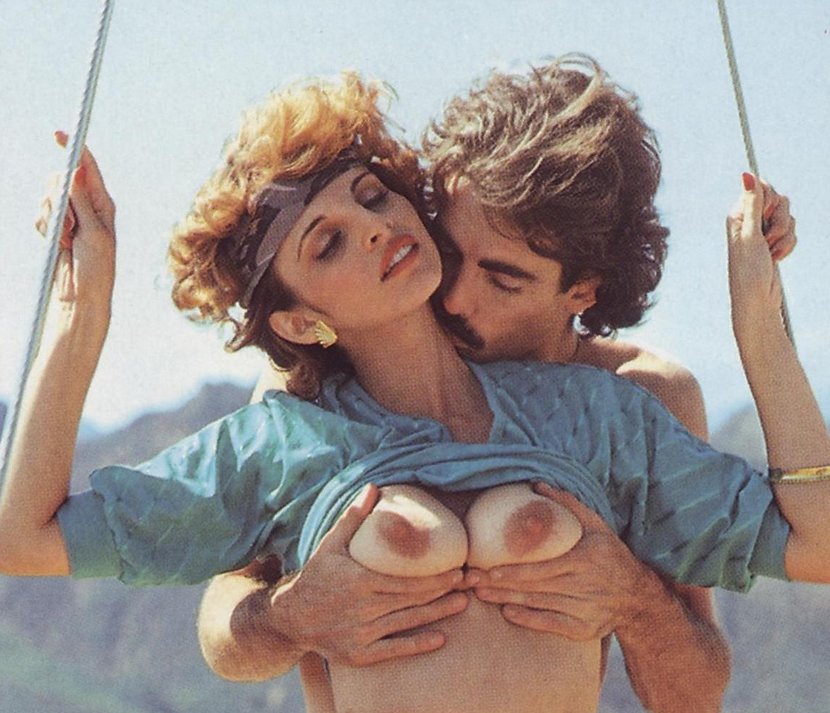 She, on the other hand, knows the that the best kind of foreplay for a man is to hunker down and suck on his dick.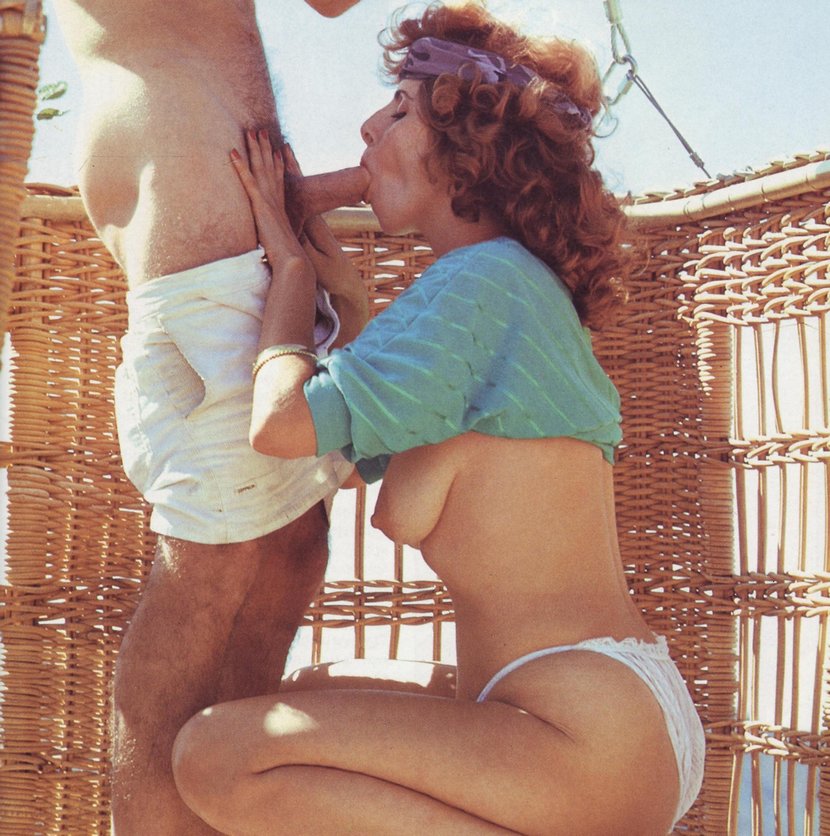 In no time at all she's thrown a leg up on the railing so he can get busy with her. Hey, quick question: are those sharp heels really all that practical to wear in a woven wicker balloon gondola?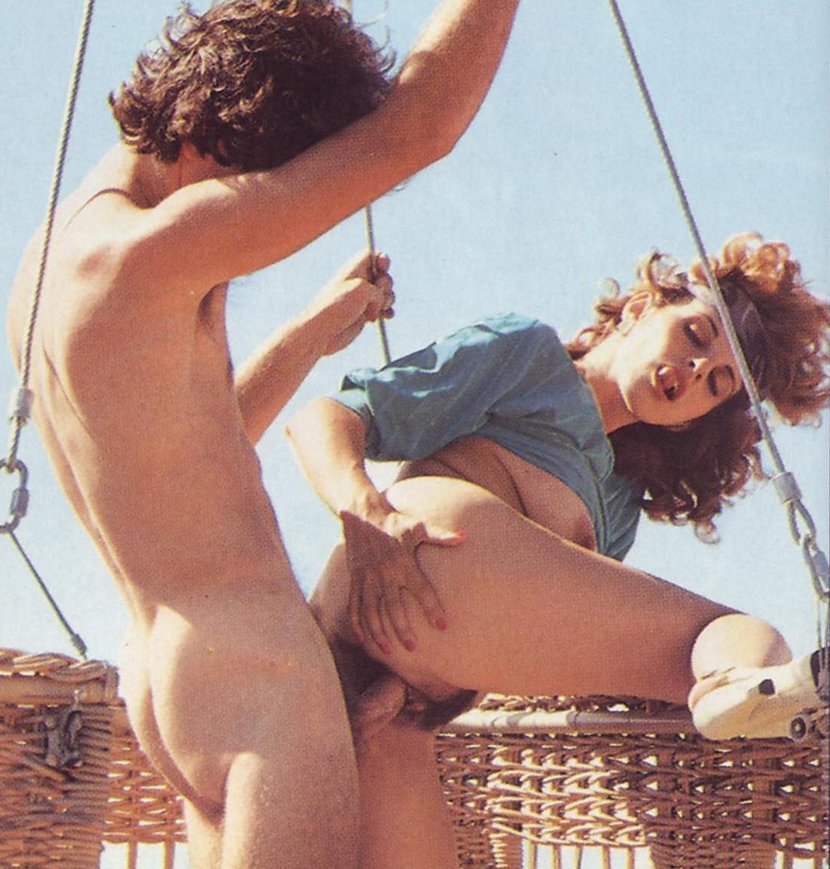 The safety rule in a boat is that you're always supposed to have one hand "for the boat" and one hand for yourself. It must be the same in a balloon, no? He's got both hands on the balloon lines so he's safe enough… but where is her other hand? Is she holding on to something so she doesn't fall out?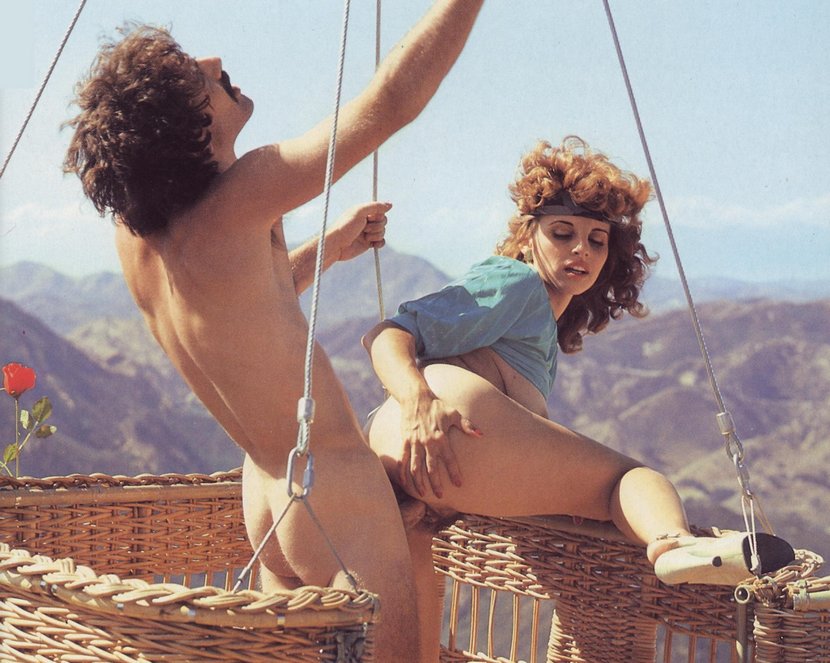 OK, now she's got both hands on the lines but her center of gravity is already overboard. Shouldn't she have a safety line at this point? And maybe… don't look down? She's a definite thrill-seeker, this one!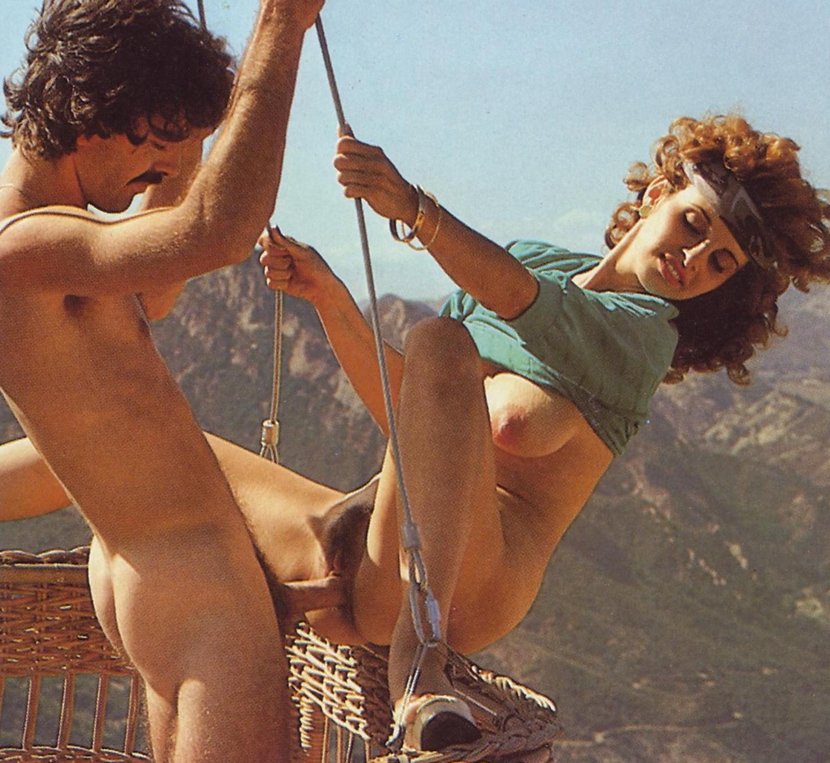 This looks like an awful lot of fun. Boys, try and get you a girl with this much sense of adventure. But I'm going to say "Yes" to the safety line. What if he pounds too hard and shoves her butt right off the edge of the wicker?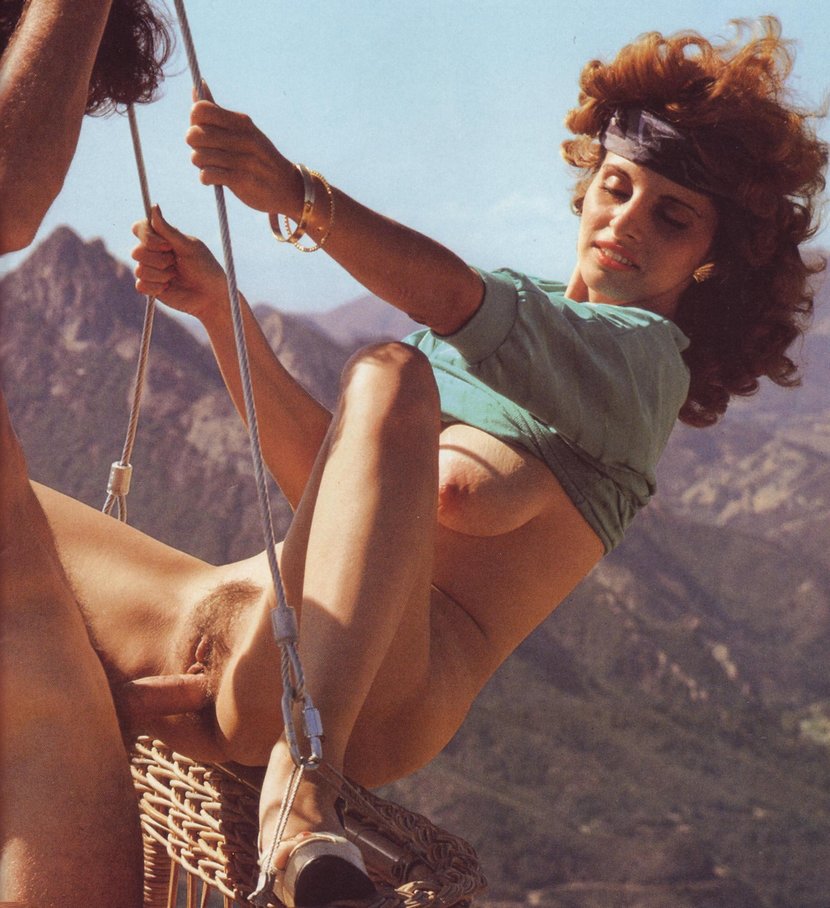 Now she's getting a dreamy look on her face. Is she about to orgasm? The French call that "la petite mort" for a reason. If her eyes roll back in her head and fingers go loose when she comes, it's going to be "le grand mort" this time…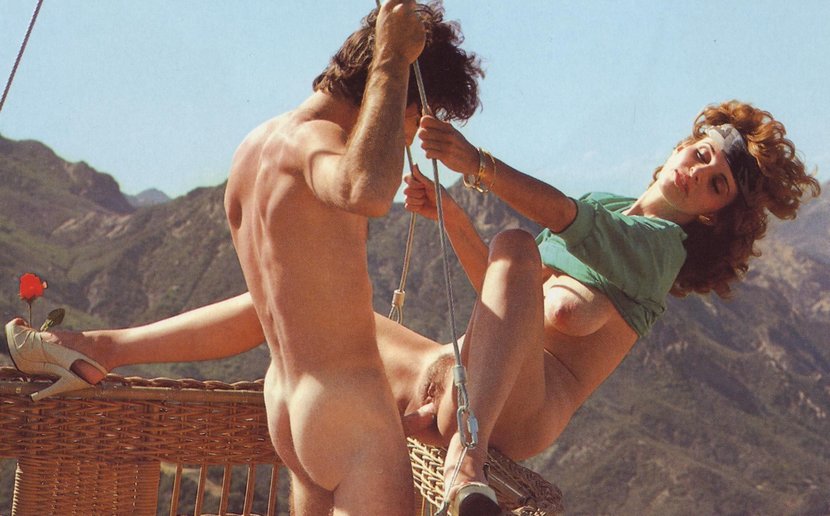 Phew! She seems to have survived that scene, and now she's squatting on the rail letting our aeronaut finish her off with his tongue in her pussy. They clearly had a wonderful time, but I'm not sure how much more of that excitement my poor heart could take!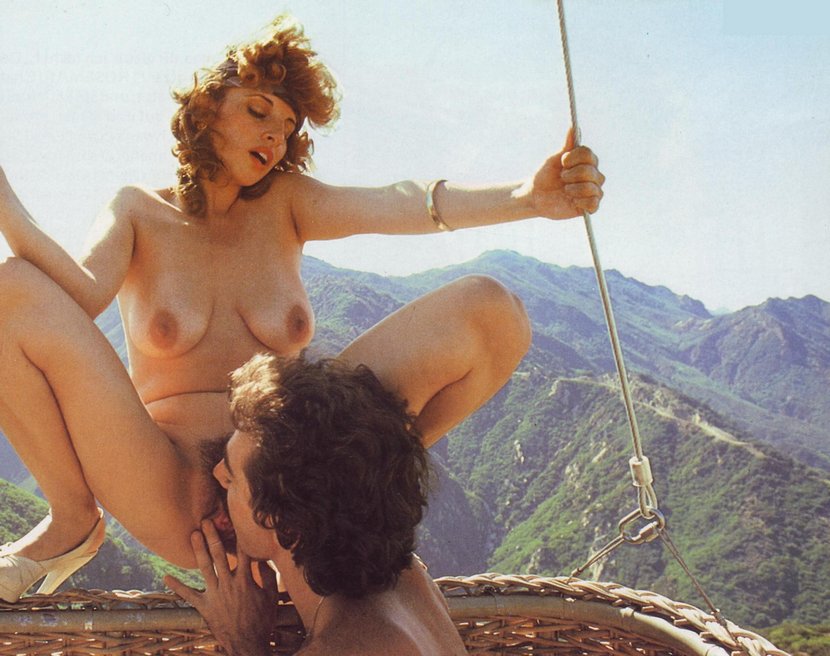 What a ride, boys, what a ride. And I am not talking about the balloon…