Whoever is new to exotic pornstar Honey Gold, I am happy to help you get familiar with her. But before I continue, I need to mention that I believe this is the first time ever we feature an adult actress as our hottie of the week. Can you imagine? We, being all about porn and we haven't yet featured an adult film star yet. If I wouldn't be such a fan of Honey and finally go against the grain to how I typically pick girls, today would be just another Monday with a smoking hot lady cheering you up. Not only do we have a sexy babe to kick of the new week off in style, she is a pornstar!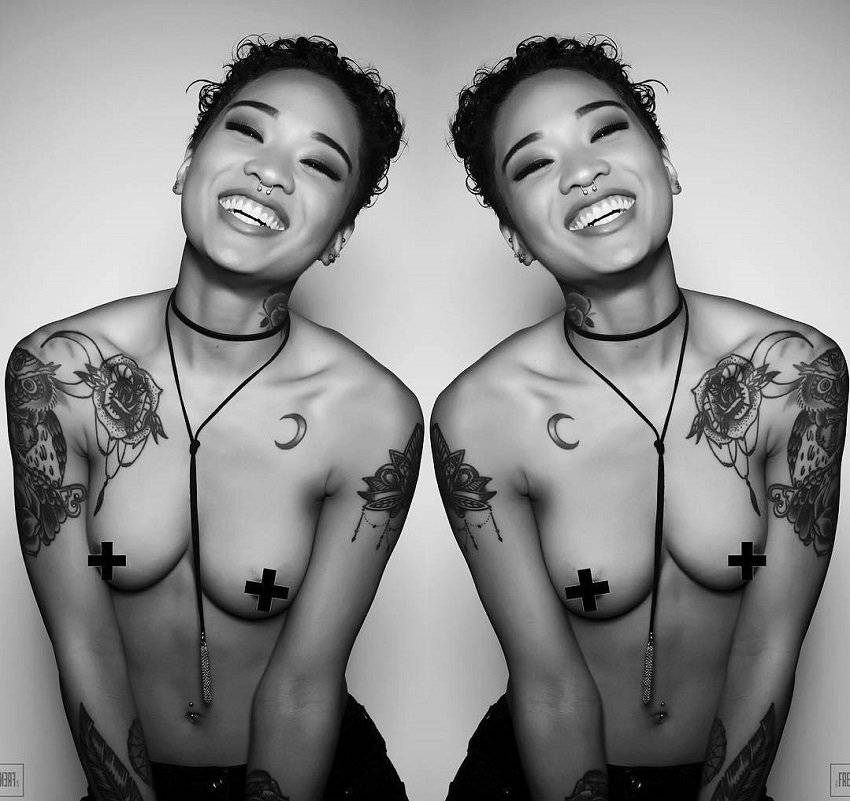 Throughout her life, Honey Gold went through a lot of rough times. She ran away, was homeless at one point and eventually figured things out and started living on her own terms. At the time of writing this, Gold is in the porn businesses for several months now and having the time of her life. Soon after joining the adult entertainment industry, Gold took the industry by storm. It is all due to her pure honesty and passion and enthusiasm she has for sex and performing in front of the lens.
I believe you wonder where the crazy tempting exotic looks come from? I know I did. In an interview, she did with Captain Jack, Honey told she is of Black, Cantonese, Cherokee, Indian, Irish and Mongolian descent. A mix of many ethnicities is what makes her of this distinct look that will make your spine tingle. With or without makeup, Honey Gold looks scorching hot.
Decorated with tattoos and piercings, pornstar Honey Gold looks a real rebel. Knowing Skin Diamond was Gold's mentor, things start to come together more clearly. Not to mention, they both have something to do with Ireland. Interesting.
But for now, let's close this chapter and enjoy all bunch of sexy pictures from Honey Gold's Instagram profile. By the way, if you aren't yet, follow her for a regular dosage of heat.