Everyone likes a bit of color in his life and when it comes to pornography, we get our juices flowing with interracial porn videos. There's all bunch of variations you can think of, but the most popular is definitely a big black cock fucking a super hot and sexy white girl. Can you prove me wrong? You cannot.
Why do we all get so excited watching this kind of videos? Is it possible due to enjoying watching a tight pink muffin of a gorgeous white lady getting stretched wide by a monstrous dick? Might be. However, each has his own explanation to this, so if you don't mind, please, feel free to share it in the comments section below. I am eager to hear why you enjoy watching interracial porn videos and scenes.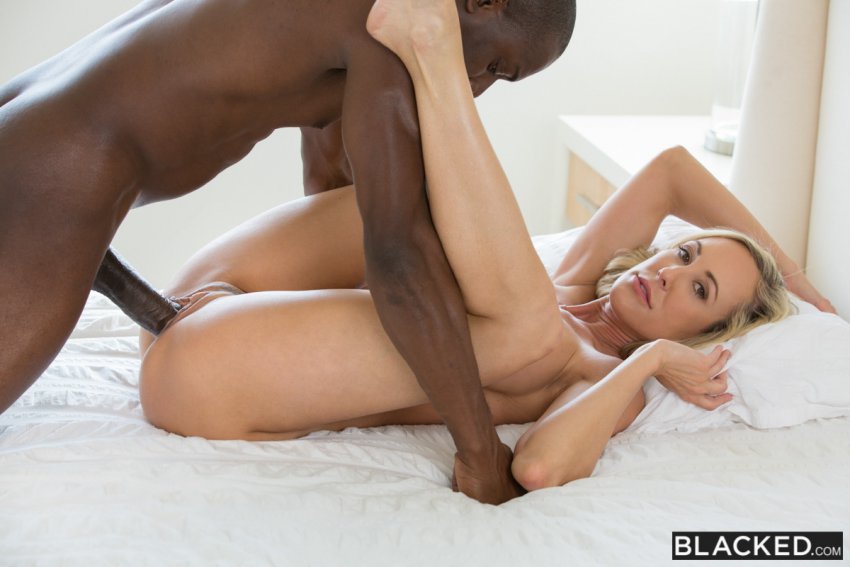 Anyway, do not forget, white male and Asian babe, Latin guy and ebony woman, Asian dude and white miss, these are all considered interracial as well. For as long as two are multiracial, voila, you have a porno that fits perfectly in the category. If you ask me, I would probably pick a white stud and an Asian princess as my most favorite combination. Why? Possibly because I really do like Asian girls and yes, I am a white guy. At least that's what makes perfect sense to me.
I do wonder, every once in a while, what do the female population prefer the most. Do black ladies prefer watching a dark-skinned actress getting penetrated by a white male? Or an Asian lass an Asian star fucked by a black dude? I'll leave it a mystery since we aren't here today to chat about that topic. What we are here for are all the hot interracial porn scenes that will help you get aroused and ready for a wank session. Or, for all the ladies out there, a rub session.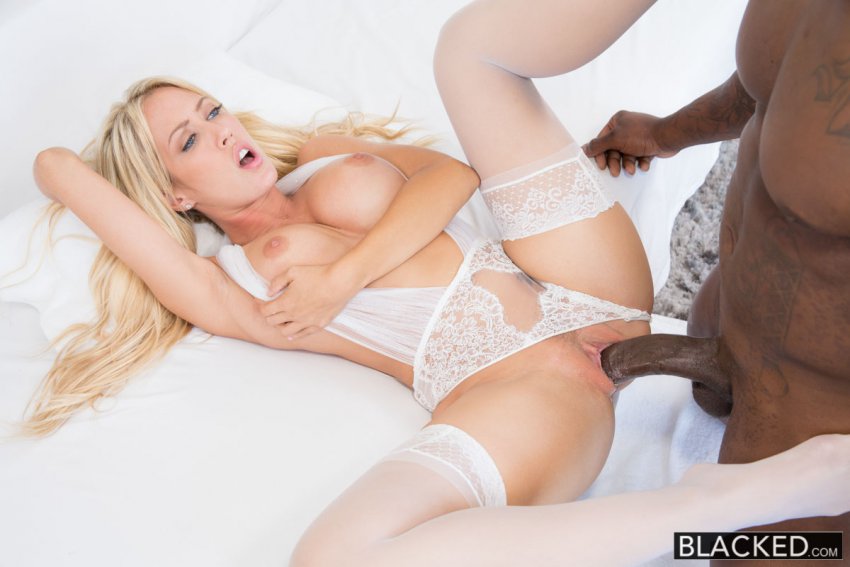 The hottest interracial porn videos to please your mixed needs
A stranger's BBC before getting married

It is the last vacation of pure freedom for Vika. Yes, she is about to get married, but she heads to the Caribbean with her best friend, Stacy. While Vika never really planned to have some fun with other guys on the trip, she still will not say no to an opportunity of trying a BBC. As you will soon find out, this is already the second fuck that she experiences with the muscular tour guide. It still feels pretty surreal that she is experiencing interracial sex while her boy is waiting for her at home. Oh well, she will surely not cheat on him after they get married, and the timing is just perfect.
Addie always dreamt of a big black cock

While on vacation with her boyfriend, things just do not go as planned. As a matter of fact, everything feels sort of boring for Addie. Until the day they go diving with this super sexy black instructor. If her boyfriend will not satisfy her sexual desires, Addie decided to take things into her own hands. Instead of begging him to fuck her, Addie arranges a meeting with the instructor. You sure do not need to ask him twice to please this smoking hot blonde babe. She takes his gigantic BBC like a pro orally before he smashes and stretches that pussy, letting Addie experience several orgasms in a row.
Skylar's BBC fantasy comes true

As of late, Skylar has been fantasizing about being with a black guy all the time. She just cannot handle herself anymore. Thankful, the day finally comes when Skylar gets to experience a magnificent black dick that is larger than her forearm. Will it even fit that tight pussy? First, they test out Skylar's oral skills with a vivid face fuck. Needless to say, it barely fits her mouth, still, Skylar handles it like a champ. And then, they move forward to fucking. Slowly at the beginning, as that vagina needs to get used to the girth of that jaw-dropping chocolate shaft. The fucking goes so well, Skylar orgasms several times and lets him unload his jizz right onto her tongue.
Never enough white cock for chocolate Zara

One thing is for sure, when you give Zara an opportunity to fuck white dudes, she will go all in every single time. If you need a vivid interracial porn fuck session, you better not miss Zara in action. She gives it all her best to please as many dicks as possible in unison. When one penetrates her tight pink pussy, the other fucks her face hard. She does it for as long until the dudes reach the point of no return and they splash her face and mouth with a load of jizz. Rewatch it a couple of times so you do not miss any of the details.
Ebony hottie stretches before getting smashed by a big white dick

After her regular outdoor work out routine, toned ebony beauty gets her body all oiled up and ready for the real fun. Now, when already stretched and horny as fuck, she continues stretching her mount while blowing his enormous shaft. Right afterward, the time comes for the lovely dark-skinned babe with a nice and round bubble butt to get things serious with her pussy. This is the last part she still needs to get some stretching done. He enters with his prick and starts pounding her hard until they both get sweaty. To finish their interracial sexual encounter in style, he splashes a portion of load all over her face.
Blonde beauty queen enjoys a black guy

After she won the beauty competition, blonde gorgeous decides to celebrate it with her new stylist form France, a handsome black dude. Both are a few glasses of champagne deep when their body juices start flowing and both ger horny. Of course, they do not waste time and start enjoying each other in an inviting and sensational interracial sex session right there, in the dressing room. Why even leaving if there is such a comfortable couch ready for them to fuck. By the way, the blowjob she performs on his dark rod will definitely water your mouth. But it's the different sex positions they practice later on what will knock your socks off.
Housewife Lexi Lowe enjoys a morning BBC

An incredible woman as she is, Lexi prepares a delicious breakfast for her black honey. Unfortunately, he is in a rush, busy again, like always. Not spending much time together starts to worry Lexi. Most importantly, she misses him a lot. That being said, he finally reconsiders the offer and joins her by the kitchen counter where Lexi Lowe has a special treat for him. No food this morning, instead, Lexi offers him her body to munch on. Will he refuse the offer? Of course not, you silly! He buries his face between her huge boobs, starts kissing her, slapping and the rest is pretty much history. The action only steps up a few notches when Lexi kneels down and takes his big black cock deep inside her mouth. From face fucking her all the way to pussy stuffing, this free interracial porn video will get you excited in no time.
MILF Brandi Love receives big black cock

Brandi is very well aware of her beauty and having a ton of experience with men, she does not have any problem seducing just about everyone. Even her sister's boyfriend, Joss Lescaf. As a matter of fact, especially her sister's boy. MILF Love finds him super attractive and knows she is attracted to him.
One day, when they are left alone in the house, Brandi Love slips into the hottest swimsuit she owns, revealing both of her tan-lined butt cheeks. When Joss comes out of the water, MILF Brandi uses her special trick to drive him crazy. She decides to start tanning nude. Does Joss have any issues with it? Of course not. A moment later, he finds himself massaging that insane body, nearly every young lady is jealous of. But of course the two of them are after something else. FUCK. Moving inside, Brandi takes his monster shaft with her mouth, helping him grow to its full length. From then on, the action is on, getting that mature pussy stretched wide and face and mouth filled with cock cream.
Black boy gets to enjoy his girlfriend and her mother

What would you do if a girl invites you over to here place and there she is, a super seductive mother of hers? It would definitely be hard to control yourself. Mad girlfriend would drive you away from her and to the bedroom for some fun times. However, that mom, she is horny as fuck and cannot hold herself back. That said, she joins the two of you for a wild interracial threesome. A different mixy-mixy this time. A young and a mature Latina woman taking a chocolate schlong deep inside their vaginas.
First interracial sex for young Kristen Scott

Everything first is the best, right? Well, at least we aim to enjoy it as much as possible and have a great memory about it.
Petite sweetheart, Kristen Scott, sure will remember her first interracial adventure with her stepfather, Joss.
She just cannot control herself. Kristen has these naughty thoughts about him all the time. Scott would do anything to get one of her long time fantasies to reality. And that's to be with a strong black male. Luckily, her dirty desire comes fulfilled with non other than her stepdad.
While her mother is out, these two go all crazy for each other and do the forbidden. As slim and petite as she is, at first it seems Kristen would not be able to take the humongous cock. However, she proves us all wrong. Stunning Kristen takes it with ease.
Persia Monir takes a young black stud

What is there for an experienced older woman that she cannot do? Whether it's a gentleman of her age or a youngster, babes like Persia Monir can seduce everyone. Most importantly, when she sits on a gigantic machete and starts to slide up and down its length, energetically, you will think she is in her 20's. The younger generation should definitely look up to Persia. She has skills and years of experience banging guys of all shapes, sizes, and age. Join this interracial porn video and get the fapping and rubbing going.
Husband fucks Indian girl in front of her white wife

While there's normally a white wife that gets pounded by a complete stranger in front of her hubby, this time, it's a complete opposite. And it's an interracial action as well. To get more specific, the girl, husband is interested in having a sexual intercourse with, is a tiny Indian mistress. Would it excite you, if your wife or girlfriend would be of such open mind? To let you fuck other girls in front of her? Or maybe she would beg you to have sex with other women since it makes her horny and wet. That sounds more like a no-no, but not always. At least not in Aubrey Addams' case. She adores watching her man penetrating young Neela Sky.
Skin Diamond stretched wide by Manuel Ferrara

Can I be completely honest with you for a sec? If you could pick an adult actress to spend a day with, I would most definitely pick Skin. I dunno why, but boy do I find her attractive. And I am probably not the only one who is of the same thinking.
Anyhow, whoever is interested in watching Skin Diamond's pink pussy banged hard by Frenchman, Manuel Ferrara, press the play button above and enjoy the flow. And if you know anything about Manuel, he sure does like to penetrate ladies anally. Now go and figure out what this means.
Riley Reid and Dakota Sky destroyed in an interracial threesome

Guys over at Blacked strike you hard this time. They managed to get together three beautiful people, Riley Reid, Dakota Sky, and, you guessed it, Rob Piper.
Giggly schoolgirls chat about this rich black guy Riley is dating and, due to being extremely attractive to black dudes, Dakota immediately gets interested. After all, a little extra money would definitely not hurt. Not to mention, a threesome experience with her friend Riley and this dark man would be a dream come true. With this in mind, Reid sets up a date at his place and a hot, interracial threeway action is on. The two of them both, one at a time, get a great dose of pussy pounding and taste his delicious jizz.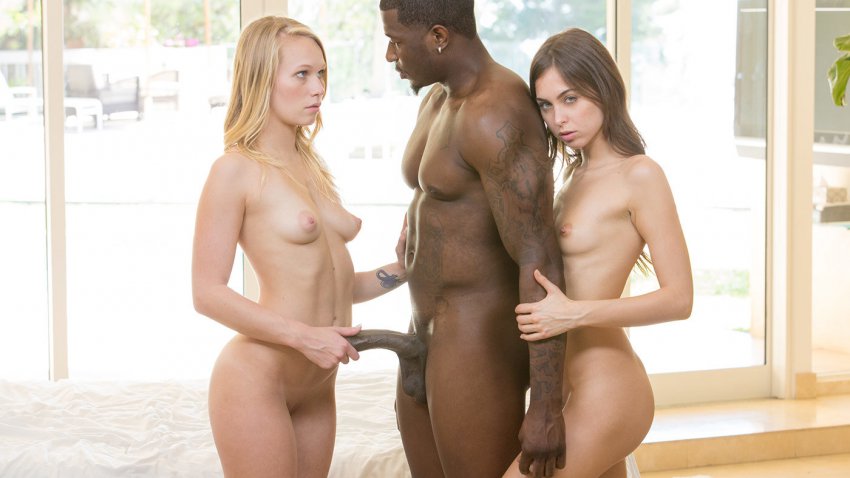 Saya Song offers the most amazing blowjob to a lucky white boy

Guys, there's like a gazillion BJ adult films out there, but this one, featuring Saya Song, is definitely one that should be on your list. Maybe even one of your top three blowjob videos of all time. Is there anyone out there who finds this interracial face fucking the best of the best? Let me know in the comments section below.
I am getting excited only writing about what an amazing style Saya has when pleasing a rock solid cock. Watching her small mouth and warm tongue putting a thick coating of saliva on a cock waters your mouth. And then she surprises you with taking the whole length of a seriously decent schlong deep down her throat. As an icing on a well decorated cake, she receives cum all over her face and glasses and gives it a taste, too.
Ana Foxxx learns anal by hot teacher

After doing modeling for quite some time and being very successful at it, Ana becomes more and more intrigued by becoming an actress. She calls one of the best acting teachers in LA to help her bring her fantasy to reality. While taking classes over at his place, Ana realizes how attractive she is getting to him. She thinks about him more and more. When it comes to their final lesson, it gets very hot between the two of them. During the final exercise, to see how much knowledge she gained, things unveil at an almost predictable pace. They began kissing sooner rather than later and before they notice, they are in the master bedroom, enjoying each other to the fullest. But the lesson Ana Foxxx is to learn this time is different. She gets that tight ass stretched wide and fucked hard until creampied.
Italian porn casting ends with interracial anal

I have no idea what the dude is saying. The only thing I understand is the intro part and that is pretty much it. At least as far as the Italian language goes. But when the hot ebony chick starts blowing his monster white cock, I understand it all. Everyone understands sex and that is a fact. No matter where in the world you are located, when it comes to blowjobs and anal sex, you understand every level of it. As a matter of fact, you are a true professional at it. But how good is the ebony chick at it? Her tight ass wraps around the large shaft ideally and ensures both to experience a ton of pleasurable sensations.
Slim brunette blows black stud's big cock

When making out with her boy, things soon escalate to something more than just kissing. They both get aroused through the roof and to offer him exceptional amounts of pleasure, she goes on her knees and begins blowing him. If there is one thing you will take out of this video, it is the fact how insanely good she is at giving head. Superb! At one point, she gets so horny, she needs to be eaten out, too. That said, they go in a 69 and take care of each other in unison. Gobbling down his BBC, he cannot hold it in anymore and fires a large portion of cock cream all over her lovely face for a facial. What a facefuck!
Crazy white bitch takes two black cocks DP

Two black burglars break into her house to rob her but little do they now, she is a horny white slut. She was fantasizing about being with two black guys in a threesome for a long time. And now, they came to her place out of the blue. Of course she takes the opportunity, quickly seduces one and the rest is history. With his cock deep inside her mouth, she offers him a sloppy BJ before his pal returns and they both take full advantage of her. Or should I say, young brunette teen takes full advantage of their big black cocks. When she rides him cowgirl style, the other approaches her from behind, eases his machete inside her asshole and on with the double penetration they go. Unexpectedly! After her fantasy finally comes true, they spray her face with humongous portions of load.