Whoever is down for a bit of roughness, wild action and a whole lot of fun, Layla Price is a pornstar on a rise who will fit your needs. With an eye-popping ass, that will never go away, a pair of all-natural breasts and a super open-minded attitude, Layla will bring a new level of satisfaction to your life. In case of doubtfulness, I am happy to tell you that you will be proven wrong. DEAD WRONG.
Price's porn videos are all very colorful. You might think you know her already, however, there is a very good chance her next scene will shock you with something extreme. And the next and the next and so on.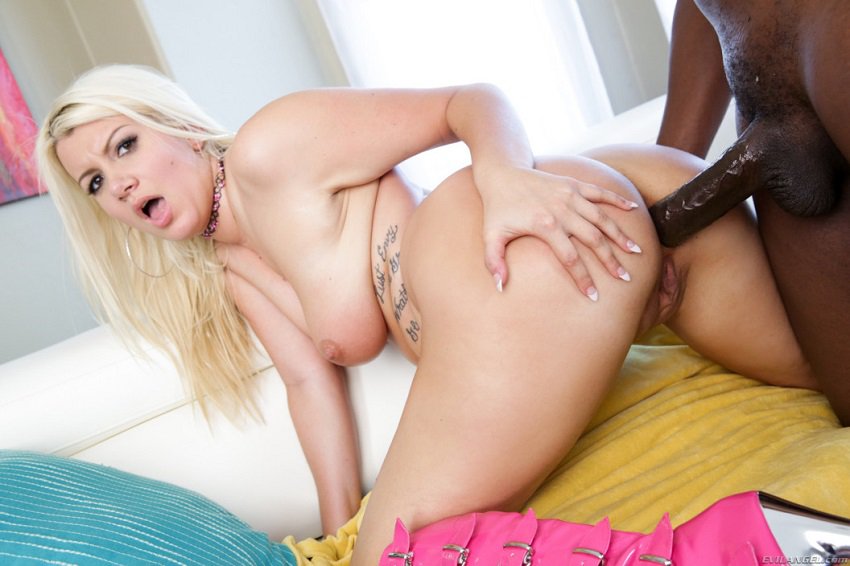 An adult actress that went by the name Laela Pryce in the past, but changed her name to Layla Price in 2014, is a very daring girl. When she was once asked if she's interested in taking a baseball bat up her ass mid-filming a scene, guess what was her answer. "Fuck it, let's do it!" Layla can gape her as wide as your fist. On the flip side, she once stuck both of her fists inside dude's butt. Yep, you read that correctly. DUDE'S ASSHOLE. To be honest, I wouldn't even be interested in seeing that happen. Even Price was in shock when the guy asked her to stuck her fists up his ass after she fucked him with a Shane Diesel sized strap-on. Say what?!
Born on August 30, 1991, in Baltimore, Maryland, growing up, Layla was more of a tomboy. Due to her aggressive character, other girls were distancing themselves from her so she hung out mainly with boys.
In high school, Layla had several short-term relationships and lost virginity at the age of 16, to a dude who she barely new. She grew up into a bisexual woman who spent some naughty moments with other babes before she entered the adult entertainment industry.
For your information: Layla once blew a dude in front of twenty other people at a concert. "I was really fucked up and was really fucking horny." You see, she is no joke.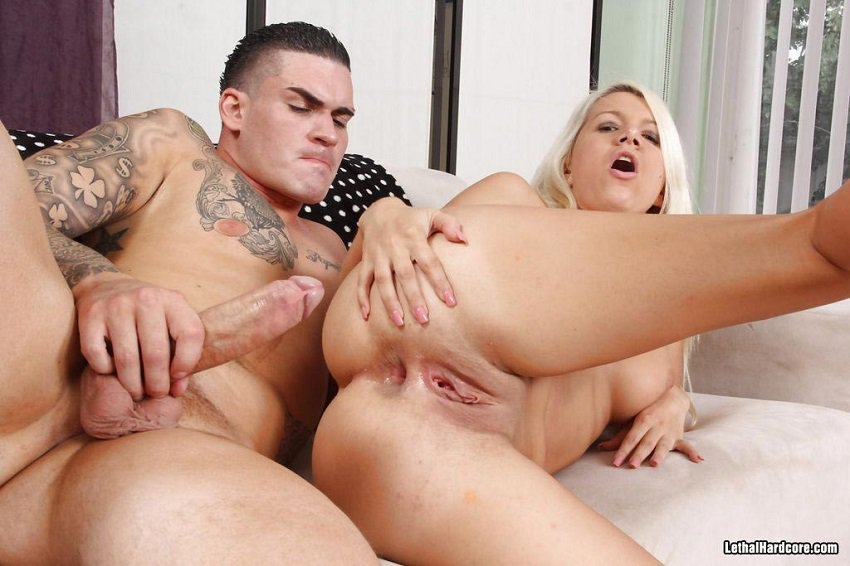 Speaking of adult entertainment, Layla Price always wanted to be a pornstar, even back, when she was a lot younger. Prior to taking the plunge, Layla first worked as a Hooters waitress and later spent two years stripping. No doubt, she sure gained some skills from all the strip shows she performed.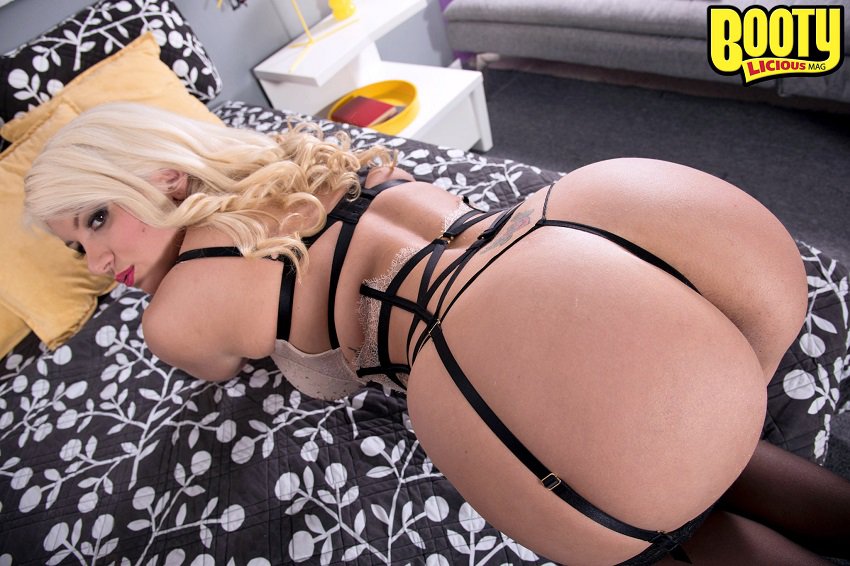 Anyhow, it was a friend of hers who referred Price to an agency at Exxxotica and the rest was history. At first, she wasn't really fond of having a full-time job. The only thing, back then, she wanted to do was to party all the time. At the end, she sent her photos to an agency her friend referred her to and it went from there. LA happened and Layla's fantasy of becoming an adult actress came to reality.
You can enjoy her on a daily basis by following her on Instagram and Twitter. However, we are here for the XXX videos and that's all.
Satisfy your nasty fantasies with Layla Price porn videos
Blonde slut enjoys a black glory hole at a public toilet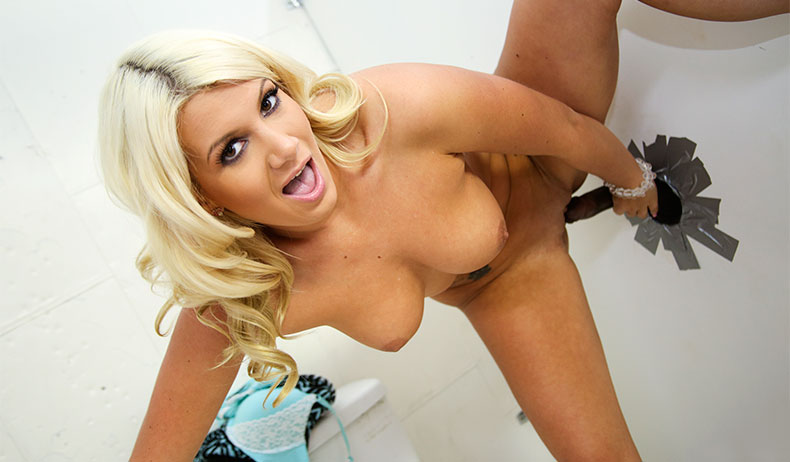 When it comes to Layla, there is not stopping. This girl goes all in no matter what and no matter where she is. When a dose of horniness strikes her, she will take care of whichever cock, no matter the size. And if that means a big black cock from a complete stranger at a public toilet, Layla is more than happy to go down on it.
She is not there to take a piss, she is there for something completely different. She spotted a hole, a glory hole to be exact. Price knows what that calls for. A dick! When the stud sticks his chocolate machete through the hole, Layla does not waste any of her time and goes straight to sucking the member and making it cum.
That one slut who you can do anything to

If you do not know one then I am sure you fantasize about her all the time. I am talking about that one super dirty slut who is extremely open-minded. Meaning, she is down for everything and allows you to fuck the living daylights out of her. One of those whores who perfectly matches this description is blonde bitch, Layla Price. She is hungry for a big and fat cock 24/7. Layla absolutely enjoys stuffing her mouth with it and hitting the back of her throat, trying to deepthroat it. That will not happen if your name is Manuel Ferrara. Whoever knows this Frenchman, he or she is very familiar with the size of his machete. It is enormous!
Lucky Manuel, he gets a chance to spend the nastiest moments with Price. She sucks his cock under the table before he takes over and anal fucks her like there would be no tomorrow. The rougher Ferrara penetrates Layla's asshole, the more she enjoys it. Her pussy bulges when he rams her butt and presses the cock upwards. Continuously, Layla fingers her twat and witnesses the most epic sensations.
Interracial double penetration for Layla Price

One might be fine, but Layla needs two stiff monster schlongs to get fulfilled. One to penetrate her pussy and the other to drill her asshole. An interracial double penetration is something Layla is always down for. The feel of being stuffed and tightly wrapping around two BBC's is always a joyful experience for this horny hooker.
First, Price makes their bones hard with her oral skills before they take her hard at the same time. To top it all up, they fill a black vessel with cum and let Layla enjoy it as a special treat.
2 swinger blondes enjoy 2 big black cocks

Sarah Vandella and Layla Price are no strangers to swinger parties. As a matter of fact, they enjoy them so much, they are regularly practicing swinging. While they normally hit up exclusive locations, today, they do it from the comfort of the fancy apartment. The idea of being with two black guys makes them so horny they cannot wait to set up a deal and make it happen. Their hungry pussies need to be stretched by a BBC and that is a fact.
The day comes and the excitement goes through the roof. Both Sarah and Layla are eager to go naked and please their penises. First, they do them orally to make them throb and ready for the penetration. Are you even ready to see the madness take place? Look no further and enjoy these two blonde bitches get smashed hard by BBCs. Satisfied?
Naughty threesome adventure on a German bus

As you know by now, Layla is always down to try out new things. This time around, she takes a very dirty right around town on a German Bums Bus. You guessed it, she gets fucked and receives two fresh loads of jizz on her body by Jason Steel and Pint Eastwood.
Some extra money never hurt anybody. That said, when the two offer her a few bills in return to let them fuck her pussy and asshole, Layla accepts the offer. As it turns out, she has a magnificent tour around town. I mean, a tour of their cocks. She does them orally, with her twat and with her butt.
He fucks her pussy so hard she screams out loud

While stuffing her pink muffin from behind on a couch, dude rips Layla's yoga pants and smashes her even harder. Just the way she likes it. If you know anything about Layla Price, you know that she likes to get penetrated roughly. Penetration at a fast pace is what she prefers the most. Will this dude manage to satisfy her dark and dirty needs? You bet!
He slams her so vigorously, Layla is hard to breath. When she finally catches her breath, she takes his mighty boner with her mouth and brings him to the point of no return. A big and hot facial follows.
Blonde's round ass receives a dose of hot pounding

Wearing pink fishnet bottom, Layla's ass looks better than ever. When she slides up and down a dancing pole, no human being alive can resist her. You immediately start to imagine her sliding on your stiff cock with her big and round butt. It makes you feel warm at heart.
This dude takes good care of Layla and does her vagina with passion and enthusiasm. Slamming her on the couch and letting her ride the rocket, Layla gets filled with thrill and excitement and cums several times in a row. But he ends the fuck session by cumming on her incredible ass.
Fine ass fuck and facial for blonde star

When she crawls on the table wearing black glasses and a white button-down shirt, Layla looks extraordinary. She slowly approaches a stiff rod and starts to work it deep inside her mouth. He then holds her head by her cheeks and face fucks her before they continue their sexual intercourse with an anal sex on the table and on the couch. A good butt play feels incredible for Layla. And that is exactly what she receives. This athletic guy does his best to take care of her ass and her anal walls like they should be taken care of. With style! To end the butt fucking session, he takes the dong out, strokes it a few more times and releases the semen on Layla's beautiful face.
Cock hungry big ass ladies Layla and Brittany Shae

When a hot brunette and a hot blonde chick join forces, there is no turning back. Layla and her brunette friend, Brittany Shae, are hungry for a big and firm machete. They completely strip down and reveal their glorious bodies what makes everyone's mouth start to salivate. But when they begin to play with each other and slap one another's asses, boy, it gets hot as fuck.
They are ready now to bring things to an entirely different level. They both go on their four and wait for the dude to slam their pussies doggy style with his enormous schlong. At the end, Layla and Brittany get to taste his warm spunk when he releases it onto their faces.
Blonde teen shocked by the size of his big black cock

Black snapback hat wearing blond hottie, Layla Price, is about to unleash the biggest black monster in her life. When it pops out, she is in shock. The size of his BBC frightens her, yet at the same time makes her excited to ride it with her juicy and already moist twat. She fools around with his cock first until she completely relaxes and first gives it a go with her mouth.
It is obviously way too big for her gob, still, Layla does a good job blowing him. Even if, more or less, she blows only the head of his member, Price's warm mouth are enough to grow him stiff and strong. But what about her pussy, will it even fit or is she too tight?
When sucking him, it makes Layla so freaking wet, she does not have much problems riding the machete. She super tightly wraps around it with her pussyhole and enjoys the ride. It makes her moan and it makes Layla experience a ton of pleasurable sensations.