Eureka! I have found it. In my vintage porn archives, I found the worst porn magazine ever printed.
There are many candidates. You might fairly disagree with my choice. But first you must gaze with me upon this crime against pornography. Come, wallow with me in its terribleness. Cringe with me as we behold its atrocities. And perhaps when we're done, you will agree with me that Love Time (printed in Malmo Sweden in 1971) is the worst porn mag ever.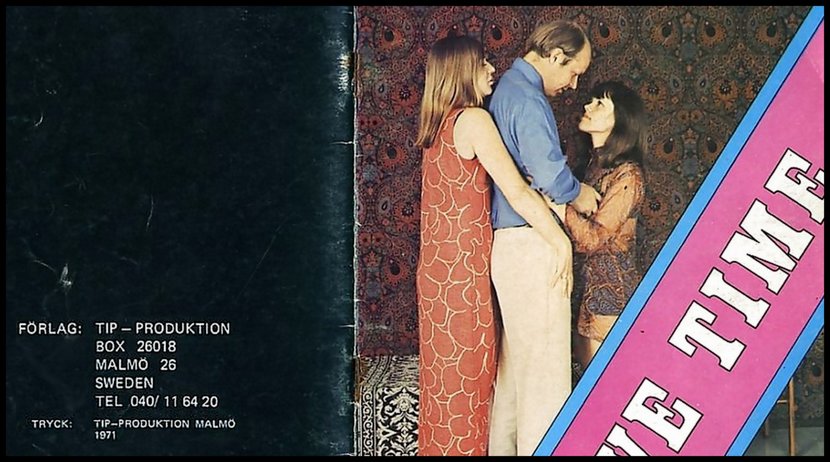 Before we dive into this paisley Eurofest of middle-aged suburban swinging, what makes a terrible porn magazine actually terrible? I'm going to start by excluding from the category of "terrible" all the porn featuring bodies I find unattractive or kinks and activities that just aren't for me. There's no point in body-shaming or kink-shaming. Every category of body type that I don't like has its fans, and for every kind of sex that's not for me, there's people out there lining up to pay good money to see those dirty pictures. It's not terrible porn just because it doesn't match my preferences.
Nope, my argument is that what makes porn bad is laziness. There used to be a lot of fast-buck artists in the business, guys (and they were always guys) who felt that any sex picture would sell, so why worry about quality? These guys felt that any old models and any old sets would do, there was no need to make the sex look convincing or "hot" or sexy.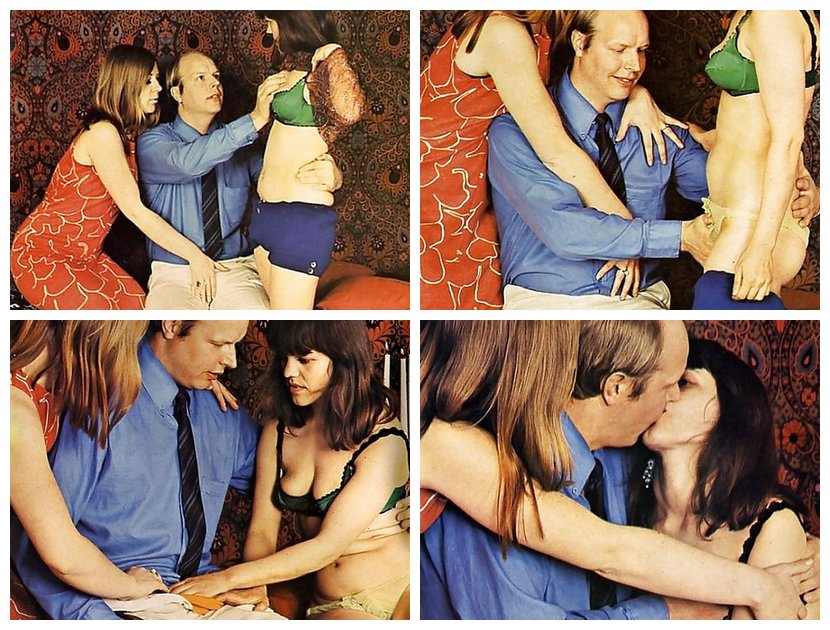 Love Time takes this attitude to the extreme. Most of the color glossy Scandinavian porn magazines of the 1960s and 1970s sold well in the USA because they were much more explicit than anything that could be printed here; but due to competition within northern (non-Catholic) Europe from numerous producers, the quality was usually very high. I don't know what went wrong at TIP-Produktion in Malmo, but they wound up with a balding middle-aged dude whose dick barely gets hard and two nice-looking ladies whose every facial expression cries out their reluctance to be touched by him or by each other.
The result is a sad comedy of awkward stares, models holding themselves just out of reach of each other, barely-there fingertip touches, and the most profoundly unerotic set of sex photographs it has ever been my duty to view.
For instance, have you even seen the classic double-blowjob performed by two ladies who are managing so little actual penis contact? Or seen it performed, for that matter, on a cock so flaccid?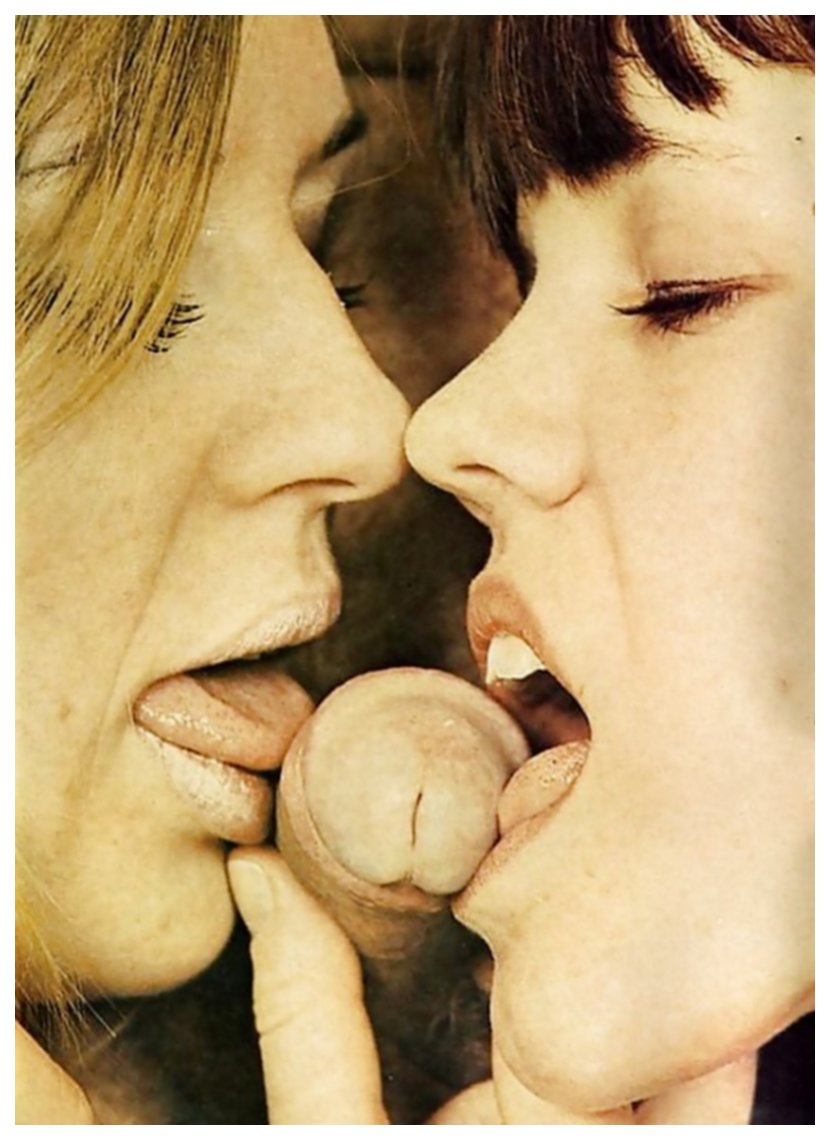 And then there's the little problem that the female performers do not look at the camera (which would simulate eye contact with the viewer) or at the male performer. Instead, they stare off into distant space, which suggests boredom or alarm. When I shared some of these photos on Twitter, one user joked that the dark-haired woman is worried "Umm, is that an incoming asteroid, about to obliterate all life on Earth?"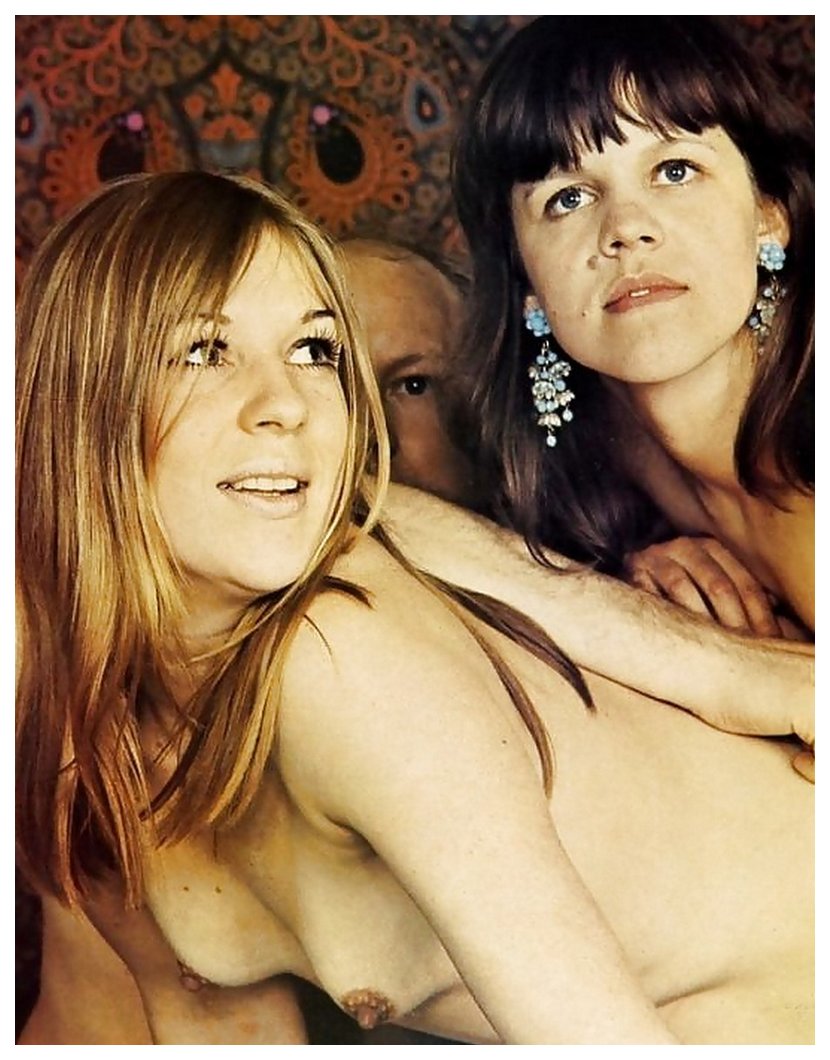 And in another scene, in which the same actress is trying to perform a reverse cowgirl under the hopeless conditions of (a) a not-very-rigid cock to sit on that (b) needs to be visible on camera while (c) she really doesn't want to touch anybody very much and (d) her sister-in-misery is trying to be in the scene while not getting any man or woman genital cooties on her, Dark Hair once again appeals to the heavens, prompting my Twitter wag to pipe up: ""Look, I really do think that's the meteor of death, there."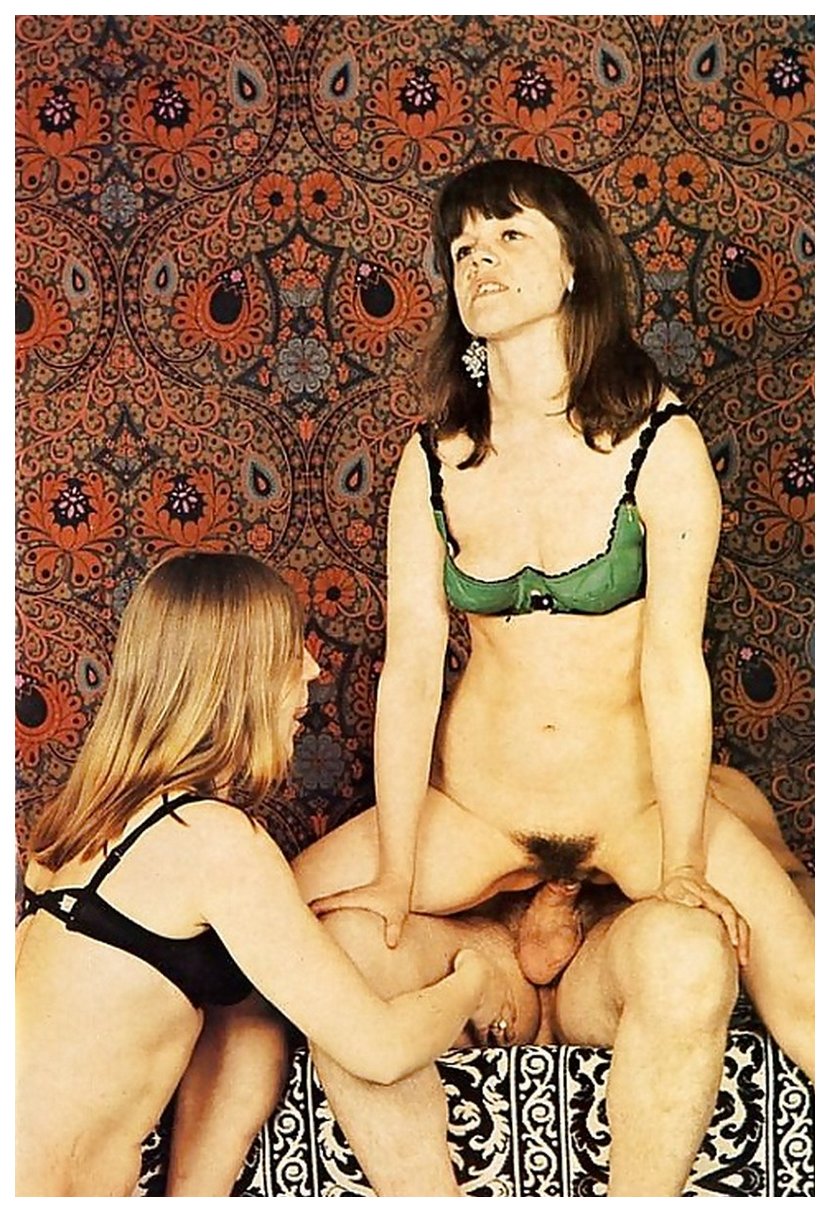 Indeed, I think we might all prefer if it had been.
This next picture is, I think, the single most unerotic porn photo I've ever seen on film. Our man has finally achieved penetration with the other female model, who is leaning over (anything to avoid talking to Baldy) as if to investigate our dark-haired astronomer's pussy (although she clearly has no intention of actually licking it, and is probably holding her breath). Meanwhile Baldy is reaching a friendly hand out toward our astronomer, who is tilting her head and neck away at an extremely uncomfortable angle to make sure he can't caress anything more intimate than her cold shoulder.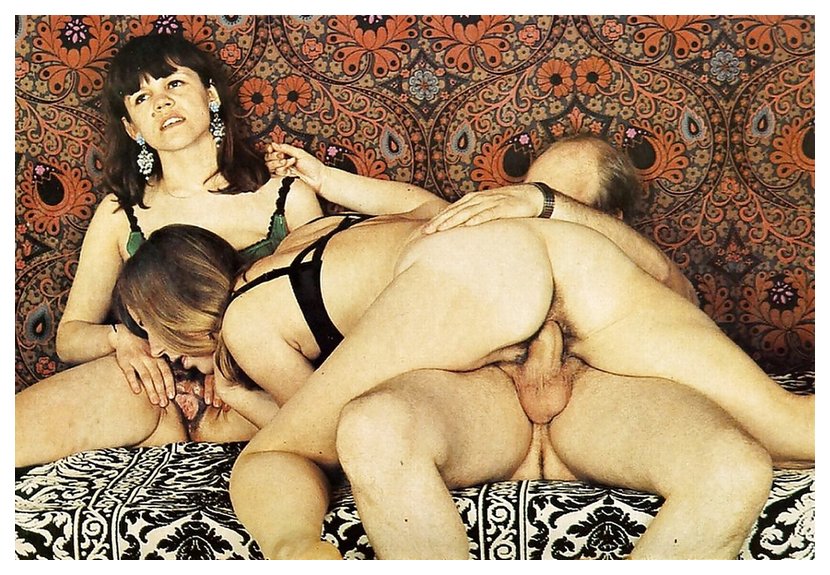 Apparently after this scene nobody ran screaming from the set, however, because next we see our dark astronomer giving Baldy a genuine blowjob, which he appears to be digging. (Her eyes are mostly closed, which is not a strong indicator that she's enjoying her work.) He's got a free hand on the other model's leg and she is pretending to masturbate, unconvincingly; but I think what she's mostly doing is scheming her grand exit.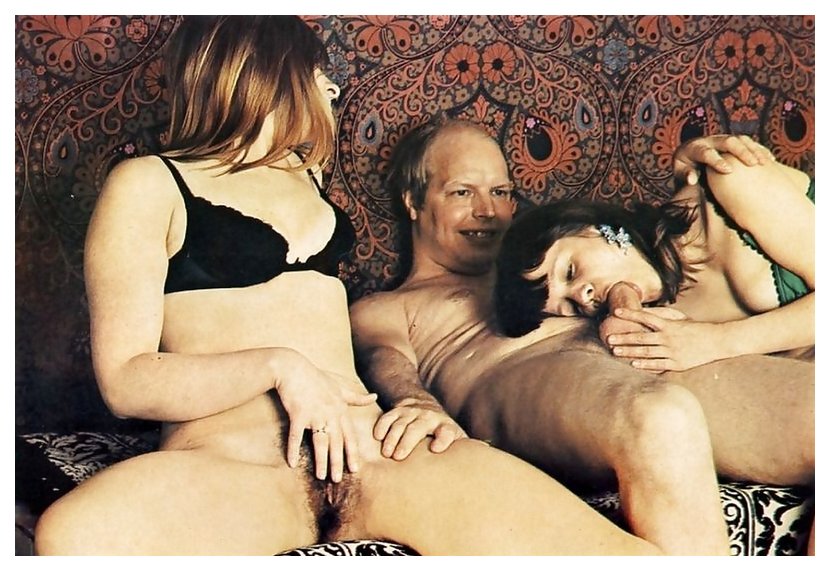 And how does it all end? I never saw it coming and neither will you! This is perhaps not actually a roundhouse ninja kick designed to put our dark-haired astronomer-fellatrix out of her very real misery, but it sure looks like one!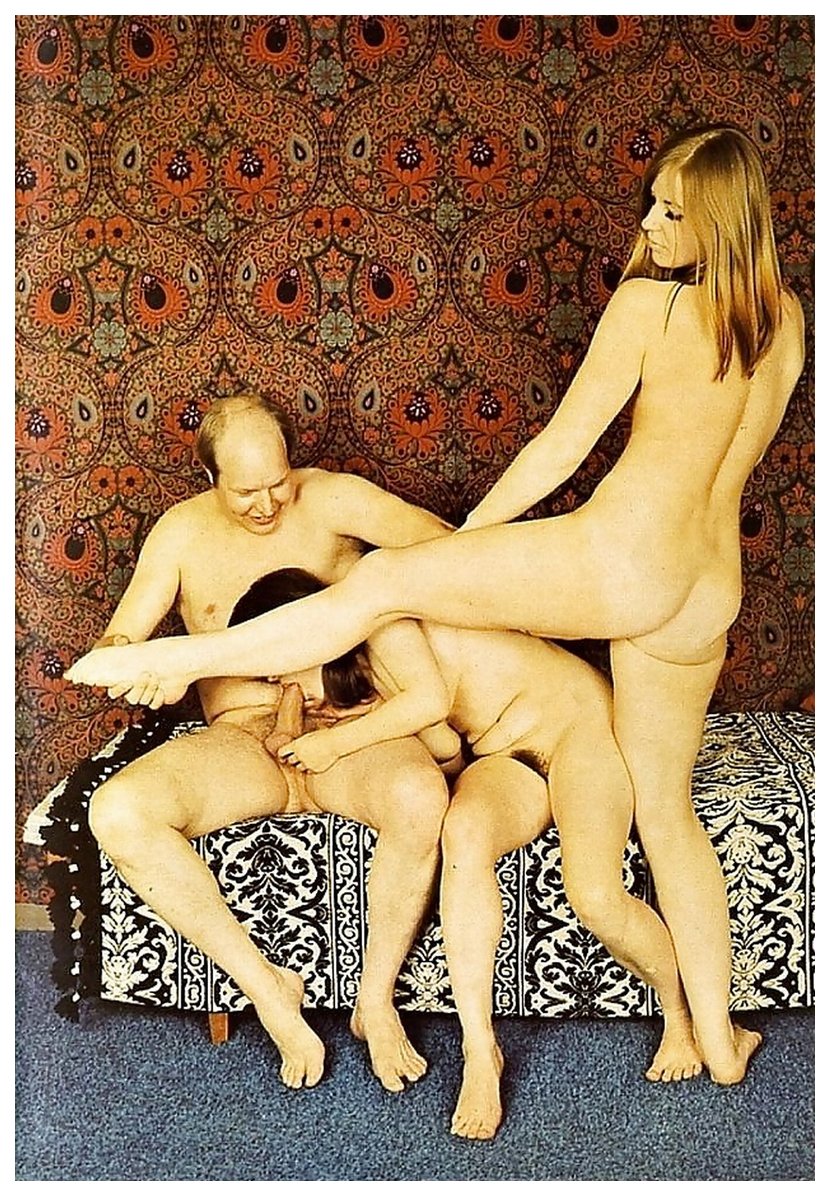 And what the hell is the sexual purpose of standing like that with a dude holding your foot while he gets his dick sucked, anyway? Whose idea was that? It's bad porn, badly made, ill-considered, not well-thought-out.
I rest my case.