Boy oh boy how much I love Mondays and the fact that I am writing about such sexy girls like Natasha Thomsen is. Thanks to the Vporn's Hottie of the week feature, I might just be a touch luckier than you. Learning more about a specific girl and writing a short bio along with collecting the sexiest pictures from her social media profiles – do I hear a yay?
Today, I am in shock. If you know anything about me, you know that I have a thing for tattooed girls. And if one is blonde, has a nice pair of breasts and a perfectly round ass, I go mental. Thanks, Natasha, for making me go crazy with your smoking hot inked body.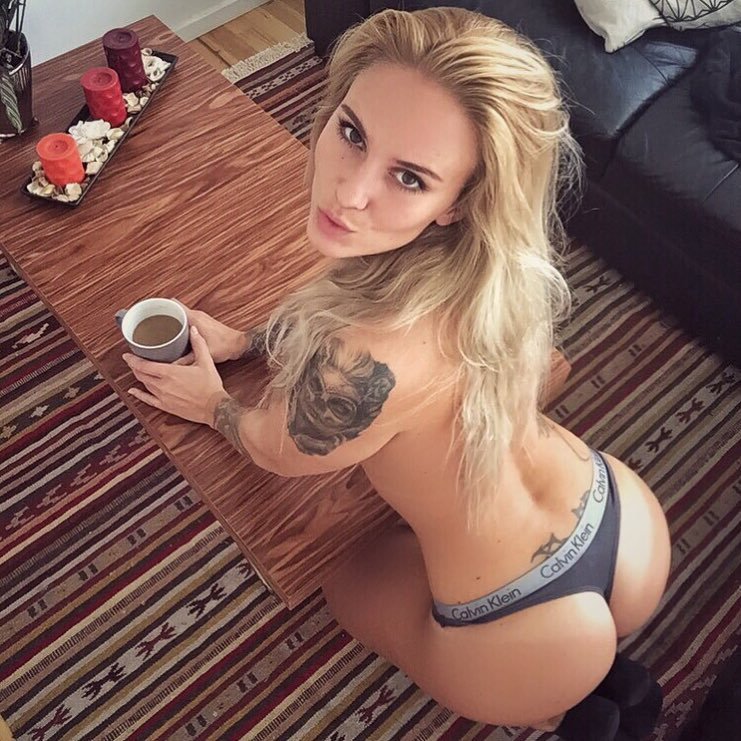 While Natasha has a whopping 3.4 million followers on her Instagram, she somehow still tries to be very private. How is it even possible? At least when it comes to her personal life. On the other hand, you will get very well familiar with her buxom body. Still, there aren't that many photos on Natasha Thomsen's Insta profile. However, what I found out, she deletes some, publishes and republishes others and so forth. That said, if you find a particular Natasha image exceptionally amazing, you better take a screen shot. Who knows, maybe she takes it down later on.
Natasha is a Danish model and fitness enthusiast who looks like a rebellious angel. The only thing I found about her is a Danish interview which has something to do with Dan Bilzerian. Don't ask me what that might be. Instead, sit back, relax and watch and enjoy Natasha speak a language you do not understand. Doesn't that make her even sexier? But all of you who do understand her, please help me out with the Dan thing. I am curious! What I hear is that he helped her out becoming online famous with a shoutout.
I must say that this was probably one of the hardest best sexy pics picking processes of my life. Chances are, some of the pictures might get deleted in the future, and that will make me just a tiny bit mad. I selected carefully so, hopefully, you get to enjoy busty blonde Natasha Thomsen's image list forever and ever. Hint: follow her on Insta.