I seriously thought Playboy's Hugh Hefner is immortal. Living the life he lived, I thought he will be around, doing whatever he did at The Mansion, forever. Sadly, we lost Hef on Wednesday. He was 91 years old. In her last video interviews, it was hard to understand what he is saying, but let's all be frank, the dude looked amazing for the age! That is what living with the hottest babes 24/7 does to you and your body, I guess.
Without Hugh, who knows where would we be at with the whole adult entertainment industry. Thanks, Hugh for everything! I seriously mean it, THANKS. Nudes FTW! You showed us the forbidden.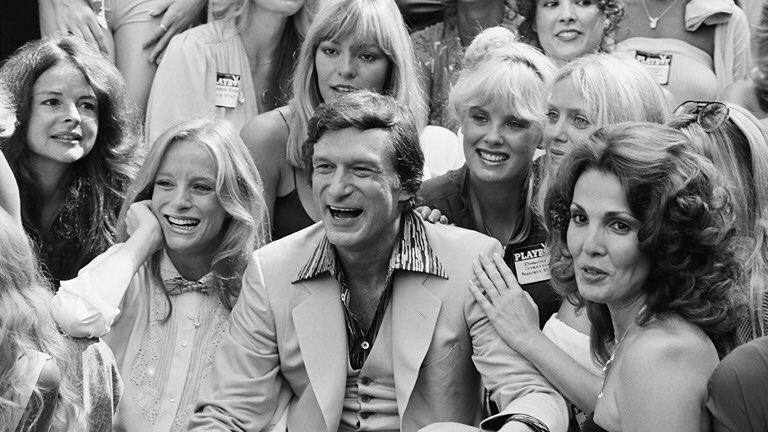 Born on April 9, 1926 in Chicago, Illinois, Hef started publishing Playboy in 1953. But before going all in with the adult entertainment, Hugh served in the US army in the second world war and worked for Esquire. His brilliant mind saw the future in bringing nudes to the world in the form of a magazine, left the company and started his own project.
The first issue of Playboy was published in December of 1953 with naked Marilyn Monroe and the rest was history. He brought it about almost entirely by himself. Who would have thought, back in the early stages of the magazine, that it would become one of the most globally recognized publications in the world? The popularity skyrocketed and the money started flowing in in millions.
Along with god knows what he did with all of that money, the most memorable is The Mansion. It still stands at the same location, and you can watch Hefner's son, Cooper, taking a tour of it. It's ridiculous. But isn't the life Hugh Hefner lived in its entirety ridiculous?
By the way, the new owner of The Mansion is Daren Metropoulos. It was an $100 million deal and Hef was allowed to live in it until his passing.
Playboy Enterprises said that Hef died from natural causes, surrounded by loved ones.
Throughout his rich career, Hef was married three times and it was told that he slept with more than a thousand women. Kimberly Conrad was his first wife, Mildred Williams his second and Crystal Harris, who Hef married in 2012, his last. Christie, Cooper, David and Marston are his children of which Christie is the CEO and Cooper the CCO of Playboy Enterprises.
Anyway, instead of going in-depth and writing a Hef biography, as the way how we will remember it, we did something different. I took the time and scoured Twitter to find how pornstars remembered Hef. Yep, adult actresses, not Playboy bunnies. I went against the grain. Here we are now with more than 20 tweets from some of the most notable pornstars sharing RIPs and their sweet Hef memories.
Read what Riley Reid, Tasha Reign, Abella Danger, Anikka Albrite and Rachel Starr have to say about this sad news. Some are so in shock, the only thing they were able to say is, "R.I.P. Hef." But it is the support what matters.
Whenever you read this news, today, next week or in a month, celebrate Hef's death with some blondes. Or brunettes. You can also do it with redheads. Let it be bunnies or pornstars, take some time off and imagine yourself being in the place of the Playboy icon, Hugh Hefner. You will be impressed how much imagination can do for you.