Do you still believe in Santa Claus? Are you still young enough to get excited about presents? Then you probably shouldn't be reading this, sonny! Go back to bed!
In this run-up to the Christmas season, I often reflect that the older we get, the less exciting Christmas becomes. Gifts, especially, lose most of their charm. You may already have too much stuff. The best part about being a responsible adult is that if you want something, you just go buy it when you decide you want it. What, you say you can't afford it? Well then, go earn some money, ya bum! Or, no, whatever you want is too expensive for that? Bad news: probably there's no rich bastard ever gonna buy that expensive thing for your grownup ass. Which means that once again, there's nothing exciting in your Christmas stocking. Not last year, not this year, not next year!
Even the popular tradition of the Christmas blowjob pales as you gain age and wisdom. When you're a foolish young man, holiday blowjobs seem pretty nifty. "What do you want for Christmas?" "A blowjob, har-de-har!" And dang, you get one! Ain't that special? Yeah, it's special all right, but it's not the good kind of special. Eventually, you figure out "special" means "bad". In a healthy sexual relationship, oral sex is, as sex columnist Dan Savage says, standard equipment. Trotting it out for the holidays like Grandma's crystal punch bowl? That's a sign of trouble to come. Every. Damn. Time.
The best thing I can say about Christmas blowjobs is that they make for one hell of a fine porn trope. Pretty woman plus furry red hat plus blowjob equals Christmas porn! And I do love me some Christmas porn. Here's Jasmine Rouge, right after completing a Christmas blowjob scene for a porn site that doesn't exist any more: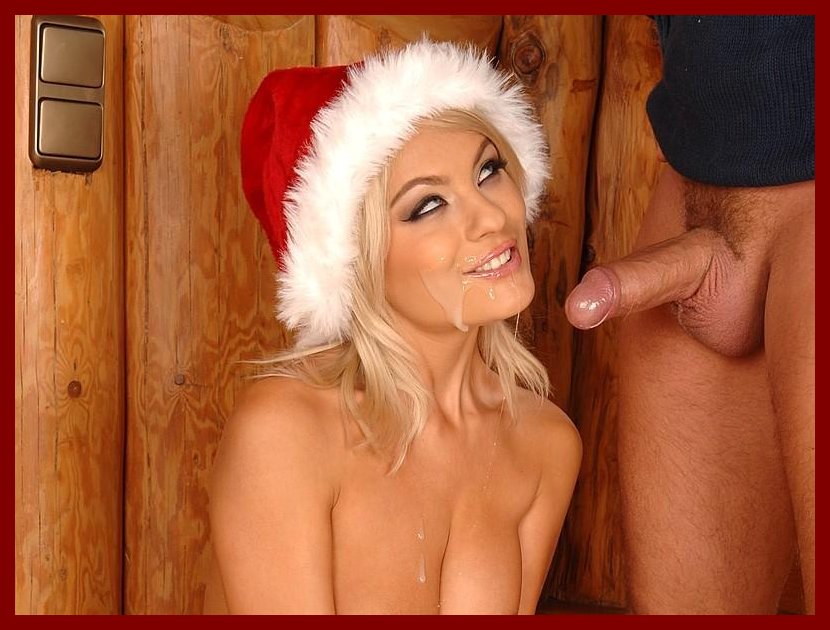 Of course, the beautiful thing about porn tropes is that we let them be cheesy. They don't have to make sense. She asks "What do you want for Christmas, honey?" "I want a blowjob, dear. What do you want?" "I want your cum all over my face!" Said no woman, ever — except, of course, in porn: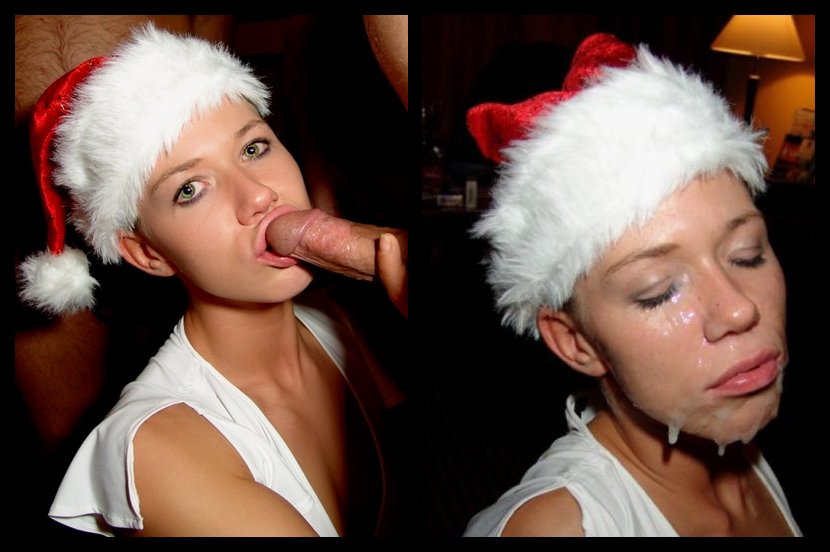 Amateurs, too, love to play the Christmas porn game. People purely love to record and share their sexual shenanigans under the Christmas tree. Maybe this started back when digital cameras were expensive and popular gifts? Naw, it probably goes back to Polaroids, or even to guys with darkrooms in their basements. Men love to take point-of-view shots of their wives and girlfriends sucking them off. Even more popular: the wifely striptease. "Here I am, the unwrapped present, under the tree…"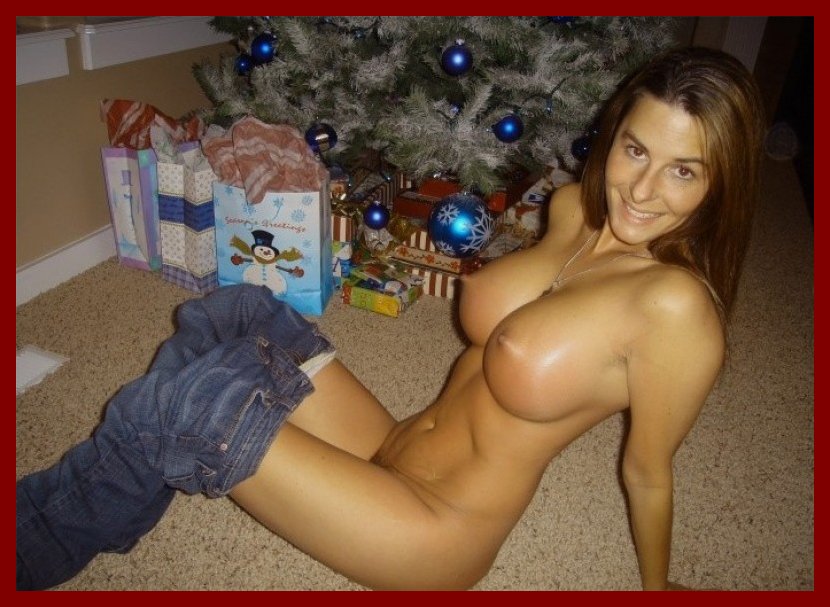 I like the "unwrapped present" above particularly because of those spectacular, implausibly-firm boobs she has. Does this this photo say "Look at me, my naked present to you!" Or "Look at these, your plastic-surgical present to me!" Or both at once?
My absolute favorite kind of Christmas porn, though, is the "holiday shoot" that porn companies used to do in tropical locations. A dozen years ago when porn was bigger money than today, porn studios in cold places would round up a bunch of models in December and jet off to somewhere tropical to shoot oodles of porn on sunny beaches, under palm trees. Inevitably they would do an "XXXmas Card" group photo, like this one: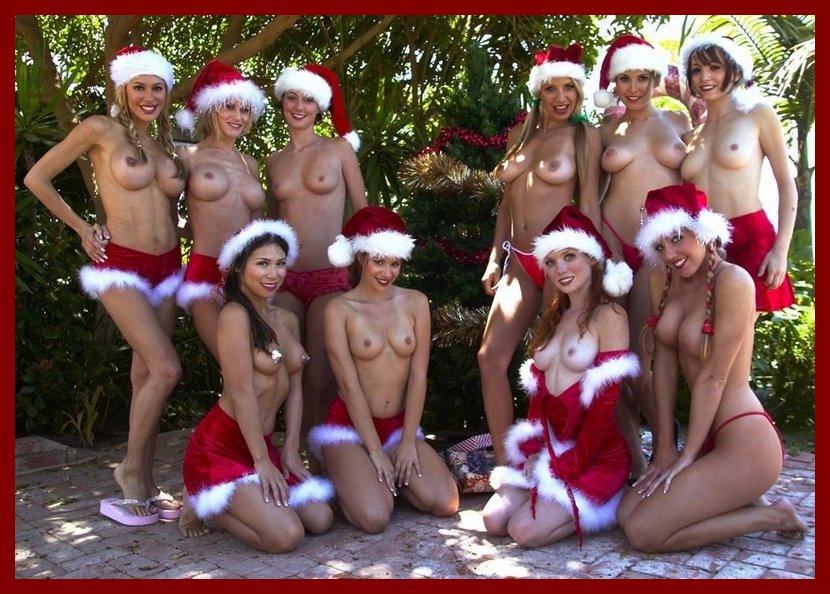 I don't know which studio assembled these lovely ladies in their Christmas lingerie, but it's been circulating since at least 2008 with captions like "Breast Christmas Wishes" on it. A sentiment which I now heartily share with you!