Our blonde hottie of the week, Cassie Brown, tends to be very mysterious, yet at the same time, well over half a million people are aware of her existence. No doubt, Cassie is keeping her personal life for herself. However, when it comes to her toned frame, sexy ass and pretty smiles, those Cassie likes to share with the whole world.
If you are new to Brown, let me just tell you that she is a super sweet treat. You will have a hard time handling yourself and not going crazy over her. Let me warn you, when you see Cassie appear right in front of your eyes, many of you will fall in love. I did!
Moreover, Cassie Brown was born on August 31, 1995, in Las Angeles, California. There is not much information about Cassie out there. Knowing her biography or not, that is not really what matters today.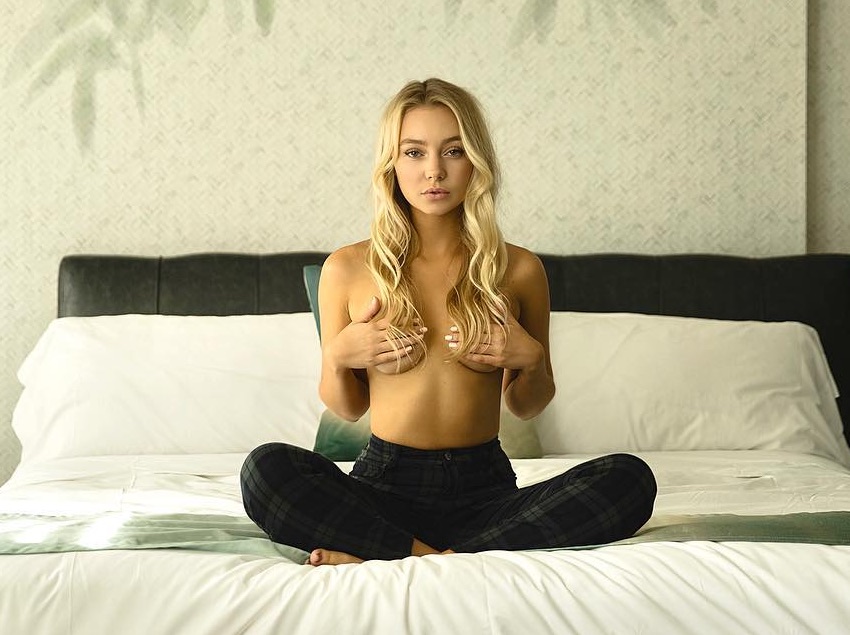 What you will enjoy the most about Cassie is her openness. She is super comfortable going topless and wearing thongs and other sexy outfits. Even if sporting a vivid beanie, a top and leggings, Cassie still knows how to pose to bring a big smile on your face.
But you will definitely be the most impressed when Cassie turns around and shows her ass. It is round and tight, making you grow a bulge down under. I was stuck checking Cassie's Instagram images for quite a while. I mean, if you can check one image and turn around, you must be a though fella. Do yourself a favor once in your life and let Cassie Brown take you on a journey through her sexiness and you will feel a whole lot better.
No doubt, Cassie is Instagram famous and she earned herself a lot of business deals with different fashion and swimwear brands already. You will keep on seeing a lot more from Cassie Brown in the coming weeks and months so make sure you follow her and wait for her next post with anticipation.