Are you ready to get blown away by the incredibly hot and versatile sex action from yours truly, Harley Jade? Do I even need to ask, right? We are all always down for the fun times Harley has in front of the camera all by herself, with a large shaft or another stunning girl. Needless to say, she always throws down an epic show for all her beloved fans. Bare in mind, it's not only for the fans why Harley has sex in front of the camera. Why yes indeed, she is doing it for herself just as well. What to say, Harley sure does like to have sex, like all the freaking time.
A girl that you might love the most because of her magnificent bubble butt, Harley was born on December 24, 1994, in Boise, Idaho.
She remembers her high school times as being busy all the time. She was a secretary, a cheerleader, worked as an intern for a pharm tech company and a whole bunch of other things. That said, she made a ton of friends being that way, was one of the most popular kids in school and never really partied much. Not the kind of a girl you would expect her to be, huh?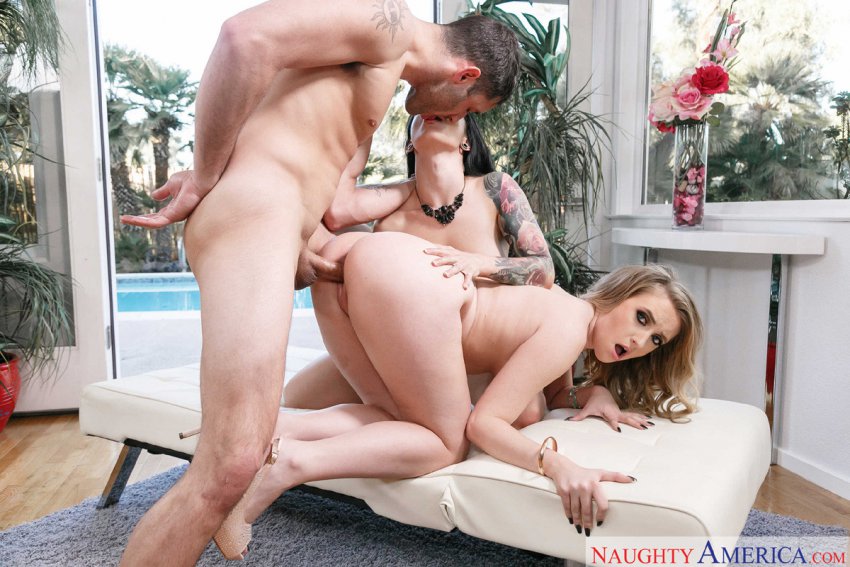 Was she as wild as she is in her porn scenes back in the days, too? Aside from being with fifteen guys before joining porn, she wasn't really a promiscuous one.
Harley lost virginity at the age of 15 to a slightly younger boy. Moreover, she was with a girl for the first time on camera, shooting a girl-girl scene. Can you imagine?
As a matter of fact, when Jade first decided to start doing adult films, she only wanted to do girl-girl scenes. Her very first scene "was kind of chaotic experience but as far as actually being with a girl, it was good." She says in an interview that it was an excellent introduction to porn. Good for you, Jade!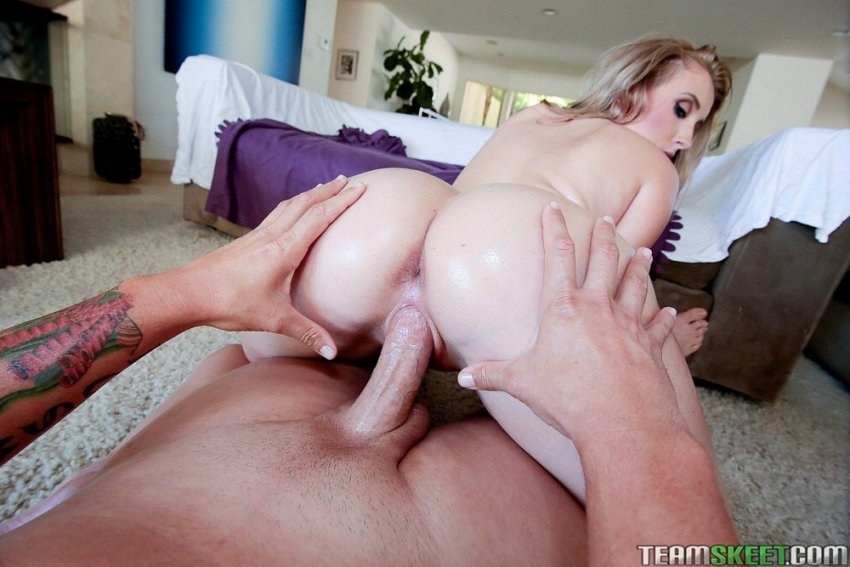 Though she did watch adult films before pursuing a career from it, Harley Jade never really thought about doing it. She was just really fascinated by how dedicated the fans are.
Then, out of the blue, three different agencies contacted her at the same time. Three! It took her about half a year to think about it and then she finally went for it, flew out to LA and shot her first XXX scene. Thanks to Instagram and that dating site, I guess.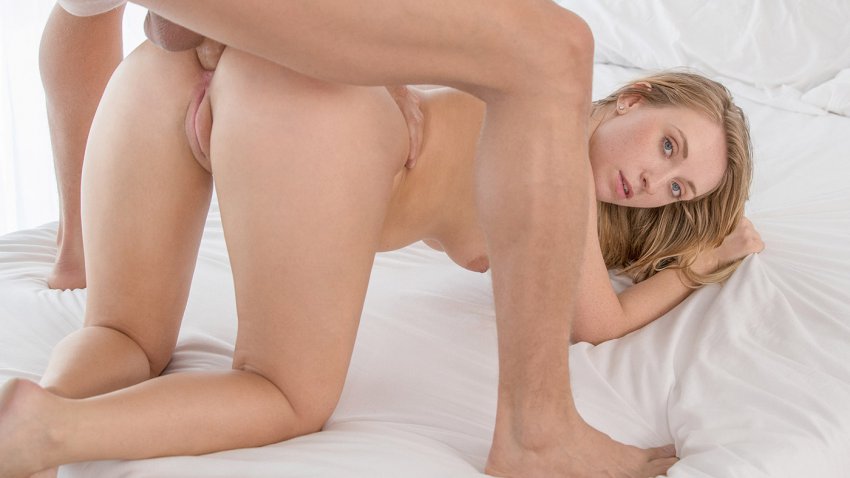 For your information, Harley picked her stage name at random during a date she went on with this guy. And it was the second date. You know, picking up a porn stage name is a very get-to-know kind of a conversation. Joke aside, they were good friends, so it wasn't really weird or whatever.
To date, Harley Jade shot a wide variety of pornos, solos, girl-girl, boy-girl, anal and threesome videos – she really went all in. Some of them we handpicked for you to enjoy right now.
Before you start to luxuriate yourself with this lovely creature fucking and going dirty, show her some love and follow her on Instagram and Twitter.
Adorable Harley Jade goes wild in her porn videos
Perverted teen slut Harley fuck everybody

When hanging over at her best friend's place, the young ladies are discussing the ins and outs of sex. Obviously, Harley is a real slut, fucked almost everyone; from teachers and all the way to the entire football teams. From old guys to muscular studs, Harley is down to bang them all. She even lets her friend know that she finds her dad rather cute and adorable. The moment the opportunity arises, Harley Jade goes down on her girlfriend's dad, sucking his strong shaft. Handsom father returns the favor in the form of smashing that juicy pussy hard and passionately. Well, that is just one more person to tick off on her to-fuck list.
Anal fucking is Harley's favorite

After throwing down a quick striptease show, wearing enticing lingerie, Mark Wood joins Harley and the rest is history. He plays with her small and all-natural boobies first before she kneels and blows his enormous dick. The two of them soon move over to the couch where the real fun begins. Without wasting too much time, Harley gets her asshole ready for penetration. Not needing to ask him twice, Mark shoves his rock solid prick deep into her anus, ensuring both to experience a ton of pleasurable sensations. No doubt, Harley sure does enjoy getting her anal walls rubbed hard by a throbbing prick.
Will anal fucking work for the young couple?

As aroused as they are, Harley Jade and Michael Vegas are ready to try just about everything. They need to please their perverted desires somehow. While they tried a whole bunch of things already, one sex act that is still on their sexual repertoire is anal sex. Will Harley manage it? I mean, that should not even be a question. Super excited for butt play, Harley is readier than ever to receive Michael's dick balls deep inside her butthole. From smashing her hard in a doggy style to climbing on top and riding the machete reverse, Harley and Michael do it all until he unloads a torrent of hot cum all over her ass.
Harley flashes tits and pussy in public and get fucked hard

Naughty girl Harley does not mind flashing her lovely breasts and bald pussy in public for the camera. As a matter of fact, she enjoys it quite a bunch. It makes her aroused. However, what she enjoys even more is a rock solid shclong deep inside her.
After finally arriving at the apartment, she strips down and warms up with a vibrator. Ready for the dong, she first takes it orally and helps the guy grow stiff, perfect for the penetration. When both ready, they proceed with ramming and nailing that little twat hard and passionately. A vivid action goes down and ends with an epic facial.
First anal for stepsister Harley Jade

You see, I told you Harley did all bunch of stuff already in front of the camera, butt play included.
Being a true rich bitch, Harley is a super annoying stepsister, always pissing Xander off. One day, he has enough it. Dude, she poured the whole glass of soda over his laptop!
Upon his arrival to her bedroom, she lets him know that she has been a really naughty girl and that she needs to be punished. Finally, Xander realizes why she has been such a little bitch all of this time. She needs her ass slapped hard and a large cock shoved straight up her butt. All this and more happens when he unleashes the beast and first lets her do him with her mouth before he rams both her sex parts hard. Did she learn a lesson? Or will she continue to annoy him just to get another round of butt fucking?
Interracial fuck for big ass owning slut Harley

Jade's friend is suffering from a divorce, and he is really down. He feels so lonely and would not mind some female company. Luckily, Jade is there for him to get things sorted. First, she quickly cleans his apartment (guys!) and later enjoys a conversation with him.
However, all he is after is her big butt and her juicy pussy. In other words, he wants to stab her deep with his BBC. And what about Harley, is she down for it? No need to think twice, Jade is always down for some interracial fuck fun.
That said, they kiss, he sucks her nipples, she blows his monster black shaft and later they get their private parts familiar with each other and bang like there is no tomorrow.
Blonde slut of amazing curves rides a big cock

There are three main parts of this video that you should know about.
First, you get to know Harley Jade a little better. Not that we haven't already introduced you to her, it is just that you can now hear some of the stuff straight from her mouth. It is definitely better to listen a sexy girl talking about herself than reading a blog post.
Second, you get a chance to see her amazing body physique while she throws down a quick striptease show. Man, Harley's ass really is amazing.
Third, enjoy that hot bum sliding up and down a big machete reverse. It is a POV scene so you get to see everything from a close-up. Enjoy the action and have some fun with yourself along the way, too.
There is never enough large and hard cocks for slutty Harley

It is pure magic watching that tight asshole getting smashes by a big black dick. Thanks to her passion, it seems Harley is down for a stiff pole 24/7. Whether it is a massive or an average one, it is always a yes. To be honest, I rather watch an incredible ass like Jade has, humping up and down the rod, than all those adorable videos of puppies and cats. Dude, butts like hers is make me feel warm at heart. Just like Harley Jade is always down for some fun, so am I always down to enjoy her in action doing magical things to a cock. Sit back, relax and enjoy the show.
Watch Harley get smashed doggy style in POV

As horny as she is, Harley goes on all her four, exposes her ass and eagerly waits for him to start penetrating her pink muffin with his sword doggy style. He does exactly that and fills young lady with a portion of great sensation when she tightly wraps her pussy lips around his member and enjoys the size of it. To end the sex session in great style, Harley kneels down and works his shaft inside her mouth and blows him until he reaches the point of no return and jizzes all over Harley's face. All this in POV for your viewing pleasure.
Harley and AJ Applegate enjoy some lesbian fun

The girls just came home from shopping and they are hot and sweaty. AJ invites Harley over to pool but, unfortunately, Harley forgot the swimsuit. Not to worry about that, AJ is fine going out in thongs and does exactly that. However, once outside, the ladies quickly return inside where they just cannot hold themselves back anymore. They want each other badly and do not waste any more time. Instead, they go straight to kissing and revealing their amazing bodies. Kissing and touching soon transforms into pussy eating and fingering until both experience volcanic climaxes.
Revenge sex to show her who she deals with!

Harley came over to her girlfriend's place but she is not home yet. It is their anniversary and she has a special present for her. Jade heads over to her room where she just cannot wait and starts on her own. With a dildo! But her brother, Michael Vegas, hears the moans and catches Harley Jade fucking herself. Of course, Harley wants to tell her babe what a creep of a brother she has. However, Michael lets her know she is cheating on her. And this is the perfect moment for a revenge fuck. What's more, Harley has never been with a guy before which means it is her first time and she is also cheating! Crazy teen girls are wicked freaks. Maybe Harley just found out that she actually likes cocks more than pussies.