There was a time, dear reader, when "lesbian porn" didn't really exist — not like you're thinking. Not porn made for lesbians, not porn featuring lesbians, not even porn featuring two straight women having gay sex and pretending to be lesbians. If you did find something close to this last, it would be two straight women making out a little bit (but not actually giving or having orgasms, though they might fake it) purely for the entertainment of men.
Of course the beauty of this category was that since no genitals or genital-touching was involved at any point, it was actually pretty tame, which meant you could produce it as soft-core as you liked. And if you made it soft core enough, you could sell it right on the regular newsstand with the science fiction and horror pulp magazines and men's adventure titles. Today we take a close look at a sample of this venerable genre, from Real Men magazine as it appeared on drug store magazine racks all over America in February of 1967: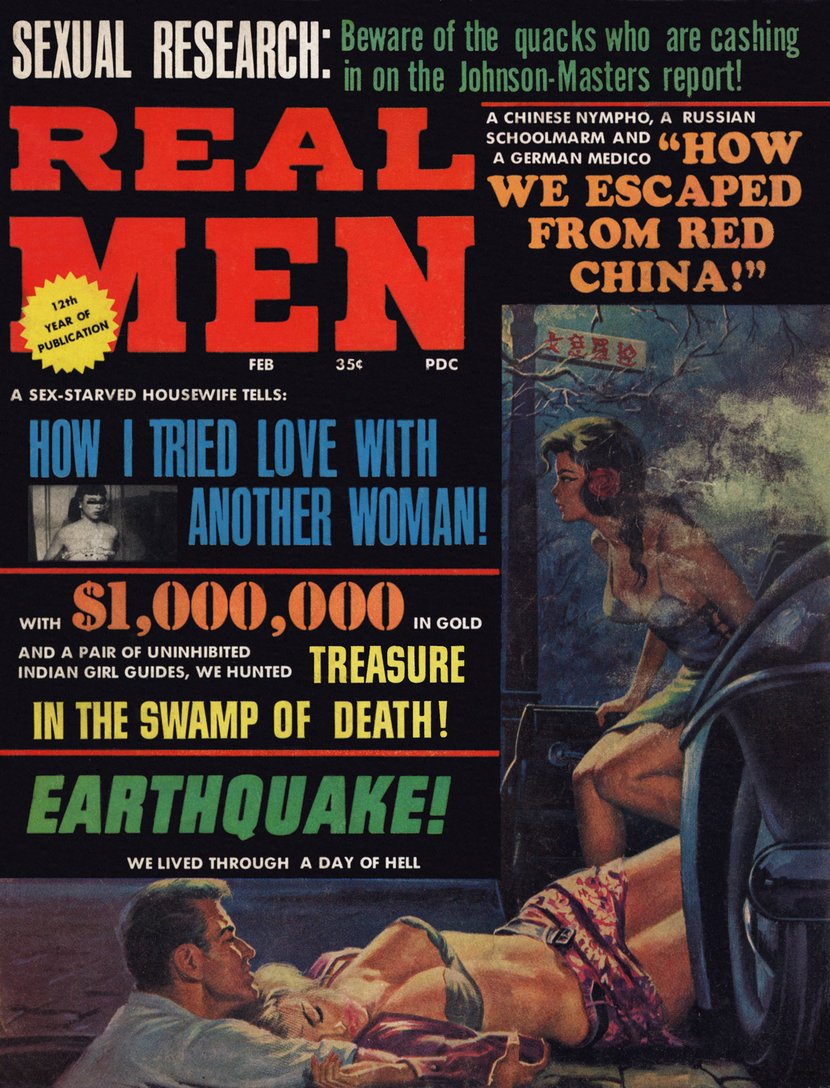 Notice how the simple promise on the cover is also designed to make American husbands worry just a little bit? "A sex-starved housewife tells: how I tried love with another woman!" Fellas, your wives would never… would they?
If that's the bait on the cover, here's the hook in the table of contents: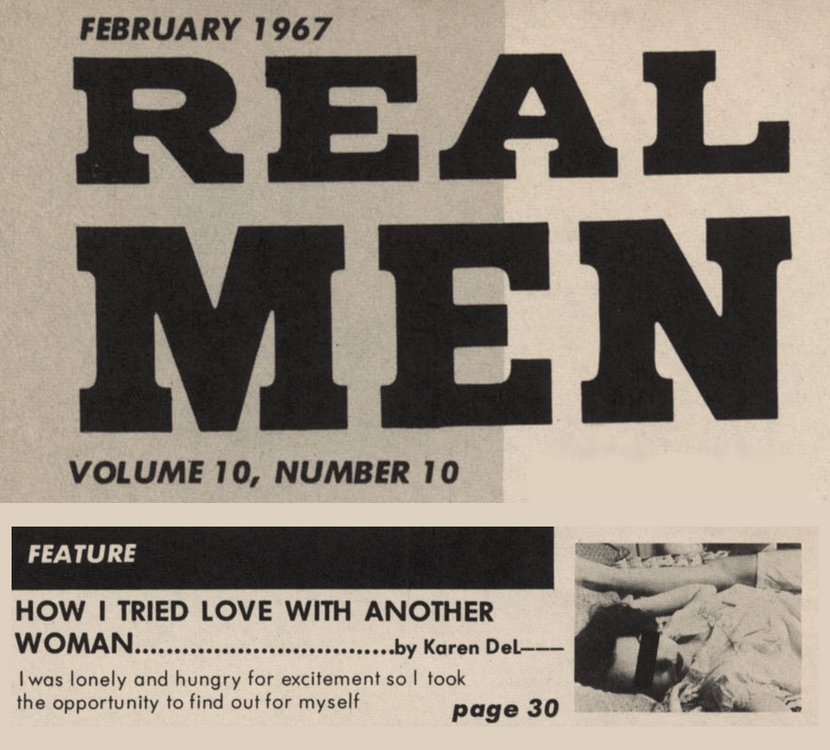 She says "I was lonely and hungry for excitement so I took the opportunity to find out for myself!" Fellas, your wives aren't lonely… are they?
By now, the publisher hopes you've bought the magazine, or at least flipped to page 30. Two chaste-looking suburban women lounge in nightgowns across a two-page spread there; the one whose face we can see has her eyes sedately censored with a thin blackout bar. The caption proclaims "I wanted to find out for myself whether the thrill that 'they' offered was as good as what I'd known!" (Spoiler alert: because this magazine is sold for the comfort and entertainment of husbands, the answer turns out to be "no".)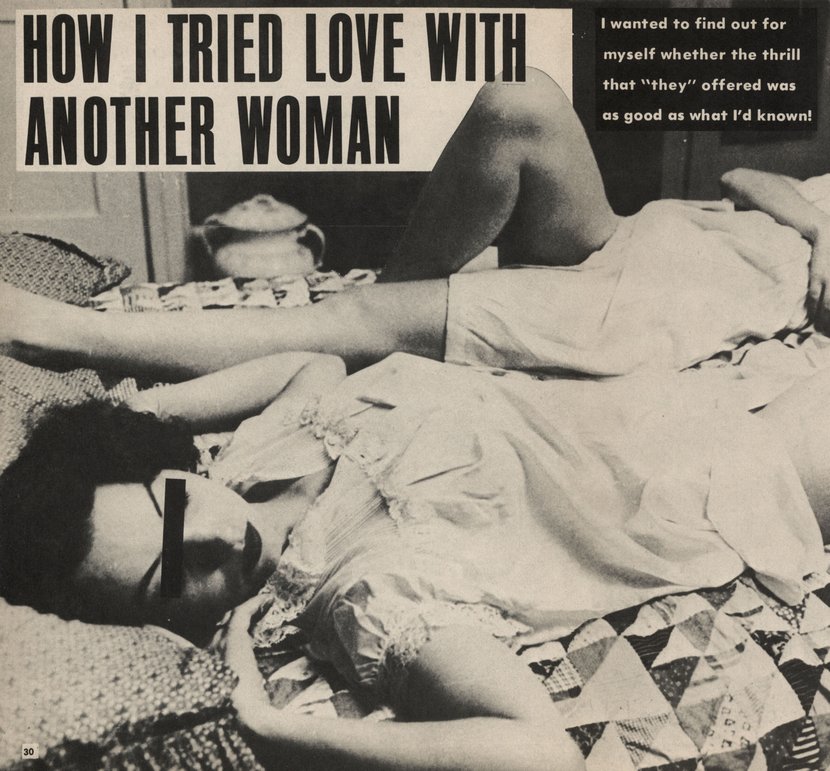 What follows is about two full magazine pages of overwritten light prose that opens like erotic fiction, but then devolves into some sort of empty homily about the superior virtues of heterosexual domesticity. The scans are at the end of this post, but you won't miss much if you don't read them. Here is literally the sexiest scene in the entire piece:
Her lips found mine. This was no girl's kiss, either, but pure passion, violent, explosive, consuming. Her hands were moving over my body and soon her lips followed them. I fell back on the couch, Lorraine right with me. I shut my eyes and surrendered myself to total sensation. It was soft but overpowering, gentle yet demanding, refusing to stop until it was complete.
Is there an act of cunnilingus encoded in that turgid prose? Why yes, I believe there is supposed to be. But I'm pretty sure it's written that way so the publisher's lawyer can swear on a stack of bibles that the Alabama prosecutor with his obscenity prosecution is reading far too much into a session of heavy petting, that dirty-minded scoundrel!
As I said, you can read the scans if you're so inclined; they are below. Or, you can look at the whole issue of Real Men, which is online at the Internet Archive at this link. But it's not fair to drag you all along on an educational field trip through the boring softcore bait-and-switch faux-lesbian porn on the American newstand of the late 1960s without giving you something a little bit juicier for your trouble. So before I wrap this up, how about enjoying this pair of cheerful vibrator babes?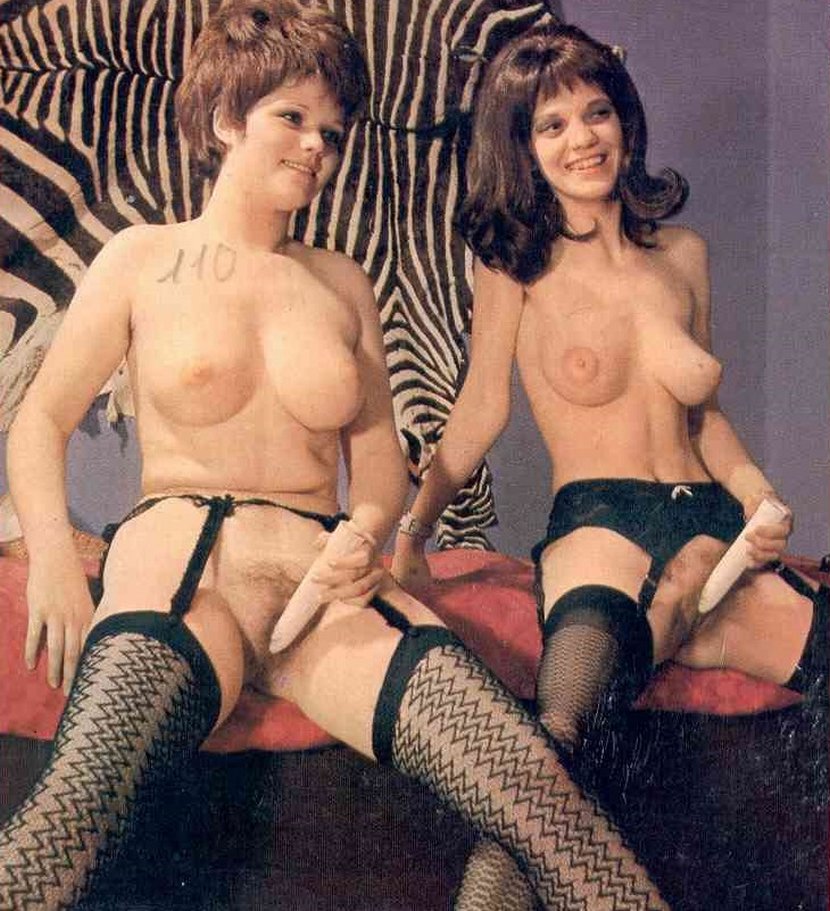 They are from the cover of 1970's Danish Hardcore magazine, a Color Climax publication. The rest of the lame soft-core lesbianism from Real Men follows, but if you read it, don't say I didn't warn you!