If you like smoking hot blonde bombshells, then you will love Monique Woods. She has a tight body and perky boobs that bounce up and down when she gets fucked. Monique is a real head-turner and most guys get a hard-on whenever they see her walking around wearing short skirts.
Unfortunately, for most of the guys who are turned on by Monique Woods, she is married. She picked the wrong guy to marry though. Turns out that he is a real jerk and he just uses her as a personal cum dump and he would fuck her all day and all night and he refuses to work. So, she is forced to find to get a job and earn money.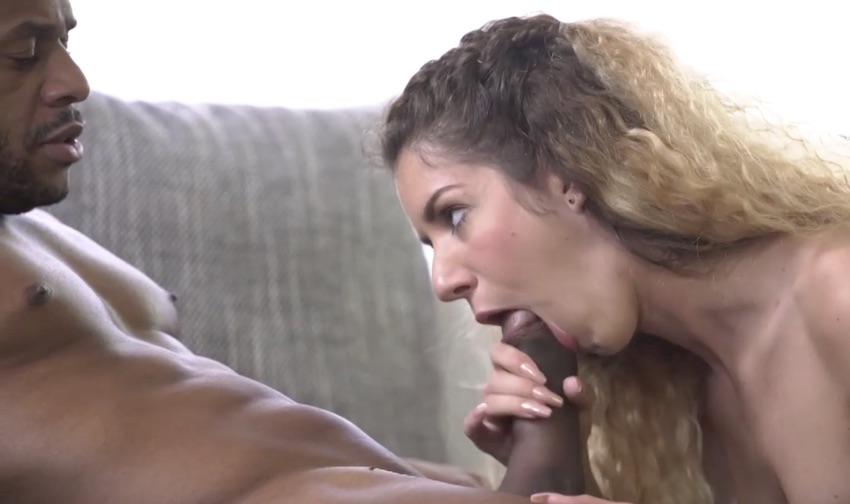 When it comes to getting attention, Monique Woods never lacks that at her workplace. Her male co-workers all tried their luck with her. They want a piece of her pussy, which they assume must be very juicy. She never gives them the chance to confirm if they are right about her pussy. She is not there for sex, she is there for work.
Sadly, for blonde Monique, she suddenly lost her job. Her husband is still useless, but the bills are still coming in.
What is she supposed to do?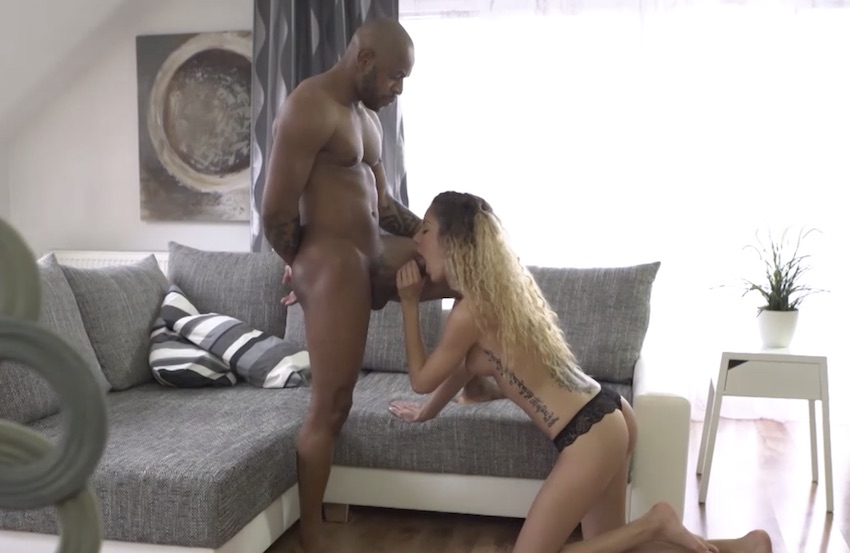 Her friend told her about the cleaning jobs that she is doing so Monique decides to try that. The pay is not very good, but it is better than nothing. One day, Woods sees an ad for someone to clean a large and expensive house. She guesses that the owner would give her a huge tip.
She takes action right away!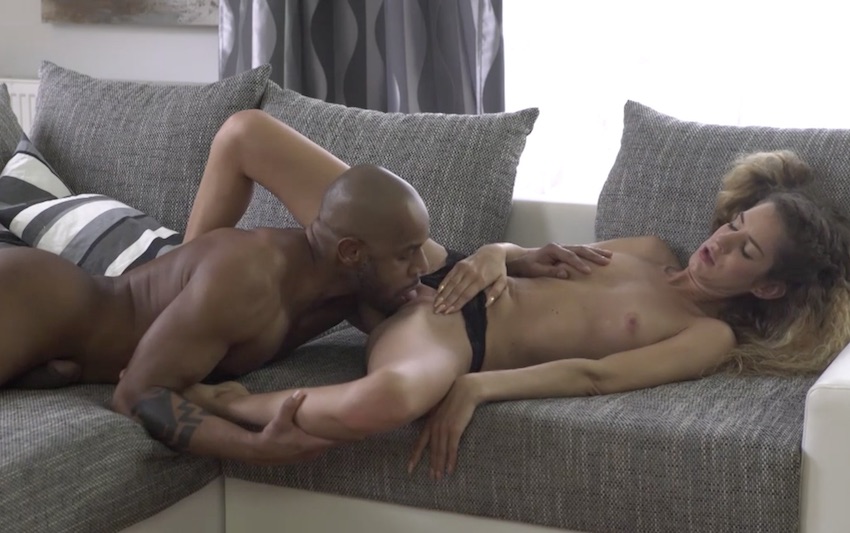 When she meets the owner of the house, Monique is surprised. The owner is a black man and he is very attractive. He has a great and muscular body. She is sure that he has a massive dick because of the bulge on his pants.
Getting horny, Monique Woods decides to show her naughty side. She wants the house owner to notice her and the best way to do that is through her pussy. With her looks, Monique does not have a hard time catching his attention or making his dick hard.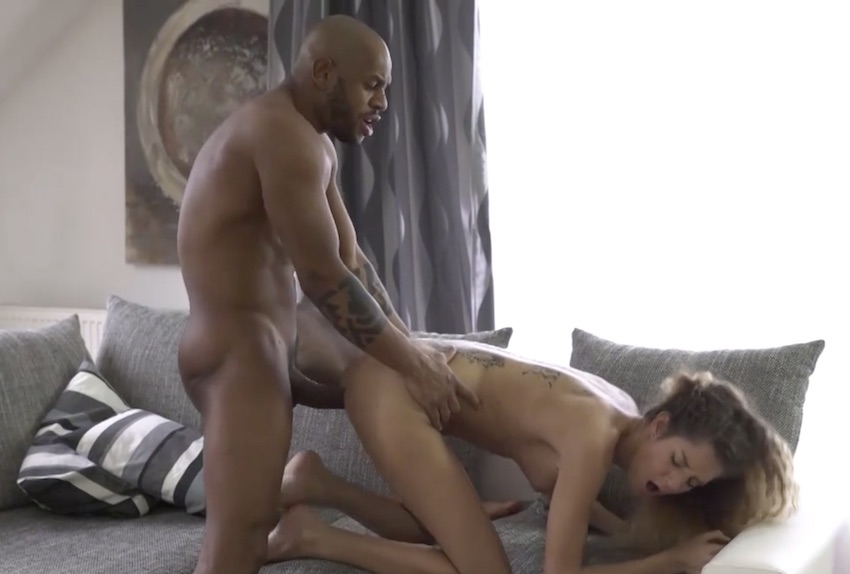 One day, while Monique is cleaning his house, he comes home and they start flirting. There is only one way that situation would end up.
Of course, they begin kissing and then she takes off his shirt. She takes things to the next gear by licking his nipples and gets the juices flowing. When he can no longer take it, he whippes out his BBC from his pants.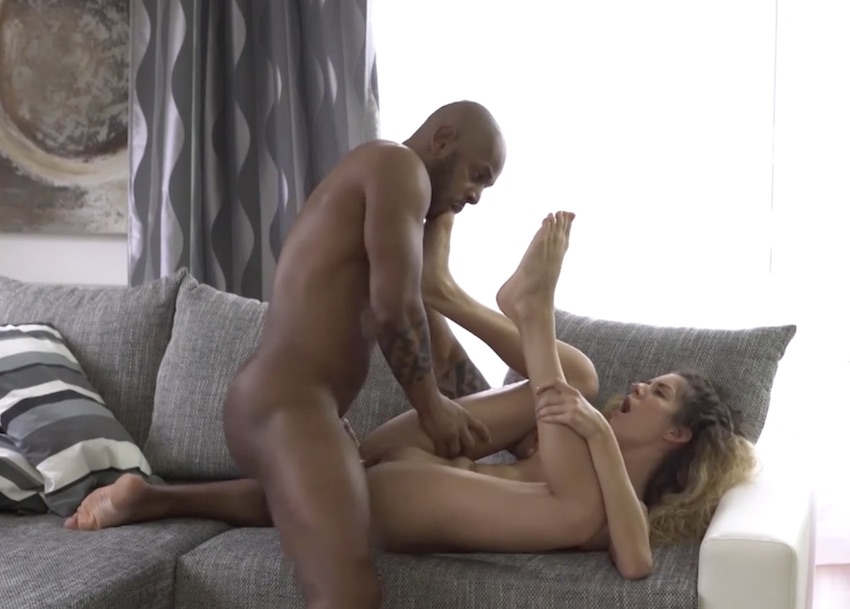 Her pussy starts to become wetter and wetter when Monique notices his machete. She never had a dick as big as that before. That said, Monique wastes no time and starts sucking the big black penis, all the while wondering if her pussy could handle it.
It is time for him to return the favor. He makes Monique lie down on the sofa and starts licking her dripping vagina. His tongue feels so good. The circumstances are perfect for him to fuck blonde Woods and starts out by doing her doggy style. They later try out different sex positions. It is the best sex that Monique has experienced, probably because it is the biggest dick that her pussy has had. From now on, Monique will always be down for an interracial fuck.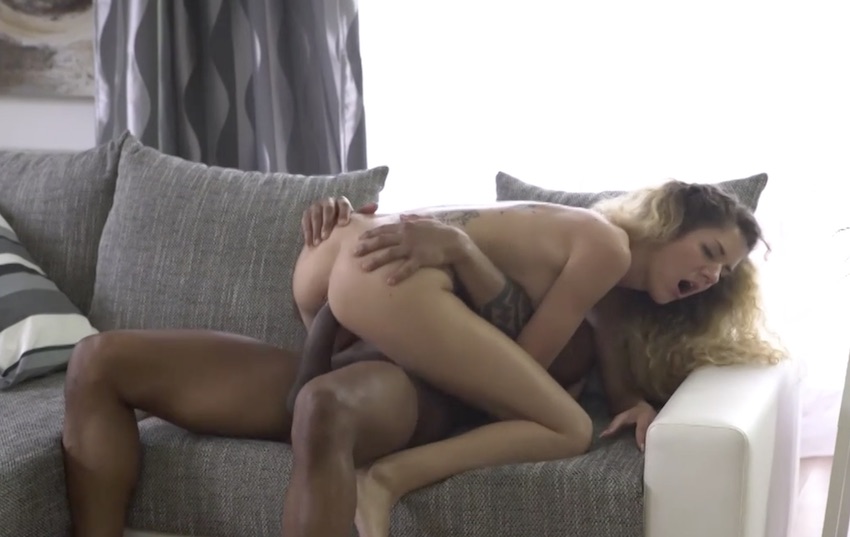 There is just one problem for Monique, the handsome black guy who fucked her isn't really the owner of the house. He is just the driver and there is no big tip waiting for her. But at least she got a taste of a BBC.
Go watch the full scene now and enjoy yourself through the roof.