You might be watching them for years but you just never was aware that they are called tribbing porn videos. Yes, it is the scissoring fuck action between two attractive ladies that I am talking about.
Isn't that just the hottest, watching two amazing women rubbing their pussies together? I know, I do not even need to ask about such a thing.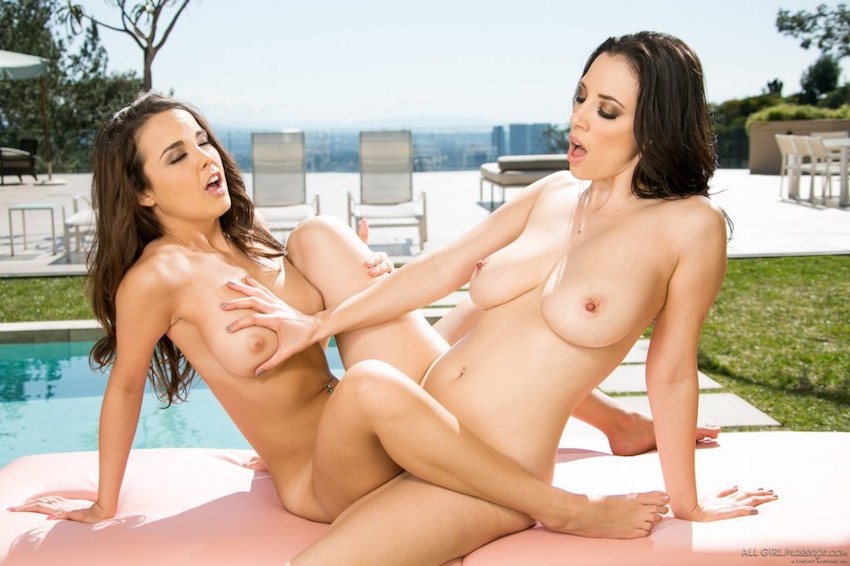 For your convenience, we compiled a list of the best lesbian couple sex scenes for you to enjoy over and over again. If girl-girl XXX is already your favorite genre, the videos we have here for you will make you go nuts. You are in for a truly sweet treat which you should not miss on your daily porn repertoire. Do watch at least one of these on a regular basis and you will instantly feel a different person.
By the way, there are all sorts of additional terms that describe two pussies rub against each other. Pussy locking, bumping donuts, clit-clatting, muff buffing, grinding beans and fur bumping to name a few.
Shall we begin?
The best free tribbing porn videos
Two insanely hot babes tribbing

If you only want to watch one video of two insanely hot women scissoring, you better not miss this one featuring Madison Ivy and Nicole Aniston. Both ladies, blonde Nicole and brunette Madison are to die for. Especially once they go down on each other with all the passion and enthusiasm that they cannot hide. Ah, this one is almost too good to be true. Also, as this is the shorter version of the entire porn scene, it goes straight to the action. And that's what we are all after. Just two stunning vixens rubbing their pussies together, that's all that matters.
Interracial lesbian scissoring is the best

Needless to say, just about every XXX scene that you find in this collection is a must-watch. Not just that, but some of them deserve a second and a third watch. You will want to watch India Summer and Diamond Jackson take care of each other's vaginas several times in a row. Both women are spectacular, and it gets even better when they fully undress and go down on each other. It is the horny Diamon who takes action first and all the rest immediately becomes history. If you do not grow a bulge watching this tribbing sex video, you are doing something wrong with yourself.
Sensual blonde cheerleaders fucking

If you have ever wanted to see how blonde cheerleaders do it, you better sit back, relax and hit the play button above. Here we have two smoking hot ladies who are all about taking care of each other's lesbian desires. You are about to experience a spectacular tribbing porn show that will knock your socks off. From arousing touches to pussy licking and scissoring, these two do it all and then some. Of course, all for your viewing pleasure. Whenever you feel down or whatever, a hot and sexy lesbian XXX scene will always do the trick. And if you are unsure, here we have proof.
Fetish, sexy lingerie and pussy rubbing

By now, you are already very well familiar with the term "tribbing," as it is nothing else than scissoring. But these two hotties take things to a whole different level. Instead of going all-in with rubbing their vaginas against each other, they take it slowly and super seductively. The time has come to enjoy yourself in some toe sucking, pussy licking and all these other enticing lesbian stuff that will get the body juices flowing immediately. I am sure the thumbnail already did the trick, and you are entertaining yourself to the fullest. Now you know where to find only the best of the best.
Brunette cougar enjoys juicy teen pussy scissoring

Two hot women collide in an epic lesbian adventure that will take you to the Moon and then Mars. One is a brunette cougar, Zoey Holloway, and the other is a blonde youngster, Alyssa Branch. One thing is for sure, when the opportunity arises, Zoey will do whatever it takes to get herself some fresh pussy. She is excited to teach Alyssa how things get done especially when it comes to gridning beans. And of, course, Alyssa is more than ready to learn. This tribbing porn video is full of hot vibes that will hit you heavy, ensuring you enjoy yourself to the fullest while watching an enthusiastic girl-girl action.
Brett Rossi and Hope Howell share a girl on girl experience with each other

No doubt, if you would like your mouth to water, all you need to do is to press the play button above. In fact, we have many of the finest XXX lesbian video material here to watch for as long and as often as you want. This time, we bring you Brett Rossi and Hope Howell doing each other, grinding their wet pussies against each other. It is the type of girl-girl sex that helps them reach several volcanic orgasms in a row. Of course, they do not miss licking and fingering one another for extra pleasure and outstanding sensations.
Hot tribbing action with lesbian stepmom

When a hot teen stepdaughter gets brokenhearted, who can help her out? Her equally hot stepmom would be the best pussy for the job! They start talking and catching up on things, but then the stepmom starts to kiss the teen. The girl was surprised but she didn't want her stepmom to stop. The mom has always had the hots for the teen stepdaughter's small tits, so she raised her shirt and started sucking on her nipples. She then took it to another level by taking off her bottom and started licking her stepdaughter's pussy. She got what she was aiming for. They started rubbing their pussies together. This is really one of the hottest scissoring porn videos out there.
Lingerie-clad lesbians licking and scissoring

This is arguably one of the hottest pussy rubbing porn videos that you will see this year. Two lingerie-clad hotties start talking. We know that won't last long and soon enough they start kissing each other. One thing leads to another and soon enough they are licking each other's nipples and touching their bodies. They started eating out each other's pussies and soon they were doing 69. But the hottest thing that they did, which is sure to get anyone's dick hard was to rub their pussies together, their pussies which are still wet with their juice and their spit. Guys can watch them do that all day.
Lesbo with red stockings gets her pussy rubbed

Are you into sex scenes where girls enthusiastically grind their pussies together? Then this short video is going give you a real hard on. A stunningly hot blonde girl with perky boobs is taking a shower. She then puts on a pair of red stockings and when she walks into her bedroom we understand why she's getting herself ready. Her evenly tempting girlfriend is there ready to lick her pussy. Her girlfriend eats her out and of course, she returns the favor. What's next? They start rubbing their pussies together and their moans fill the room as they cum. You know they would just keep on pounding their va-jay-jays all day long.
Tribadism fun with two tempting lesbians

What's hotter than a video of a hot lesbian showing her pussy? A porn video of two stunningly hot lesbians rubbing their vaginas together. This video starts with the action right away. Two hot bombshells, wearing identical pink leggings are groping each other. Then they take turns in licking each other's pussy. The action doesn't stop there because they are in for some asshole licking too. But the highlight of course is when they start scissoring. There's really something so perverted and hot seeing two hot ladies having some fun by rubbing their pussies together. It can get and it will get your cock rock solid.
Lesbian stepmom punishes naughty teen with a dildo

Content warning: This tribbing porn video is going to make your prick hard and make you cum on repeat. A hot MILF stepmom catches her stepdaughter having some naughty fun with an older guy. She starts talking to her about dealing with boys and how desperate she is. All of this leads to something unexpected. Mom finds herself licking her stepdaughter's pussy who was bent over the sofa. She didn't stop there, she took off her clothes and she started fucking her stepdaughter with her trusted glass dildo. How did she end the lecture about boys? With a good round of pussy rubbing of course. It couldn't get any hotter than that.
Gorgeous lesbians never have enough of each other

There is just something really hot about two girls rubbing their pussies and having an orgasm together. It gets even more exciting when the two girls going at it are both striking and sexy. This lesbo porn starts with two girlfriends just talking in the bedroom. They are both pretty and sexy, which is why it gets really exciting when they start kissing. They get naked and start touching their pussies but that's not enough. The two women soon take it to the next level by gridding their pussies together. They rub and grind their wet pussies, like the sex-starved whores that they are.
Teen gets hot lesbian spanking from stepmother

A hot stepmom confronts her teen stepdaughter about her being a lesbian. The teen begs her stepmom not to tell her dad, but she was surprised with the response that she got. She got her ass spanked and her pussy fingered. Soon, they were in the bed with her stepmom licking her pussy like the perverted lesbo that she is. But it didn't stop there. It soon turned into one hot tribbing scene with the two hotties working their pussies together like crazy, their moans filling the room. One thing is for sure, this is one hot and happy family.
Gorgeous girlfriends grind their pussies together

This scissoring porn video doesn't start in the typical manner. Two hot girls are playing on a swing. It looks sweet, innocent, and girly but then they start kissing and touching each other, so you know that we are in for some hot girl-to-girl action. They decide to go inside to take things to another level. Soon they were munching on each other's pussies like crazy. That did not end there of course because they had to do some pussy locking to satisfy their sexual cravings. They got so tired with all the rubbing and fucking that they had to take a nap afterwards.
Experienced stepmom gives stepdaughter an orgasm of her life

In this awesome pussy-to-pussy rubbing porn video, a hot MILF finds her stepdaughter's phone lying around and she uses it to take photos of herself and then sends the photos to her stepdaughter's boyfriend. By accident? When her stepdaughter catches her, she convinces her that they should take photos together while flashing their tits. All the picture taking made her feel horny and so she leads her stepdaughter into the bedroom where she had her wet pussy licked. Soon, they were rubbing and moaning like crazy. She taught her stepdaughter a thing or two on how to please another woman. You just know they will be doing more of it.
Lovely lesbian lovers rub each other after bath

This is one of the most sensual tribbing porn videos out there. A classy girl starts to take a bath. You just know by the slow and deliberate way that she gets into the bathtub that she is feeling horny. It does not take long for her to start touching herself. What she does not realize is that her lesbian lover was watching her and was going to join in on the fun. Soon they were in the bed and they were licking and munching on their pussies like the lesbian hotties that they are. The best part, of course, is when they start to rub their pussies together which were wet with spit and their juice.