Vanessa Del Rio was the first Latina porn superstar. Her legions of admiring fans called her by many appreciative nicknames, including two that made it onto the poster of a 1984 move: "Vanessa The Undresser" and "The Latin From Manhattan." Her most common sobriquet and accolade was "Black Marilyn", because her dark-skinned beauty and enormous presence reminded fans and critics of Marilyn Monroe. Vanessa appeared in more than 100 porn movies, starting back in the 1970s when porn movies were really actual movies: shot on 35mm film and projected in real (if shady and sometimes dank-smelling) movie theaters. She was also extremely popular in various short "porn loops". (Those were the little 8mm reels shot for the coin-operated peepshow booths and for the ads-in-magazines mail-order trade.) But above all else, Vanessa was, and remains, a genuine legend of the Golden Age of porn.
Here's gorgeous Vanessa in a 1970s 8mm porn loop called Little Big Man. Black actor and dwarf Luis De Jesus stars as a grocery deliveryman who just wants his twenty dollars, but Del Rio changes his mind in a hurry. (You may remember De Jesus from his appearance as an evil sidekick in the 1978 horror movie Bloodsucking Freaks; he also supposedly played an Ewok in a Star Wars movie.) In this clip Vanessa greets De Jesus with the welcoming line "I just want you!" as she quickly strips out of her spectacular gold lamé jumpsuit. A whole bunch of sex follows (including some vividly-shot anal action) while De Jesus beams and smiles like the happiest man in the world. Considering the circumstances, it's possible he wasn't straining his acting skills in order to look that happy, either!
Although the six minute clip shown here is cut so that a vaginal fisting scene is suggested but not shown, advertising for a 45.7-meter film version of Little Big Man (which would have run for about ten minutes at that length) is rather less coy, emphasizing the fisting footage. If the cover photo is any guide, there's more fisting on the film than made it into the clip: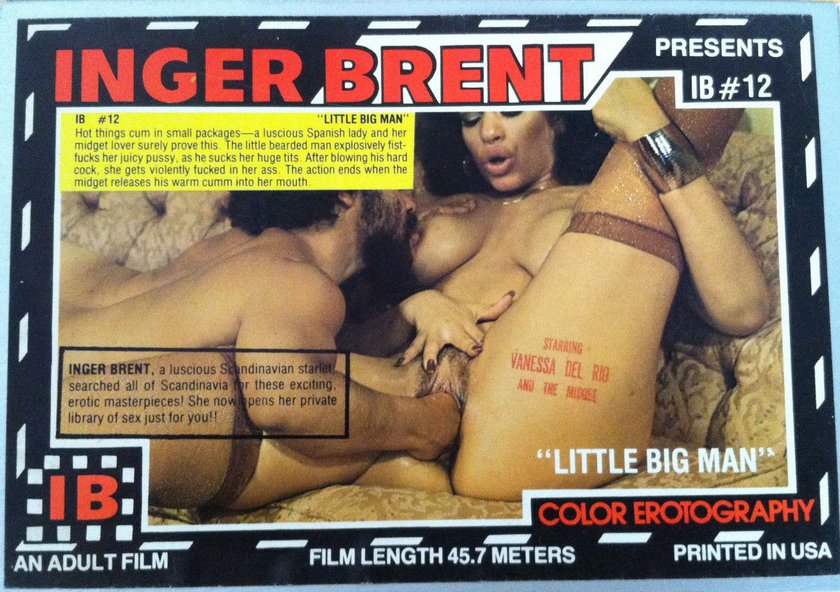 If Vanessa isn't the patron saint and porn goddess of nerdy tech-industry porn fans today, there's one very good reason she probably ought to be. Yes, she was a early nerd-girl before she ever made it big in porn. Indeed, she abandoned a career in computer tech to join the adult industry (because it paid better). Vanessa Del Rio was a keypunch operator and computer programmer before she gave it up to make more money as, progressively, a waitress, barmaid, go-go dancer, streetwalker, call girl, and then finally as a porn star. I guess it's no surprise that career prospects and compensation for "women in tech" were even more dismal back in 1975!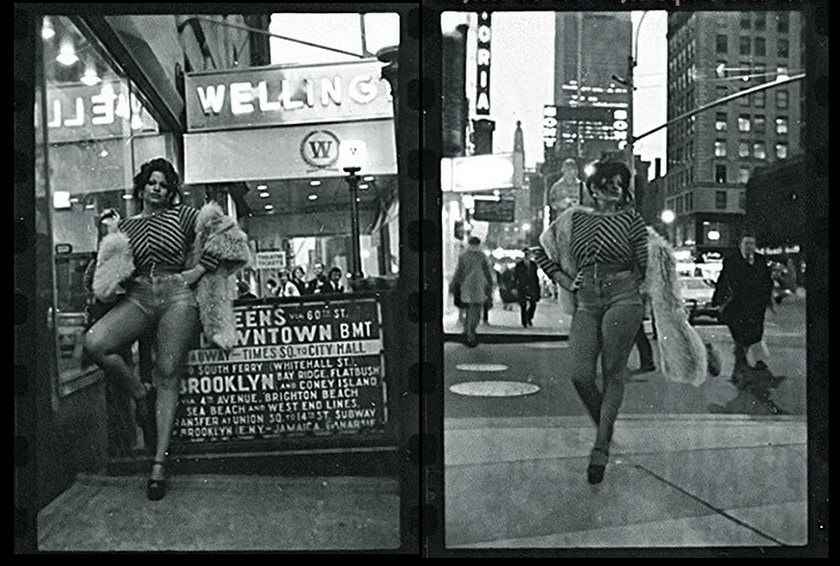 (Image via Vanessa Del Rio's Twitter feed.)
Vanessa's also notable for being an early proud partisan in the war that sex-positive feminists are waging these days to reclaim the word "slut" from those who use it as a term of abuse. Here she is in a 1999 interview, defending her use of of the term when an interviewer suggests that she's somehow putting herself down:
I did do things that people consider what a slut would do. But meanwhile while people are telling me that they're titillated in some way. You can't tell me that by looking at a picture of a genital, a pussy, a dick, a tit, that it does not in someway titillate. If you somehow feel there's something wrong with that, then you feel something's wrong with you. I like to use the term "slut." If slut [in the dictionary] means a "wanton, horny, nasty woman" then how can I deny that? Every piece of mail I get tells me that they love me for it. That's why I call myself a "slut goddess." Because I did it. And I can't deny it and I will not deny it. I will not try to repent for something I found pleasurable and still do.
No profile of Vanessa Del Rio would be complete without mentioning that she also performed in a wide variety of bondage and BDSM films, with titles like Top Secret (1982) and The Spy. Some of her bondage films featured actual bondage sex in an era when that was considered obscene and therefore dangerous to distribute, but fans found those titles anyway, in the peep show booths and Times Square porno shops.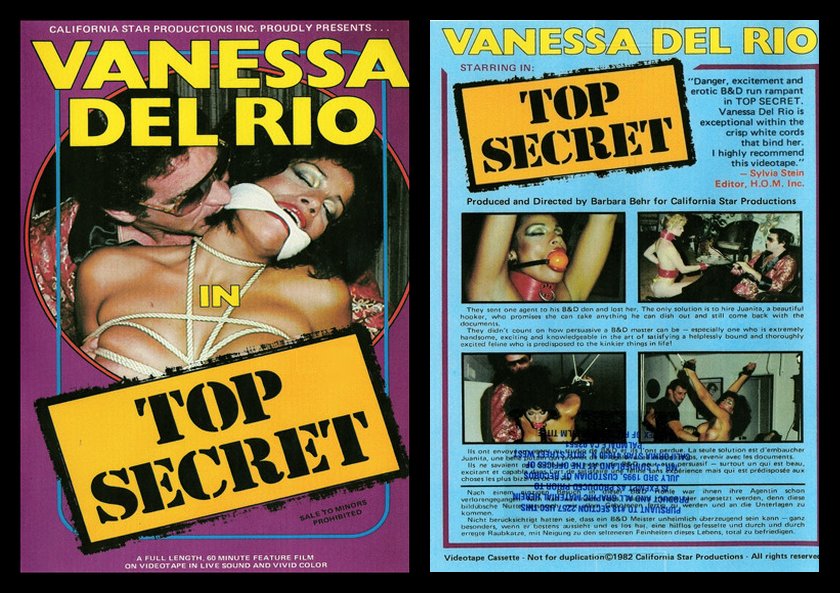 Vanessa retired from making porn movies in the late 1980s, citing the AIDS epidemic as a reason to get out of the business. But her true fans will never forget her.