Twelve hundred years ago, Vikings exploded out of Scandinavia and began scouring the rivers and coasts of Europe with an orgy of looting, kidnap, rape, and murder. (Not necessarily in that order, as the ancient joke goes. Wanna bet the joke itself is 1,000 years old?)
The Viking party, and Europe's terror, lasted a bit more than 300 years. Eventually the Norse kings got religion, and began to frown on bringing slaves home from raids. That took much of the joy and all of the profit out. By the end of the 11th century, Viking raids were a rare curiosity.
So why the fuck are the Vikings everywhere you look in art, popular culture, historical romance, old novels, and most importantly for our purposes here at VPornBlog, in porn? What the hell kind of deep scar did the Vikings leave behind on the psyche of Europe, that it still shows, most of a thousand years later?
My theory? It was the kidnapping of the women, mostly, that left the mark: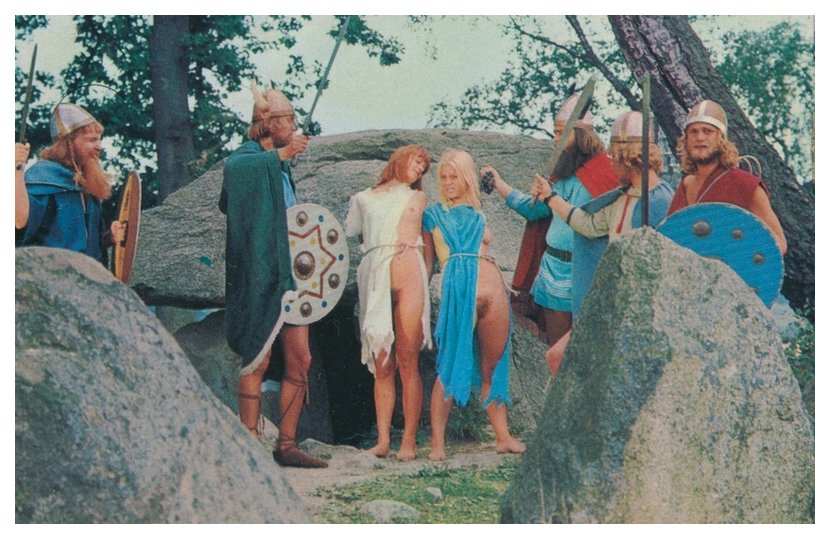 That and the enslaving. And the raping: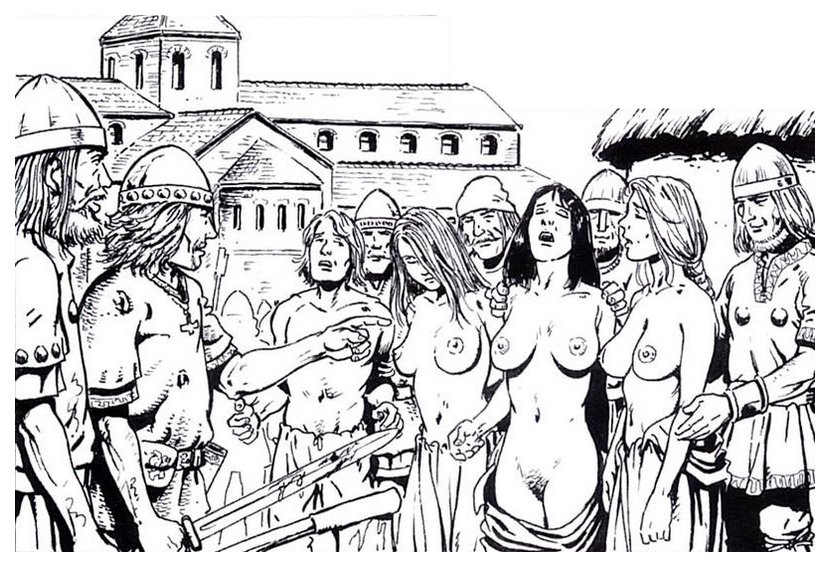 People (by which I mean "people who get educations and do art and write literature" by which I mean, before the 20th century, mostly men) really don't like it when you mess with their wives and daughters. No, sure, of course they don't like being murdered or looted either, don't get me wrong. But steal their sex-chattel and make it your own sex-chattel? They'll still be smarting from that indignity a thousand years later!
Do I even cynic, bro? Of course I do. But I don't think I'm wrong here. As a culture, "we" are still hysterical about what the Vikings did a thousand years ago. And this hysteria leaks out in the oddest places, especially including in all the porn imagery I'm sharing in this post.
I'd say the best job a porn film-maker has done of catching and portraying this hysteria about Vikings has got to be in the over-the-top 2001 gonzo movie In The Days Of Whore. In the version on Vporn.com it's in Spanish with English subtitles, but that won't matter. Start watching at about 49:00 for the rapey Viking scenes (as opposed to all the other rapey scenes). The fun begins when three wild Vikings grab a milkmaid (who was peacefully churning her butter, if you get my drift) and ravish her in a church, but not before they sodomize her with her own butter churn handle, using the butter she made, to lube it up: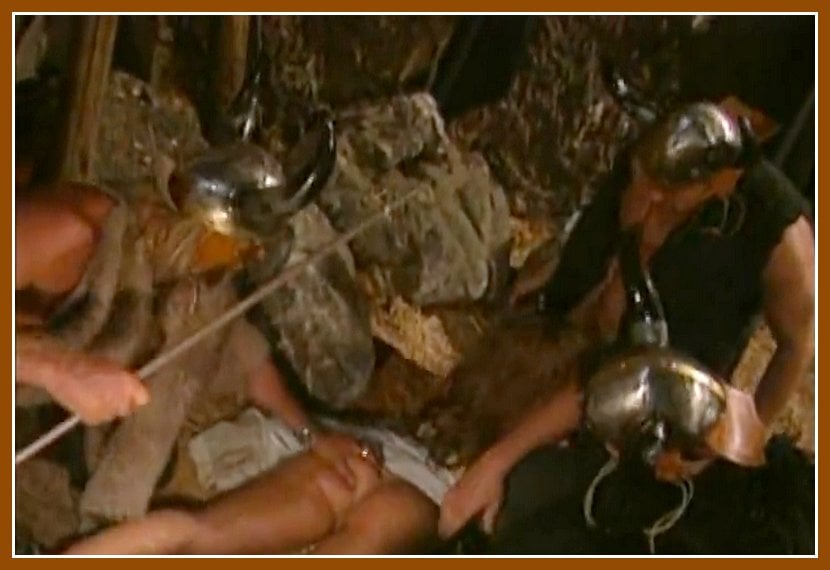 Fortunately, a lot of the porny Viking tropes are cartoonish and silly. Time heals most wounds, but it leaves funny-looking scars on the wounds it can't heal. Comic book Vikings become cartoon villains. There's less authentic blood and rape on the cover of a pulp magazine or a comic book, and more cartoonish sadism, played for mustache-twirling villainy or laughs. That's how you get a Viking whipping a topless and helpless bondage blonde, for no obvious reason: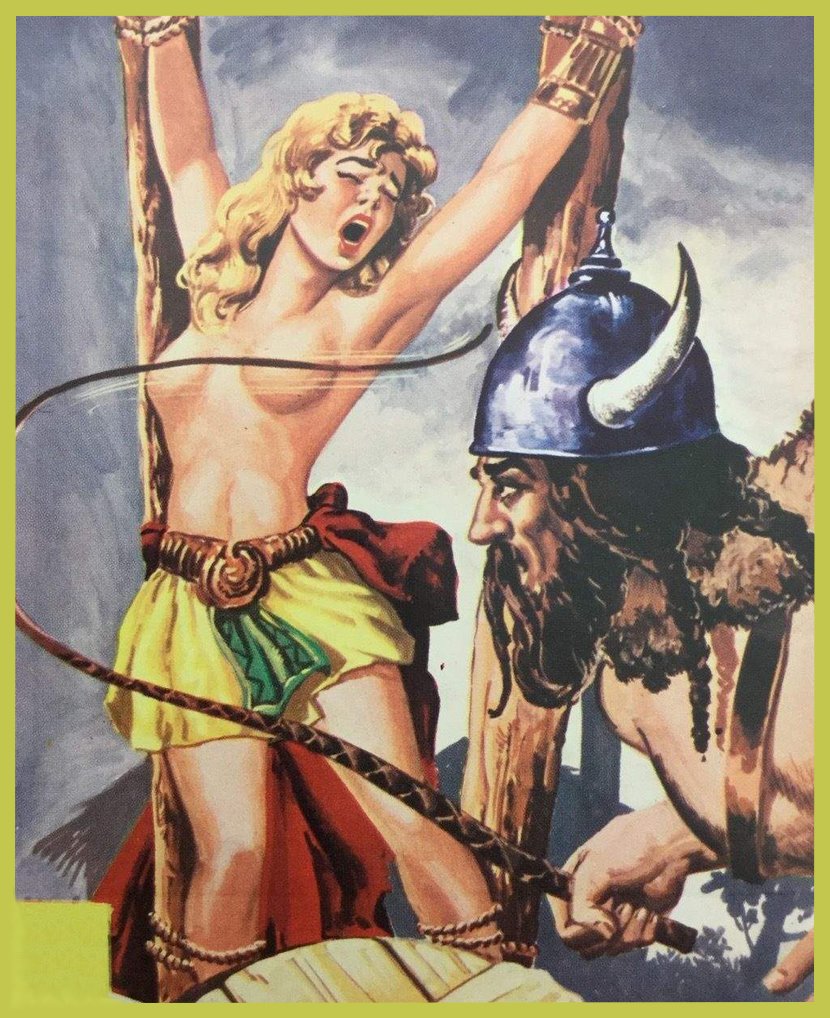 It's also how you find a Viking hand-spanking a surly brunette at a party: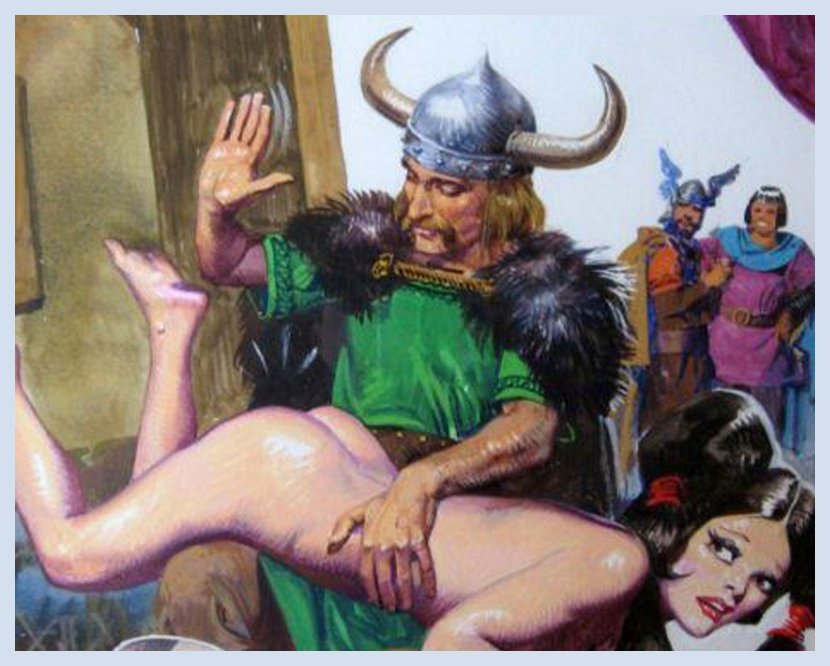 History doesn't record that Vikings had any more penchant for sexual sadism than the usual run of men. Or, for that matter, than they ever wore the horny hats. These are devil-features projected onto them by our still-echoing cultural trauma. As a student and curator of eccentric porn, I am fascinated by all these examples of how thousand-year-old Viking-trauma expresses itself in 20th-century porn. I hope you've enjoyed them too!