For almost as long as people have been getting naked for porn's cameras, there has been splosh porn. Sometimes it's called "wet and messy." Mud wrestling, pudding wrestling, jello wrestling, cake sitting, pies to the face — these are all part of it. Fetish purists draw distinctions between them all. Paint versus frosting, baked beans or canned corn? It matters to somebody. But it all makes a glorious mess.
The wet and messy food-fight orgy scene shown at the top of this post comes from the 1974 porn movie French Blue. I have not seen the movie, but I really hope the fully-dressed guys with the cake and the cameras got sucked into the food fight and the orgy both. I want to know they were thoroughly slimed before the scene was done shooting. Tell me they were!
One of the appeals of splosh-fetish is that if you get an actress messy enough, nobody can tell she still has clothes on. Or they won't care; they'll still groove on her humiliation. This lets mainstream directors do it to mainstream big-name actresses. Which is pretty sexy, and sells tickets. They did it, famously, to Ann-Margret in the 60s, in a movie called The Swinger: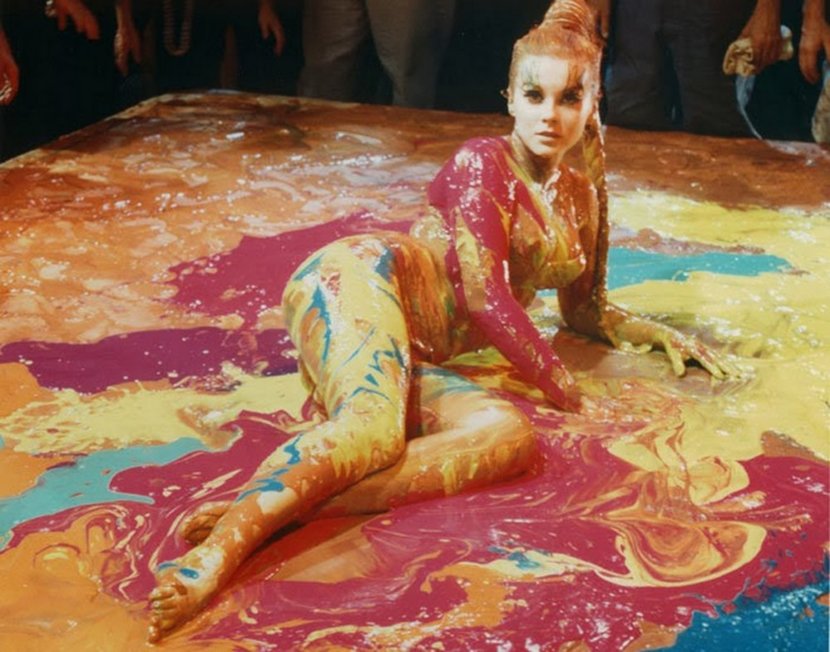 They did it even more famously to Catherine Deneuve in a humiliation scene in the 1967 movie Belle De Jour. She gets spattered quite thoroughly with, supposedly, horse shit: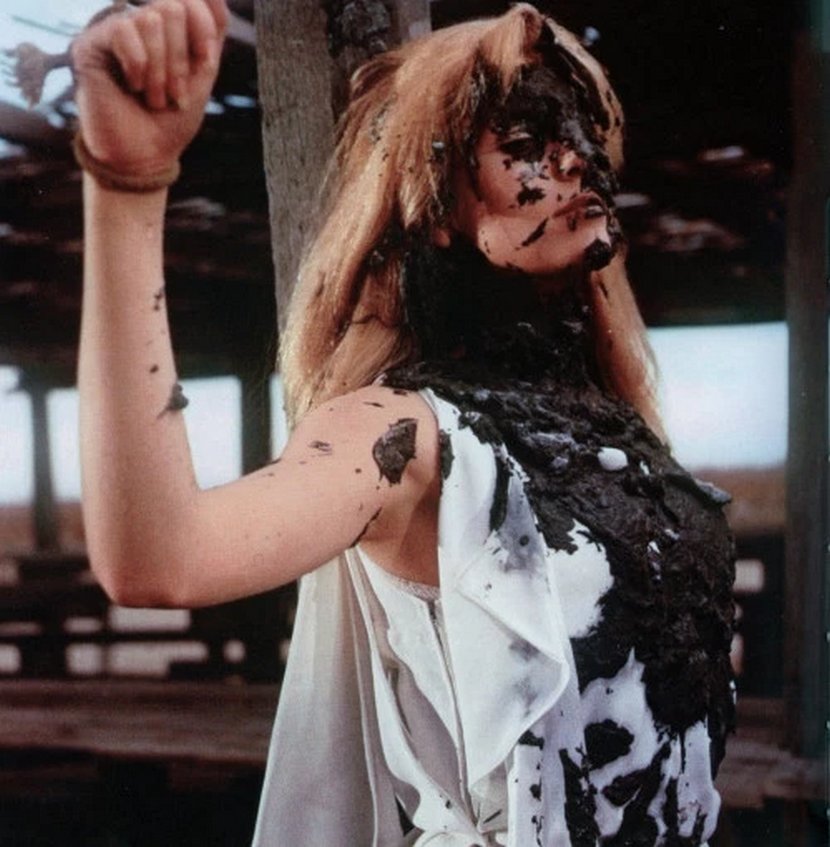 Sometimes grossness and bad smells are the whole point of the sploshy exercise. These Japanese girls are making a point of spreading natto — an unpleasantly stinky fermented food — on themselves before licking it off:
When you make splosh porn with mainstream entertainers and celebrities, though, you can do it right on prime time cable television, which is entertaining on a whole different level. Remember when they slimed Katy Perry in a latex rubber dress at an awards ceremony? Now, that's entertainment!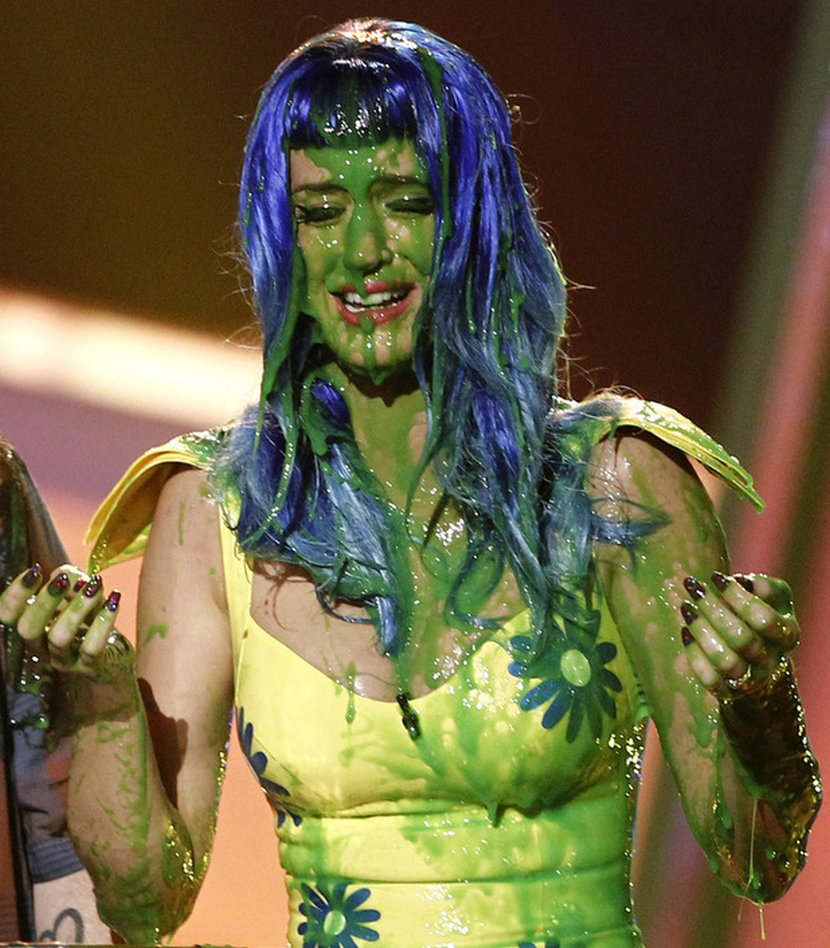 Let's move on to mud wrestling! There are purists who argue that this is not, properly speaking, part of the sploshing and wet/messy fetishes. Because mud, pudding, and Jello wrestling are often performed in bars as entertainment, they claim it's not fetishistic at all. I say fetish fuel is where you find it. And if these alcohol-fueled Eastern European beauties aren't wet and messy enough for you, I'm sorry, I can't help you:
And anyway, even mud wrestling has porn crossovers. For instance, the 1984 women-go-to-war porn comedy Foxholes had a boot camp scene. Legendary porn superstar actresses Vanessa Del Rio and Lisa De Leeuw had to mud-wrestle in the obstacle course pit: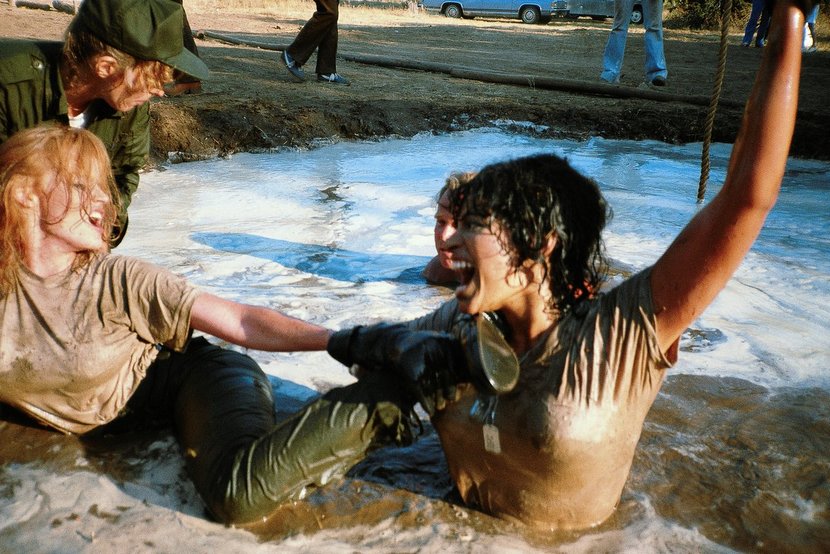 Like all the best fetishes, sploshing porn is often combined with other kinks. Eric Stanton, the 1950s king of kink, included a sploshing scene in Chapter 39 of the long-running Blunderbroad comic, drawn by him and written by Turk Winter. Blunderbroad was a hapless Wonder Woman parody character who appeared in Stanton's Stantoons fetish magazine. In this scene in Stantoons #61, "Blundie" has been captured and tied up, and is being humiliated by several other characters. She's forced to sit in a huge strawberry cream pie, while her face is forced helplessly into another: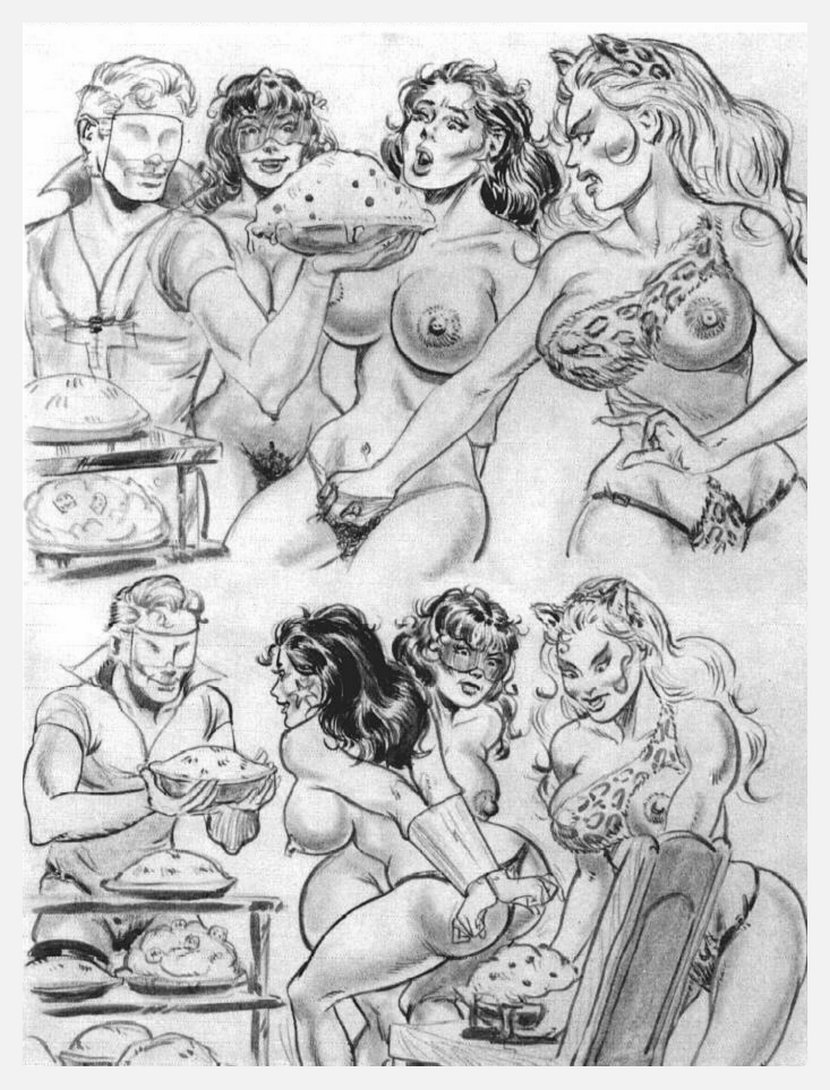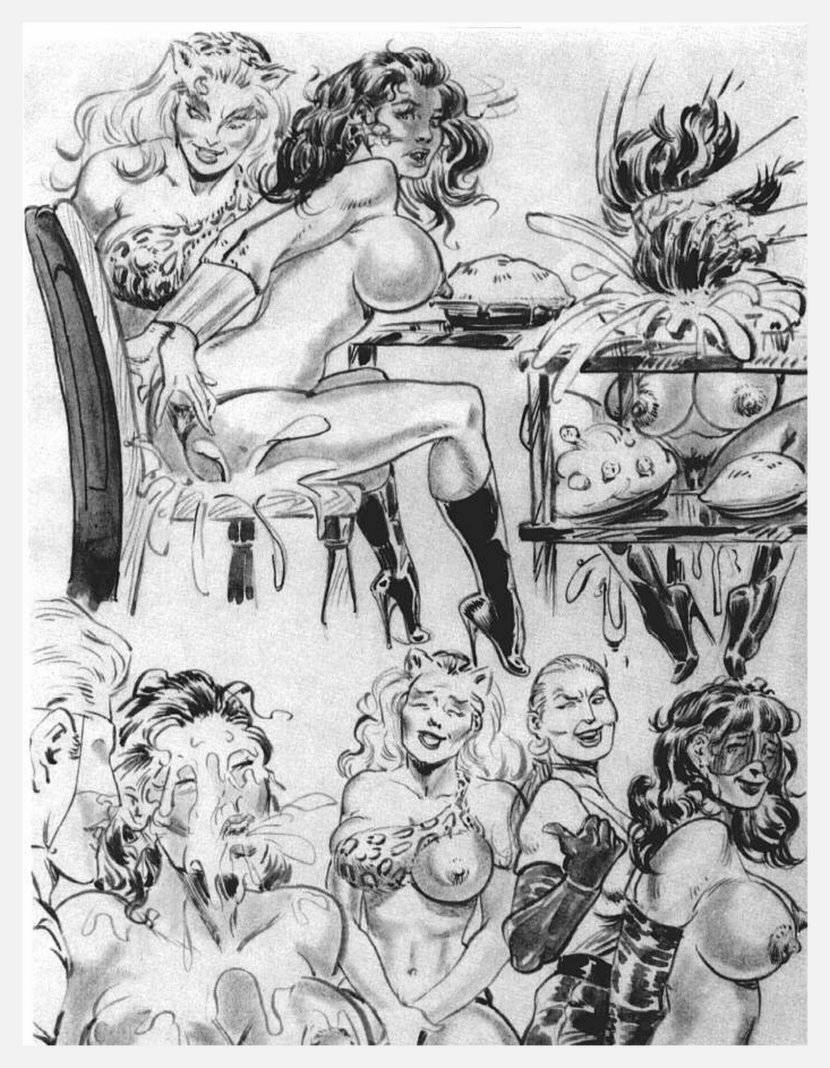 I hope you've enjoyed this somewhat wild and bouncy ride through the diverse world of wet and messy sploshing porn!