One of the European girls who always has a big smile on her face, adult actress, Alexis Crystal, brings special vibes to all of her scenes. Seriously, if you haven't seen any of her porn videos, go ahead, scroll down immediately, and you'll see what I am talking about. She's a real sweetheart who enjoys spending naughty moments on camera. Hint: she likes it both romantic and rough, with one or with several partners. Either way, all of her movies are packed with passion.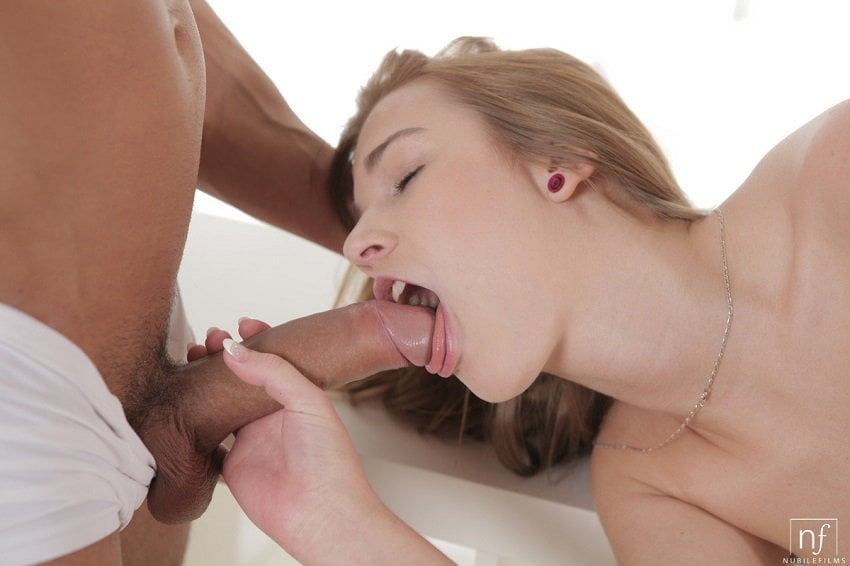 When it comes to dudes, Alexis enjoys fucking them, as well as being banged hard by them. In her pussy! However, she even shot a few anal sex scenes, still, she probably never will be considered an anal queen. The blonde beauty, Alexis Crystal, prefers getting her vagina stretched way more. Bear in mind, in private life, Crystal has a completely different opinion about butt fuck. In short, she enjoys practicing it more in her personal life than when it comes to shooting scenes. The whole process of getting herself ready for the shoot is not very appealing to hear. Especially the no eating part!
For your information, Alexis' favorite male performer is Matt Ice.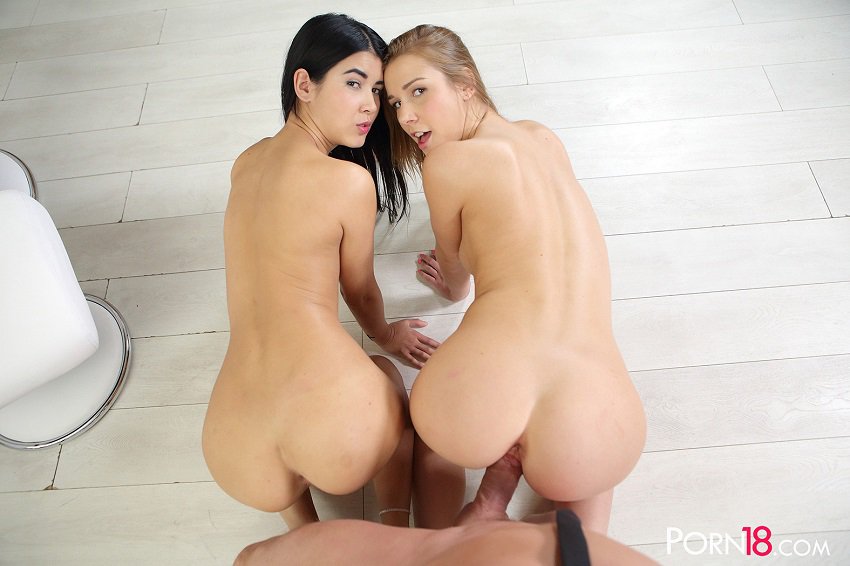 Before we close the asshole chapter, here's a quick info to cheer you up. In an interview, Alexis sad that it only took her three minutes to reach a super satisfying orgasm during anal. And the only thing the guy did was to stick his finger in her butthole while licking her twat. Yep, Alexis really is a sensitive woman who climaxes very quickly.
Now you would really want her to start filming more bum fun, right?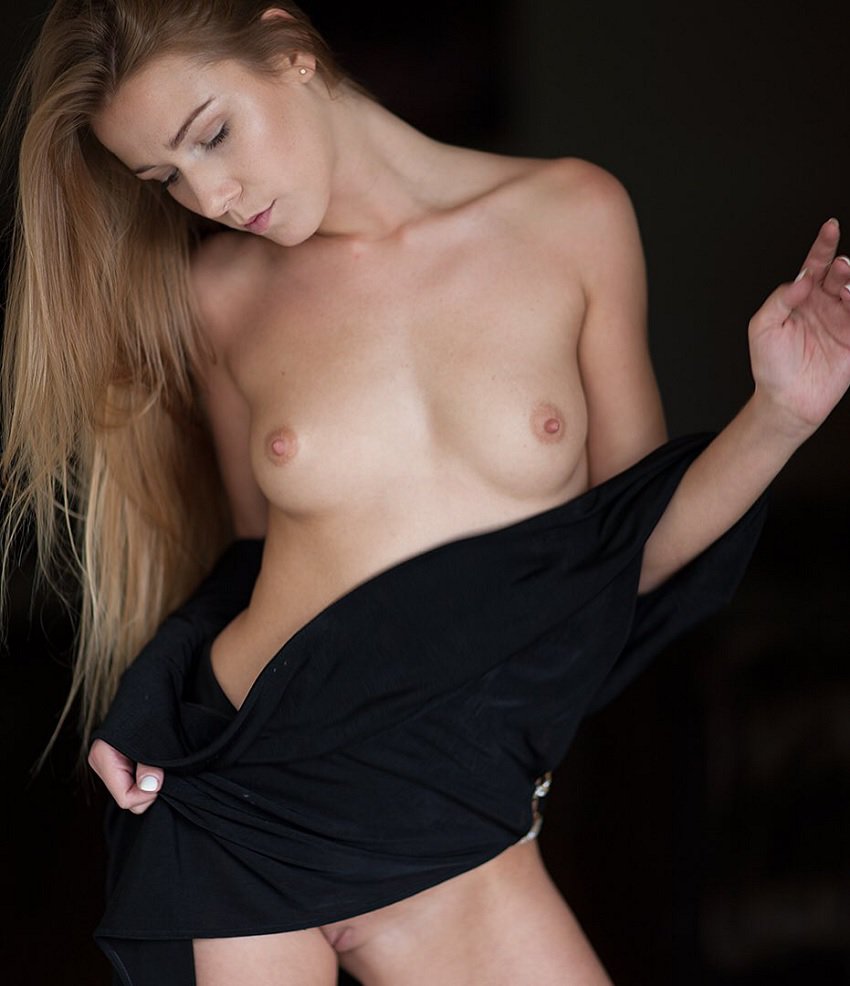 As far as girls go, Alexis Crystal loves working with them. They have boobs and they have vaginas, just like herself, and that's why she adores them so much. "They are just like me," she says.
Moreover, Alexis lost her lesbian virginity no sooner than on film. You read that correctly; she never had fun with a female off camera and prior pursuing the porn career.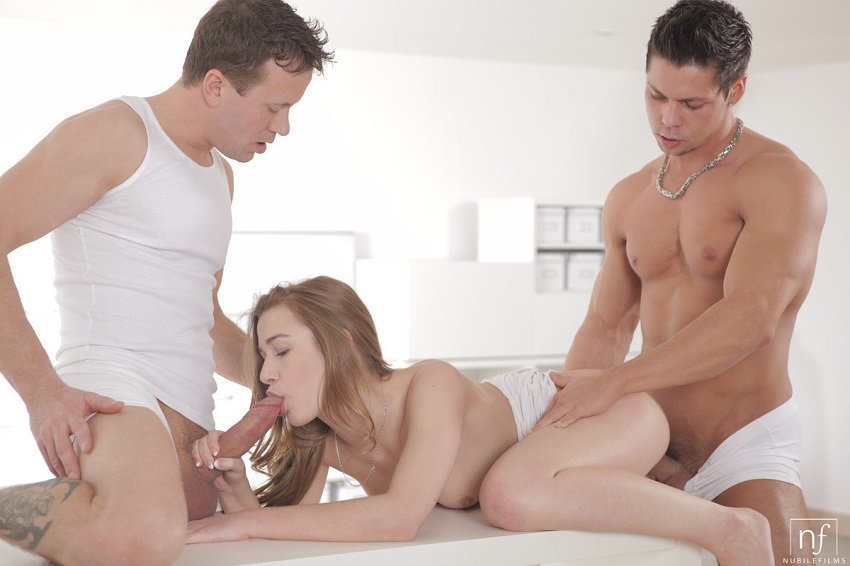 Born on January 1, 1993, Alexis hails from Prague, Czech Republic. The main thing that she loves about shooting XXX scenes is the fact that she gets the opportunity to play different roles. The sex part of them is only icing on a cake.
It's fun and she really does like the whole buzz around it. Over her very rich adult career, Alexis worked with some of the most notable companies, like Nubile Films, Mile High, 21 Sextury, Private and others.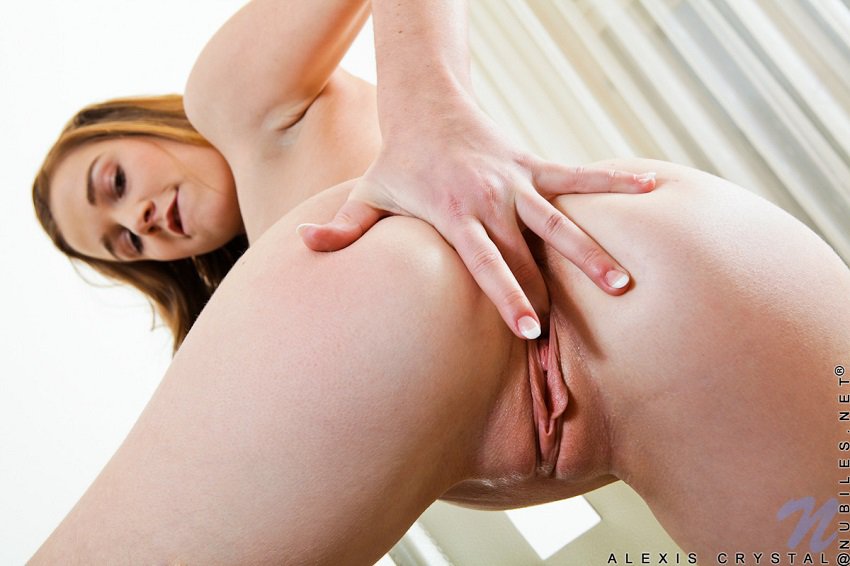 Nothing seems to stop Alexis Crystal from leaving the adult entertainment industry any time soon. As a matter of fact, she aims to keep doing the things she does for as long as possible. With her positive and a very energetic approach to the business, we are certain Alexis will be in the game for a long time.
To look logically, if you get nominated for the industry's biggest awards twice in a row, why would you even want to leave? That means only one thing; business peeps and fans love you!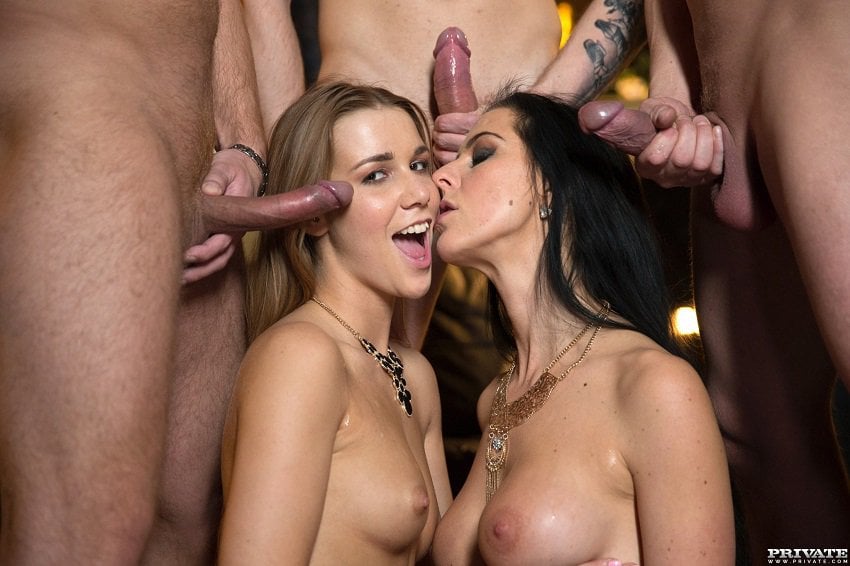 Go on, follow this piping hot and mega adorable creature on Instagram and Twitter and see what she is up to on a daily basis.
Enjoy positivity and energy in all Alexis Crystal porn videos
Super romantic outdoors fuck

Just like Alexis likes to do it roughly, so does she enjoy romantic sex in the middle of nowhere. If the latter is what intrigues you, you better not miss this hot and very juicy porno that will get the excitement going strong. They kiss, they touch and they get the warmup going with amazing vibes. From then on, he inserts his thick shaft inside Alexis Crystal's tight vagina, spooning and off the go. The gentle fucking is to die for. And to seal the deal, he ejaculates directly onto Alexis' warm tongue.
I think I will rewatch this one at least once; I feel very romantic today.
The threesome that you control

How about you controlling the sex in a porno scene? This is what Life Selector brings to the table. A whole new approach to viewing XXX content, such that you actually control. Of course, this does not apply to the free video that we have here. You know where to go if you truly want to unlock the real potential of Life Selector. But first, test the waters with this delightful threesome sex featuring hot and sexy Alexis Crystal. By her looks, she definitely enjoys being between two throbbing cocks, playing with them and tasting them.
Now it's your turn.
Wild and wicked foursome for Alexis

Young Alexis is full of surprises – and you know it! This hot lady is always down to do stuff that she had not done before. Indeed, Alexis is very courageous if you will. If you need proof, then sit back, relax and enjoy yourself watching her get her pussy demolished by three muscular studs. What you might enjoy about this particular porn the most is the ender. What's so special about it? Well, the guys ejaculate in a wine glass which, of course, Alexis drinks to the very last drop. It is not wine anymore, rather a cocktail full of vitamins.
Nuru massage always feels good

When you hook up with Alexis for a session of Nuru massage, you know already that you are in for a sweet treat. This woman gives it all her best to make sure you leave fully relaxed and satisfied. She wins the game each and every single time. With her oily body, she rubes against you and get you all warmed up and ready for the action. Once she knows you are ready to step things up, Alexis goes all-in, giving you a handjob first before she rides your thick cock like there would be no tomorrow. Lastly, she milks you to the very last drop, keeping your desires fulfilled for days to come.
Romantic evening for a romantic couple

A glass of wine quickly gets the young couple horny as fuck. Without wasting too much time, they go straight to the business. First, they share a few succulent kisses before he starts grabbing her lovely boobs. Young boy first fingers and eats her pussyhole, getting Alexis Crystal dripping wet. To return the favor, the teen lady bends over and starts sucking on his already throbbing cock, exposing her tight ass to the audience. When both ready for the kinky fun, Alexis climbs on top and the rest is history. They enjoy fucking in all sorts of different sex positions until the point of no return. The stud splashes a load of cum straight onto Alexis' shaved vagina.
Double penetration and a facial after a poker night

Do you know what is better than winning a poker game? Having Alexis Crystal being the reward who you and your pal can fuck in the pussy and the ass. How cool does that sound? I know, right, almost too good to be true. However, if you hang with the right people, magical things happen. While enjoying the game, Alexis walks into the room, wearing a super hot and sexy black outfit. Soon, she stands in front of them, naked, wearing high heels only. From then on, it is all about enjoying the two stiff dicks double penetrating her fuck holes. And then, a double facial that wins the day.
Blonde Czech girl uses Hitachi on her twat

To kick it off, let's get even more familiar with cute Alexis. In the video above, you will get to know a thing or two more about this beauty and then get treated with a nice solo show.
Did you know what Alexis does after shooting porn? Well, it's quite easy to guess. Being a horny human being as she is, she goes straight to a private fuck session. It seems that there is never enough of action for adult actresses. They could bang over and over again, and it's no other than Alexis Crystal who enjoys getting her pussy penetrated all the time. Anyone complaining? Not really.
However, no fucking in the dirty flick above. Alexis takes the Quest for Orgasm and succeeds with the help of her good old friend, the magic wand.
Girls, I said it already and I will say it again, do try out the Hitachi if you haven't already. It does wonders to your clitoris and va-jay-jay.
Hard bondage action for a young and naughty woman

I tould you earlier that Alexis is down for both soft and romantic scenes, as well as rough and wicked stuff. This time, the latter is what you will receive in form of a bondage show.
She might look an adorable lass, however, Crystal is no stranger to some rope fun, spanking and getting fucked by a vibrating machine. Not to mention, being completely dominated. By getting whipped and her nipples pinched, her ass reddens and her boobs gets harder. Alexis is ready to get tied up and destroyed with sex toys. Just like in the previous scenes, this time, Alexis also benefits from the vibrating Hitachi, as well as man's strong arms.
Vivid lesbian threesome for three brunettes

When three delicate ladies gather, one wearing pink, the other white and the last one black lingerie, the only thing for you to do is to relax your body and mind and enjoy the show. These three lasses are Alexis Crystal, Silvie Luca and Elisa.
Each of them brings her own skills and experience to the lesbo show. Together, they form a hot, sexy and very tempting three-way sexual intercourse that your cocks and clits will go hungry for. For their soft touches and succulent kisses. Oh boy, what is the best part of this activity is that they help each other reach a very bombing orgasm, one at a time.
When you are in need of a girl-girl-girl sex show, look no further, you just came to the right place. These young fuckers are full of teasing, seducing and pleasing. Needless to say, each and every one of them craves juicy and moist pussies to bury her head in between the legs and start to munch. Bon appetite!
A pleasant surprise that ends up with a creampie

The time has come for us to share with you the first boy-girl scene featuring our queen of the day, Alexis. In our eyes, intimate and passionate scenes are the ones in which Crystal performs the best. That said, here she is spending romantic moments with her boy, Enzo.
Taking care of the girly stuff, Enzo joins her and goes straight to kissing her succulent lips. He does not really care what Alexis is up to, the only thing that matters are their lips, their hands, their bodies and lastly, their sex parts. A horny couple as they are, they enjoy a sexual intercourse on a regular.
Enzo first offers oral sex to his mistress before she returns the favor. Both aroused and wet; they are ready to bring things a step further. It is time to get that cock inside Alexis' twat and get the penetration going. Banging her hard and enthusiastically, Enzo creampies her pink muffin and let her experience the inside jizz explosion, reaching every corner of her pussy.
Early Christmas celebration for a glamorous blonde miss

When she feels the need to rub one out, Alexis will do it even when getting herself ready for the Christmas party. Or whatever else she is getting herself ready for.
In front of the mirror, wearing that glamorous fur jacket, Alexis Crystal starts to please herself without even noticing he arrived. Luckily, she will not need to finish all by herself.
Throwing down a quick solo show for her man, Alexis makes him hard in no time. Being a god girl, she joins him and takes his extremely large cock with her mouth. Sucking his shaft and making it even bigger, Alexis gets a dose of vigorous pussy pounding on the bed by a Christmas tree. When he gets to the point of no return, Christian Clay unloads a portion of cum all over her cock wallet.
Seductive Alexis Crystal receives vagina penetration on the counter top

Speaking of seduction, it's no other than Alexis who knows darn well how to tease boys and drive them crazy. It's her all-natural beauty, adorable looks and years of experience what gets boys hooked, boner ready and willing to do whatever she says. Things are so easy to achieve for piping hot Crystal.
Moving to the stone table, Alexis turns around, puts one leg on the top and gets ready to receive a large dick inside her tasty muffin. Smashing that cock wallet from the back and from the front, dude unleashes a torrent of fresh cum straight on Alexis' lovely feet. Foot fetishists, you are welcome.
This kinky orgy is all your ever wanted

Babes and boys dressed up in white, wearing masks and ready to fuck each other's brains out – do you even need anything else in your life? I thought so.
As part of this best collection of Alexis Crystal porn videos, we could not leave the list without featuring this orgy, as well. It's nearly too good to be true. It actually really is. However, the only one we miss fucking mad is Alexis. Still, while the rest are doing the thing, Crystal is there, on the floor, taking care of her muffin. Watching others have sex makes her horny as fuck. Fingering the living daylights of her pink taco, Alexis enjoys the group fuck just as much as anyone else.
Would you be kind enough, join the scene and take care of Crystal? She definitely would look way better with help from a stud, working his machete deep inside her pussyhole. Get the imagination going!