Brunette MILF, Audrey Bitoni, has been around for quite some time now. We, indeed, waited for far too long to get this best of Audrey porn videos collection happen. Better late than never. Audrey is this sweet but extremely dirty woman who likes all things cock and pussy. Tell her once and she will do it no matter what. You can see Audrey's work released by all types of the most popular companies. To name a few, Audrey stars in sex scenes from Brazzers, Penthouse, Reality Kings, Evil Angel and Digital Playground.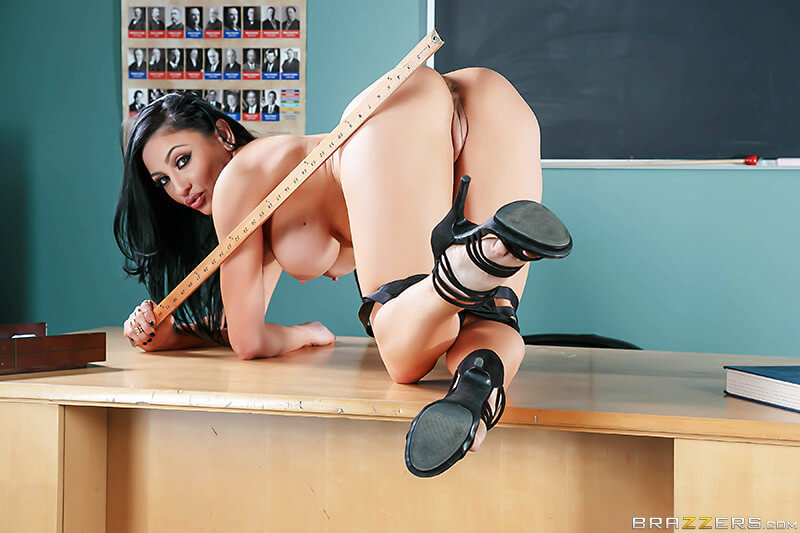 According to IAFD, Audrey began her adult entertainment career back in 2006. She is now in her thirties and still going strong. By the way, Audrey, was born on August 16, 1986, in Los Angeles, California.
It was when Audrey and her girlfriend were eighteen years of age when they first chatted about porn. Before that, Audrey did not really know much about porn. She had seen some old and hairy stuff but that was pretty much it. 18-yr-old Audrey said, "Yes, I would do it." However, two years passed before the idea came back. At the age of twenty, Audrey Bitoni decided to take the leap, sent her pictures to LA Direct and began shooting porn.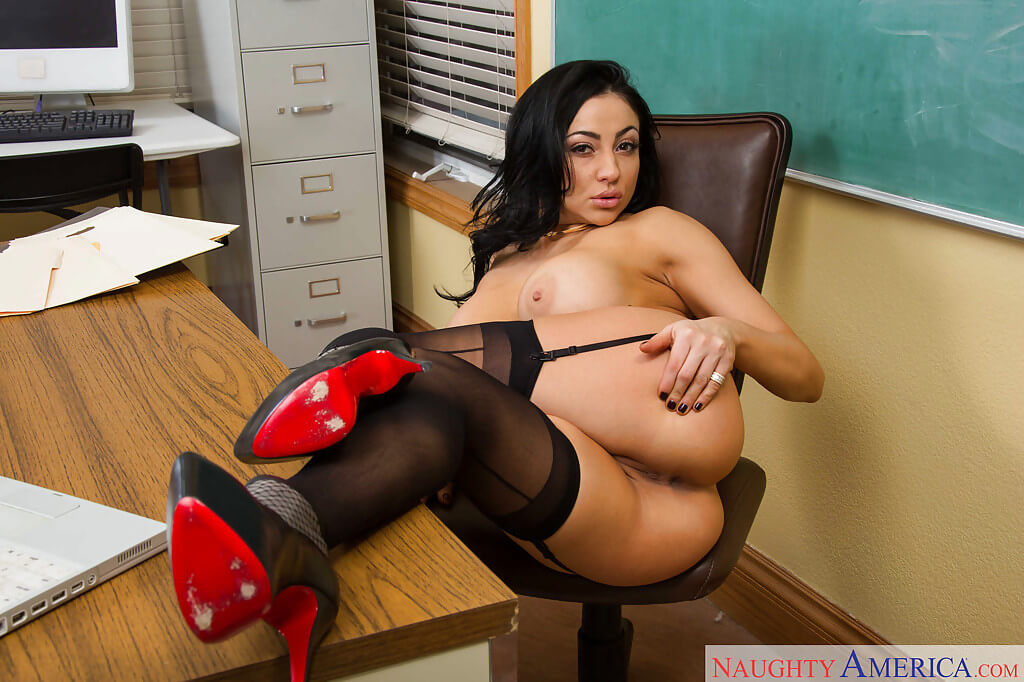 One last super important thing about pornstar Audrey and then we indulge ourselves in her inviting porn videos. One thing is for sure, Audrey does not want to make anyone feel intimidated. She is a chill and down to earth gal. That said, if you want to approach her, just do it and she'll probably talk to you.
There, it is Audrey Bitoni porn videos time!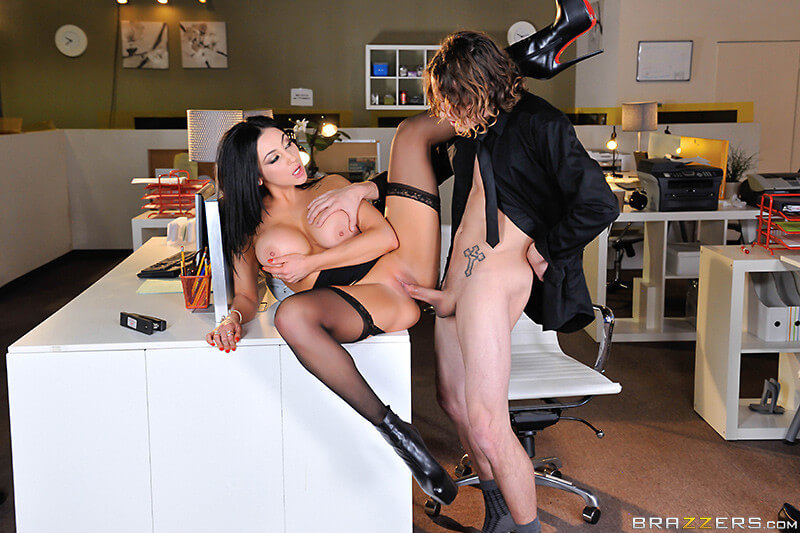 Audrey shows her ex how things are done

It's Audrey Bitoni who cannot forget her ex, and the time has come to show him what he lost. She invites him over for dinner, but it is not like any other dinner that Kieran visits. After they end up being alone in the bedroom, Audrey wants to show him one last time what a big mistake in life he has made. For one last time, Audrey wants to fuck the living daylights out of Keiran Lee, and she succeeds at it tremendously. With his cock deep inside her mouth, Keiran is unable to hold himself back and goes with the flow.
Policewoman eats cum-filled donut, gets fucked

They have a super clever idea of filling all the donuts with a portion of cum cream. However, little does he know, his lady will walk in, order the donut and eat it. Just in time, Johnny comes from the kitchen and stops her police girlfriend from finishing the donut. Of course, she is pissed and mad on her cheating boy. However, instead of getting someone to jail, Audrey wastes no time and goes down on him right there, in the shop. She blows his enormous shaft and enjoys getting fucked hard on the counter afterward. Will they get those donuts stuffed with jizz again?
The perverted nurse cannot get enough of his shaft

After inspecting his body in great detail, Audrey Bitoni just cannot hold herself back and have some fun with his large dick. Every single time when he is asleep, she goes down on him. As expected, when he wakes up, he thinks he had a wet dream – AGAIN! One day, Audrey wants a piece of that meat deep inside her pussy. She is so used to playing with his shaft, she totally forgets that he is awake and start stroking the rod like there would be no tomorrow. Her patient then demolishes Audrey's vagina and lets her experience what it is when fucked vividly by a big cock. It sure does feel good!
Bitoni gets licked, fingered and penetrated deep

Two super horny people can barely hold each other back until they go all in and the rest is history. She sucks his fingers and lets him know how ready she is. From then on, it is all about him going down on Audrey, fingering and licking her shaved pussy until dripping wet. Expect loads of moaning and love sounds coming from Audrey's mouth. Lastly, he pulls his thick dick out and starts to drill the busty brunette until he splashes her big fake boobs with a warm load of jizz. It shows that these two will repeat this secret affair more than once in the near future for sure.
Dildo fucking frenzy staring busty Jenaveve Jolie & Audrey

If you are not a fan of foreplay, you will love the way these stockings clad lesbians have fun. They start off in fifth gear, wielding sex toys like there is no tomorrow. First up for a deep dildoing is Jenaveve Jolie. The slutty brunette gladly surrenders her trimmed pussy to her kinky co-star Audrey. With legs spread, she moans while getting her pierced tits licked and sweet slit toyed. But she quickly turns the tables and returns the favor which leaves her fuck buddy a hot, wet mess. The frenzy continues as they switch and slurp juices off their soaked dildos.
Stud with glasses fucks apart Audrey Bitoni and Mackenzee Pierce

Despite his thick glasses, Marco Banderas is a real hit with the ladies. That is why he has no problem inviting over busty brunette Audrey and her blonde friend Mackenzee Pierce. The alluring pair comes ready to fuck, dressed in latex corsets and neon pink stockings. Would you look at that! Luckily for them, they are greeted with a bulging big cock and cut right to the chase with a double blowjob. After a thorough oral warm-up, both of these babes get pounded vividly. One is ravaged from the rear and the other impaled on a slippery schlong, all to a sultry symphony of sighs.
BDSM doctor Johnny Sins bathes and fucks his busty brunette slave

Waking up tied up to a table and half naked would be a nightmare to everyone but Bitoni. This kinky brunette finds herself bound and at the mercy of doctor Johnny Sins. Before she figures out what is happening, Audrey is already getting her panties pulled down for a sponge bath. Of course, this leaves her perverted captor with a growing boner, so the inevitable follows. Can you guess what that may be?
First, Johnny feeds this brunette beauty with his giant cock and then starts smashing her shaved pussy. Our big tits damsel enjoys every position and every moment of her ordeal with pleasureful moans and groans.
Detention bound schoolboy Jessy Jones fucks his busty teacher Audrey

After getting into detention, Jessy Jones thought he would spend his time reading, but it is not meant to be. Why? Because the sluttiest teacher in school is behind the desk and bored out of her mind. The big tits beauty, Audrey, quickly starts having phone sex like he was not there and, of course, gets interrupted. Angered by his audacity, Audrey Bitoni walks straight over to him to shove her plump boobs into his face. It was now on and a deepthroat blowjob follows, but that was just the beginning. The pair continues to fuck their brains out in every position they could think of. If only teachers, like Mrs. Bitoni is, would be in our school!
Curvy brunette babe Audrey Bitoni pleases herself with a dildo

It is another lonely night at home for Audrey, but she has a trick up her sleeve. Instead of daydreaming, she is going to live out her filthy fantasies with a big dildo. Seems like a fantastic plan! Dressed in black and white lace lingerie, she starts by sticking her favorite toy between her big boobs. Then, while moaning and squirming, Audrey pulls down her panties, spanks her shaved pussy and starts a cowgirl ride. Her moans come naturally, but Bitoni soon dismounts and goes deepthroat while sucking off her pussy juices. Still not satisfied, her dildo adventure continues on all four and on her back. And that is what happens if you leave Audrey home alone. Better get home early and catch her in act.
Feisty brunette finger bangs her pussy to volcanic orgasm

Want to know why this big tits honey is all hot and bothered? It is because she is thinking about you watching her fooling around. Ever the exhibitionist, pornstar Bitoni spreads her legs and hikes up her tight blue dress. With her shaved pussy in full view, Bitoni starts by slowly fingering herself. Her plump tits shake while she squirms and moans. Juices are overflowing, but there is a cure for that. She opens her mouth wide and sucks her fingers clean. With moans and dirty looks abound, Audrey is about to cum any moment now. Do not miss out on this HD porn video.
First time Sybian vibrator ride with elegant brunette Audrey Bitoni

This dirty brunette loves dick, but she does not cry when there is no one around to fuck her brains out. Instead of sulking, the curvy slut, Audrey, decides to try out the brand new toy she got for Xmas. Even though she is used to vibrators, Audrey never experienced pleasure like this before. She lost her mind as soon as she straddles and cranks her Sybian. With her red panties moved to the side and her big tits whipped out, Audrey holds on for her dear life. Her lips trembled, she caressed her body and came hard while moving her hips around. First timers are always a pleasure to watch.
Tempting brunette babe Audrey Bitoni dildo fucks her little pussy

Who would have thought that a classy brunette like Audrey is such a slut in bed? This lusty lady in red quickly hikes up her dress and exposes her big tits the moment when she gets horny. No time to waste! Audrey's insatiable and unstoppable appetite for orgasms get the best of her. The hottie in high heels spreads her silky legs wide open and starts a fierce finger banging session. But her pussy accustomed to fat cocks was begging for more. That is why Bitoni whips out her trusty red dildo and makes her shaved snatch ooze with mouthwatering juices. She is left trembling but pleased.
::
For more of Audrey, make sure you do not miss following her Twitter and Instagram profiles. Bitoni waited for far too long to finally create a profile on Instagram. Meaning, depending on when you check it out, it might be still quite small, filled with just a few photos. But she is working on it.