Meet Candy Samples and Uschi Digard: two of the most legendary big-titted porn stars of the 1970s. In 1978, some intelligent fellow at Parliament Publications got the bright idea of having them do a soft lesbian makeout, to fill the pages of a 48-page porn magazine.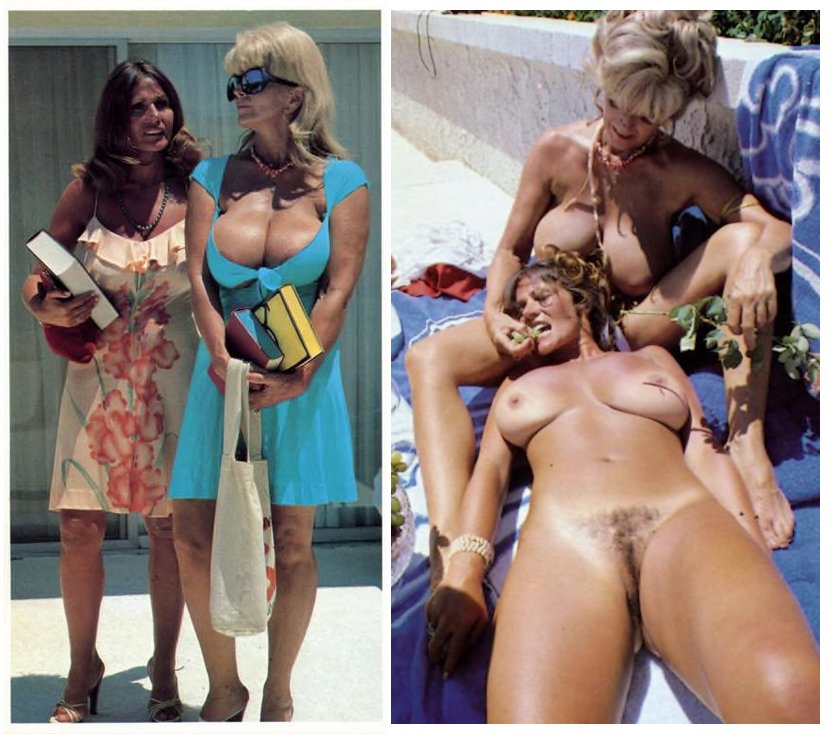 By modern standards, Candy and Uschi were "old" for porn stardom by 1978. Candy was already 50 years old. Uschi? Perhaps in her 30s or 40s. She claimed to be 30 at the time, but everybody in the business lied about their age back then. She's since admitted as much, but never 'fessed up to an honest birth date.
In all their MILFy glory, both of these women were genuine superstars at the time these photos came out. Candy's longevity in the porn industry spanned nearly forty years. (She didn't retire until the late 1980s.) Fans loved her, not just for her absolutely enormous boobs, but for her sparkle and ability to charm the camera. Ushi, who avoided hard core porn roles in favor of men's magazine work and most famously a bunch of soft-core porn movies directed by Russ Meyer, oozed friendly sexuality from every pore. Nor were her own spectacular breasts a liability!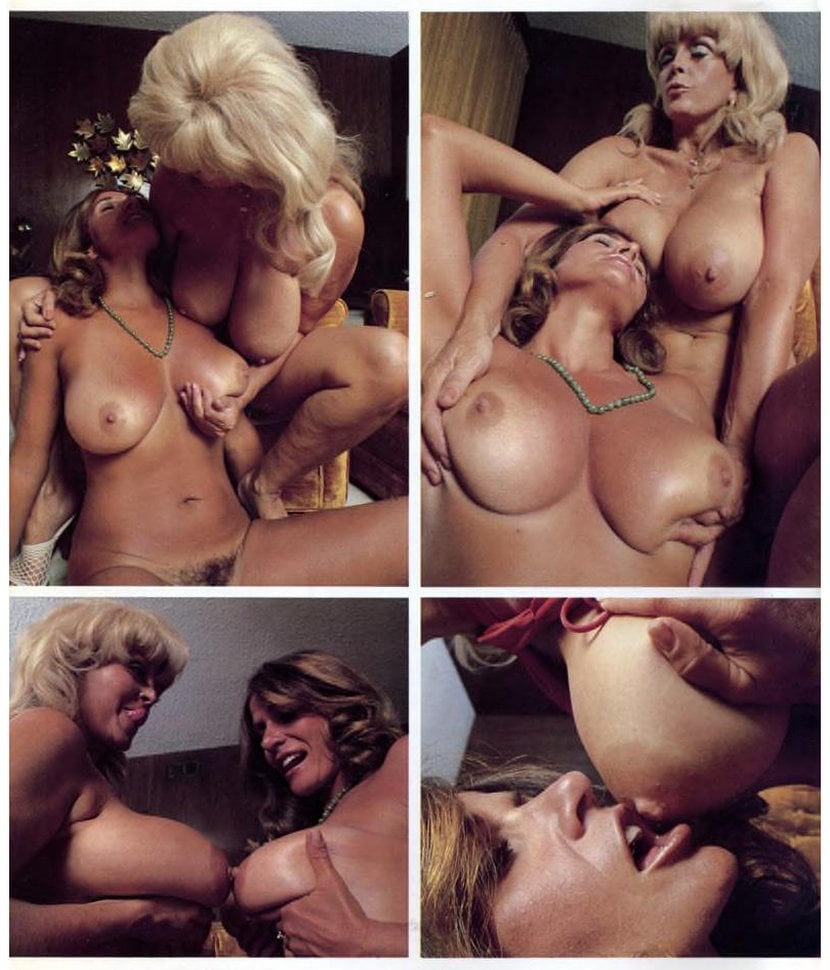 The Parliament Publications people were no dummies. When you've got the four most famous tits in porn in front of your cameras, what do you shoot? A soft-core lesbian scene, naturally; but if the director of this shoot doesn't make Candy and Uschi out to be the most boob-obsessed "lesbians" in the history of faux-lesbian male-gaze porn, I'll eat an entire box of Kleenex. The whole shoot became one long sequence of excuses for these bodacious babes to mash their tits together!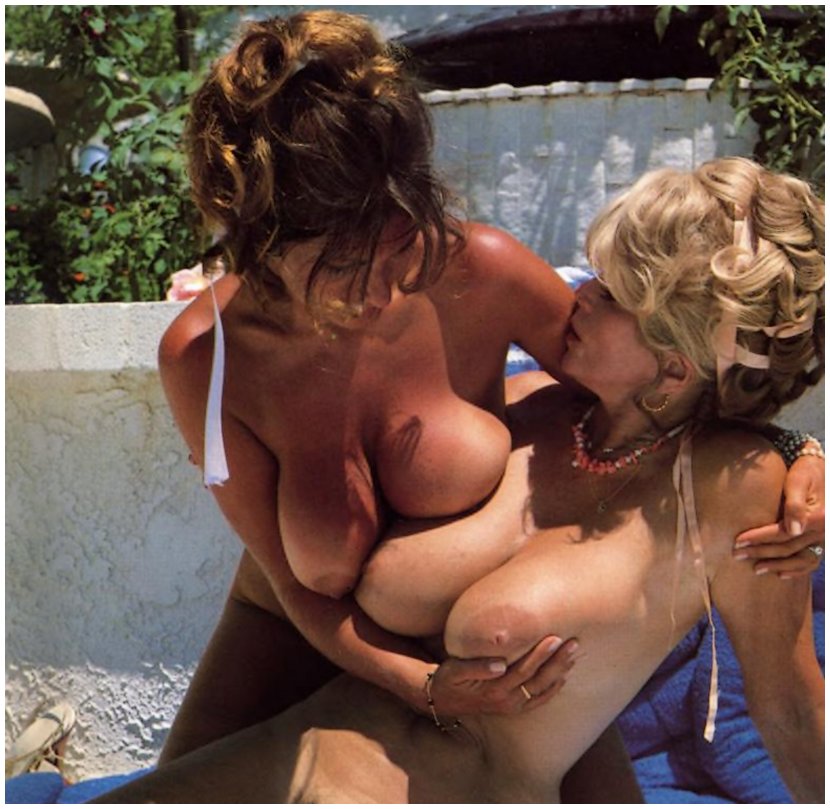 Except, sometimes, he didn't make them mash tits. In this next short sequence of photos, Candy and Uschi show more joy and animation on their faces than in any of the others. Is it because, for once, they aren't jammed (literally nipple-to-nipple) into some faux-lesbian tableaux? Is it the simple joy of sunshine and fresh air and warm water, released from a stuffy photographic studio into the relative carnality of a sybaritic California swimming pool? Or — and this is what I prefer to believe — are they more "into" the dominant role they are asked to play in these photos? They have a bent-over bottom to spank. A male porn star to play with, anonymous, uncredited. His face, we never see. He's their helpless and passive plaything. They whack merrily at his bony butt with open palms, laughing and sparkling in the brilliant sunshine: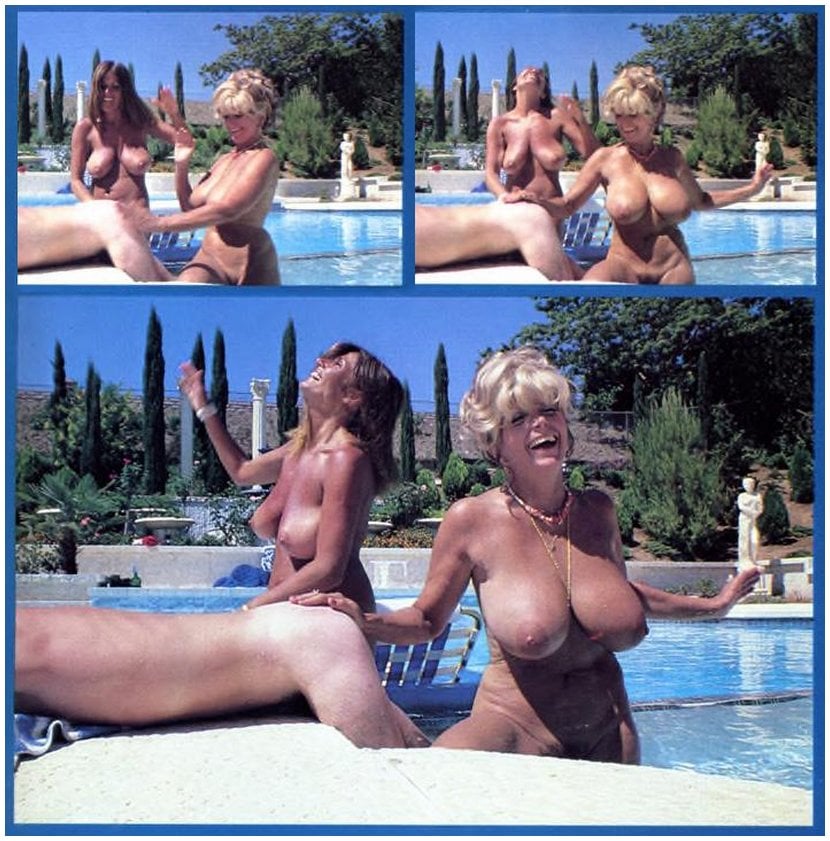 Every fan of vintage porn probably recognizes both of these ladies on sight. It's difficult to describe the scale of their fame, in their day. The unique pleasure of the vintage porn collector is the chance to unearth long-forgotten gems like this shoot of them together. Was it a crass effort by the publisher to capitalize on their fame to sell a lot of magazines? Of course! But true stars will shine even when not given the best material to work with. Uschi Digard and Candy Samples are the ultimate proof of that!