To step up your dirty video consumption game, here we have some of the best interracial threesome porn videos for you.
What's extra important is that most of them are your favorite pornstars' firsts. Yep, you read that correct. They bring their deepest fantasies to reality for the first time on camera for themselves and, of course, for you.
A lot of lost IR threesome virginities you will get to enjoy watching in all these mouthwatering XXX videos.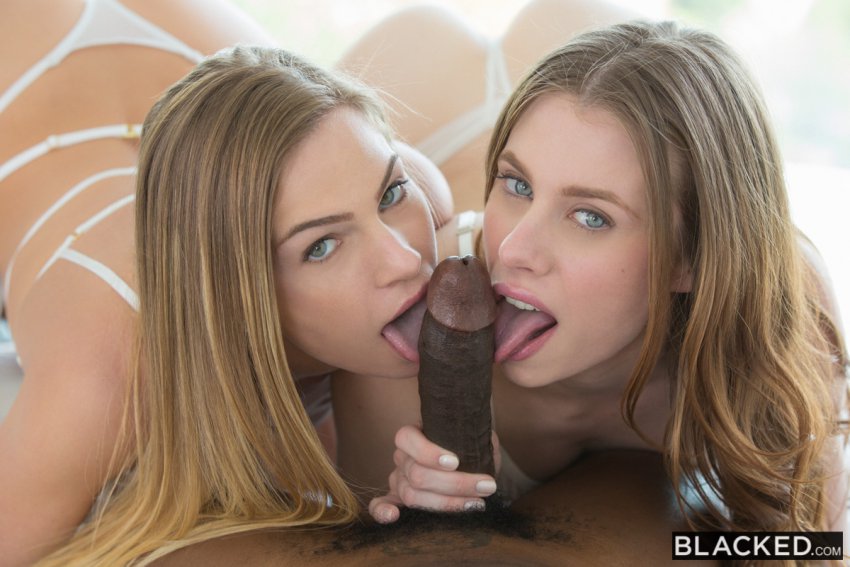 From girl-boy-boy to girl-girl-boy scenes, you are about to witness some of the most quality interracial threeway adult films ever. Since there is so much excellent content on the world wide web, we decided to share with you Blacked's. Debuting back in 2014, the mastermind, Greg Lansky, and his crew put a whole new meaning to interracial.
Needless to say, with a name like that, you can expect only black and white IR scenes. The most popular ones. Though I kind of enjoy Asian IR the most, every single piece of content Blacked.com releases is way above the average. It's the story, the quality of the video and the acting combined what makes all their videos a MUST WATCH.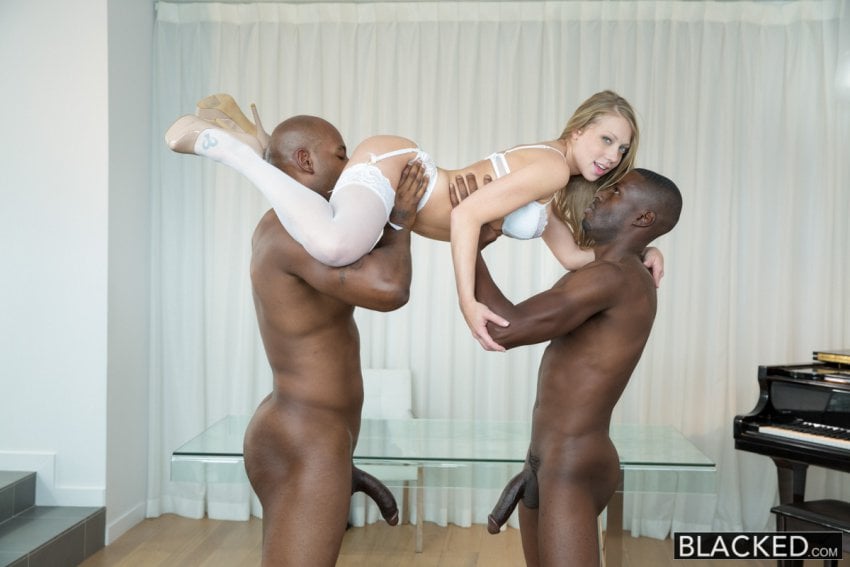 Speaking of an interracial threesome, do you enjoy watching a hot and glamorous girl getting fucking by two large black cocks? Or to flip it around, two sexy and petite mistresses taking care of a big black dick? Though I already know the answer, feel free to share with us which you prefer the most in the comments section below. I will go with girl-girl-boy scenes. I dunno, I do have a dream of having two chicks pleasing my cock one day so that's probably why. To each his own, I guess.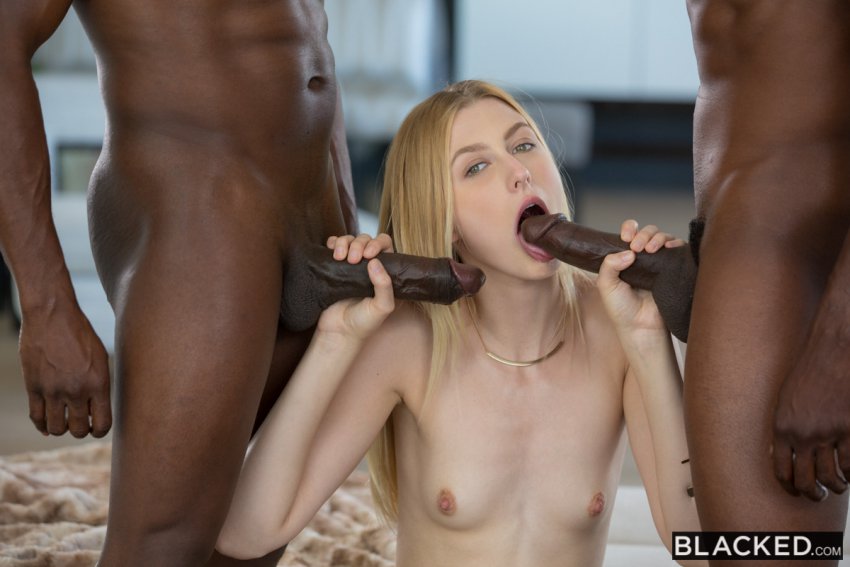 Are you ready to bring it up to a whole new level and start enjoying BBCs smashing young women, always cock and sex hungry? That is something we are all ready for at any given time no matter what. Just serve us with high-quality and we will find extra time to watch it. And you should too since it's only good for your body and soul. Of course, for your private parts, as well!
Let's begin.
Enjoy interracial threesome porn videos like never before
You can always go beyond the interracial threesome

But how, you might ask. We have a must-watch porn video here for you that just happens to be entirely free of charge. A blonde, a brunette and two muscular black dudes – how about that? We are not going too into detail with how exactly did Gabbie and Skylar find themselves with the rappers, as the fucking is something that is way more important. These two chicks get absolutely demolished by the two BBCs. Their pussies get a proper stretching session that will leave them remembering the group fuck for a long time. A ton of love sounds, titjobs, sucking and vivid pussy pounding, all this and more in one XXX scene.
Kenzie Maddison's passion are BBCs

While she first thought she would give two muscular black studs a massage, well, things do not turn out as she planned. In fact, it is Kenzie that is getting a massage from the two of them. And not just any massage, she will get her mouth, her throat and her pussy massaged properly by their big black cocks. It is exactly how she likes it best. Those shafts sliding in and out her pussyhole make her so aroused, she climaxes several times in a row. It is the interracial porn that is about to go down right in front of your eyes. And a really damn good one.
Japanese chick destroyed by two black guys

Although shy looking at first glance, Rei Minami is a wild animal at heart. When you place her in front of two muscular black dudes, she will handle both of them with ease in an interracial threesome fuck session. While Rei Minami sucks one enormous chocolate shaft, the other dude smashes her hard from behind. There is a lot of action going on and even more adorable moaning coming straight from Rei's mouth. She sucks both dudes at the same time in one act and rides the BBC reverse in the other. If a Japanese chick and black boys are your cup of tea, this is the ideal porno for you.
Abella Danger's hardcore interracial fuck with two BBCs

Abella Danger is always interested in getting her pussyhole fucked as hard as possible. One of the best pleasing sensations, Abella experience when she is in company of two black studs. She is all about their massive dicks filling her mouth and her vagina. On top of that, as rough as they go, the more Abella enjoys it. No wonder why she has such last name. When one of the guys vividly penetrates her va-jay-jay, Abella blows the other dude balls deep. She will gobble, spit and scream, all in the name of pleasure. And the guys, they will unload two huge portions of jizz all over Abella's face.
Intense interracial threesome anal with Leilani and Skin

When you have Leilani Leeane and Skin Diamond together, you know wicked things will happen. There is no holding back for these two hot ebony chicks. When you give them a stiff, thick and long white cock to play with, they will do whatever it takes to get the most out of it. And if that means enjoying a hardcore anal fuck and doing a ton off ass-to-mouth tricks, that's exactly what Leilani and Skin will do. If you need proof, you came to the right place. You better drop everything, hit the play button above and enjoy the insane butt fucking madness.
Dani Daniels benefits from two humongous black cocks

Taking a bath, purring water over her incredible breasts, Dani gets herself cleaned up and ready for the action. She slides into a super teasing white lingerie and gets joined by two athletic black studs, Jason Brown and Prince Yahshua. Being her first time with two large machetes, Dani takes care of them both with an amazing style. Their fat members stretch her pussy wide, allowing her to reach incredible orgasm and cum all over their cocks. Exchanging roles, one pounding her while the other gets his member sucked, both Jason and Prince unload a torrent of hot cum all over pretty Dani Daniels.
Teen Jillian Janson tries two BBCs for the first time

Although her boyfriend is downstairs, Jillian cannot resist the offer of being with two black guys. After all, Janson really loves dark meat, meaning, she cannot get enough of it. Will two be the right portion for her? Let's find out.
Not giving a rat's ass for her boy, Jason and Jovan attack young Jillian Janson. Kissing her neck and touching her curvy body, Jillian is hooked. There's nothing she can do about it, other than enjoy the guys and let them do to her whatever they want. But first, she strokes them and blows them, getting them throb a ready for the pussy. Barely fitting inside her, Janson takes them both like a champ and starts to experience enjoyment like never before. Blowing one and getting fucked from behind by the other, it's a real roller coaster of pleasure.
Keisha Grey and Mischa Brooks are passionate about a strong dark dick

Both loving large penises, Keisha and Mischa eagerly warm themselves up for the Prince Yahshua piece of meat. Mischa licks Grey's asshole, making her moan and wet. Upon his arrival, girls are hungry and ready to see what Prince is made of. In a big surprise, their eyes open wide following by Keisha Grey getting down to business.
It's time for the three to get the penetration going, first Keisha's pussy and then Brooks'. In between, Mischa Brooks takes Prince's large shaft in her mouth and offers him the sloppiest blowjob ever. Coated in a really thick coating of saliva, the interracial threesome continues with a vivid fuck show. Pounding them strong, Prince later jizzes all over both of their lovely faces.
Teens experience their R&B idols' monster black shaft

Being his biggest fans, Keisha Grey and Abella Danger break into his house, waiting for his arrival wearing only stockings. Leny finds them lying on his bed with their backs arched and asses exposed, wearing only stockings. Though they did a crime, how can one resist such beauties? Needless to say, of course he joins them and lets them experience his long black rod.
Both teens tight, Leny stretches them wide, making sure their interracial three way will be an unforgettable one. Taking one at a time from various positions, this sex journey for Abella and Keisha is a fulfilling one. Especially for Abella when she gets her pussy creampied. However, that does not mean Grey does not get a taste of Leny's cum, too. She dives between Danger's legs and sucks as much of the jizz out of her twat as she can. Yummy!
The unexpected first interracial threesome for Cadence Lux

Cadence brings Flash her boyfriend's a grand short debt, as well as herself since she's also part of the payment. The latter normally means Flash banging her brains out, however, this time around, Rob is also there. Meaning, they both will take Cadence Lux and enjoy her all natural beauty.
Blonde girl is in doubts and a bit afraid at the beginning due not being with two black guys before. Minutes pass and she gets more and more comfortable with the two of them. When Lux fully lets herself loose, she starts enjoying each other's big black cocks. Sucking them and stroking them at first before they start taking her, pounding her pink muffin hard and stretching it wide.
Next week, next payment, another interracial threeway for Cadence.
The best cure to forget a boyfriend is an IR threesome

Alli Rae just broke up with her boyfriend since he was cheating on her. In sadness, her best friend, Dakota James, cheers her up by showing her this black stud, Flash Brown. A smile appears on Alli's face letting everyone known she is down for a threeway adventure.
Blonde girls call him over, quickly put on some of the sexiest lingerie they own and get ready for the vivid interracial threesome. To help her forget her boyfriend once and for all, Flash is happy to fuck her brains out. With such a large BBC he owns, that will not be a problem at all. Both Ali and Dakota receive a dose of stuffing and enjoy watching each other being stretched wide by that giant dong.
Blonde agents share a cock to get him sign papers

When it comes to business, signing papers and such, it will be stupid for the girls to not take advantage of the fact that they are females. Meaning, offering their clients a hot fuck during making business will always call for success.
Stunning blonde agents, Karla Kush and Naomi Woods are about to sign a deal with this popular R&B artist. The thing is, it's time for Naomi to learn the true part of the business and Karla is happy to teach her.
She buys them the sexiest red lingerie possible and when fully ready, they head over to his place. After a quick chat, all three are down for the business. Not the actual business, you silly. I mean a hot interracial threesome action. Sucking his enormous dick, Karla and Naomi get him strong before he takes both of them, one at a time.
What an incredible threeway action we have over here. WOW!
If your sex life sucks, spice it up with a threeway

To go straight to the point, not with a threeway including your partner.
Long story short, Jade Nile and Chanel Preston took some time off all for themselves. No guys. Jade revealed that her sex life sucks and doesn't get turned on by her husband anymore. Luckily, she is in good hands. For a little while, Chanel was fucking other guys and she is having the time of her life. Preston encourages Nile to try it out herself, too.
That very same day, Chanel invites her brunette friend, Jade over. It's the waiter who also joins them. While watching the foreplay, Jade cannot really hold herself back and soon after joins them for an interracial threesome.
Finally, Jade gets a dose of pleasure she needed so badly in her life.
Gorgeous wife does two big black cocks for her hubby

When Layna Landry tells her husband about the sexual experience she had with her personal trainer, she expects him to get angry but is in for a surprise. His reaction is way different than she expected. Layna never knew her man gets turned on, thinking about his woman fucked by another guy. That said, he urges her two fuck two guys next time just for him.
Secretly, Layna Landry always dreamt of fucking two guys. With her hubby's permission, Layna is about to bring her long time fantasy to reality. She sets up a date and an interracial threesome will soon be a thing of the past for lovely Layna. Having a chance to play with two strong, long, and fat cocks at a time fills her with joy and happiness.
Giving head to one while being rammed by the other, Landry tells both to cum all over her.
Adria will do anything to repay her debt

After receiving a DUI, Adria Rae calls a hot attorney she met the other day at a party. She asks him if he can help her out solving the issue and offers herself to help him release the stress he is hit on a regular due to his job. He agrees and a few months later, Adria is DUI-free.
To pay for the large debt, Rae starts working as a personal assistant for Rob. This means doing some random tasks, as well as taking care of Rob every once in a while. Yes, she becomes his sex slave and she absolutely loves it!
One day, Rob calls her and invites her over for an interracial threesome with this girl he's seeing. Without giving it a second thought, Rae is on her way to his place and meets lovely Ariana Marie. Together, they take care of Rob's gigantic shaft, stroking it and working it deep inside their warm and moist mouth. When all three aroused as ever, Rob sticks his member inside their pussies and bangs them vigorously, letting both experience the great pleasure of a fat cock.