Today is the best day to experience the sexiest and hottest Italian pornstars of the adult world.
What's interesting, you might not have heard of all the ladies, as not all are as popular as, for instance, American adult actresses. Still, I bet you will be familiar with several names right from the get-go. And for all the rest, you know what to do – head over to PornOne.com and enjoy the XXX content first-hand.
One thing is for sure, these pornstars who were born and raised in Italy are to die for. They have scorching bodies – some keep it all-natural while the others like "modifications." Read fake tits.
Also, you immediately spot the attractive Italian looks that we cannot live without. While Italians are primarily brunette, some pornstars prefer to dye their hair, for instance, blonde.
Last but definitely not least, Italian porn superstars are exceptionally open-minded and perverted. You do not need to ask them to do something twice, as they will be ready for it before you even complete the suggestion the first time.
The best Italian pornstars in the business
Valentina Nappi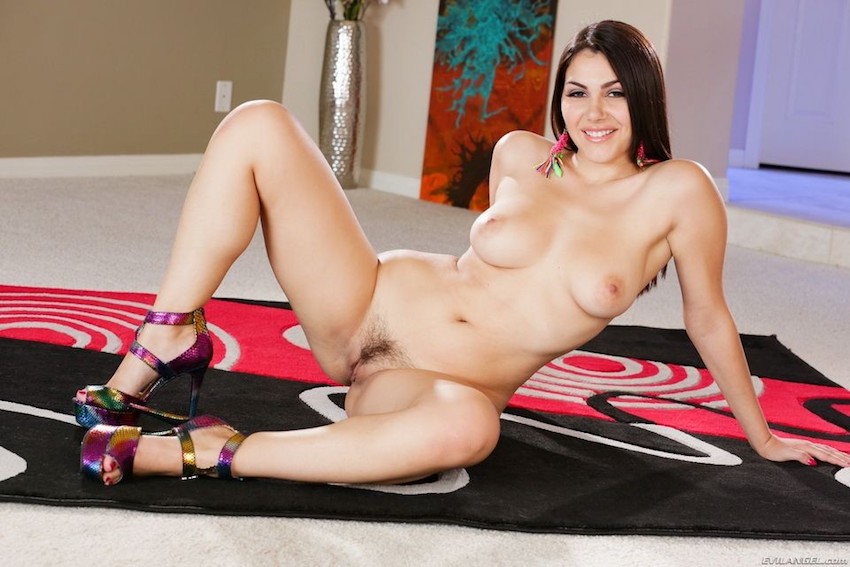 We've all heard of Valentina Nappi, and we all know just how skilled she is, but do you know how this model from Italy started her career? Valentina was born in a little town close to Pompeii, called Scafeti. She didn't always have a wish to become a pornstar – instead, Valentina graduated with a degree in Arts and Design. In fact, Valentina has a multitude of talents, writing columns for magazines and essays about sexuality. She was the one who initiated contact with Rocco Siffredi, sending him an e-mail to ask whether he'd like to work with her. Of course, he was smitten by her buxom beauty, and today Valentina has plenty of awards commending her for her pornographic excellence.
Instagram: instagram.com/instavalentinanappi/
Twitter: twitter.com/valenappi
Gia Dimarco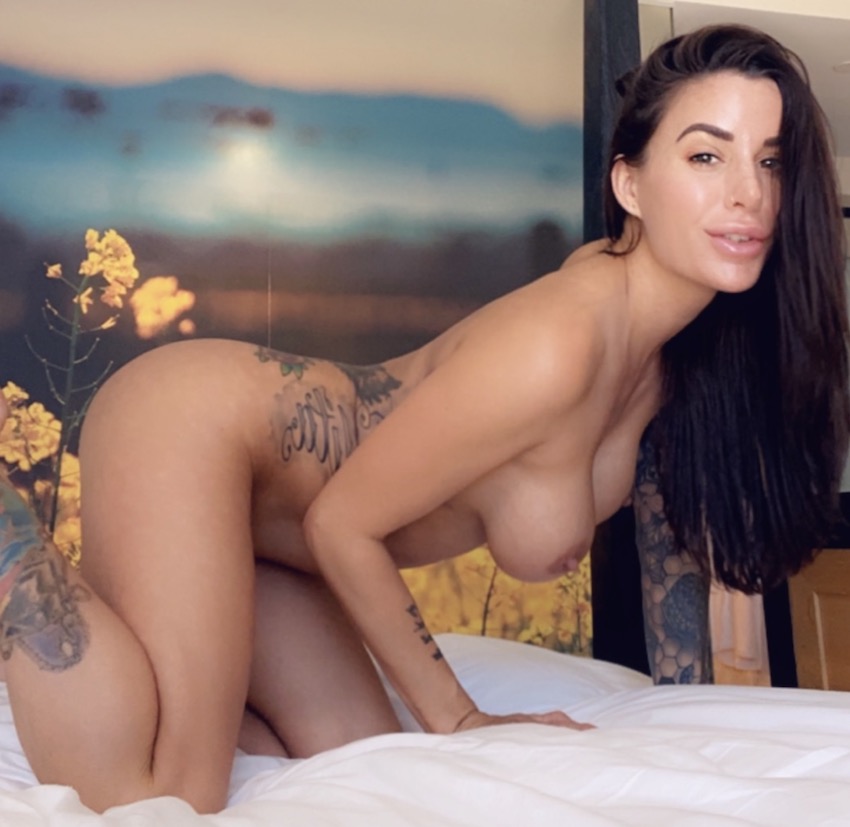 This super sexy babe is recognizable thanks to her beautiful tattoos. Whether tattoos are your thing or not, you'd have to agree that this alluring Italian pornstar looks mindblowing. Gia began her career by filming saucy solo scenes for Kink. After her drool-inducing performance with a fucking machine, Kink promoted her video, and the rest is history. She does an excellent job with peculiar kinks and fetishes, making her a fan-favorite. Dimarco claims that when she's not enjoying hardcore fucking, she likes to cook for other people and loves the company of animals. Look up The Hooker Experience to see Gia with her best performance.
Instagram: instagram.com/mamalegnd/
Twitter: twitter.com/gia_dimarco
Roberta Missoni (Roberta Gemma)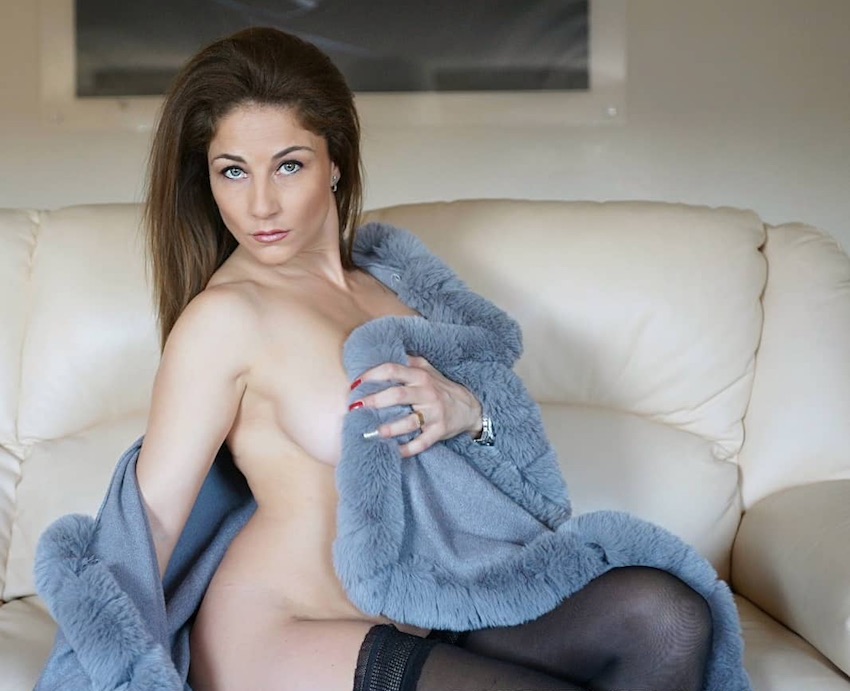 Roberta is a very well-known Italian babe that was born in a quiet little town near Rome. She's been active since 2005, and although she doesn't speak English very well, she definitely knows how to use her tongue. This Italian pornstar received multiple awards throughout her career, and if you want to see her at her best, look up The Specialist. Roberta moved away from the little town when she was 18 to pursue a modeling career. However, she soon started fantasizing about fucking in front of the cameras, and that's exactly what she did.
Instagram: instagram.com/robertagemma/
Twitter: twitter.com/robertagemma
Stella Cox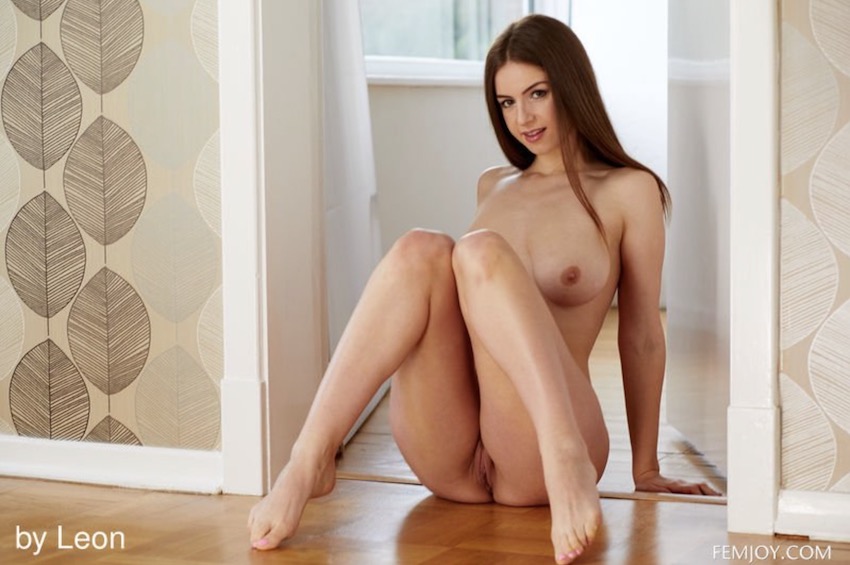 This thin yet very curvy pornstar has been active since 2013. Needless to say, she filmed her first scenes while she was still a teen. Stella was born in Italy, but she grew up in London. Thanks to her colorful background, Stella is fluent in multiple languages. She's always had an insatiable libido. Fun fact: Stella started her career by filming her own videos. After posting them online, Cox gained a devoted fanbase, and after she created social profiles, porn companies started contacting her for more work. Stella has worked for both European and American porn studios, and her work can be found on every famous porn platform.
Twitter: twitter.com/thestellacox
Alura TNT Jenson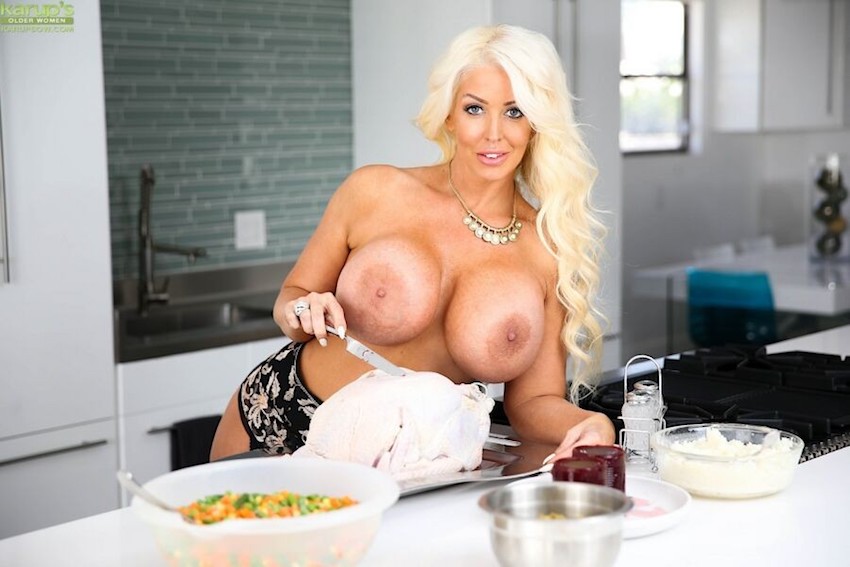 Alura is arguably one of the most popular MILF performers today. Besides shooting some very intense porn, the Italian pornstar is also a model, a radio talk show hostess, and even a feature dancer. Her place of origin is Florence, but she moved to the USA with her family a few years later. She had a strict, religious upbringing, which is what pushed her in the direction of adult movies. In fact, Alura joined the Army, where she had many sexual adventures and where she also met her husband. After divorcing him and losing her pregnancy weight, talent scouts spotted Alura, and the rest was history.
Instagram: instagram.com/alura_jenson.official/
Twitter: twitter.com/alurajenson
Marica Chanelle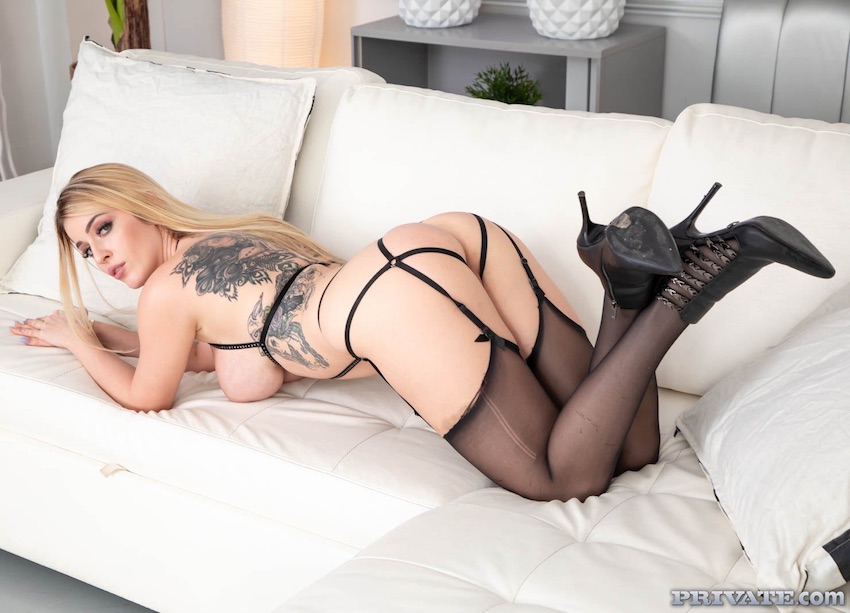 This 25-year-old stunner is a recent addition to the world of porn, but she already gained a massive fanbase. It's all thanks to the overwhelming joy this Italian pornstar experiences while having every hole filled with gargantuan cocks, sometimes even venturing on to have two dicks in her asshole at the same time. After contacting Rocco Siffredi, he called her up immediately remarking her raw sexuality and good looks. You can admire her work on Evil Angel, and if you're a fan of Rocco's work, then you'll absolutely love her scenes where he fucks her senseless.
Instagram: instagram.com/maricachanelreal/
Twitter: twitter.com/maricachanelle
Valentina Bianco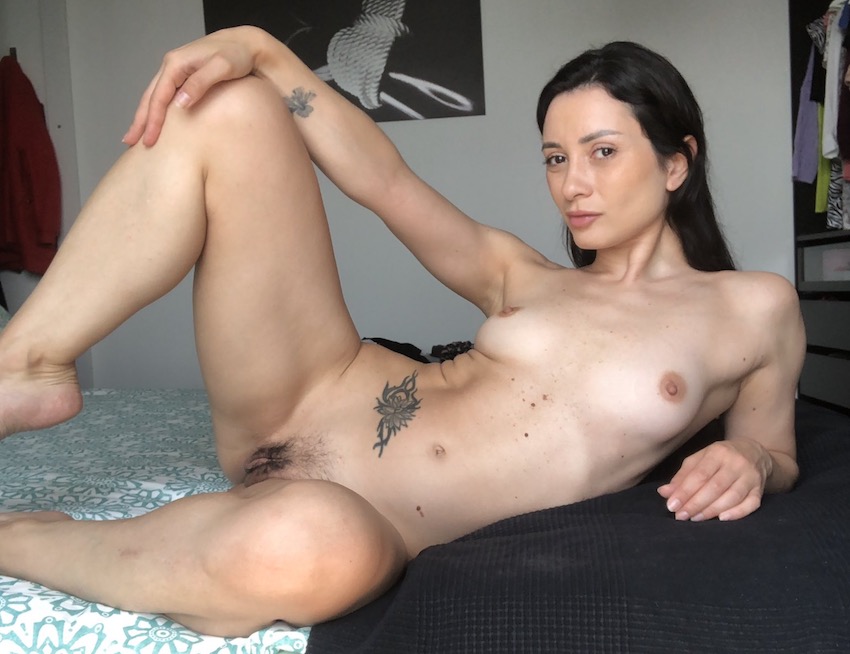 Valentina is one of the more seasoned Italian porn actresses, starting her career back in 2014. This hot pornstar is currently 37-years-old, but her lithe body doesn't look a day over 25. Her tiny ass guzzles cocks like it's nobody's business, as her little natural tits bounce in unison. Valentina currently lives in Barcelona, but she traveled all around the globe looking for cocks to ride until she finally stelled down for Brazzers. This is the porn site you want to take a stroll through if you wish to admire every insanely kinky scene Valentina has filmed up until now.
Instagram: instagram.com/valentinabiancox/
Twitter: twitter.com/valebiancoxx
Evita Pozzi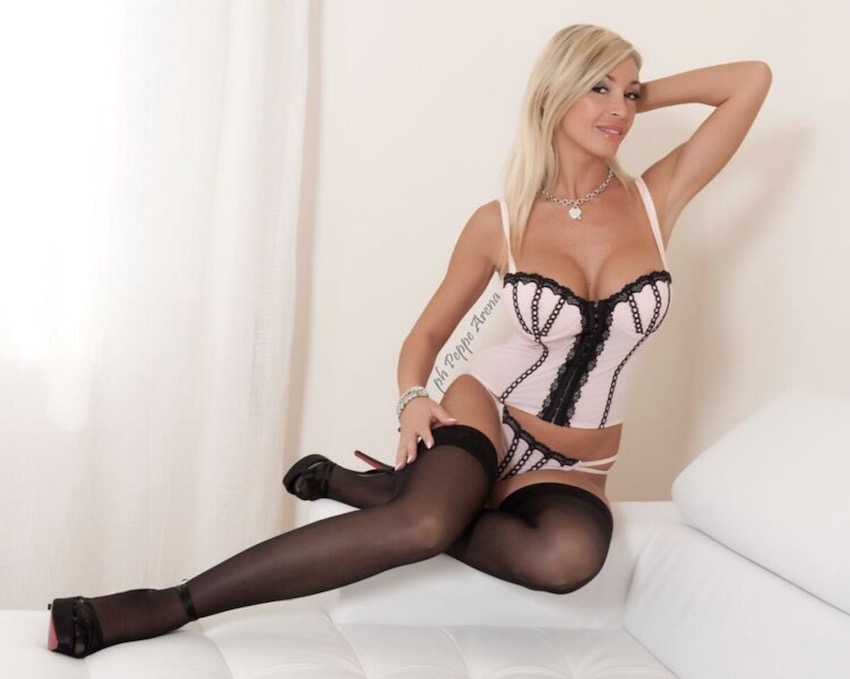 Evita is a sizzling blonde that has sadly retired from the adult movie universe. Before starting her porn career, Evita was a model in Italy. The Italian pornstar was contacted by Silvio Bandinelli, and that's when she recorder her very first XXX scene. Evita remarks that it was a wonderful experience and after her first two scenes gained traction, Evita was hooked. Her tits are fake – she used to be a natural C cup, but she loves them big. She even has a nickname for her DD tits – Flora and Albenga. Eva traveled all across the globe, and nowadays, her main focus is exploring the world.
Valeria Visconti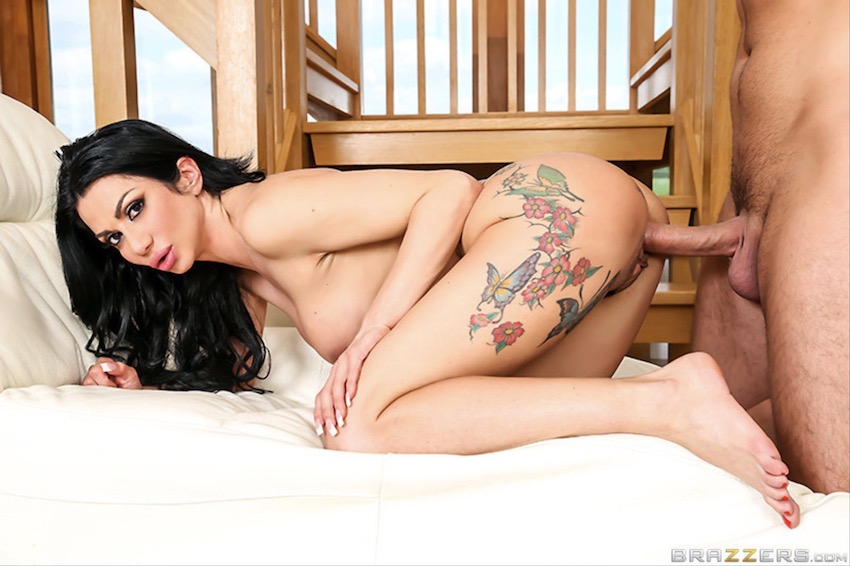 Valeria is a 50 years young tattooed vixen with a goal to dethrone the reigning tattooed queens. Visconti is adorned with flowing raven hair, a sensual hourglass figure, and luscious red lips. The Italian pornstar has enhanced her body, but she did it tastefully. In short, Valeria's amazing figure is sought after by many hardcore fans. Her idol is Bonnie Rotten, taking after her Suicide Girl look. Visconti trekked across the world to gain a bigger fanbase, and now her bubble butt can be seen guzzling cum and dicks on a multitude of porn sites.
Instagram: instagram.com/antonia_sainz/
Twitter: twitter.com/sainzsainzz