Nothing gets the juices flowing more than a sex show from an experienced pornstar like Jenna Haze is. She goes all in with her emotions and passion for each of her dirty scene. Let it be a solo show, a lesbian experience, a hard anal fuck with a large cock or an interracial threesome, Jenna's performance is always top notch. Not to mention, her fetish clips are to die for as well, just like those handful double penetrations she did.
If it wasn't for her loyal fans going berserk for her content, who knows how far Jenna would come. However, since she treated all her supporters with the utmost respect, no wonder why her adult entertainment popularity skyrocketed.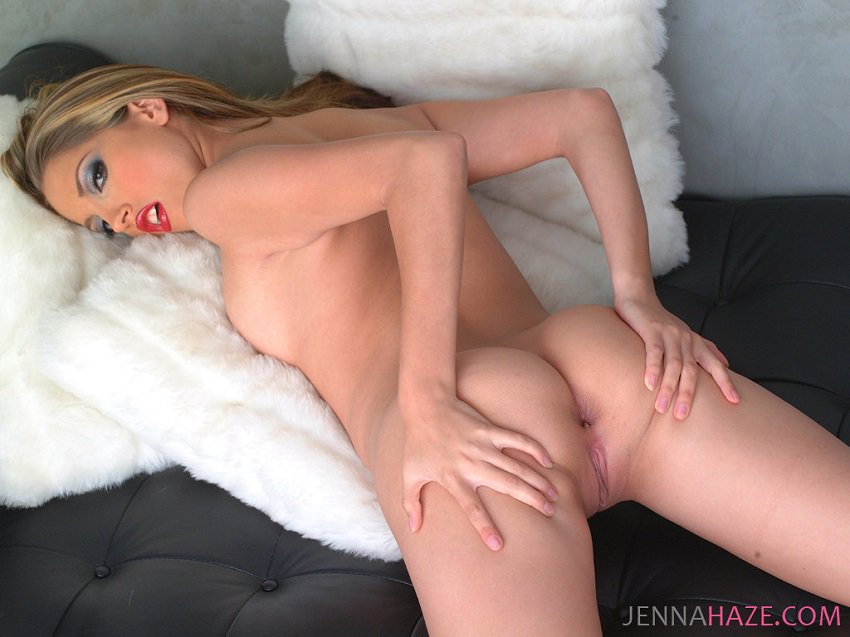 At the end, lovely lady, Jenna Haze, has done it all. She entered the porn industry, took it by storm and retired from it. Even if she might not be filming porn videos anymore, JH will always be floating around the web. Being in front of or behind the lens, every content that Jenna touches is super quality material. No matter which scene you decide to watch, you will never be left disappointed. She does an extraordinary performance in each of her XXX scenes.
Born February 22, 1982, in Fullerton, California, Jenna was a straight A student. Thanks to her mom, she began reading at a very early age and grew into a real bookworm. By the way, Jenna writes love poems and such in her spare time. Maybe, just maybe, one day she releases a book of poems. Cross fingers.
At school, Jenna was one of those babes who boys go mad for, however, other girls hated her. No need to wonder why. Then one day her best friend screamed out loud that she is a bi-sexual. Everyone attacked her verbally what caused her to began home studies. Shame on you people! A fine student of good looks – we need more of them.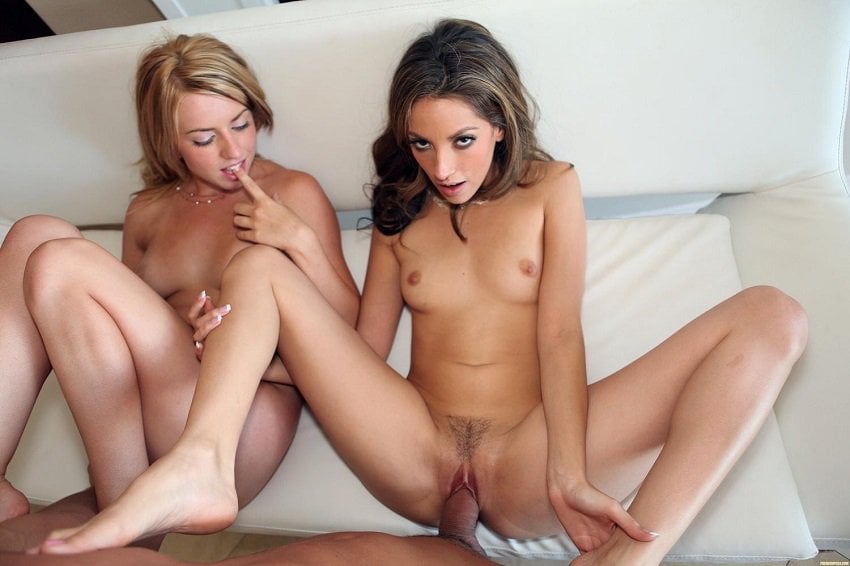 Anyhow, it was the year 2001 when Jenna Haze entered porn business. In the first years of her career, Jenna mainly shot solo and girl-girl scenes. At the time, she was dating an industry cameraman and did not want to make him jealous or whatever. Several years later, in 2006, Haze went back to working with men again. From then on, there were not that many limitations for Jenna, she was open for just about anything. Still double vaginal and double anal are not the things she would ever do. It's mainly due to her tightness. Other than that, Haze did (almost) everything.
She especially grew this massive passion for interracial sex.
For your information, Jenna has stocking and pantyhose fetish.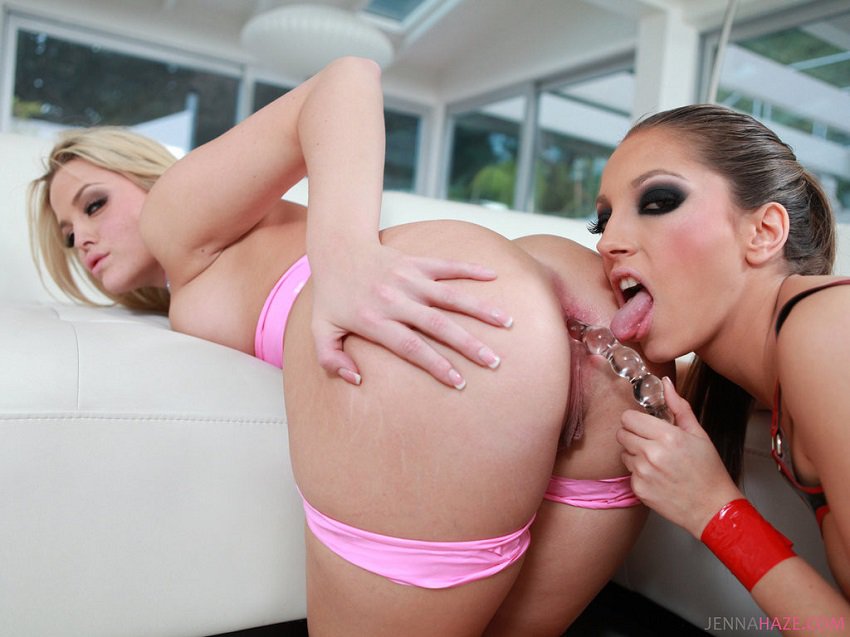 During her rich adult career, Jenna won several industry awards. In 2003 she won Best New Starlet award by AVN and in 2009, AVN Female Performer of the Year award.
To look all the way back to her beginnings in adult, it is "The Oral Adventures of Craven Moorehead 8" what's Jenna Haze's first scene.
Moreover, who would have thought that Jenna's "Oil Orgy" from 2007 would be the very first blu-ray porno. Haze is no joke!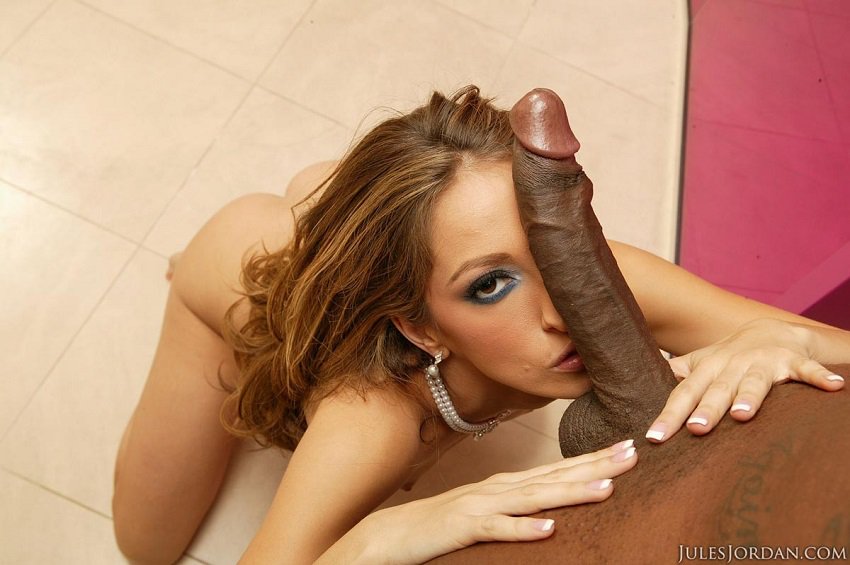 We could go on and on with her achievements, yet we will hold ourselves back and name only a few.
In 2008, Jenna and Manuel Ferrara won AVN for Best Couples Sex Scene award. The same year she also won her first feature dancing award, winning Adult Movie Entertainer of the Year at the 11th annual Adult Nightclub and Exotic Dancer Awards.
As for the mainstream, Complex staff must all really adore Jenna. In 2010 they ranked her number 16 of their 50 Prettiest Porn Stars of All Time and fifth in 10 Hottest Orange County Women lists. Next year, she also came twentieth at Complex's Top 100 Hottest Porn Stars (Right Now).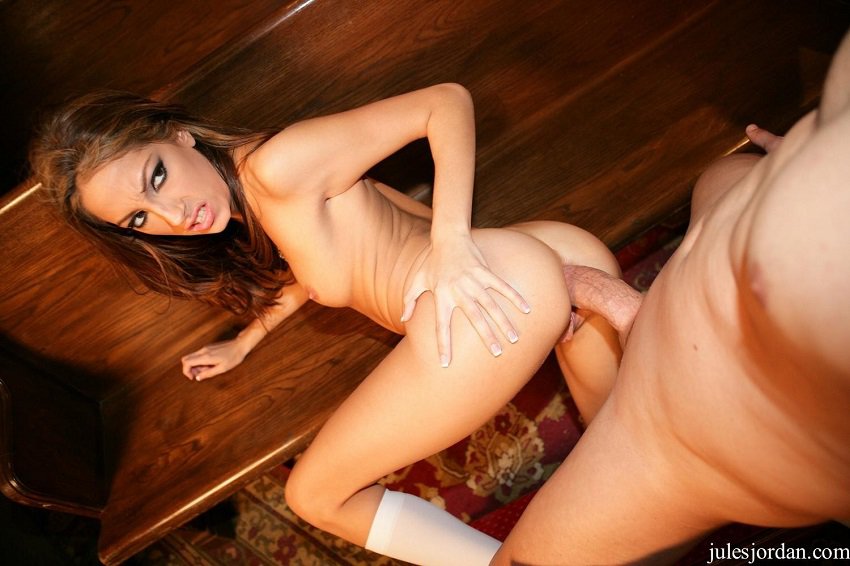 According to Jenna Haze Wiki page, it was on February 7, 2012, when she released her official retirement from the industry statement through a YouTube video.
I could literally write a book about Jenna, talking about her scenes, achievements, personal life and other whatnots. However, we aren't her to only read, we are here to get familiar with her through words and through videos. That said, below you will find some of the best and hottest Haze dirty clips that will drive you nuts.
Though she is out of the game, I still highly advise you to follow her most active social media accounts, Instagram and Twitter. Especially her Insta profile since there is still a ton of sexy material Jenna posts on a regular.
Jenna's online store is still live so pay it a visit too. There are some sweet goodies you can buy from her online shop.
Probably the hottest Jenna Haze porn videos
Amazing POV blowjob and a facial

Needless to say, when Jenna is down to grab a big shaft and take it orally, you know you must not miss the chance of seeing her in action. And this POV porn video will make you feel like you are in the scene, Jenna working on your cock. After a quick tease and some pussy fingering, Jenna Haze quickly kneels and goes straight to business. With her delicate hands, she firmly holds the dick while wrapping her lips tightly around the girth. When things get more and more serious, he is unable to hold it in any longer and lets Jenna experience a hot facial.
A foot massage can get your anything

Let's face it, if you massage her feet well, she will do pretty much whatever you want. And if you need some inspiration, here is an excellent Jenna Haze porno that will get your body juices flowing almost immediately. I told you, it does not pass much time before Jenna starts to undress and gives him her pussy. God knows what happens next, when she probably completely demolishes his penis, getting him to splash his torrent of hot spunk all over the place. Especially if you are into foot fetish stuff, you will love this one through the roof. That's that, now get involved!
Sexy solo seduction by stunning Jenna

Since she needed to hold herself back for first few years, so will we with this collection of Haze's XXX videos.
To kick it off in style, here is tempting Jenna wearing alluring pink lingerie and talking dirty to you. Are you in love with her, her pink panties and her pretty pussy? What about her small, all-natural tits and perfectly rounded ass? You cannot get away with it. Her body physique and her seductive talking hook you. You want more, more of that delicious treat named Jenna.
The more you want, the harder it will get. After all, the only thing you will get is to watch her while fapping to her. No, you silly, Haze does not let you touch her. She only lets you examine her in great detail and get a boner.
I bet your hands already begin to roam all the way down to your private parts, right?
Hint: if pantyhose is your fetish too, with this video, Jenna will make you a happy person.
You want to do filthy things to her?

For a few more enticing moments, here we have another Jenna Haze XXX video where she wears all black, black bra and black fishnet stockings. I am sure one of those filthy things that you would want to do to her is to rip those stalkings in the back and fuck Jenna hard straight in her asshole. Am I correct? Or am I too big of a pervert myself?
Anyway, whatever you fantasize about, watching the great Haze seduction, let her take you on a wild ride. She will put a spell on you and make your mouth water, your eyes bulge and your blood flow increase. A tingling sensation will strike you when Jenna will begin to undress and reveal that incredible slim body she owns.
Enjoy the fun moments with Jenna herself and feel the joy and good vibes she releases. In your cock!

Before we get to penetration, let us show you how good Jenna sucks a large dick. First, this is Jenna Haze HD video that we deliver straight to your screens.
Second, before she goes to work, enjoy throwing your eyes at her body while she shows you all of her secrets and fingers her twat. What a babe!
Lastly, she kneels down and performs an epic POV oral fuck for your body, mind and private parts, as well. I can only express myself with a big WOW. Jenna sure does know what she is doing when sticking large machetes inside her mouth and down her throat. As an icing on a cake, when he comes to the point of no return, he fills her with jizz. Nope, she will not spit it out. Completely opposite. Hungry Jenna swallows the whole portion of cock cream. How delicious does that sound?
Finally, you get a chance to fuck Jenna Haze in her ass

Not literally of course, but in virtual reality. If you have the VR goggles, by all means, put them on and enjoy this wicked cock ride with the naughty Jenna. She will let you fuck not only in the pussy but in her butthole too. How exciting does that sound?
Speaking of fucking her, you won't need to do much actually. Experienced Haze will do all the work for you. All you will have to do is to relax your body and mind and enjoy her sliding up and down your stiff shaft. First with her pink muffin and then with her stinky.
Enjoying the hump, Jenna moans with pleasure and keeps on throwing nasty words at you. You will receive so much satisfaction you haven't in a while. Enjoy the fuck!
Anal fuck and a serious facial cumshot

We cannot leave this collection of Jenna Haze videos without a proper anal penetration. That is exactly what she receives in the dirty flick above. Jenna gets her back door stuffed with a large dong and receives a dose of extraordinary pleasure. The feel of a nice shaft rubbing against her anal walls makes her release a ton of love sounds and experiences epic sensations.
When Jenna is fucked properly, she does not mind receiving a big load of cum straight on her face. In other words, an epic facial cumshot. At least she can get a taste of it this way as well. Boy, Haze sure does enjoy herself the flavor of that yummy white cream dude unloads on her pretty face. But the anal part of this porn video is still the main thing where you should put focu to. Banging!